One of the most profitable niches in dropshipping is the home decor niche. There are many high-demand products in this niche with low competition. According to statistics, the current revenue of the global home decor market reached over $826 billion in 2023, and it's estimated to reach over $1073 billion by 2027. 
People are always searching for new ways to beautify their homes, so a constant demand stays in the home decor niche. Consequently, if you're an online retailer, then starting a home decor dropshipping business would be most profitable for you.
However, it is a quite challenging task to find out trusted home decor dropshipping suppliers who have a great reputation and can fulfill orders for customers in time. But don't worry. To make it easy for you, we're going to review the 20 best home decor dropshipping suppliers USA, UK, and elsewhere in the world. So, let's get started.
1. Dropshipman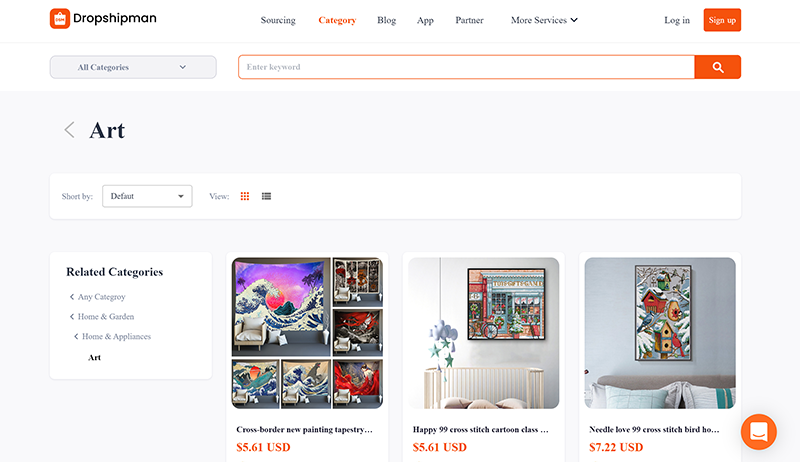 Dropshipman is a China-based company that provides every kind of product. It is one of the best free home décor dropshipping suppliers. Dropshipman offers hundreds of home décor products in Wall Art, Lighting, Celebrations, etc., at affordable prices. Retailers can find products ranging from photo frames to cushions all in one place. And the good thing is retailers can send free sourcing requests and get results within 3 days. 
They have more than 20,000 loyal customers. And all their customers are happy with the service. Dropshipman delivers products worldwide with 30 different shipping methods. End customers can receive their orders within 7-15 working days in most areas worldwide. 
Pros
Maximizes your profit margin with hundreds of reasonably priced home décor products
Free sourcing service to meet your needs for better quality and prices
Guaranteed fast shipping and delivery
24/7 active customer service for any help
Seamless integration with Shopify stores for full automation
Labeling and custom packaging services for building your own brand
Cons
Shipping might be delayed during the Chinese New Year
2. Benzara Inc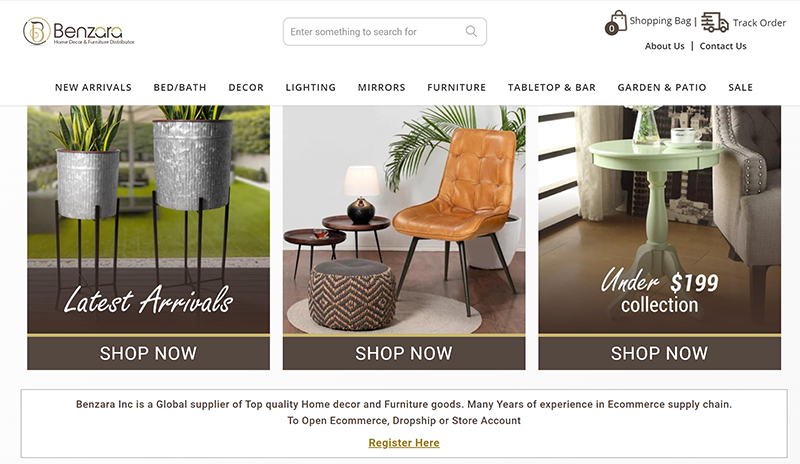 Benzara Inc is one of the leading home décor dropshipping suppliers. Distributors can find the best home decor items here. Benzara, managed by an experienced team of professionals, is dedicated to the highest standards of product quality. Benzara Inc offers home decor products at different prices in diverse categories, including:
Bed/Bath
Décor
Lighting
Mirrors
Furniture
Tabletop & Bar
Garden & Patio
The company provides unique and rare items that other home decor dropship suppliers do not have. Benzara maintains a distribution facility in Southern California dedicated to the dropship model. Most of their customers are based in North America. This is why their delivery is faster than other suppliers within the US. Once you complete the payment, they deliver products within 3-5 business days.
Pros
Thousands of retro and trendy home décor products
3 ~ 5 business days fast US shipping via FedEx ground service
Putting customer and retailer satisfaction first
Accepts payment via credit/debit cards and PayPal
Cons
You need to register an account to view product prices
3. Melroseintl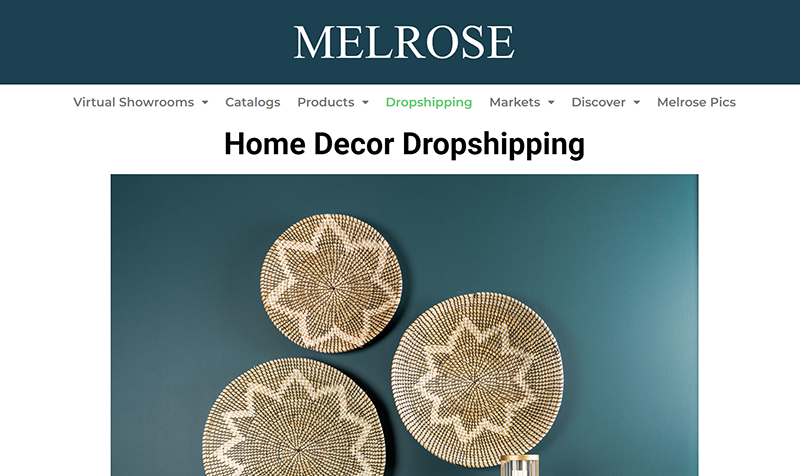 Melroseintl started its journey in 1985 as Melrose gardens. At first, they used to cultivate and sell dry flowers. But due to some issues, they switched to the home decor business. And today, they are one of the best US-based home decor dropshipping suppliers in the market. They also sell giftware, silk florals, flameless candles, and many more. They might have changed their business stream, but it never changed their motivation. 
Melroseintl supplies the best quality home decor items. The unique thing is their items are mostly holiday-themed. There are many unique items in their inventory. Just like the name, Melroseintl's inventory is very art-formed such as carved items, hurricane lights, wall art, etc.
They deliver products within 1-7 business days in the US, and they have a 30-day return policy, and you can claim a refund if the shipment is damaged.
Pros
Trusted for over 30 years as a home décor producer
Offers top-designed home décor and furniture products
With the best holiday-themed furniture collection
Has a 30-day return policy
1 ~ 7 days fast delivery in the US with a warehouse in Illinois
Loyalty pricing and credit terms available
Cons
Domestic/Canadian freight caps & additional charges may apply
You need to sign the dropship agreement/contract, prepare a credit sheet to apply for credit terms, fill in the credit card form and the Crt-61 form
4. Hill Interiors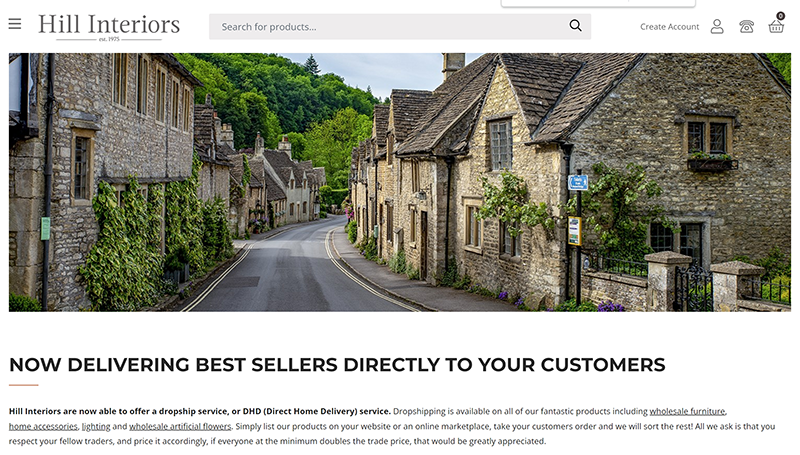 Hill Interiors is one of the best home décor dropshipping suppliers UK. They have been providing quality products for years. Their collection is huge and very vintage. They dropship over 2,500 products, including furniture, home accessories, lighting, and artificial flowers.
Hill interiors have been in the furniture business since 1975. They are not only a wholesale seller but a dropshipping partner in increasing business. Hill Interiors understands the customer's mind and stocks according to it.
Along with good business, Hill Interiors is known for its exhibitions. They organize exhibitions that help buyers to learn more about their products. Hill interiors have been delivering products for more than 45 years, and customers are always satisfied with their service. They deliver both domestically and internationally. International orders might take longer. But it takes 2 – 5 working days to deliver orders in Europe and 4 – 10 working days to deliver orders in North America, Asia, Africa, or Australia.
Pros
2,500 dropshipping products in a great number of unique collections
Easy to apply for a dropship account – you just need to "Enable Dropship Ordering"
Uses a network of fast parcel delivery companies to deliver goods quickly
Free delivery for orders over $500 in the mainland Great Britain
Access "Live Dropship Feeds" (CSV/XML format) for detailed product information and a separate "Stock Feed" for the current inventory
You can apply for a 30-day account and get a suitable credit limit
Cons
Additional charges depend on the volume of the package and the distance
Shipping of some dropship items is restricted to the mainland Great Britain
Hill Interiors charges for handling depending on the order value
5. CJdropshipping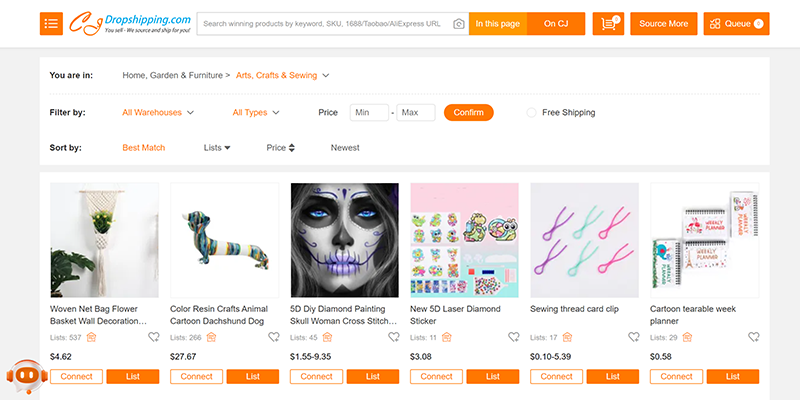 CJ Dropshipping is a well-known dropshipping supplier. They offer products in a wide range, including arts, crafts, decorative flowers & wreath, Christmas décor, and so on. Their products are sourced from Chinese suppliers. Founded in YiWu in 2014, CJ has fulfilled orders for nearly 950,000 sellers worldwide. They provide dropshipping services for sellers on Shopify, eBay, WooCommerce, Etsy, Wix, Squarespace, Magento, BigCommerce, Pretashop, and more.
At present, CJdropshipping has warehouses in China, the USA, Germany, Thailand and Indonesia and cooperates with local warehouses in many different countries for fast delivery. CJdropshipping delivers products within 7 – 25 days. It might take longer if the destination is far away from the warehouse.
Pros
Easy to list products to diverse e-commerce platforms and fulfill orders globally
Located in the famous wholesale market for small merchandise in China for convenient sourcing
Pre-order inventory for stable sales
Custom packaging service available
Provides 24/7 customer support
Cons
Home décor items scattered in different categories
Relatively long delivery time for products shipped from China
6. AliExpress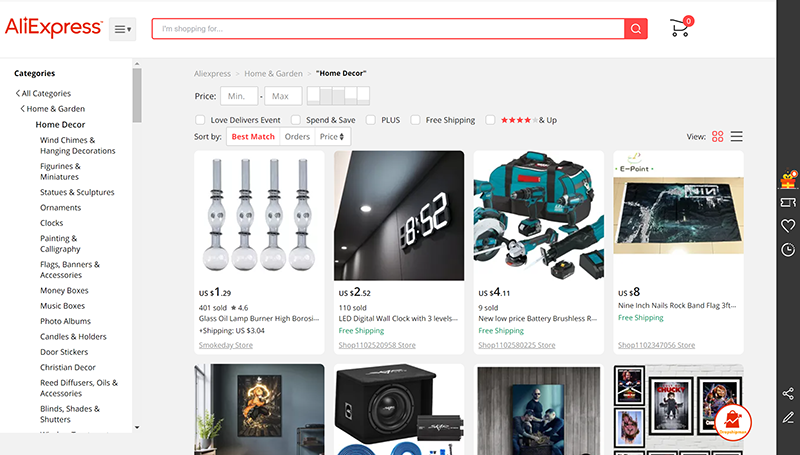 AliExpress stands out among all dropshipping suppliers because it offers over 100 million products. There are tens of thousands of manufacturers on this platform. AliExpress has the Home Décor category that offers nearly any kind of product, including Wall Décor, Vases, Figurines & Miniatures, Candles & Holders. Balloons, Artificial & Dried Flowers, and Arts & Crafts are also available.
Suppliers on AliExpress deliver products internationally. Also, this website occasionally runs flash deals and sales, supports various popular payment methods, and provides Buyer Protection.
Pros
A reputable dropshipping platform with thousands of home décor dropshipping suppliers that fulfill orders internationally
Nearly all types of home decor items at low costs can be found
No membership fees are required
Buyer protection for guaranteed returns
Cons
Customer support is a bit unresponsive
A bit inconvenient to access the AliExpress Dropshipping Center
A third-party app is needed to integrate with your online store
7. Alibaba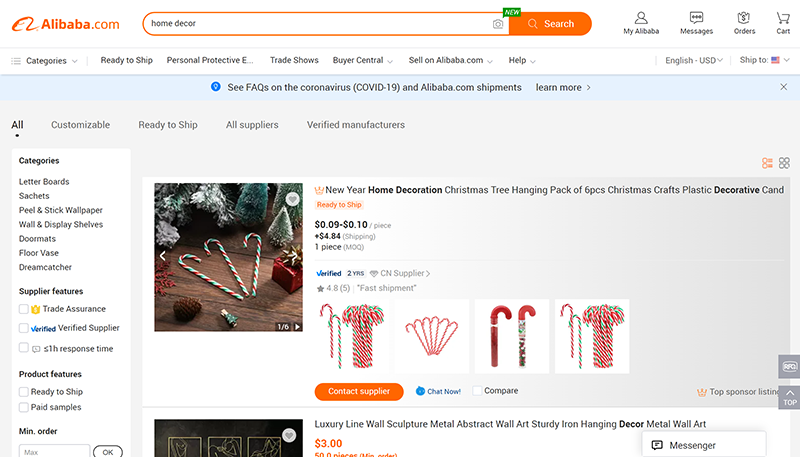 Alibaba is a well-known B2B e-commerce marketplace where there are many Chinese manufacturers and wholesale suppliers. People also use it for the dropshipping business. If you search for "home décor" on Alibaba, you can find relevant categories, including Letter Boards, Sachets, Peel & Stick Wallpaper, Wall & Display Shelves, Doormats, Floor Vase, Dreamcatcher, Lighting, and so on. 
Notably, many home décor dropshipping suppliers here may require an MOQ, nevertheless, since their prices tend to be lower than elsewhere. Moreover, you can easily filter products by certification, supplier region, price range, style, room space, material, application occasion, and so on.
Pros
Thousands of home décor products at low costs for high margins
A combination of advanced filtering options
Direct contact with manufacturers and home décor dropshipping wholesale suppliers
Easy to buy samples for checking the product quality
Integrates your Shopify/eBay/WooCommerce/Squarespace/Ecwid store via Alibaba Dropshipping Center
Cons
MOQ limit for many products
8. DHgate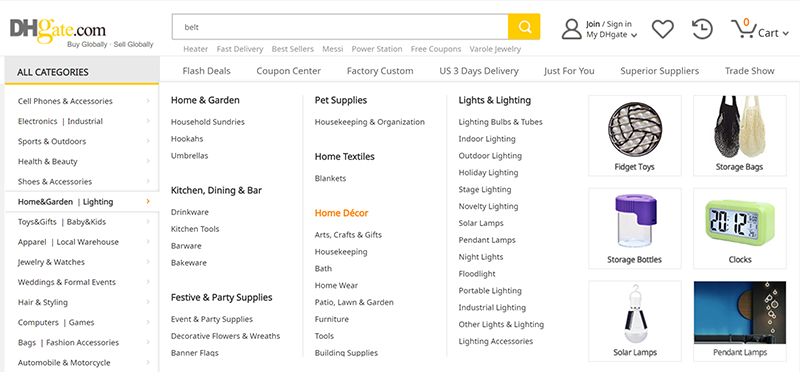 Founded in 2004, DHgate is one of the best dropshipping suppliers. DHgate has headquarters in China and branch offices in Europe, Latin America, and North America. DHgate is an international one-stop trade and service platform for small and medium retailers, and most of DHgate suppliers are located in China.
Retailers can find products in almost any category available on DHgate. They can dropship high-quality home décor products, including Arts, Crafts & Gifts, Bath, Homeware, Furniture, etc. It's worth noticing that under these categories, there are many sub-categories.
According to Diane Wang, DHgate founder & CEO, the top priority of DHgate is the safety of their clients and their assets. This reflects that they think highly of trust and safety. DHgate has a quality control system to prevent fraudulent, illegal and counterfeit products from being sold, and dishonest sellers will be immediately blacklisted with 24/7 seller behavior monitoring.
Pros
Easy to find best sellers in different categories
Customization options available for certain products
Allows you to dropship from superior suppliers and local warehouses in 16 countries
Supports various payment methods, including credit/debit cards, local payment, bank transfer, and Dhpay
Effective Buyer Protection that covers returns & refunds and secure payment
New Buyer Coupons with a total value of $33
Cons
MOQ limit for certain products
Orders handled by postal services have a relatively long delivery time
The app developed by DHgate for dropshipping is not well-received
9. Lightinthebox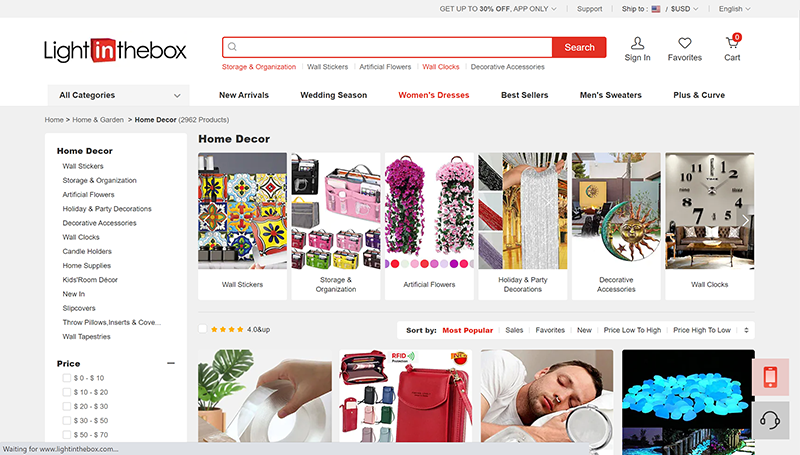 Founded in 2007, Lightinthebox, a global online retail company known for its huge collection, is considered one of the best dropshipping suppliers. In its home decor collection, you can find:
Wall Stickers
Storage & Organization
Artificial Flowers
Holiday & Party Decorations
Decorative Accessories
Wall Clocks
Candle Holders
Home Supplies
Kids' Room Décor
In each category above, there are also more specific sub-categories, which means a lot of home décor products to choose from. Generally, the home décor dropshipping supplier processes orders within 24 hours and orders can be delivered globally in 3 ~ 8 days by express couriers. An order tracking service is also available.
Lightinthebox supports 11 payment methods, including credit/debit cards, PayPal, Klarna, Afterpay, iDeal, Google Pay, Apple Pay and so on. Moreover, it has a fair return policy, offering a "7-day no reason return," a 1-year warranty for the Lights & Lighting Category, and a 30-day warranty for the rest of the items.
Pros
About 3,000 home décor products
24-hour processing time, fast delivery and order tracking
Supports a wide range of popular online payment methods
Optional shipping insurance and duty & tax insurance
7-day unconditional return and 30-day warranty for most products
Cons
Lightinthebox doesn't have a dropshipping program, and a third-party app like AutoDS is needed to automate dropshipping
10. Wayfair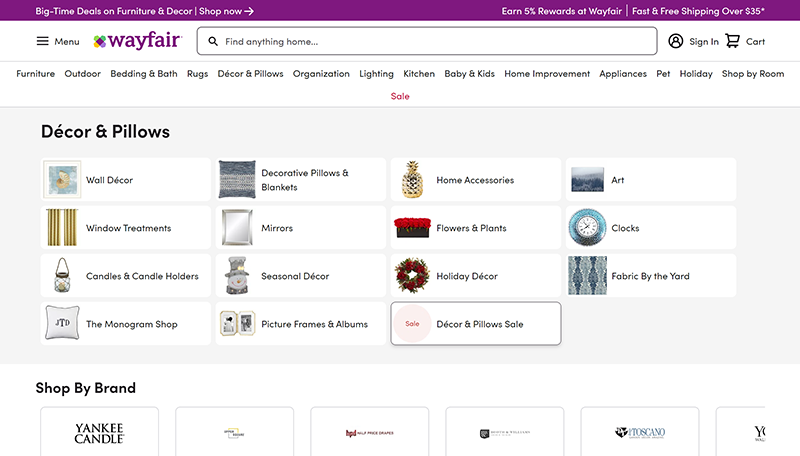 Wayfair, one of the world's biggest home retailers, is a perfect home décor dropshipping supplier because of its huge collection. It offers 33 million products to meet any home need from over 23K suppliers. Wayfair has headquarters in Boston and Berlin, as well as a total of 18 fulfillment centers and 38 delivery centers, covering millions of square feet across the US, UK, Canada, and Germany.
The home décor products on Wayfair can be found in the category of Décor & Pillows:
Wall Décor
Decorative Pillows & Blankets
Home Accessories
Art
Window Treatments
Mirrors
Flowers & Plants
Clocks
Candles & Candle Holders
Seasonal Décor
Holiday Décor
Fabric By the Yard
Picture Frames & Albums
With Wayfair, you can easily find curated collections and popular picks, and dropship products from multiple brands. Wayfair offers free shipping for many products and delivers products in the US, Canada, the UK, and Germany.
Pros
Tens of thousands of high-quality home décor products available
Fast delivery in the US, Canada, UK and Germany and convenient order tracking
Wayfair Financing allows you to pay over time
A variety of accepted payment methods, including credit/debit cards, Wayfair credit card, PayPal & PayPal credit, Apple Pay, Wayfair Financing, Wayfair gift cards, checks, and so on
Wayfair has a 30-day return policy
Cons
Slim profit margins for dropshipping
Wayfair only offers free shipping for orders over $35 in the contiguous US
11. BigBuy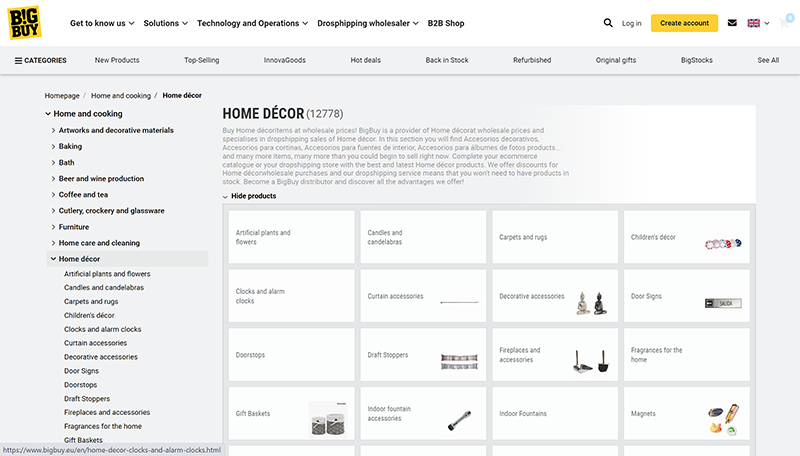 BigBuy is a European dropshipping wholesale platform that started in 2010. At that time, it was only a B2C platform. But now, they are a B2B platform as well. They provide over 12,000 home décor items in diverse categories, including artificial plants and flowers, candles and candelabras, carpets and rugs, Children's décor, clocks and alarm clocks, and many more. Therefore, BigBuy is one of the best home décor dropshipping suppliers for the European market. 
BigBuy has a rigid after-sale policy. It doesn't accept any return of products in perfect condition because the distributors could not manage to sell them. In case of an after-sales issue, the end customer has 48 hours to report it, and you have 5 days to deal with the issue with BigBuy.
Pros
More than 12,000 home décor items in 28 sub-categories

A large amount of stock in Europe and 24-hour fast shipping

Product information available in 24 European languages with native translations

Allows you to sell on online marketplaces, including Amazon, eBay, Cdiscount, Rakuten, etc.

Access to CSV/XML files and API for data synchronization 

Offers private label dropshipping service
Cons
Delivery is only available in Europe

You need to pay for E-commerce Pack or Marketplaces Pack to benefit from BigBuy's services

A strict return & refund policy
12. SaleYee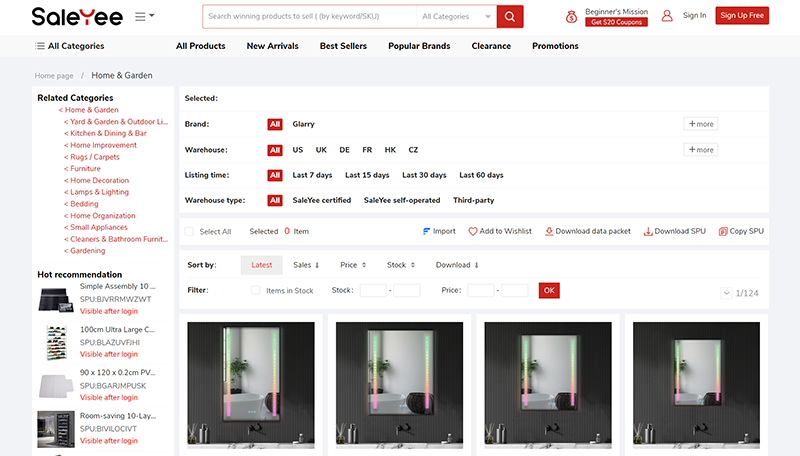 SaleYee is a global dropshipping platform that is mainly dedicated to Home & Garden products. Relevant categories include Yard & Garden & Outdoor Living, Furniture, Lamps & Lighting, Home Decoration, etc. Therefore, SaleYee is one of the best home décor dropshipping suppliers with a primary focus on high-ticket dropshipping with local warehouses in the US, UK, Germany, France, and the Czech Republic for fast shipping. Moreover, free shipping is provided for all products except for remote areas. 
SaleYee also provides shipping protection and return protection service to help retailers to reduce risks. The valid period of SaleYee's after-sale service is within 40 days of order payment. The membership is free, and the level depends on retailers' last-month sales. The higher the membership level, the higher the discount (up to 5%) you can get for orders.
Retailers can request stock reservations if they want to improve inventory stability and prices. Up till now, they support Payoneer, credit cards, AliPay, WeChat Pay and bank transfers. 
Pros
Thousands of high-quality home décor products to dropship
2 ~ 8 days fast delivery with local warehouses in the US, UK, and European countries
Optional shipping protection and return protection to reduce risks
Free membership, 1 ~ 5% discounts apply to all orders
Integrated with Shopify for product uploads, inventory updates and tracking number sync
Cons
Slim profit margins – the prices might be even higher than products on eBay
Delivery to remote areas requires quotation, and the shipping fee tends to be expensive
The transaction fee isn't included in the product price
13. DropshippingXL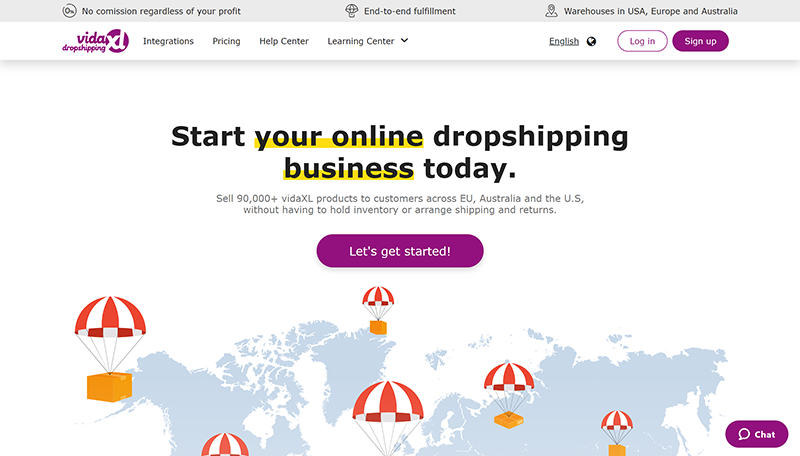 DropshippingXL is a dropshipping website operated by VidaXL, a well-known international online retailer founded in 2006 for a wide range of products in home & garden, furniture, and other categories. They offer more than 90,000 vidaXL products in total to customers across Europe, Australia and the US. In particular, about 1,000 are home décor items, while over 10,000 products are furniture.
They provide real-time CSV or XML product feed that contains all the necessary information including the product content, price and stock based on the country you dropship to. The product feed of dropshippingXL is updated on an hourly basis.
DropshippingXL supports top-up by bank transfer, PayPal or credit cards, as well as direct payment with PayPal or credit cards. As for dropshipping automation, you can get API access or choose their integration partners.
Pros
Over 1,000 home décor dropshipping products
Offers translated content in 26 different languages in XML or CSV formats
Shipping to 32 countries in EU, Australia, and the United States
Free shipping except for delivery to Australia
Free returns within 30 days of receipt by the end customer (except in Australia and Norway)
dropshippingXL plugins for Shopify and WooCommerce are available
24/7 customer support to answer your questions in time
Cons
To join dropshippingXL, you need to fill in a registration form, provide billing details, pay the monthly fee of 30 euros, and wait 2 ~ 5 business days for the account verification
To open a new selling country, you need to register a new B2B account
14. Artisan Furniture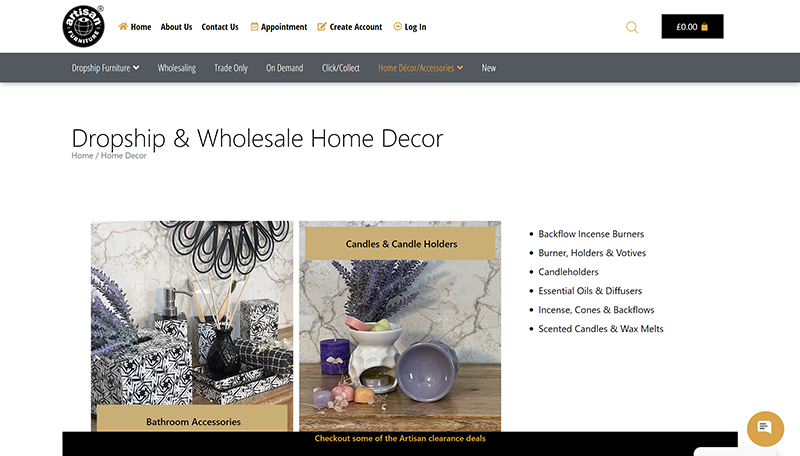 Artisan Furniture is one of the best home decor dropshipping suppliers UK dedicated to handmade arts. They started their business in 1995, and in 2016 they started the dropshipping business, which was one of this company's boldest and most profitable decisions. Their headquarters is in London, but the production is in India. Nonetheless, they have branch offices in New Jersey, USA.
Artisan Furniture has a unique collection of handmade home décor products, ranging from Bathroom Accessories, Candles & Candle Holders, Home Accessories, Kitchenware & Tableware, Lighting, and Mirrors.
They provide white-label dropshipping, whereas you can't use their product descriptions or romance copies directly but the content downloadable from your trading account. On-demand service and bespoke service are in the sub-category of the dropship program, with a long lead time of 8 ~ 12 weeks. Artisan Furniture provides a virtual assistant, Flo, to answer all your small inquiries, and requires submissions via Flo instead of emails or tickets.
Pros
Hundreds of unique handmade home décor items
Worldwide delivery service, fast and free delivery for any product to UK mainland addresses (3 working days) and US mainland addresses (3 ~ 5 working days) with New Jersey fulfillment center
No minimum order, 10% off on orders over £1,000 before taxes
On-demand service available
Accepts returns on account of manufacturing defects and transit damages
Cons
Requirements

of

 sales tax rates, a reseller certificate and the economic threshold differs in each US state

The lead time of on-demand service is rather long, i.e., 8 ~ 12 weeks

Bespoke service available if you take full container loads

Currently, data sync using EPR can be only done with Webhook; plugins for e-commerce platforms, including WooCommerce, Magento, BigCommerce, and Wix, will be available by March 2023
15. Designs Direct LLC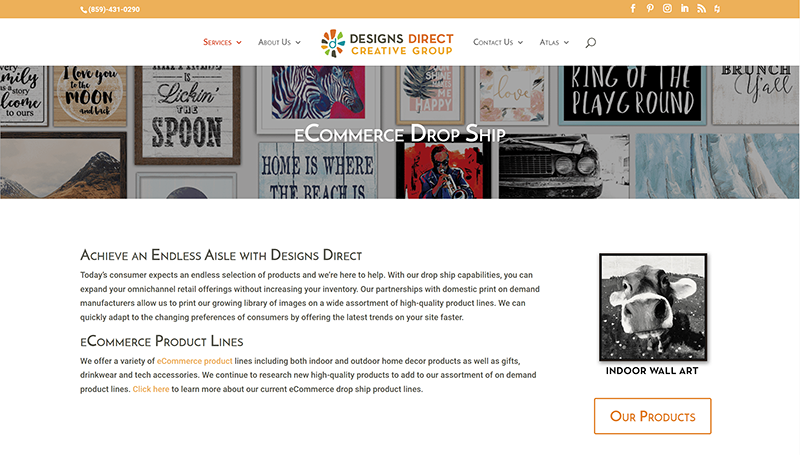 Designs Direct LLC was launched in 2002 with the goal of delivering affordable artwork to more people across the United States. The company has been working as a home décor supplier for over 15 years, serving various customers with superior design, exceptional products and services. Designs Direct LLC offers a variety of products, including indoor & outdoor home décor products, gifts, drinkware and tech accessories. The home décor dropshipping supplier also provides print-on-demand service for personalized products ranging from monograms to photo uploads. 
To provide products of high quality, the best customer service and superior designs, Designs Direct LLC has employed more creative talents, with offices in Covington, KY in the USA, as well as Hangzhou, Fuzhou, and Dongguan in China.
Pros
A huge selection of home décor products in tens of product lines for dropshipping
Print-on-demand service for you to personalize products to meet more customer needs
A professional team to create specific designs
Access to Atlas to get over 100,000 assets for home décor designs
Cons
Website navigation seems complicated
No account registration but a contact form for inquiry
16. TopDawg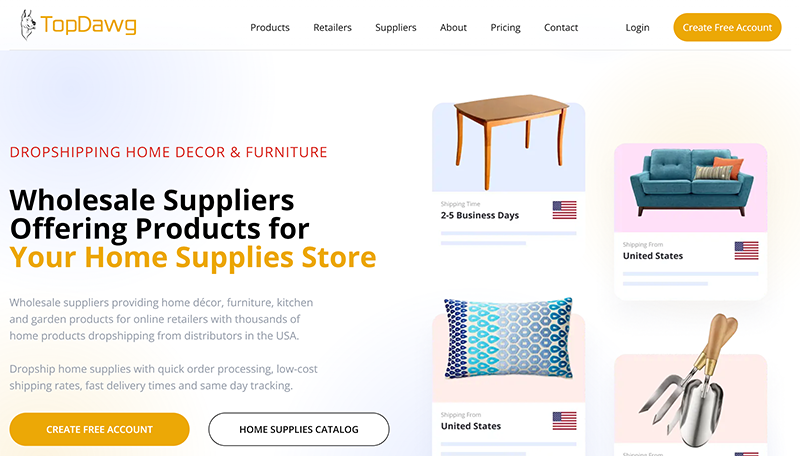 Founded in 2007, TopDawg is a fast-growing dropshipping platform based in the USA. It mainly provides furniture, home décor, kitchen and garden products, candles, pillows and so on for online retailers. There are over 5,000 high-quality home décor products in the Décor section and over 1,000 luxury products in the Accent Décor section for high-ticket dropshipping.
On TopDawg, you can find popular home brands to dropship, including Wilmax England, HomeRoots, All the Rages, Truebrands, Melrose, Kalalou, and so on. It seamlessly integrates with Shopify, and CSV files can be used for dropshipping on other e-commerce platforms, such as Amazon, eBay, Walmart, WooCommerce, and BigCommerce. 
Pros
More than 6,000 high-quality home décor products for high-ticket dropshipping
Shopify app available for dropshipping automation and CSV files for various e-commerce platforms
Premier inventory management system
Tracking for orders available within 24 hours
Delivers directly to your customers in the US and worldwide
Cons
Retailers need to upgrade membership plans to get all the premier features
17. Sagebrook Home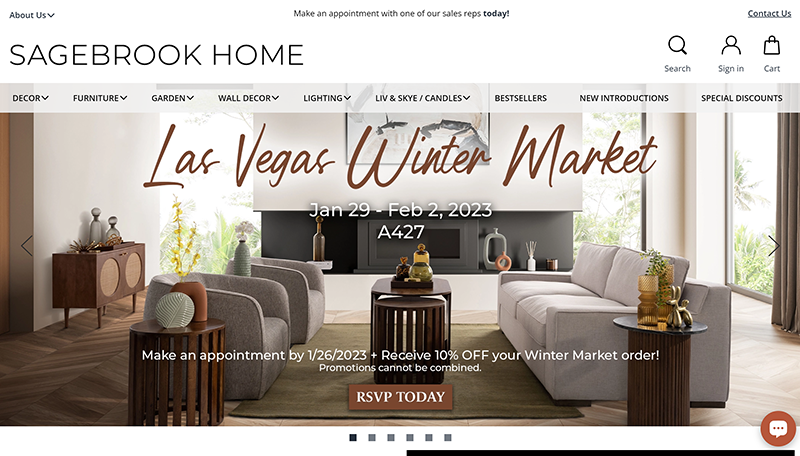 Sagebrook Home is one of the best home decor dropship suppliers US. Buyers can find wall decor, furniture, garden items, and lighting all in the same place. This company started in 2015 with a target to bring something new to the home decor industry. Their products are unique and stylish. These products are suitable for both office and home decoration purposes.
Now, they have a 500,000 square feet distribution center in Summerville, South Carolina. Sagebrook's delivery system is impressive. They dropship products only in the continental US, and the shipping charges will be billed to your UPS/FedEx account directly.
Pros
A huge collection of more than 10,000 high-quality products
Owns warehouse in South Carolina for fast delivery
Outstanding customer service
Cons
Your account will be closed if an order is not placed within 60 days of registration
Sagebrook Home enforces MAP pricing on selected lighting products
18. Aspire Home Accents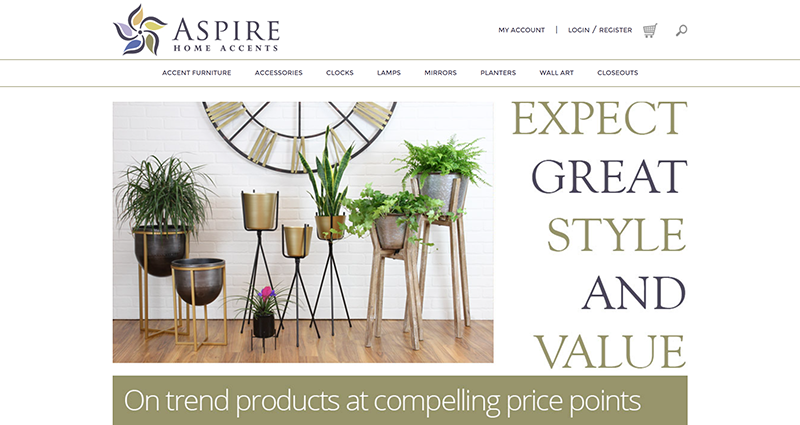 Founded in 2011, Aspire Home Accents is a reliable home décor dropshipping supplier serving online retailers. Aspire home accents understands what online retailers require. They have every kind of necessary home decor item in their inventory. Their categories include Accent Furniture, Accessories, Clocks, Lamps, Mirrors, Planters, and Wall art.
Aspire Home Accents supplies thorough product information in a CSV file for dropshippers and high-resolution photos. Their ship out products faster than other companies, usually within 1-2 business days after receiving your order. They pack each item well by using tried and tested methods to avoid any possible damage. 
Pros
A wholesaler and dropshipping supplier for home decor products for every taste
Detailed product information and HD photos
Inventory level updates according to your needs
Fast shipping and reliable packaging
Cons
19. Sunsky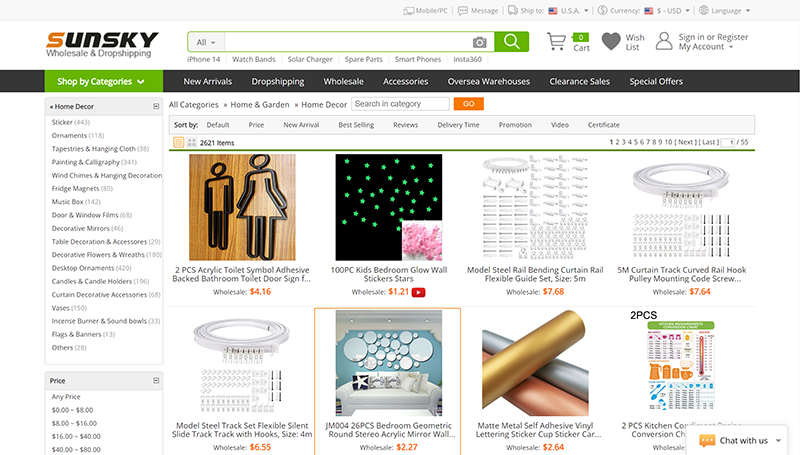 Sunsky is one of the top leading wholesale and dropshipping companies headquartered in China. They have been in the market for more than 15 years. There are over 2,600 home decor products to choose from, ranging from ornaments to flags and banners. Sunsky provides door-to-door delivery in more than 200 countries around the world. Thousands of products are available in its overseas warehouse in the US, UK, EU, Hong Kong, Australia, Japan, and the United Arab Emirates for fast delivery. 
Pros
A wide range of affordable home décor products
Delivers products fast with same-day shipping from 10 oversea warehouses
API data access for product information, order creation, tracking, price updates, etc.
Free labeling and repackaging services
Shipment service available to facilitate order fulfillment
Cons
Shipping time is long in many regions
20. Geko Products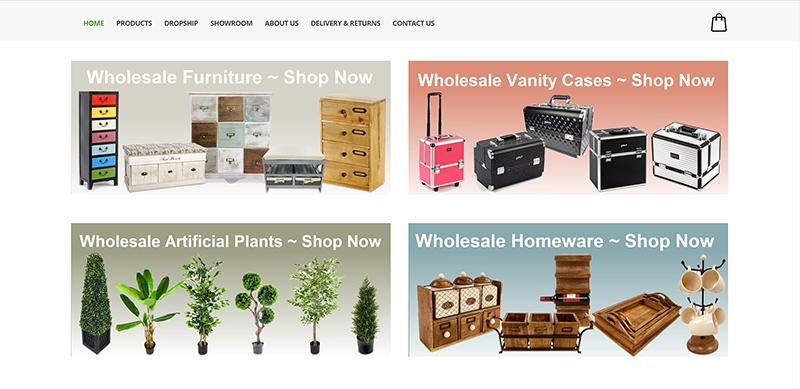 Founded in 2014, Geko Products is one of the best home decor dropshipping suppliers UK, a family-run trade-only wholesale supplier of homeware, furniture, artificial plants, vanity cases, trinket drawers, clocks & giftware. They sell these products to brick-and-mortar stores, online businesses and dropshippers. Thousands of products are in stock, and new arrivals come all the time in Geko Products' warehouse in Nottinghamshire. 
Geko Products offers dropshipping for all products and partners with multiple shipping carriers to fulfill orders worldwide. They have a dedicated dropship portal for you to download images, check real-time stock, and bulk order via spreadsheet. The annual membership only costs £30 + VAT. 
Pros
All products are available for dropshipping
Secure payments system via Stripe
Fast delivery in Mainland UK
Easy to bulk order and monitor stock
Helpful and responsive customer service
Easy returns of unwanted items by paying a restocking fee (£10+VAT)
Cons
High and uncompetitive dropship prices
Delivery to addresses outside of the UK takes longer
Home Decor Dropshipping Guide for Beginners
1. How Can You Start a Home Decor Dropshipping Store?
Do you love decorating your home? Actually, you can monetize this passion. Yes, that is true; by dropshipping home décors, you can earn a good amount of fortune.
To start a home decor dropshipping store, above all, you need to understand the home decor industry. Research and see what products are on trend and make a list of them. To research the trending items, you can use Google Trends, as well as product catalogs published by home décor retailers and manufacturers. You may also visit the home decor dropshipping websites listed above and find out the best-sellers.
After all the research, you can start a home decor dropshipping store. We'll focus on how to find the best home décor dropshipping suppliers for your business shortly.
2. How to Find the Best Home Decor Dropshipping Suppliers?
Finding dropshipping suppliers is one of the most important things. It is necessary for starting a dropshipping store. 
To find the best suppliers, first of all, you have to do research online. Find out suppliers and see their reviews. For example, you can search "dropship home decor USA" to find some home decor suppliers in the USA. Learn about their dropshipping requirements, product quality, return policy, and so on. 
Also, always check where their warehouses are and how helpful their customer service is. If possible, directly contact the manufacturers. You can do so by using a dropshipping supplier directory. And ask the manufacturers about the quality and delivery locations. 
Another thing you can do is attend seminars and trade shows. There you can learn more about this industry, and you can meet successful dropshippers there. You can also find local manufacturers there and make deals.
Always avoid fake suppliers. As the dropshipping industry is growing rapidly, there exist many frauds. Fake suppliers tend to lie to you about the inventory, ship the wrong products, and provide fake tracking numbers after they receive your money. 
Remember that choosing the supplier is very important because a bad supplier can ruin your dropshipping store in a jiffy.
3. What are the Best-Selling Home Decor Dropshipping Products?
In every niche, there are some best-selling products. The best-selling products in the home decor niche include:
Wall clocks
Cushion covers
Curtains
Lamps
Wall stickers
Table cloths
Pillows
Blinds
Candle holders
Floor rugs
These products have great demand, and they are usually at low prices. The list isn't exhaustive, and the product research is ongoing, as the best-selling products always change according to seasons, trends, festivals, etc.
Conclusion
Starting home decor dropshipping may take a lot of effort, but it will get easier as you research and deal with trusted suppliers. You can choose from the 20 best home decor dropshipping suppliers and develop a good relationship with them because this will help you make a fortune.