Want to create a successful Shopify clothing store? While operating a Shopify store may be more challenging than selling on other online platforms, there are many successful Shopify clothing stores you can learn from. 
To make your clothing store stand out from the competition, it's important to showcase your products in a unique way. Top Shopify clothing stores often have eye-catching images and captivating techniques that encourage customers to add items to their carts. By studying their approach, you can gain valuable insights and tips to help you build a successful online clothing store.
Ready to be inspired? Here are the top 20 of the best Shopify clothing store examples to check out.
| | | | | |
| --- | --- | --- | --- | --- |
| Brand Name | Niche | Country | Monthly Visit (SimilarWeb) | Monthly Sales (FindNiche) |
| | Clothing for Women & Men | US | 9.35M | 15,554 |
| | Gym Clothes & Workout Wear | UK, US | 8.2M | 912,000 |
| | Socks & Apparel | US | 4.4M | 74,800 |
| | Jeans & Demin | TR | 4.1M | 10,444 |
| | Medical Uniform & Apparel | US | 3.4M | N/A |
| | Sports Clothing | FR | 2.8M | 93,600 |
| | Women's Swimsuits & Fashion | US | 2.7M | 348,157 |
| | Yoga Leggings, Clothes & Accessories | US | 2.4M | N/A |
| | Streetwear Clothing & Sneakers | AU | 2.1M | 204,800 |
| | Women's Vintage Clothing | US | 1.0M | N/A |
| | Women's Clothing | US | 944.9K | N/A |
| | Men's Clothing | US | 885.8K | 356,000 |
| | Apparel for Recreation | US | 497.2K | 88,800 |
| | Men's Clothing | FR | 391.3K | 42,800 |
| | Women's Clothing | US | 387.5K | 59,198 |
| | Active Streetwear | US | 348.0K | 952,000 |
| | Shorts | US | 290.5K | N/A |
| | Pants & Streetwear | US | 204.5K | 7,222 |
| | Designer Streetwear | UK | 199.1K | 580,000 |
| | Clothing for Women & Men | JP | 168.8K | N/A |
Country: US
Niche: Clothing for Women & Men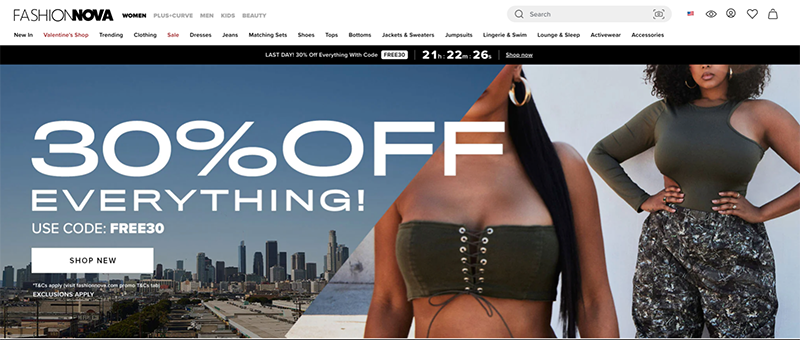 Fashion Nova is a leading brand in the world of ready-to-wear clothing and lifestyle products. Its unique selling point is its commitment to inclusivity. The brand offers stylish apparel for both genders of all sizes and shapes, breaking away from the limited sizing offered by other fashion brands. This Los Angeles-based fashion company has become a pop cultural phenomenon, boasting over 25 million social media followers, including celebrity fans and collaborators.
What sets Fashion Nova apart is its effective social media strategy, including the use of user-generated content. By encouraging its followers to post photos of themselves wearing Fashion Nova clothing on Instagram, the brand increases customer engagement and drives traffic to its store.
Additionally, Fashion Nova practices savvy influencer marketing tactics—the brand has collaborated with influencers like Cardi B to promote its offerings. 
Lessons to draw from Fashion Nova's success:
Consistently and frequently post on Instagram, TikTok, and Facebook to grow your following. You can use a scheduling tool like Buffer to make publishing easy.
Run contests to increase customer engagement and make them interesting, like Fashion Nova, which gives winners the opportunity to receive gifts and get features on its homepage.
Country: UK, US
Niche: Gym Clothes & Workout Wear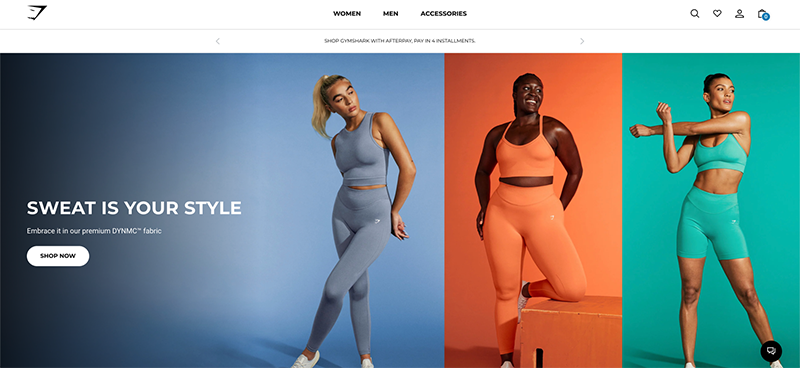 Gymshark is a leading Shopify clothing store in the fitness apparel industry. Founded by Ben Francis in 2012, it has rapidly grown into a billion-dollar business with 18 million followers, 14 successful online stores, and millions of customers worldwide.
Gymshark's user-friendly website design makes browsing its products effortless. The homepage features only three buttons for navigation, and the site is highly responsive, making it easy to search on mobile devices. Each product displayed comes with descriptive information.
This Shopify clothing is a great example of how to connect with customers. One of the key factors in its success has been its ability to create and nurture a strong community of fitness enthusiasts. This community has become a powerful marketing tool for Gymshark, with members sharing their experiences and recommending the brand to their friends and followers.
Lessons to draw from Gymshark's success:
Put your customers first. For example, when the Gymshark website crashed for more than 8 hours on Black Friday, Ben personally wrote more than 2500 apology letters (including discounts) to disappointed shoppers.
Connect the online and offline worlds. Gymshark's meet-ups and 'expos' are events where fans can connect with their favorite fitness influencers, making the brand more than just a product-based entity.
Invest in building a community around your brand to reap significant long-term benefits
Country: US
Niche: Socks & Apparel

Bombas has established itself as a top-notch clothing store on Shopify, specializing in creating comfortable tees and socks for its customers. The brand has a strong commitment to giving back to those in need. Up till now, Bombas has donated more than 75 million items to over 3,500 organizations via the "One Purchased = One Donated" program.
Customers are drawn to Bombas' Shopify store due to its eye-catching color scheme and easy-to-use layout. The store highlights its current promotions and deals at the top of the homepage, making it easy for customers to stay up-to-date on the latest offers.
All the important information can be found in the sticky headers, allowing customers to quickly access the products they are interested in without having to scroll. The Shopify store also makes it simple to subscribe to the newsletter by simply entering your email address at the bottom of the homepage.
Lessons to draw from Bombas' success:
Take a social initiative to let customers know you are contributing to the society
Put up promotions and deals in a prominent place so customers can notice them easily
Country: Turkey
Niche: Jeans & Denim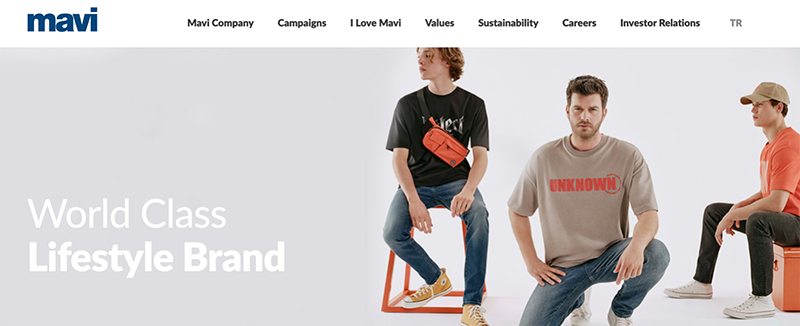 Next on our list of Shopify clothing store examples is Mavi, a company with 30 years of expertise in the denim industry. It offers a range of denim clothing for both men and women. In 2019, the brand sold 9.7 million pairs of jeans globally—a testament to its global expansion. 
At MAVI, customer satisfaction is a top priority. To this end, they have implemented a feedback survey to gather opinions from shoppers. Whether a customer's experience is positive or negative, their input can help the brand evolve and improve.
As an expert in denim, Mavi also has a dedicated platform to educate its readers, showcase its culture, and assist its customers in finding their ideal jeans. The Mavi blog provides an opportunity for its audience to interact with the brand.
Lessons to draw from Mavi's success:
Create resources (blogs, videos, etc.) to educate your readers about your product and brand
Keep the conversation open and use customer feedback to improve your offerings
Country: US
Niche: Medical Uniform & Apparel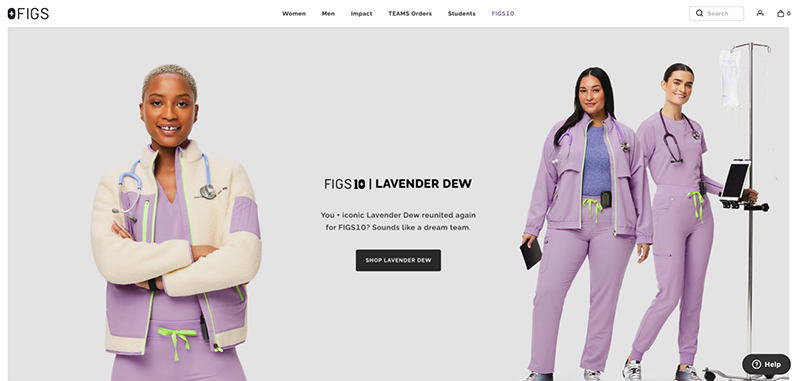 FIGS is a direct-to-consumer healthcare apparel and lifestyle brand and a key player in the medical hygiene clothing market. The brand's goal is to honor and empower healthcare professionals and support this growing global community, referred to as "Awesome Humans." The brand is dedicated to helping these individuals look, feel, and perform at their best 24/7, every day of the year.
FIGS is most famous for its stylish high-waisted scrubs. The brand has invested many years in developing proprietary fabrics that are anti-odor, anti-wrinkle, moisture-wicking, and stretchy. Additionally, Figs places a strong emphasis on comfort - its clothing is much more comfortable than other brands' scrubs. 
Traditional scrubs are often available for as little as $10, while Figs' prices start at $38 for a top and can go up to $86 for a complete uniform. High prices for a product that delivers what it promises can create an aura of exclusiveness, drawing more customers to the brand. If you work in healthcare, having more options for what you wear to work and Figs' clothing price can indicate superior quality. The stylish design of Figs' clothing also supports the idea that it is a valuable investment.
Overall, FIGS has found success with its combination of style, performance, fit, and premium pricing.
Lessons to draw from FIGS' success:
Turn a product into a brand, as FIGS has done with scrubs
Get people to pay a premium by sourcing high-quality merchandise
Create and get exposure via brand ambassadors (FIGs has over 250 of them)
Country: France
Niche: Sports Clothing

Decathlon is a French sporting superstore with over 11,000 global store outlets. Despite the variations across continents, the brand ensures consistency in both in-store and online shopping experiences. Decathlon's Shopify clothing store is quite successful.
Decathlon offers a diverse range of sporting goods to meet the needs of everyone, including both sports enthusiasts and professionals participating in over 70 different sports. Consequently, they offer features that allow website visitors to sort and navigate through over 10,000 products by sporting activity. With the help of subcategories, you can easily locate your desired item in no time.
The brand is also active on social media, posting reviews left by customers and using UGC to bring exposure to its products. 
Lessons to draw from Decathlon's success:
Make it easy for people to sort product variants. For instance, you can offer filters like color, size, use case, etc. 
If you have a physical storefront, make sure its experience is consistent with that of your online store.
Country: US
Niche: Women's Swimsuits & Fashion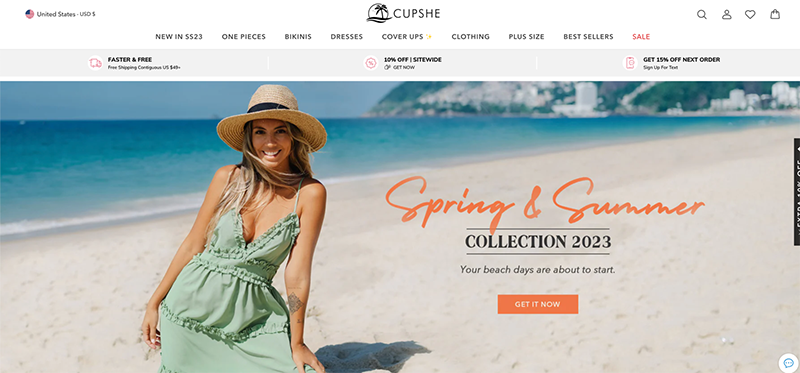 Founded in 2015, Cupshe is an apparel brand that specializes in designing beachwear that caters to different body shapes and sizes. The outcome is a collection of stylish and affordable swimwear that women can confidently wear.
Like many other clothing Shopify stores on this list, Cupshe has gained a significant following on social media platforms, including Facebook and Instagram, with over a million followers. Its social media strategy is centered around user-generated content, with most posts coming directly from its loyal customers.
But what stands out is Cupshe's innovative approach to search engine optimization. They use their blog to target long-tail keywords that their target audience might be searching for, such as "bikinis for the 4th of July" or "swimsuits for a trip to Mexico." These posts are presented in a catalog-like layout with shoppable images.
Lessons to draw from Cupshe's success:
Focus on both on-brand and long-tail keywords when devising your e-commerce SEO strategy
Take advantage of shopping features on Instagram, Facebook, and TikTok to get more sales
Country: US
Niche: Yoga Leggings, Clothes & Accessories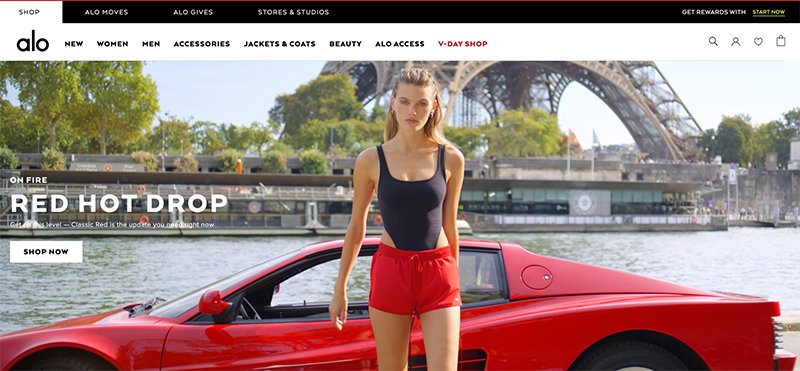 Along with offering a supportive and encouraging atmosphere for those on their wellness journey, Alo Yoga is among the top Shopify clothing stores that's definitely worth exploring. The brand endeavors to bring the tranquillity and serenity of yoga to people all over the world.
Besides selling yoga clothing, Alo Yoga also provides accessories and leggings, and that can be worn in various settings, whether it's on the street, in a yoga studio, or elsewhere.
The design of Alo Yoga's website is simple yet sophisticated. Upon visiting it, potential customers will be immediately drawn to its beautiful design, which is easy to navigate, resulting in a seamless browsing experience.
Alo Yoga's influencer marketing approach also hits home—the brand runs a Pro program where professional instructors receive a 25% discount on its products. This motivates them to wear Alo Yoga, and customers replicate as the brand is trusted by professional instructors.
Lessons to draw from Alo Yoga's success:
Run an influencer program where you offer micro-influencers perks for consuming your products (shares will come naturally).
Use an elegant design and ensure easy navigation for your e-commerce site.
Country: Australia
Niche: Streetwear Clothing & Sneakers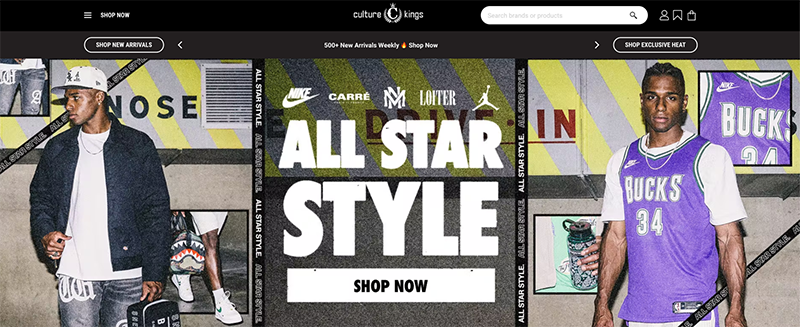 Culture Kings is one of the best Shopify clothing stores in the world. Hailing from Australia, the brand offers a vast selection of apparel and sneakers, with over 300 new items added each week. 
For premium Shopify brands, combining exclusivity with a high level of customer experience is key. Culture Kings achieves this by providing exclusive offers and not-for-sale items to certain users. The homepage highlights trending and new products, and customers can sign up for exclusive offers by scrolling down the page. 
Culture Kings also engages with its customers through giveaway competitions, creating a dynamic and interactive shopping experience.
Lessons to draw from Culture Kings' success:
Use email marketing to build a connection with your customers
Add an element of exclusivity by offering certain products to your loyal customers only
Country: US
Niche: Women's Vintage Clothing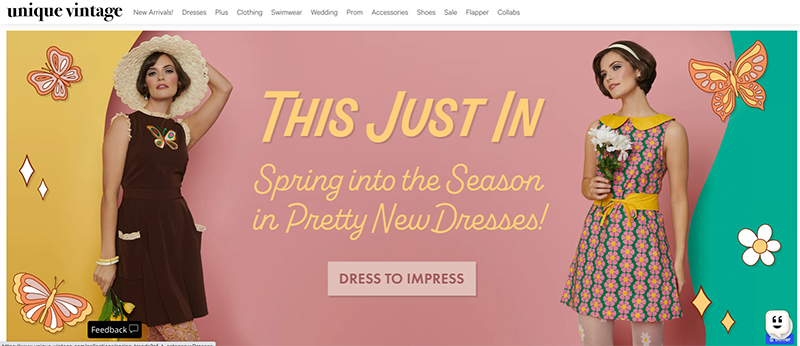 Unique Vintage is a female-owned and operated vintage clothing brand based in Burbank, California. The company has developed significantly since its humble beginnings in the CEO's garage. It has even been recognized as one of Newsweek's Best Online Shops and as a member of the Inc. 5000.
Unique Vintage is dedicated to inclusivity and diversity and remains true to its founder's original vision of a brand and company that celebrates the uniqueness and believes that everyone belongs. 
The team at Unique Vintage works together in an honest, open, and collaborative manner, with the belief that they can achieve anything together. In 2017, they launched the first of many licensed collaborations, including ViacomCBS, Warner Bros, NBCUniversal, and Barbie x Unique Vintage.
Lessons to draw from Unique Vintage's success:
When selling vintage clothes, don't forget to add a modern touch to the silhouettes
Be open to collaborating with others to create new product lines
Country: US
Niche: Women's Clothing

VICI is a Shopify retailer with the goal of providing women with stylish and affordable fashion options. Established after the economic downturn, the company utilizes its online platform to display a range of clothing, dresses, and accessories, including popular styles like Bride To Be and Florals & Frills. Customers can peruse an abundance of stunning collections curated by VICI's fashion experts and find inspiration for their daily attire.
VICI uses a magazine-style theme to give a glimpse of its products. Plus, it uses easy navigation and clean CTAs to drive shoppers to its product pages. Plus, it's really active on Instagram, where it hosts contests, posts UGC, and showcases influencers using its products.
Lessons to draw from VICI's success:
Offer an assortment of products tailored to customer's preferences
Leverage social media to build a brand around your products
Country: US
Niche: Men's Clothing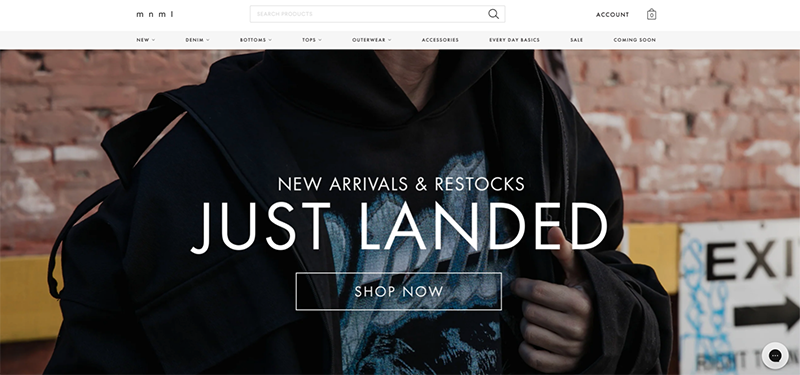 Mnml is an innovative online clothing company that has made its way to the top of the streetwear fashion world. By operating solely online, Mnml avoids the inflated prices that come with traditional retail and provides customers with a wide range of progressive designs, including outerwear, hoodies, t-shirts, accessories, and more.
The company's online store is expertly designed, making it effortless for customers to find the products they're looking for. Mnml is a marketing and logistics powerhouse, using social media and influencer marketing to stay ahead of the competition.
The company places a strong emphasis on trust and security, showing "Free & Fast Shipping," "Hassle-Free Returns," and "Secure Checkout" prominently on its homepage. Mnml also includes action-packed video clips in their product galleries to provide customers with a more in-depth look at the products they're interested in.
Mnml's checkout process is seamless, with a variety of express payment options available. 
Lessons to draw from mnml's success:
Offer an in-depth look of your items. You can even look into AR/VR apps for your store.
Make the e-commerce checkout process seamless. Also, offer multiple payment options to consumers.
Country: US
Niche: Apparel for Recreation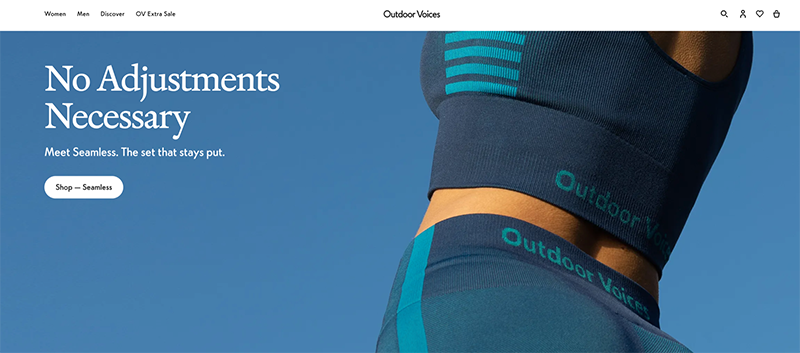 Outdoor Voices, also known as OV, is a dynamic, active lifestyle brand that creates gear for outdoor recreation. Founded in 2013 and now based in Austin, Texas, Outdoor Voices is dedicated to creating outdoor-ready, stylish, and practical apparel.
The brand has a mission to "inspire others to get moving," and this ethos is reflected in the language and imagery used on the website and in marketing materials. The focus is on the people using the products rather than the products themselves.
Outdoor Voices provides customers with a sense of community through its various initiatives, such as:
The Recreationalist, a magazine that covers lifestyle content focused on recreation and physical activity.
The Doing Things Network ambassador program, which rewards people who create user-generated content.
An iOS app where customers can not only shop but also discover local events and fitness clubs.
The hashtag #DoingThings, encourages customers to share their experiences with the brand.
Lessons to draw from Outdoor Voices' success:
Give customers an incentive to share UGC. This can be a discount or a free sample.
Come up with a unique branded hashtag for your brand ambassador campaigns.
Country: France
Niche: Classic Men's Clothing

Taylor Stitch is a renowned brand in the fashion industry, offering classic men's clothing. Their Shopify store is visually appealing, featuring classy images that exude a vintage vibe.
Visiting their homepage feels like stepping into a luxurious and exclusive retail store.
The company operates using a unique hybrid business model. They maintain a limited inventory and crowdfund the rest of their products, reducing waste and cutting down on overhead costs.
By following in the footsteps of Taylor Stitch, you can also make a lasting impression on customers with a sophisticated storefront and stand out from the competition.
Lessons to draw from Taylor Stitch's success:
Create an exclusive feel around your website's theme and layout
Use high-quality images that showcase the salient features of your clothing
Country: US
Niche: Women's Clothing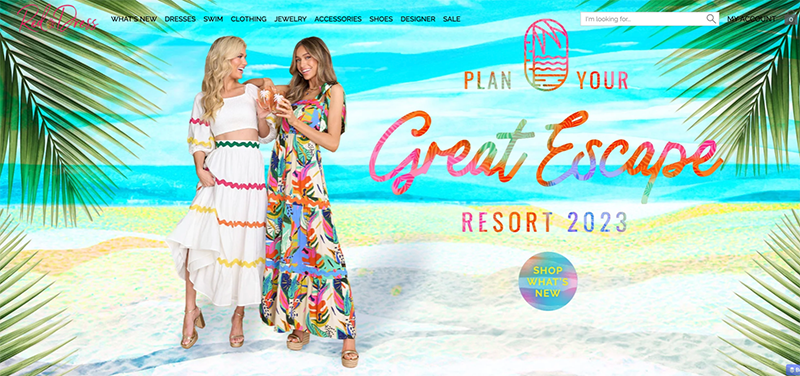 Red Dress Boutique is a women's fashion store headquartered in Athens, Georgia, that offers a wide selection of clothing, footwear, and accessories. In 2022, the net worth of this brand was estimated to be a staggering $20 million. To stand out visually and collect customer data, Red Dress uses several tactics.
Welcome magnet: A well-designed welcome form pops up as soon as the site loads, offering 15% off for signing up for the email list. This helps collect email addresses for targeted promotions.
Beautiful hero image: Visitors are greeted by a custom header section with beautiful images that display full screen.
Excellent social media integration: Shoppers can easily purchase items featured on Red Dress' Instagram feed.
Lessons to draw from Red Dress's success:
Use popup apps like Privy to offer customers incentives as soon as they land on your website.
Utilize shoppable Instagram images and videos to get more conversions.
Country: US
Niche: Active Streetwear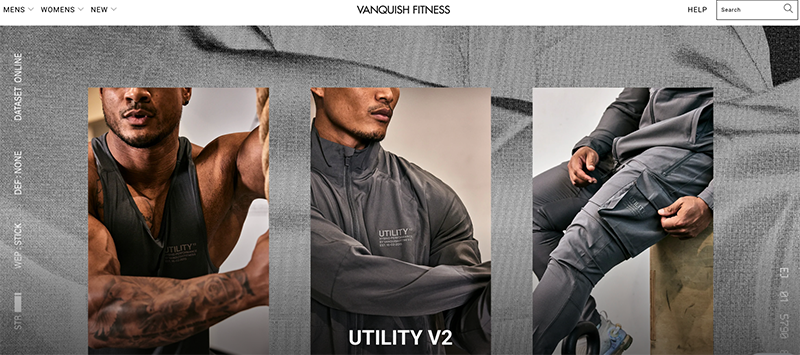 Vanquish Fitness is a leading Shopify store that offers a wide range of fitness clothing designed to help people look their best both in and out of the gym. Its product offerings include hoodies, joggers, t-shirts, and other sportswear apparel.
What sets Vanquish Fitness apart is the sleek design of its website. With a professional look and feel, the website is equipped with great features such as "Shop the Look," "Quick Add to Cart," and "Product Zoom," making it easy for visitors to find the right products with a smooth and effortless shopping experience.
Moreover, Vanquish Fitness places a strong emphasis on giveaways and rewards. The brand uses a point-based system and gives away prizes based on tiers. This helps it generate engagement and also creates user-generated content for its social media pages.
Lessons to draw from Vanquish Fitness's success:
Add image zoom, quick add-to-cart, and other features to streamline the shopping experience.
Use giveaways and rewards to build a buzz around your brand.
Country: US
Niche: Shorts

Chubbies was established in 2011 with the goal of disrupting the traditional world of men's fashion. The founders, a group of friends, sought to challenge the status quo by creating a relaxed, fun, and irreverent fashion brand that would bring the feeling of Friday at 5 PM to their customers every day of the week.
At its core, Chubbies is a shorts company, but today they offer much more, including aloha shirts, hoodies, and performance polos that their customers need to build a year-round weekend wardrobe.
Chubbies isn't just selling clothes; they are selling fun. By speaking to their customers' emotions and providing something beyond their product, they keep their customers coming back for more.
Lessons to draw from Chubbies' success:
Define the purpose of your brand so that you can sell what you stand for and speak to customers' emotions.
See what your customers need and offer a valuable product to build a sustainable business.
Country: US
Niche: Pants & Streetwear
In 2017, BLACKTAILOR was founded with the goal of improving the standards in distressed denim fashion. Recognizing the growing trend of distressed denim, the founders saw a need for comfortable and functional, yet affordable, black cargo pants. BLACKTAILOR was established to fill this gap, focusing exclusively on this versatile style of pants.
BLACKTAILOR has built a highly efficient website to make it easy for people to shop from its online store. You have menus for different products, plus a white background to keep unnecessary elements out of the way. They also have a lot of fans who rave about their products on social media. Plus, BLACKTAILOR runs an affiliate ambassador program where it gives away free products to those who help spread the word about its business.
Lessons to draw from BlackTailor's success:
Make it easy for customers to navigate your site and place orders
Consider having an ambassador program to grow your brand's reach
Country: UK
Niche: Designer Streetwear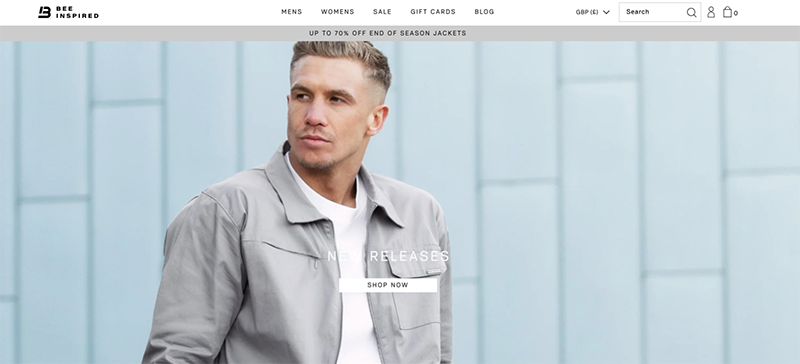 The Bee Inspired Clothing store offers a range of stylish global designer streetwear that appeals to sporty and energetic customers. They carry a variety of products, including sweatpants, t-shirts, shirts, jeans, shorts, footwear, and sportswear.
Founded in 2013, Bee Inspired Clothing has become a successful brand due to its expertly designed, high-quality products. Their simple and bold website with eye-catching product images also contributes to their success.
The store frequently offers heavy discounts on selected products, which are highlighted through popups on their website. Additionally, new customers who use the app on their mobile devices receive a 10% discount.
Additionally, Bee Inspired uses customer reviews to showcase the authentic side of its business. Their Trustpilot reviews show customers can trust the brand when it comes to products and customer service.
Lessons to draw from Bee Inspired's success:
Create tier-based discounts based on user activity and loyalty.
Offer options like Buy Now, and Pay Later to get more customers to buy. 
Country: Japan
Niche: Clothing for Women & Men

The last on our list of best Shopify clothing stores is Sister Jane, a fashion brand based in London with a unique take on vintage-inspired clothing. Sister Jane offers a range of items, including tops, dresses, jackets, and accessories, that are known for their fresh, colorful, and trendy designs with a retro nod.
The Shopify store of Sister Jane is a great example of a well-designed website that works seamlessly on all devices. The website's design reflects the brand's aesthetic, featuring pastel colors and sleek fonts that match the brand's aesthetic perfectly. The high-quality video previews and images of its products add a professional touch and enhance the shopping experience for customers.
Lessons to draw from Sister Jane's success:
Choose a website layout that matches your brand colors and guidelines. Aim for a cohesive appearance based on your brand ethos.
Offer high-quality visuals to make it easy for customers to visualize themselves wearing the apparel. 
Conclusion 
In conclusion, Shopify is a great platform for anyone looking to start an online clothing store. With its intuitive interface and powerful features, Shopify provides all the necessary tools to help you launch your business. 
The top 20 Shopify clothing stores listed above serve as an inspiration for your own clothing dropshipping store. With merely a few clicks, you can actually turn your vision into reality and start your e-commerce journey today.