Dropshipping is an increasingly popular business model for online retailers. It enables you to sell products without having to worry about stocking inventory or shipping orders. Instead, you partner with a dropshipping supplier who takes care of these tasks for you.
There are many dropshipping websites that can help you get started with this business model, and in this article, we will introduce 30 of the best ones for dropshippers. We will divide these websites into 5 categories: Dropshipping Website Builders, Dropshipping Websites for Product Research, Dropshipping Websites for Sourcing, Print-on-Demand Dropshipping Websites, and Dropshipping Supplier Directory Websites.
We will go into details of the best dropshipping websites in these 5 categories one by one. However, before this, let's first understand what dropshipping business really means.
What Is Dropshipping? How Does It Work?
Dropshipping is an online business model in which an eCommerce retailer does not hold items in stock, resulting in no inventory costs. When a consumer orders a product, the online store owner places the order with the original seller, who ships the item straight to the consumer.
Dropshipping is an excellent choice for first-time business owners as it allows them to test new product concepts without owning the goods.
Best Dropshipping Website Builders 
Dropshipping website builders allow you to design the storefront of your dropshipping business with a set of features. The features assist you in branding and optimizing your website to scale your business and increase your sales.
The top 5 dropshipping website builders include:
Shopify is one of the most well-known e-commerce platforms available, and for good reason. It's an excellent choice for online retailers looking to start a dropshipping store, as it offers a wide range of sophisticated features and integrations to help you drive sales, attract consumers and manage your day-to-day operations.
Pros:
User-friendly interface that makes it easy to set up and manage your store
Integrated with popular payment gateways, shipping carriers, and other tools
Plenty of customization options, including themes, apps, and plugins
Robust security features, including PCI-compliant checkout, secure hosting, and backups
Cons:
Additional costs for certain features, such as premium themes and apps
Higher fees compared to other platforms, including a monthly subscription fee and transaction fees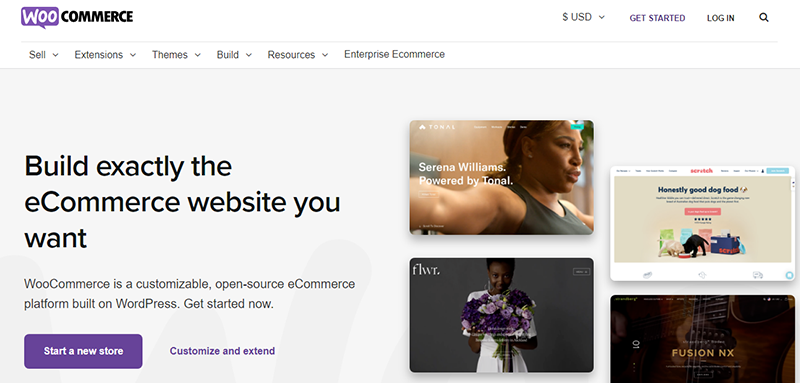 WooCommerce is an open-source e-commerce platform that's built on top of WordPress. It's a great option for online retailers who want more control over their website, as well as those who want to keep costs low.
Pros:
WooCommerce is a free WordPress plugin that provides everything you need to start an online business
It has great flexibility and allows businesses to add features and extend the functionality with extensions
Low costs, as you only need to pay for hosting and any premium plugins or themes you use
Strong community support, with plenty of tutorials and resources available online
Cons:
Steep learning curve, especially if you're not familiar with WordPress
Requires more technical knowledge to set up and manage your store
Not as many integrations available compared to Shopify
 
Wix is a website builder that's designed to make it easy for anyone to create a website, even if you have no technical skills. It's an excellent choice for online retailers who want a simple and straightforward platform to build their stores. There are nearly 900 design templates and a wide variety of in-demand tools to help you develop a stable and appealing online store.
Pros:
Extremely user-friendly interface that's easy to use, even if you have no experience building websites
Nearly 900 customizable templates are provided, and there are many apps and plugins
No coding required, making it an accessible option for non-technical users
Wix provides SEO capabilities to boost your dropshipping website ranking in the search results
Cons:
Plans have storage restrictions, so if you intend to start improving your site, you might have to change to a more costly plan
You cannot change templates once your website has been launched but start all over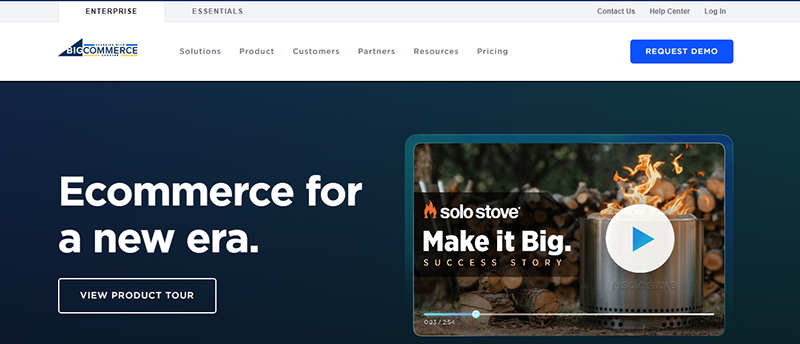 BigCommerce is the most reliable commerce solution provider for B2C and B2B business owners who want a powerful and scalable platform. It is also one of the best dropshipping website builders, offering essential plans for dropshippers to design and customize an impressive storefront, boost traffic with SEO, integrate with sales channels, and make sales analyses.
Pros:
All-inclusive product and inventory management features, useful video tutorials and 24/7 customer support
No extra transaction fees are required, no matter what plans you choose
Import unlimited products and get unlimited file storage and bandwidth
Excellent scalability, allowing you to grow your store as your business grows
Cons:
There will be a steep learning curve, especially if you're new to e-commerce
There are a few free themes available
The platform sets a threshold for annual sales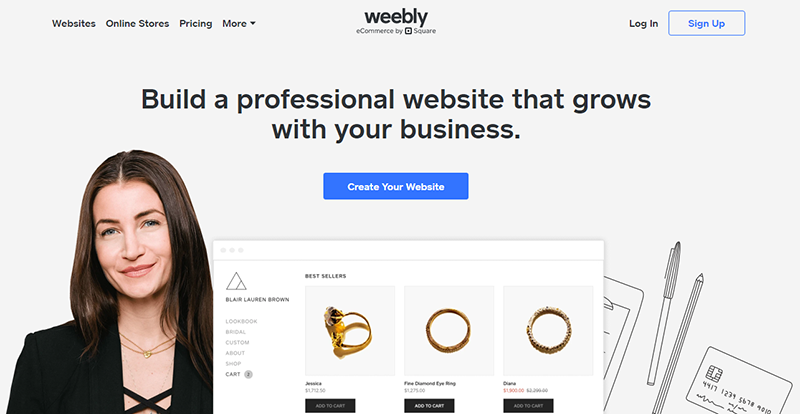 If you don't have any coding knowledge, you may also choose Weebly. It's an affordable dropshipping website builder with which you can set up your dropshipping store quickly. Weebly offers great value for money, which is good for beginners and small businesses.
Pros:
A user-friendly website builder that makes it easy to set up and manage your store
No coding required, making it an accessible option for non-technical users
The templates are mobile-friendly - they can adapt to mobile devices well
Cons:
Limited customization options and few tools are available for long-term growth
The use of the drag-and-drop editor is very restrictive
Limited choices of themes for storefront design
Best Dropshipping Websites for Product Research
You can't bet your money on products that won't sell. That's why looking for winning products is essential. Except for the sales volume displayed next to each product on AliExpress, you need professional product research tools to discover the best-selling products.
Here are 5 best websites for dropshipping product research: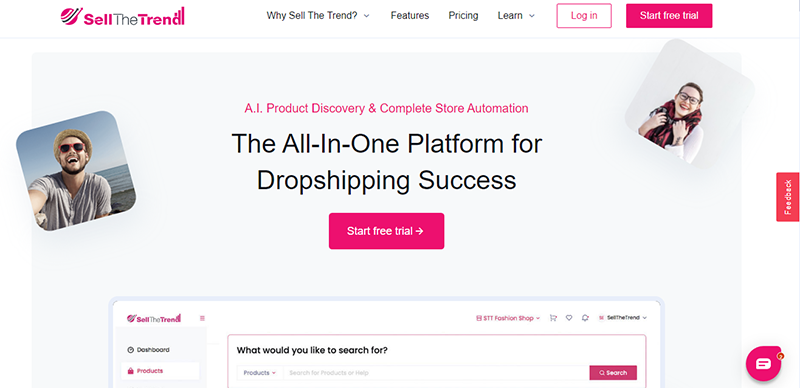 SellTheTrend is a dropshipping platform that provides services ranging from product research to social media targeting. It is well-known for its NEXUS AI-based product research tools. It also has a large database that monitors what's popular on Amazon, Shopify and AliExpress.
It contains the latest store intelligence tool that retrieves information from all Shopify stores.
Pros:
It has a big database with over 7 million products in 83 niches to assist you in finding winning drop-ship items 
Use several explorers to find popular items 
Video Ads Creator for creating one-of-a-kind videos for ad campaigns
It has an Oberlo alternative – the Google Chrome plugin that allows you to add goods straight from AliExpress and fulfill orders
Cons:
For dropshipping beginners, there is a learning curve to use all its features available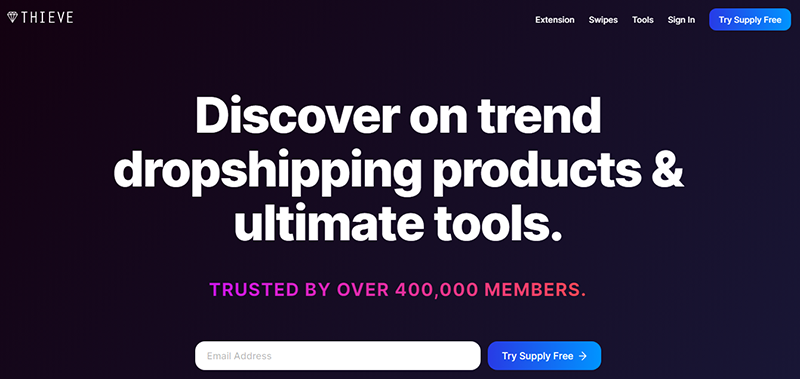 Thieve is a product research tool for finding winning products and reliable suppliers on AliExpress. It was designed for distributors and eCommerce business owners to learn about popular items and their conversion rates. They also build eCommerce tools to help an increasing number of dropshippers.
Pros:
Provides popularity and conversion scores on each product based on real customer interactions
Their creative team produces professional images for each product
Access to more than 4,000 hand-picked trending products
Find the best suppliers and spy on over 200,000 dropship stores
Use real-time Google Search data to explore trending search terms
Cons:
They only target AliExpress products; therefore, the database is not comprehensive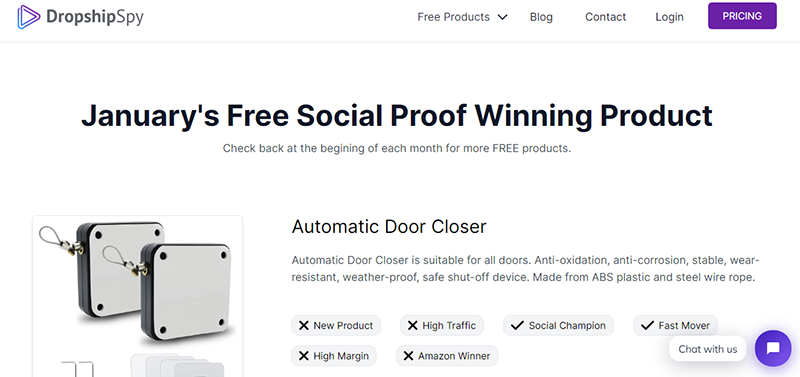 Dropship Spy is a website for dropshipping product research that helps online retailers find the best products to sell by analyzing data from Facebook, Instagram, TikTok and AliExpress. It showcases over 2,500 top-selling products on social media, as well as hot and trending products on AliExpress. Dropship Spy provides a wealth of information on each product, including its demand, competition, and profitability.
Pros:
Top-selling products from AliExpress and popular social media platforms
Provides valuable data about each product, including historical sales, profits, and engagement scores
It offers marketing materials, such as ad copies and videos
Spies Facebook ads to assist you with creating target audiences
Provides CSV files to import reviews to Shopify stores
Cons:
Concentration on only a few successful products
The competition for the products selected by Dropship Spy is high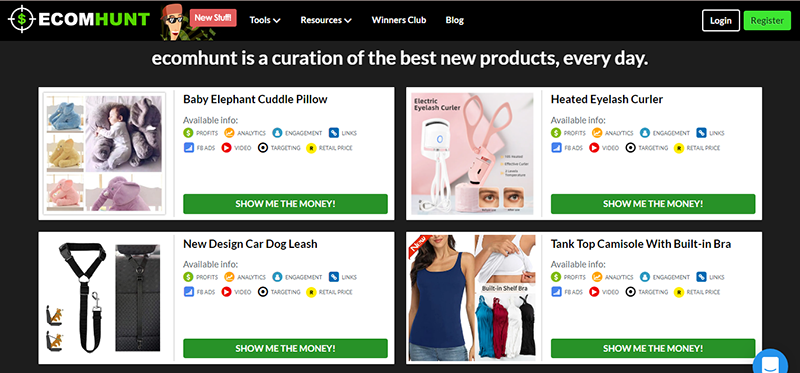 Ecomhunt is an affordable dropshipping research tool. It offers a free plan that allows restricted access to a range of items and a Pro plan that costs $49/month for unlimited access. Daily updates to Ecomhunt include new items that their professional research team has carefully chosen.
Pros:
Its website is simple to use and has a sleek user interface
Makes it easy to find winning products quickly
It has over 4,000 carefully selected items with extensive analytics
It provides links to winning advertising campaigns as well as engagement data
Cons:
Selling pricing and earnings are frequently inflated
Most of the products are purchased from Chinese sources
Only a few filters are available for more specific searches

This is a dropshipping website for product research that helps you to examine successful items with a high potential for business growth. FindNiche's database covers over 210 million AliExpress items and over 3 million Shopify shops. It also spies on over 80 million ads on Facebook, Instagram and YouTube
This dropshipping website finds trending items that have high profit margins. 
Pros:
Provides the biggest database for dropshipping product research
Gives more precise and accurate product information
Runs a blog with product and startup information that help entrepreneurs 
Offers online customer support
Cons:
Expensive premium plans
Limited free access
Best Dropshipping Websites for Sourcing
You can source from a wide range of dropshipping websites. Many of them act as intermediaries connecting suppliers and retailers, while some may focus on delivering products on your behalf. 
The best dropshipping websites for sourcing include:

AliExpress is regarded as the biggest dropshipping website for sourcing products at lower prices than you would find locally and on online marketplaces such as Amazon and eBay. You can source things by searching by product name or by contacting suppliers directly. It offers Buyer Protection that guarantees a full refund if a product arrives late.
Pros:
Large product selection: With millions of products available, AliExpress offers a vast selection of products for dropshippers to choose from
Affordable prices: With most products sourced directly from China, AliExpress offers the most affordable prices on the market
Worldwide shipping: AliExpress ships to over 200 countries worldwide, making it a great option for retailers looking to reach a global audience
Direct communication with suppliers
Cons:
Long shipping times: Shipping times from China can be lengthy, ranging from two to four weeks, which can impact customer satisfaction.
Lack of integration: Third-party apps are needed for dropshipping automation.
Product quality concerns: While AliExpress offers a wide range of products, the quality of these products can vary, with some suppliers offering lower-quality products.
Competition with other dropshippers: With AliExpress being a popular dropshipping website, competition can be fierce, making it harder for retailers to stand out.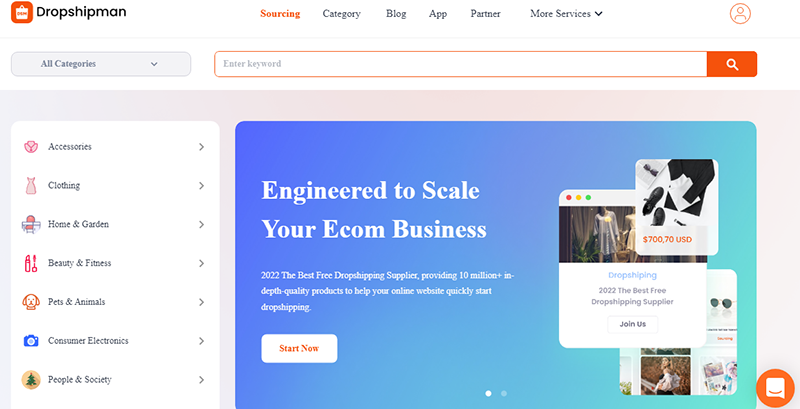 Dropshipman is one of the best dropshipping websites for sourcing that allows you to import items from AliExpress to Shopify, source products with the help of professional sourcing agents, and manage order fulfillment. 
You can send sourcing requests for free by providing the product title, images, description, destination country, and target price. Then, the request will be processed within 1 ~ 3 business days by dedicated sourcing agents. By contacting your personal agent, the daily limit of sourcing requests can be increased to 35. You won't need to pay for anything until you get an order. Apart from dropshipping, you can choose to buy products wholesale, and Dropshipman will offer you free inventory storage.
Pros:
Free sourcing service: You can send up to 35 sourcing requests per day, much more than working with other sourcing agents.
Free quality inspection: Dropshipman products must undergo a quality check twice before shipping, which can help you improve customer satisfaction.
Automated order fulfillment: Dropshipman orders can be processed automatically after you enable automatic payment, which simplifies the dropshipping process and saves time.
User-friendly interface: Dropshipman has a user-friendly interface that is easy to navigate, making it a great option for retailers who are new to dropshipping.
Cons:
Only limited to Shopify stores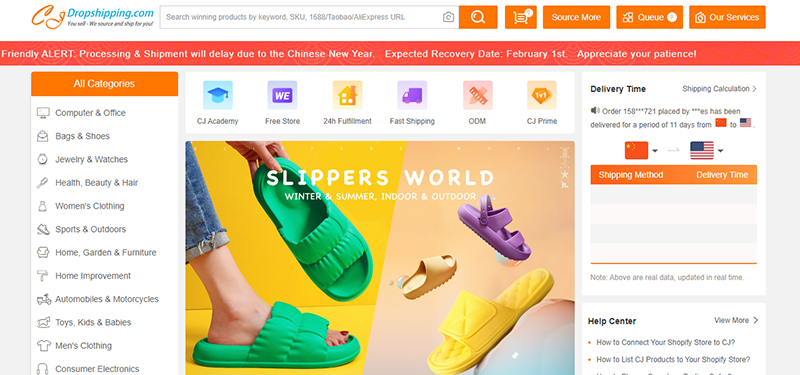 CJDropshipping, headquartered in China, is a dropshipping website that offers comprehensive services, including product sourcing, order processing, worldwide shipping, print-on-demand, custom packaging, and so on. At first, the number of sourcing requests you make each day will be restricted to 5. As your VIP level goes up, it will eventually rise to an unlimited number.
With many years in the dropshipping industry, CJDropshipping has warehouses in China, the US and Europe to source products and fulfill orders all over the world. It is trusted by over 450,000+ sellers for its sourcing service, and it is a partner of over 50 biggest companies/brands in e-commerce. 
Pros:
Over 400,000 products ready to dropship
Direct access to suppliers makes it easy to negotiate better prices for wholesale orders
Warehouses in the USA, Germany and Thailand for faster shipping
Free sourcing service available and free to list items to various e-commerce platforms
Cons:
Higher prices compared to other dropshipping websites
A limited number of sourcing requests can be sent for average users
Long shipping time when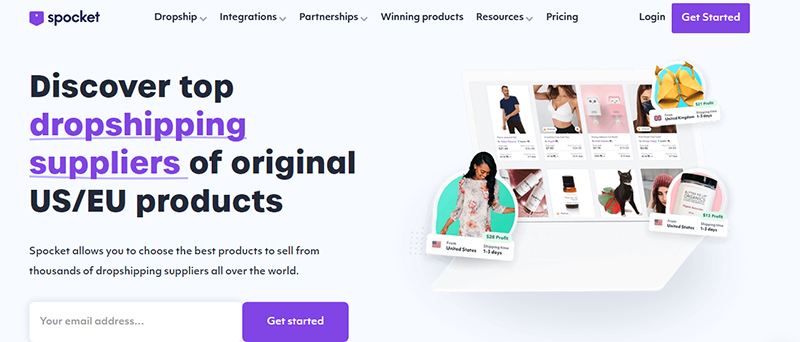 Spocket is a dropshipping platform that offers a selection of products sourced from suppliers mainly based in the US and EU for both quality and fast delivery. The platform offers a range of products including clothing, jewelry, electronics, toys, beauty products, pet supplies, and more. You can utilize the reverse image search tool for product sourcing and private label beauty and cosmetic products. 
Pros:
Nearly 80% of Spocket's dropshipping suppliers are based in the US and Europe for fast shipping
A wide range of high-quality products for building your brand
Image reverse search for sourcing winning products 
Available integrations with major e-commerce platforms, including AliExpress, Shopify, BigCommerce, Wix, WooCommerce, and so on
Cons:
Higher prices compared to other websites due to its focus on suppliers based in the US and EU
The private labeling service is restrictive to dropshipping beauty and cosmetic products within the US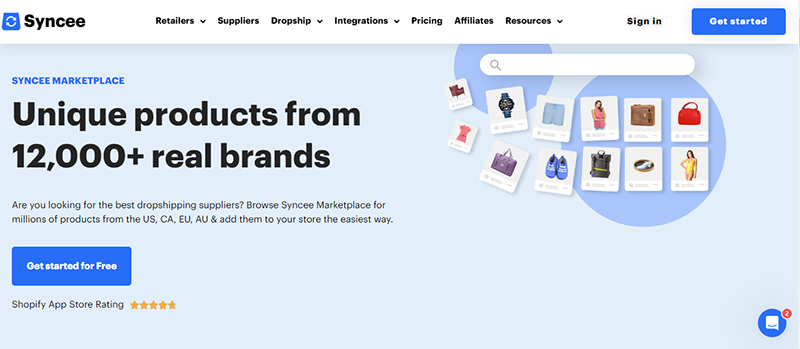 Syncee is a dropshipping website for sourcing that offers over 6 million products from verified dropshipping suppliers worldwide, such as BigBuy and vidaXL. With it, you can also source products from Alibaba. 
Pros:
Large product selection: Syncee offers a large product selection from over 12,000 brands
Provide fast shipping by working with local suppliers in the US, UK, Canada, Europe, Australia, etc.
Syncee features trending and new suppliers in the Marketplace as well as best-sellers, which makes sourcing easier
Automated product uploads, pricing, inventory update, and order sync
Cons:
Syncee doesn't support online marketplaces like Amazon
You need to contact suppliers separately for returns/refunds
Best Print-on-Demand Dropshipping Websites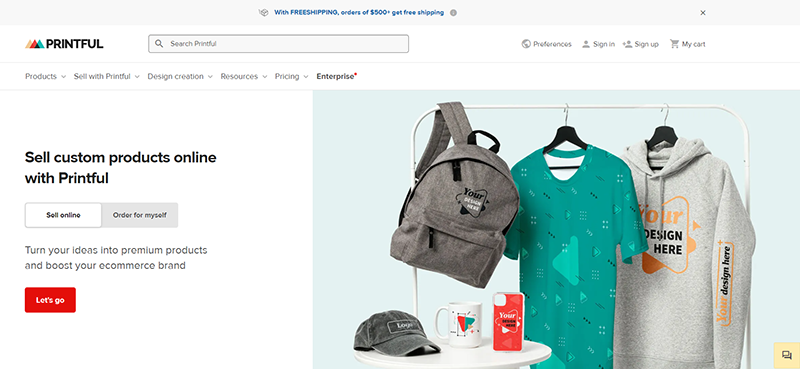 Printful was founded in 2013 and has since become one of the leading dropshipping websites in the market. It is a print-on-demand dropshipping website that supplies over 330 products for you to customize and dropship, including clothing, hats, patches, drinkware, footwear, and so on. Printful has 17 fulfillment centers spread across 5 continents to ensure fast shipping.
Pros:
Over 330 premium products for customization and selling
High-quality printing: Printful uses state-of-the-art printing technology, quality inks and high-end materials
Free and easy to use: Design Maker and Mockup Generator make customization easy
Integrated with 28 e-commerce platforms and marketplaces for smooth automation
Fast order fulfillment with Printful's in-house and partner facilities
Cons:
Long production process
Relatively high costs, which results in slim margins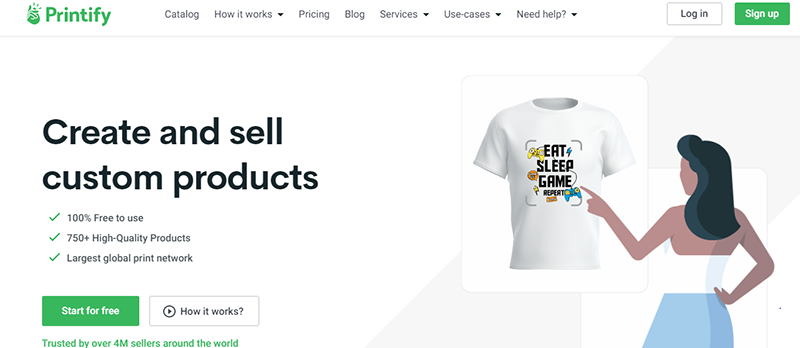 Founded in 2015, Printify is a straightforward print-on-demand dropshipping website that enables you to create and sell over 750 kinds of custom products. Printify provides free design tools that you need to generate mockups. You can easily connect your store with Printify thanks to its integrations with 8 e-commerce platforms and marketplaces, including Shopify, Wix, WooCommerce, BigCommerce, Walmart, Etsy, etc. 
Pros:
A wider range of products available for you to customize
Easy to generate high-quality mockups with free design tools
If you choose a Premium plan ($24.99/month), you can get up to 20% discount on all products
Cons:
You need to create orders manually.

SPOD is powered by Spreadshirt, with 20 years of experience in printing and fulfillment. With SPOD, you can bring your designs or use up to 50K free designs to life with over 200 products to customize, including clothing, wall art, and accessories.
Pros:
Under 48-hour fast production and worldwide order fulfillment with US and EU facilities
High-quality products and cutting-edge printing at fair prices
Save up to 20% on samples
Easy to integrate with Shopify, WooCommerce, Magento, Squarespace, and even online marketplaces such as Amazon and eBay with Order Desk
Cons:
Shipping to places outside of the US and EU takes longer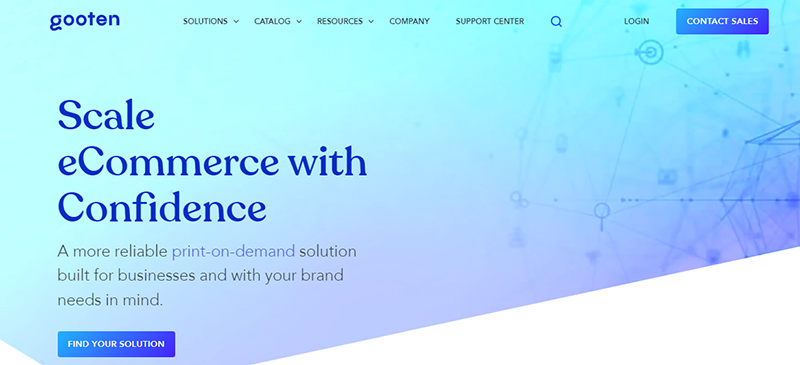 Gooten is a print-on-demand dropshipping website that offers tailored solutions for big enterprises, SMBs, and startups. It has over 150 product lines, covering Fashion & Apparel, Home & Lifestyle, Wall Art, Accessories, Pets & Baby, and Holidays. On average, with Gooten, production takes 1.7 days, and shipping takes 3.8 days, which is impossible for other print-on-demand dropshipping suppliers.
Pros:
A wide range of unique products - over 150 product lines
Competitive prices, no monthly fees, and extra discounts based on your sales
Easy to integrate Gooten with Shopify, BigCommerce, WooCommerce, and Etsy stores
Very easy to use, even for people who are unfamiliar with dropshipping
Professional services and excellent customer support
Cons:
The user interface is less intuitive, compared with other print-on-demand dropshipping websites like Printful
Lack of mockup templates for users to get inspiration
Few international shipping options
Sometimes, your orders will be held until Gooten's team gives manual approval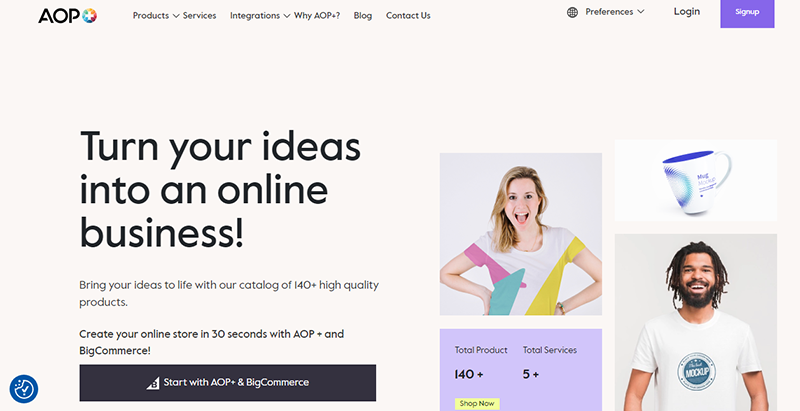 Ready to bring your ideas to life? AOP+ is a print-on-demand dropshipping website based in the UK that promises amazing print quality. AOP+ has a catalog of over 140 high-quality products that you can customize and ship anywhere in the world. With AOP+, you can add your branding to both products and packages. What's more, it's easy to plug in AOP+ to your Shopify, BigCommerce and Etsy store to start selling custom products.
Pros:
More than 120 high-quality organic clothing products to be printed and shipped
Fantastic print quality: All products must go through a thorough quality control process before being shipped to customers
Supports custom branding, including garment logo printing, package inserts, and package stickers
AOP+ offers fast and affordable worldwide shipping
Cons:
Order processing takes 3 to 5 days
Best Dropshipping Supplier Directory Websites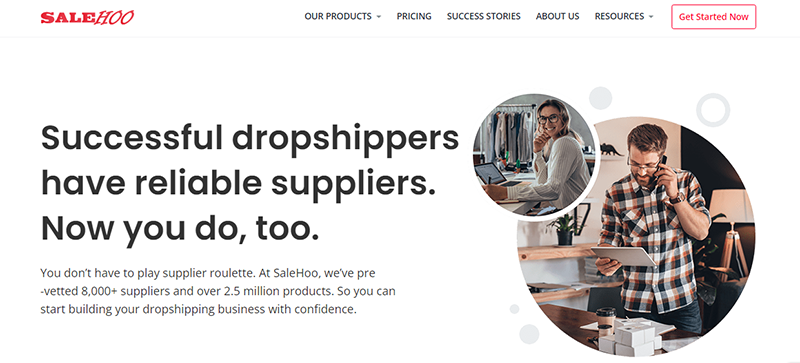 SaleHoo is a dropshipping supplier directory website that connects online retailers with suppliers. The platform has more than 2.5 million products available for dropshipping. With it, you can access a catalog of high-margin products selected by dropship experts, work with over 1,000 dropshipping suppliers, add products to your Shopify store instantly, use the pricing control tool and get 24/7 customer support.
Pros
A large database of verified suppliers with detailed information, including product range, quality, shipping options, customer reviews
Easily keep track of your favorite dropshipping suppliers
Easy to choose high-quality branded products in hundreds of categories
Compare products based on competition intensity, conversion rate, popularity, and average price
Unlimited 1-on-1 support and a community forum constituted by peers and experts
Market Research Labs for product research and market analysis
Cons
Limited selection of dropshipping suppliers compared with wholesale suppliers

Worldwide Brands is a standard wholesale and dropshipping directory that has been in business since 1999. It offers access to over 16 million products from certified wholesalers, manufacturers, and dropshipping suppliers. Worldwide Brands' team visits exclusive tradeshows and talks directly with top-level suppliers to verify them. It's a perfect choice for selling on Amazon, eBay, and online stores. 
Pros
A wide selection of certified suppliers used by retail chains
Weekly updates of new suppliers for free
Lifetime access to the directory after paying a one-time fee
Cons
Higher cost compared to other directories
Customer support is limited to email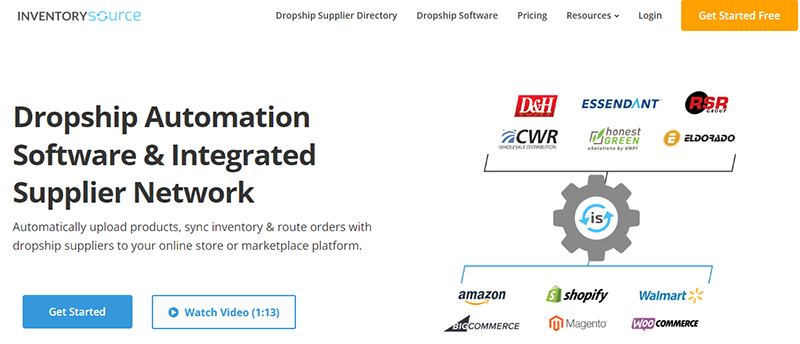 Inventory Source provides a free directory of over 4,000 dropshippers and US wholesalers. The platform has over 230 supplier integrations for you to automate your dropshipping business on a variety of e-commerce platforms, including Amazon, Shopify, BigCommerce, WooCommerce, and many more. With it, you can easily add products to your online store, keep inventory updated, and get orders fulfilled by your dropshipping suppliers.
Pros
Access to a large directory of top suppliers in popular niches that offer exclusive brands, big catalogs of high-demand products
Detailed supplier information, including dropshipping fees, policies, and contact information
View all product data at no extra costs
Provides integration with popular eCommerce platforms, such as Amazon, Shopify, and WooCommerce
Cons
The paid plans are expensive for startups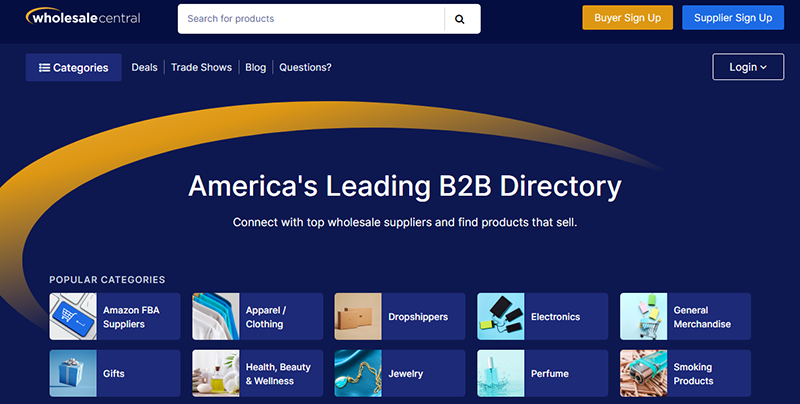 Wholesale Central is mainly a wholesale directory for online businesses. Wholesale Central has remained the most trusted B2B community of retailers and suppliers since 1996. However, it has a dropshipping supplier directory that includes 80 verified suppliers. Most of them are from the United States. 
Pros
A dropshipping supplier directory mostly for dropshipping in the United States
Includes the phone number for connecting suppliers easily
New dropshipping suppliers are added regularly after verification
Cons
Some suppliers require a minimum order quantity
There are only a few dropshipping suppliers to choose from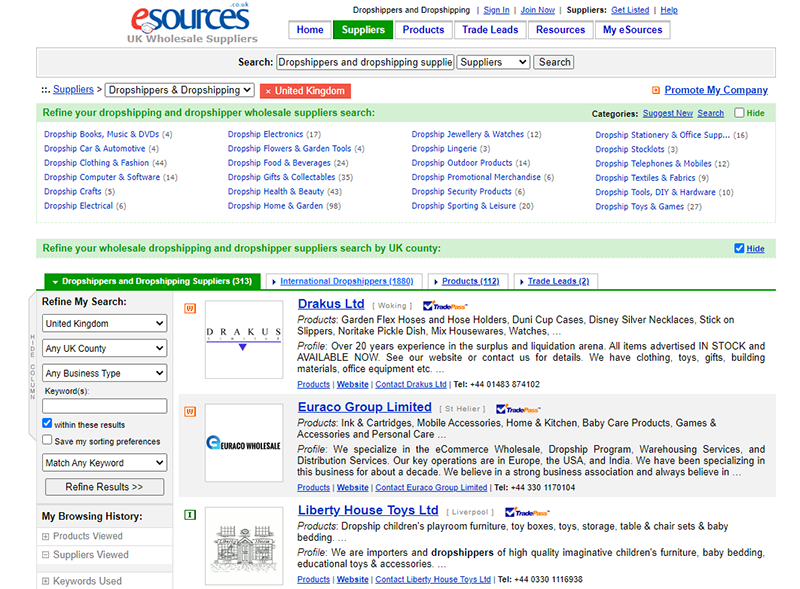 eSources has separate dropshipping supplier directories for UK dropshippers and international dropshippers. It provides powerful product search tools, market research resources, and a secure online trading platform to help entrepreneurs start and grow their online businesses.
Pros
Verified suppliers, ensuring that businesses are dealing with legitimate and trustworthy companies.
Advanced search and filtering options, allowing businesses to quickly find the right suppliers in their niches
Free plan users can view information on TradePass suppliers
Cons
Subscription-based service, requiring businesses to pay a fee to access the platform's features and suppliers
Some suppliers have requirements for the minimum order value
Best Websites for Learning Dropshipping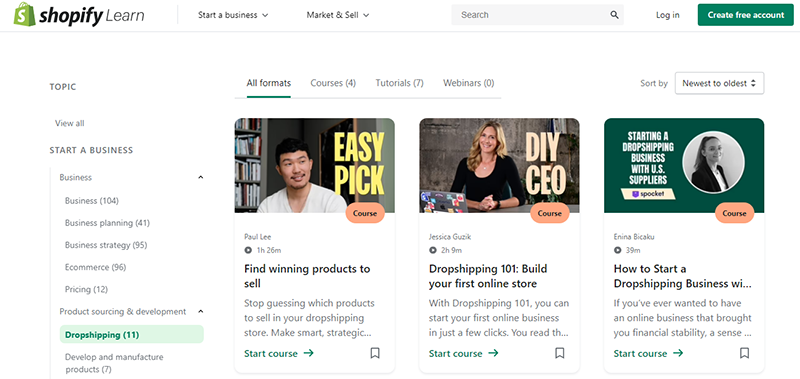 Shopify Learn is a dropshipping website for learning - a comprehensive educational platform for e-commerce entrepreneurs. The site offers an array of tutorials, webinars, and online courses that help users understand the ins and outs of dropshipping, as well as how to set up and manage a successful online store. 
Pros
Part of the Shopify platform, which is a well-developed e-commerce solution
Offers a range of authoritative resources for learning about dropshipping and starting an online store
100% free, user-friendly and accessible to beginners
Cons
Limited to the Shopify platform and its features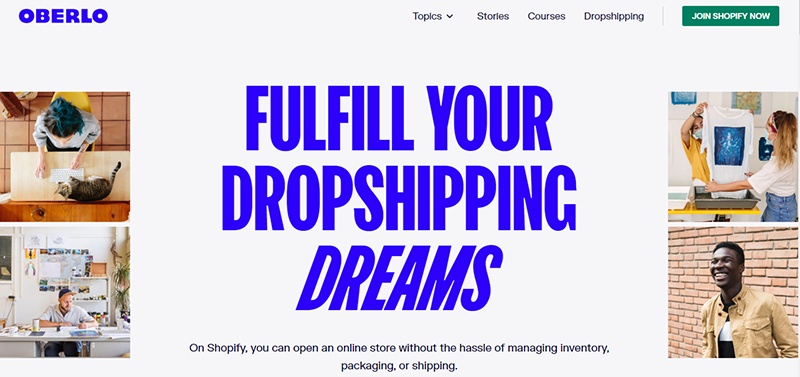 Oberlo is a user-friendly dropshipping platform that provides different tools and resources for e-commerce entrepreneurs. Although Oberlo has shut down its services, new articles come out regularly, and the team keeps the old articles up-to-date. Apart from the blog articles, it allows you to access a wealth of ebooks, videos and podcasts to equip you with all you need to succeed in doing a dropshipping business.
Pros
A great number of helpful blog articles dealing with topics that dropshippers are concerned about, including Business Ideas, Build Your Business, Marketing, etc.
11 ebooks available that can be downloaded for free, so you can learn how to do dropshipping systematically
Many inspirational stories for you to read and keep motivated
Cons
No new videos and podcasts will be coming out on Oberlo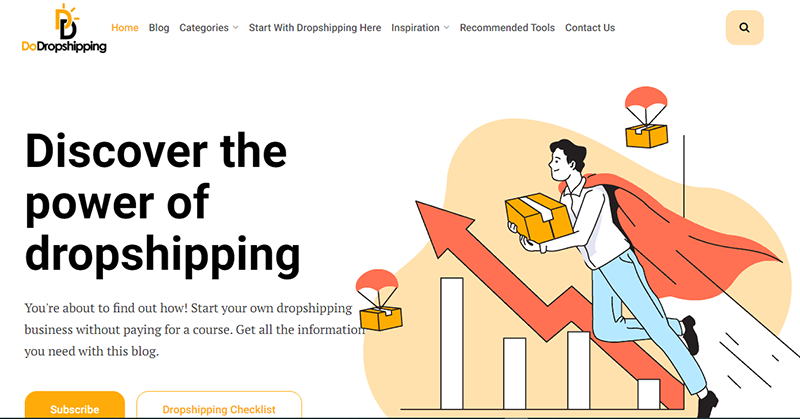 Do Dropshipping is a dropshipping website for learning founded to help dropshippers start their dropshipping stores without paid courses. It showcases numerous high-quality blog articles that cover basically everything, including dropshipping suppliers, marketing, inspiration, and product research. Over 60,000 people enjoy reading articles on Do Dropshipping every month. Whether you're a novice or an experienced e-commerce entrepreneur, Do Dropshipping is a great dropshipping website for learning that you shouldn't miss.
Pros
An amazing powerhouse for learning everything about dropshipping for free with comprehensive and in-depth blog articles that covers all aspects of dropshipping
Good for Shopify and WooCommerce dropshipping businesses
Has a strong community of readers who love their tips and insights
Cons
There are a few ads in each article that may affect your reading experience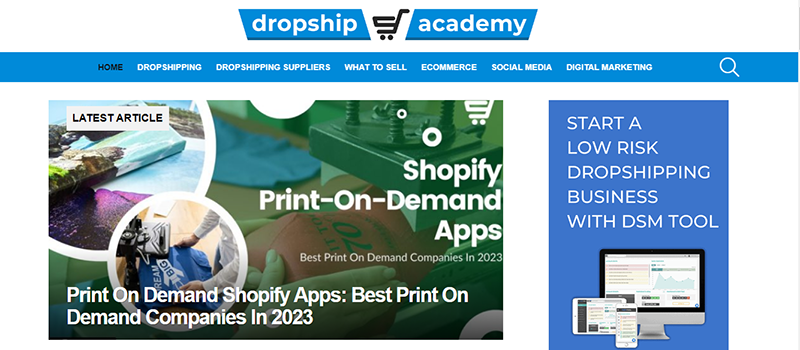 Dropship Academy by DSM Tool is a dropshipping website for e-commerce entrepreneurs to learn about dropshipping on eBay, Shopify and Amazon, as well as a wide range of dropshipping suppliers supported by DSM Tool. There are also useful tips on digital marketing and what to sell. Many articles on Dropship Academy are shorter and easier to digest.
Pros
A great number of useful articles written by DSM Tool's in-house team
Good for those who do a dropshipping business on eBay, Shopify and Amazon
Cons
Not many new articles come out every month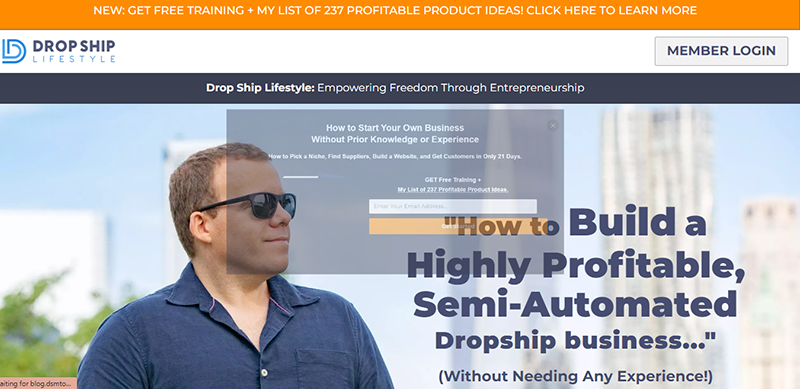 Drop Ship Lifestyle is a membership-based platform that offers a Drop Ship Blueprint, comprehensive step-by-step training and support for those looking to start or grow their dropshipping business. They focus on high-ticket dropshipping, which sets them apart from other platforms.
Pros
Access to free training and a list of 237 profitable product ideas for dropshipping
The only program that has been voted as the Best Ecommerce Course by Shopify
Has a supportive community of like-minded individuals who can offer guidance and advice
Cons
Courses and training materials are relatively expensive compared to other websites
Conclusion
In conclusion, many dropshipping websites are available for online retailers, each with its own strengths and weaknesses. To get started, you need a dropshipping website builder. When choosing a dropshipping website for sourcing, consider factors such as the range of products available, the number of suppliers, the cost of membership, and the tools and resources provided to help you run your business. Meanwhile, consider using a dropshipping supplier directory and a dropshipping website for learning to ensure better development.
Starting dropshipping can be a great way to bring in extra income. With the right dropshipping website, you can focus on marketing, customer service, and improvements you need while leaving the supply chain to the experts. May everything go well with your dropshipping business!