It doesn't matter whether you are looking for ways to boost your traffic and sales to eight figures or streamline your e-commerce business to the next level. We have made a list of the best Shopify apps to help you. So, hold on to your coffee, the e-commerce superheroes—the list of the best Shopify apps for increasing sales in 2023 is finally here!
To begin with, do you know that using the best Shopify apps can take your shop from basic into a conglomerate? This is because by integrating apps into your store, you can extend the functionality, streamline customer support and eventually increase sales. Fortunately, Shopify's huge app store offers thousands of apps to help you grow your business. Nevertheless, with so many apps available, it can be overwhelming to try them one by one and figure out which apps are the most suitable for your store.
You should not worry, as we have conducted painstaking research just for you! This article will walk you through the 7 best Shopify apps available that can help you grow your business.
1. PushOwl Abandoned Cart Popups
Free Trial: Forever free
Price: The Business Plan is at $18 per month based on impressions (push notifications delivered)
Best Used for: Cart abandonment recovery, customer retention, upselling products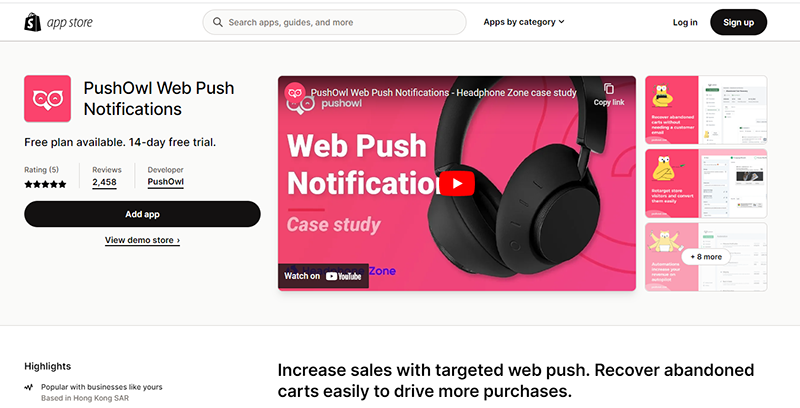 If you are like most of the Shopify store owners – heavily dependent on your website as a sales channel, you have perhaps considered checking as many items as possible. Remember, customers often hop from one brand to another. In fact, they can abandon even the best discounts in their cart to look for other better deals, and all that bouncing from your website leaves you with low conversion rates.
-Is it possible for you to avert this?
-Yes, of course!
As email is becoming spammy, setting up a web push notification on your Shopify store seems like a reasonable alternative. 
It grabs visitors' attention as they arrive at the store while browsing (without using their email or any other lead details).
How do push notifications enhance your Shopify conversion rate?
They send abandoned cart reminders that can really bring back customers.
They save time and costs to bring back loyal customers by automating web push notifications, such as price drops, back-in-stock, shipping, welcome, and flash sales.
They also send recommendations to customers for upselling.
They allow you to create smart and automatic campaigns and integrate with other apps to streamline your entire customer notification process.
2. Growave: Loyalty, Wihslist +3 
Growave is a Shopify-exclusive marketing app to increase retention and to replace 5 marketing apps. With tools to gather reviews, create wishlists, build loyalty programs and referral programs, Growave helps businesses to consistently scale and increase repeat purchases. Achieve marketing mastery without breaking a sweat! It's ideal to increase engagement, repeat purchases and improving acqusition cost.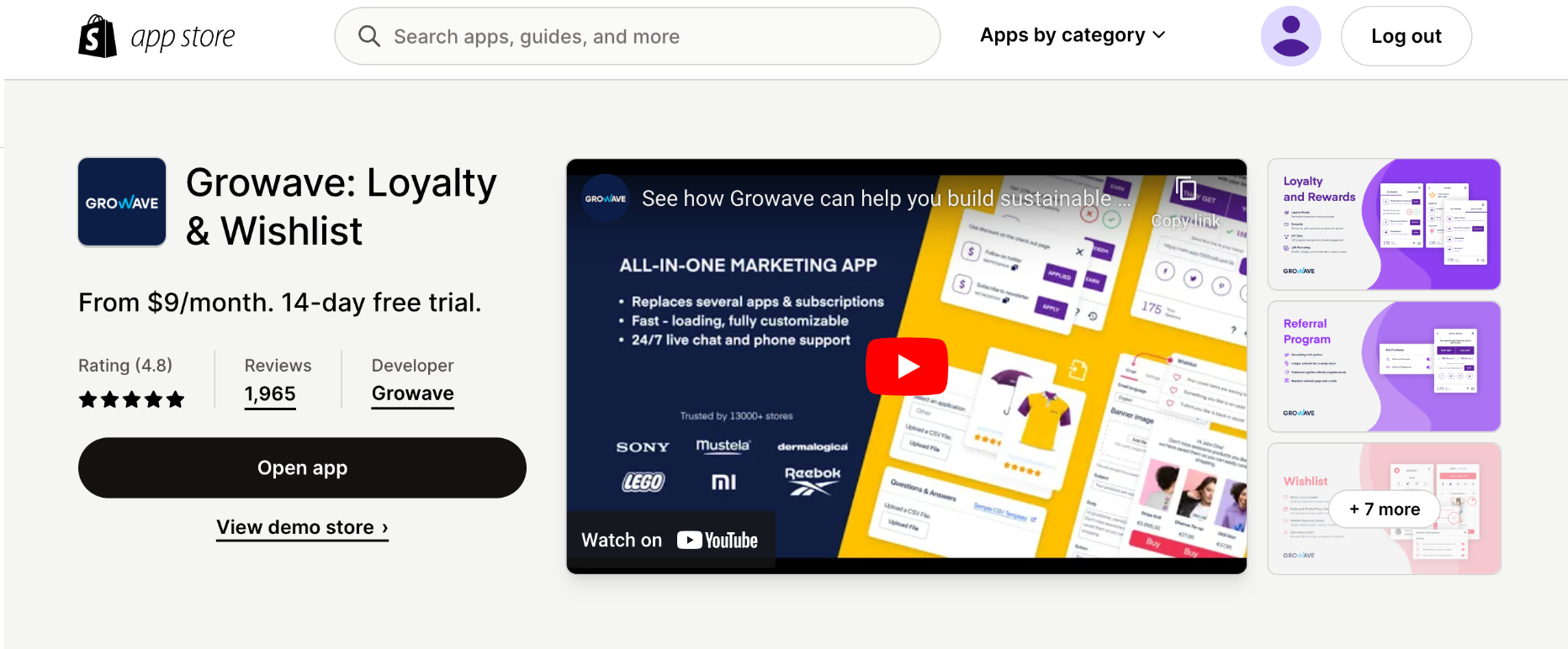 Features of Growave:
* Increase efficiency. Automated emails for wishlists, reviews with pre-made emails. Customize them and match to your TOV and branding.
* Build trust and loyalty. Strengthen social proof with reviews and customize the outlook of the widgets to match the style of your storefront. Sent out automed emails for reviews and wishlists
* Reward submission. Offer rewards for the shares, reviews. A wide range of rewards from discounts and free shipping to sustainalbe rewards.
* Recieve support 24/7. Our support team is available and excited to help you with any inquires anytime.
Rating: 4.8/5 (1942 reviews) Pricing: All plans include a 14-day free trial. Install 1 app, get benefits of 5 apps. Try it right now! 
3. Hextom: Free Shipping Bar
Hextom is one of the best Shopify apps that is designed to help Shopify store owners proactively promote free shipping offers with progressive messages. It features a customizable bar, message editing, geo-targeting (to display different messages to different shoppers), as well as performance tracking.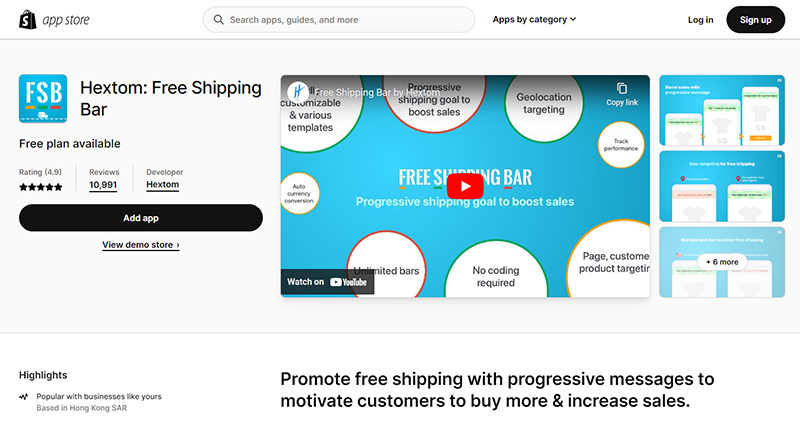 Key Features 
Includes geo-targeting, display page, and currency detection
Completely customizable to match the style of your store
Includes emojis, background images, and position configuration 
Offers one-click installation and comes without developer branding on the bar 
As if that's not enough, it also uses responsive design to suit all screen sizes
Pricing: The basic plan is free, whereas the premium plan costs $7.49 per month because of additional features, including unlimited active bars, geo/country targeting, currency conversion, and auto-scheduling. 
It is absolutely the best for store owners looking for a convenient way to add a bar to their Shopify theme to display the free shipping message. Actually, the free plan will do for most Shopify businesses. If you also want to show how far a customer should go in order to get free shipping, then the premium plan will be a good choice.
Free Trial: Forever Free Price: Paid plans start at $9/month. Best Used for: Social Proof, Testimonials, & Product Reviews, Import Amazon & AliExpress reviews

Key Features 
Display product reviews, ratings, photo reviews, testimonials.
Bulk import valuable customer reviews from Amazon or AliExpress.
Collect new reviews by sending automatic review request emails.
Display specific product reviews along with store average in a popup widget.
Highlight your product on Google Search and Google Shopping with rich snippets.
Customers now expect online stores to include customer reviews since they research products online before making a purchase. Customers may clear up product-related questions with the use of reviews, which also provide an accurate representation of what to expect.
Customers' trust can be increased using Rivyo by displaying Product Reviews, Testimonials, Store Average Ratings, and Reviews and Ratings Popup widgets. Reviews can be shown on a specific All Reviews Page in a variety of layouts.
Free Plan: UpPromote has a free plan with unlimited affiliates/referral links.
Pricing: Plans range from $29.99 to $199.99. All plans have a 14-day trial.
It is ideal for building, tracking, and managing your affiliate marketing campaigns.
When creating a marketing campaign, we always encounter issues with managing and keeping track. As for affiliate marketing, UpPromote can help you do the job. As the #1 ranking affiliate marketing app for Shopify, UpPromote is an all-in-one automated affiliate/influencer marketing solution.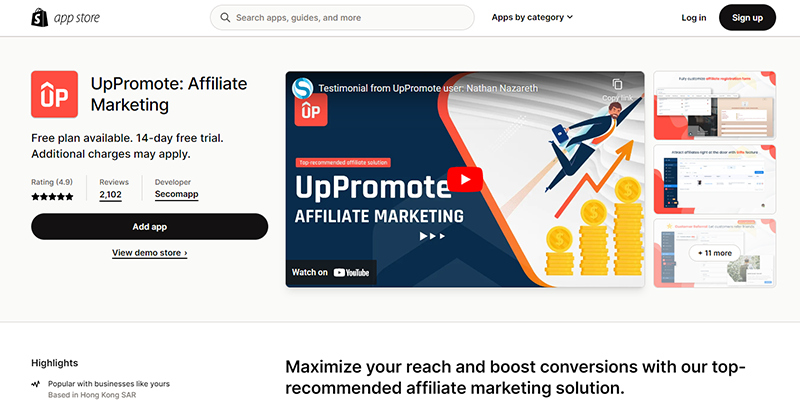 How can Upromote be used to your advantage?
The usefulness of affiliate marketing has been proven in several ways over the years.
Online buyers are becoming more aggressive but very cautious while making purchases. They depend on suggestions from influencers, key opinion leaders (KOLs), or friends and family members rather than being duped by conventional advertising techniques with attractive images and cliché words. As a result, merchants should develop subtle marketing strategies and use affiliate marketing to attract traffic and convert visitors into customers.
However, managing all affiliates/influencers without a suitable tool is stressful, so install UpPromote to keep everything about affiliate marketing on track. 
How it works:
UpPromote provides a registration form for your ambassador to register to join your affiliate program.
Affiliates become partners. They are given an affiliate link/ a coupon code to promote your service on various channels.
UpPromote tracks completed referral orders, and affiliates get commissions based on performance.
What does UpPromote help to increase your sale conversion rate?
Has a customer referral feature that allows customers to refer your products to their friends and family and earn a small commission. This enhances your sales to great heights while helping to build a network of loyal customers.
It is always easy to use: UpPromote boasts aquick setup process with detailed instructions.
Ensures that the affiliate team is expanded by free listing on UpPromote Marketplace; or with a Multi-Level Marketing feature.
Customizable: With this amazing app, you can build your own commission system, tailor the look and feel to match your brand, and come up with customization to meet your business requirements.
Auto-generates referral affiliate links and coupon codes:Affiliates will automatically receive a unique link and coupon code after registering, which they can use to promote the merchant's shop.
Reliable real-time tracking: Up-to-second tracking system is constantly improved to ensure accurate and instant updates. 
You need a point-of-sale (POS) system to ensure outstanding sale performance. A POS system allows customers to pay for their purchases through PayPal, VISA, MasterCard, American Express debit and credit cards, Apple Pay, Google Pay, etc.
Shopify POS is a point-of-sale app that enables you to accept in-store payments and manage your inventory and staff. It's an absolutely marvellous choice for businesses looking forward to managing their inventory and sales right from their Shopify store.
The app is downloadable through either iOS or Android devices. You can increase the efficiency of your store further by personalizing the POS system to align with your store.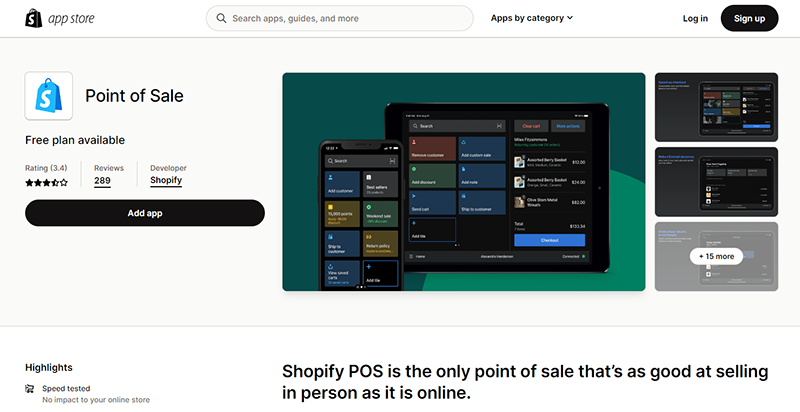 The Shopify POS system offers an omnichannel shopping experience to your customers, including but not limited to the following:
Browse in-store, buy online– The POS system is designed to help you send product recommendations directly. 
Buy online, pick up in-store– makes it possible for your customers to purchase products and pick them up in-store. 
Buy in-store, ship to customer– You are expected to allow customers to buy in-store and ship the product later in case of limited inventory. 
Buy anywhere, return anywhere– To improve the shopping experience, take your profit margin a notch higher, give customers a chance to buy wherever they want and then return or exchange products in-store. 
Key Features: 
Synchronization of Customer Profiles– The POS system allows you to access customer profiles with insights like order history, lifetime expenditure, and more.
Run Marketing Campaigns – You can run marketing campaigns directly from the POS system and send coupons, previews, product recommendations, and loyalty programs to new or existing customers. 
Inventory Management– This app also allows you to track your inventory by creating purchase orders, demand forecasting, stock adjustments, and sale item suggestions. It also provides you with detailed reports on your inventory levels so that you can plan your future stock accordingly. 
Pros: 
Automated tax calculations based on your store's location
Makes it possible for you to create and manage multi-location inventory
Reports on your customers, inventory, and profits to help you make informed decisions
Provides social media integration to enhance the promotion of your products
Cons:
It may be a perfect add-on for brick-and-mortar stores. 
Pricing: 
The monthly fee of the free plan is included in your Shopify plan. If you upgrade to the POS Pro subscription, you will be charged $89 more per month.
7. Instafeed - Instagram Feed
Instafeed is one of the best Shopify apps that allows you to show your Instagram feed on your e-commerce store. The Instagram feed will be updated the moment you post a new image to Instagram. Through this, creating an interactive customer experience and building customer engagement by showcasing all of your latest products in one place is made possible.
As if that's not enough, it also makes the feed shoppable, allowing potential customers to check out and buy your products immediately.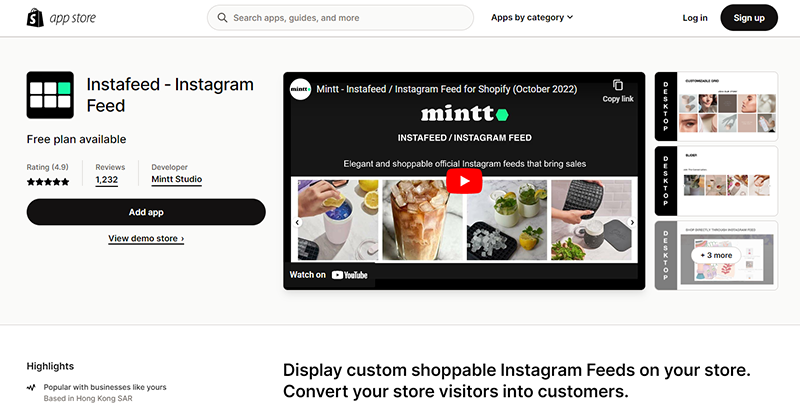 Key Features:
Visual Editor – You are permitted to design your Instagram feed freely without any technical know-how. 
The App Is Fully Customizable –You have permission to edit the appearance of your feed to show the optimal layout for your store visitors. You can customize the title and spacing between posts and let Instafeed adapt the layout based on your visitor's screen resolution.
It Enhances Shoppable Instagram Feeds – it enables you to link your blog posts to Instagram, open a popup window on your store, and tag multiple products.
Pros: 
It is very efficient because it comes with a free version. 
It makes it possible for you to filter your Instagram posts by hashtag. 
This app allows you to customize the number of rows and columns for mobile devices. 
Cons: 
Unfortunately, this app doesn't support Instagram stories. 
Worse still, its free version doesn't let you pick the posts you want to display. 
Pricing: 
The plan starts from $5.99 per month, which allows you to create up to 3 feeds. Its unique free-forever plan also offers video support, grid/slider layout, auto-optimized layout, and an open popup or a link to Instagram. 
Final Words
Although there are an uncountable number of top Shopify apps out there, the selected ones above outweigh others in terms of producing outstanding performance and, thus, a better option for you. The most popular Shopify allow you to import products, connect multiple Social Media accounts, enhance sales with personalization options, and many more. With these apps, it has become simpler to easily and effectively manage your store and run it in the best way possible.