Unleash your entrepreneurial spirit with dropshipping - the lightning-fast business model that propels you into the e-commerce stratosphere. By dropshipping, you can sell online without carrying inventory and rocket to success. 
If you want to make your dropshipping business take off as soon as possible, this is the ultimate step-by-step guide you need. It is specially written for those who are eager to build a high-converting dropshipping store effortlessly. Since dropshipping on Shopify is the go-to choice for most dropshippers, we'll focus on how to set up a high-converting Shopify dropshipping store on a budget in 7 easy steps.
1. Sign up with Shopify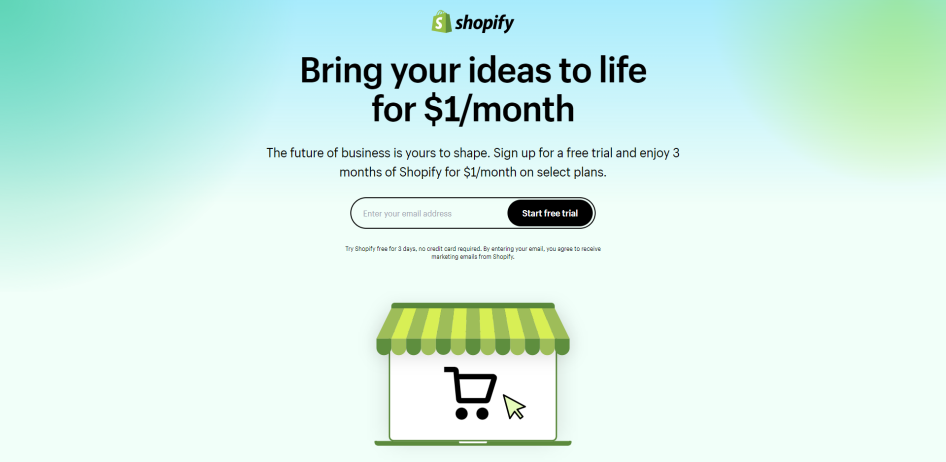 In 2023, you can sign up and get a 3-day free trial from Shopify. After the trial expires, you'll only need to pay $1 for the selected plan in the 3 consecutive months. Just think about it, your initial investment is just $3. Such an offer can't be found in any Shopify alternative in the market. Moreover, the 3-month period will be more than enough for you to test your business ideas and find out whether they work. 
2. Select Your Dropshipping Niche
When building a dropshipping store, many dropshippers tend to turn their stores into groceries, which is a terrible mistake. You should avoid committing the same mistake when starting your dropshipping business. In fact, it's widely acknowledged that focusing on a specific niche is beneficial for dropshippers. Unlike e-commerce giants, your budget is limited, and so are your time, workforce, expertise, and resources. 
Importance of Focusing on a Dropshipping Niche
By concentrating on a dropshipping niche, you can:
Differentiate from other dropshippers and e-commerce stores that sell a wider range of products, become known for your expertise in a particular area and build a strong brand identity;
Offer a curated selection of products that are highly relevant to your target audience's interests;
Nail down your marketing and advertising efforts more effectively to reach your target audience to ensure higher conversion rates and returns on investment;
Specialize in the niche, understand your customers better over time, and improve the shopping experience in a better way; 
Increase product knowledge and accumulate expertise to find profitable products and reliable dropshipping suppliers and negotiate better prices to increase profit margins. 
After knowing the importance of focusing on a particular niche, you should move on and find out which niche is the best choice for you. It's recommended to sell products that you are familiar with or at least you're interested in. If you want to focus on profitable market segments, take advantage of e-commerce reports and market insights that you can find online. 
Refer to Market Reports to Decide on a Niche 
It's a good idea to refer to the global e-commerce reports before you read regional and national ones. To help you get an overview of global e-commerce, we've found the latest e-commerce report by Statista. According to Statista, the global Fashion market size is the largest in 2023 ~ 2024, followed by that of Electronics. By 2025, the market size of Fashion and Electronics is expected to be commensurate, while the market size of Toys, Hobby & DIY is estimated to rank in 2nd place.
Global E-Commerce Revenue by Category, 2017 ~ 2027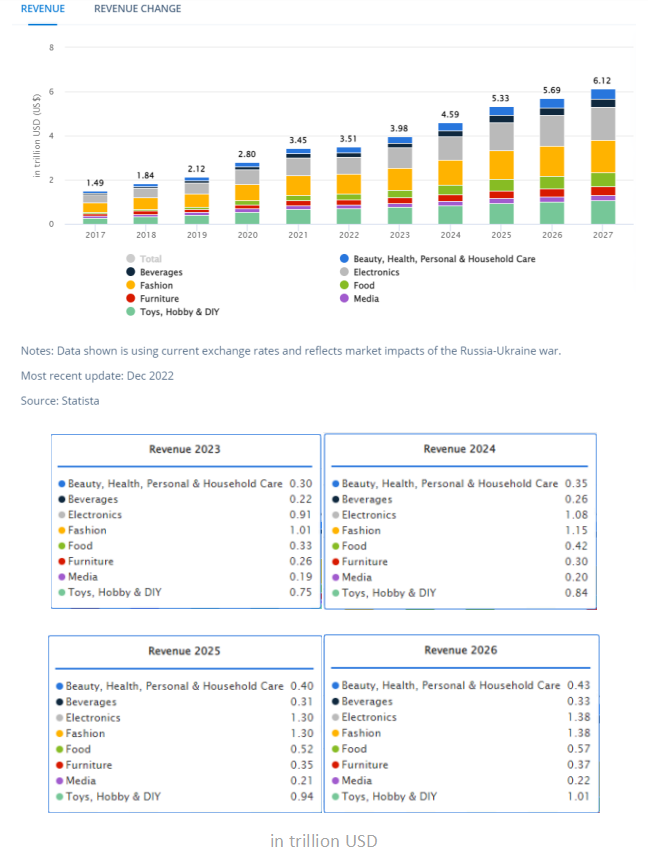 The top categories in a specific country, for example, the United States, are different, as shown in the statistics below. The revenue of the US Fashion market is the 2nd largest in 2023 ~ 2026, following that of the US Toys, Hobby & DIY market, while the revenue of the US Electronics market is in the 3rd place. Furthermore, through a bit of calculation, you can find that the US market accounts for a large share of the global market. For instance, the US Fashion market accounts for over 20% of the global one. 
US E-commerce Revenue by Category, 2023 ~ 2026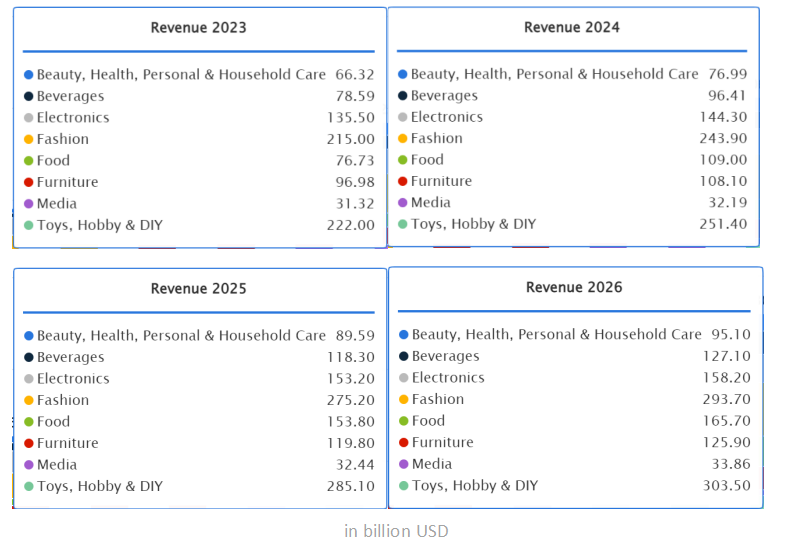 If you like reading reports, you can continue digging out more information in this way.
Find out the Niches of Existing Shopify Stores 
Since there are thousands of successful Shopify stores out there, we can also find the most popular categories, countries, and revenue. Shopify's financial reports will help you a lot, as well as some Shopify store spy tools. However, to save time, you just need to notice the important findings here:
Most Shopify merchants are based in the United States, and nearly 25% of them are from Europe, the Middle East and Africa.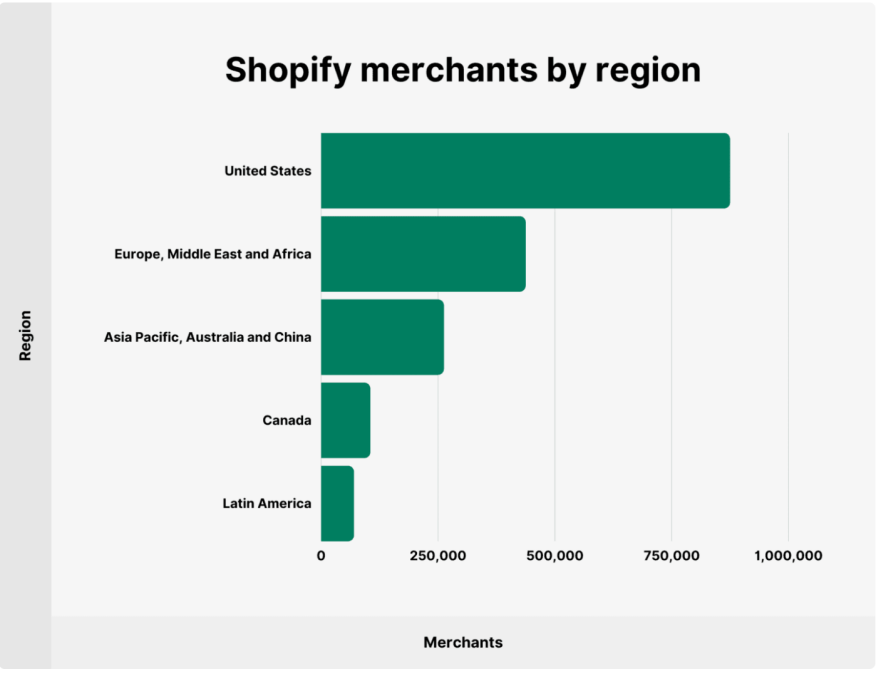 Source: Demand Sage
Except for Groceries and Food, Fashion is the most popular category among all Shopify store owners, followed by Apparel, Jewelry, Bags, Shoes, Makeup and so on.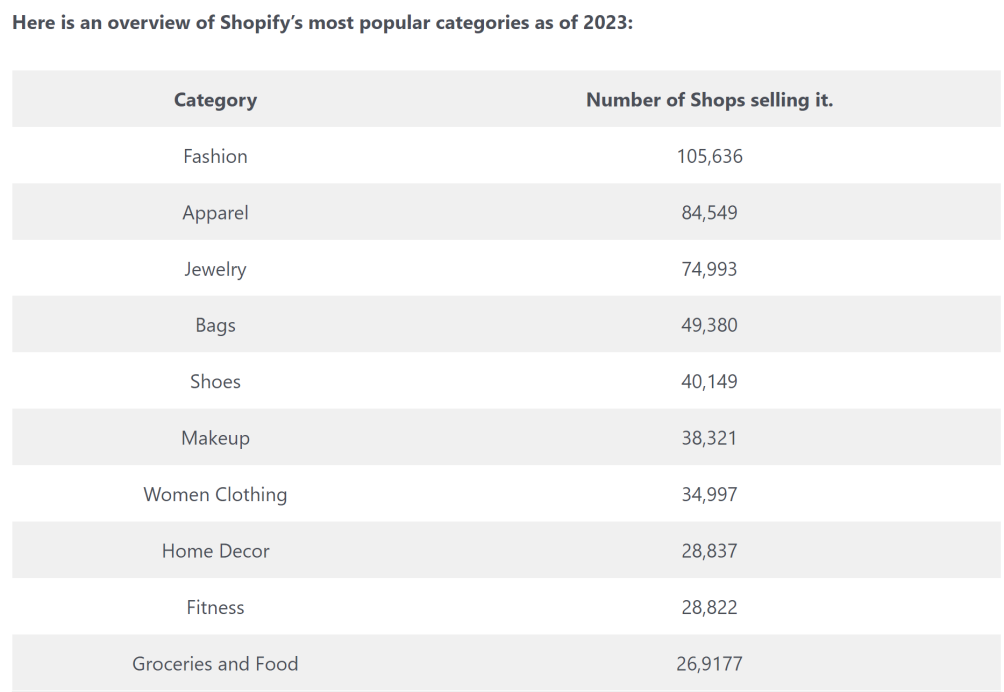 It's obvious that a lot of Shopify stores target women. Considering that many Shopify store owners have done the research, you may believe in their choices. If you want to avoid intense competition, you'd better choose the other way around, for example, dropshipping Toys & Hobby, DIY products in the United States.
Discover Winning Niches on Big Marketplaces
Among all big marketplaces, AliExpress is a good platform for dropshipping product research. This is not only because the sales volumes of all products are shown, and AliExpress Dropshipping Center is available for product analytics by using links, but also because you can discover the most popular categories.
First of all, you can refer to the rankings of the 13 main categories. To uncover specific winning niches, explore the 400 sub-categories on AliExpress. You can always make products displayed by sales volume by using "Orders" among the sorting options in a product list to find out the demand and estimate the revenue of top-selling products.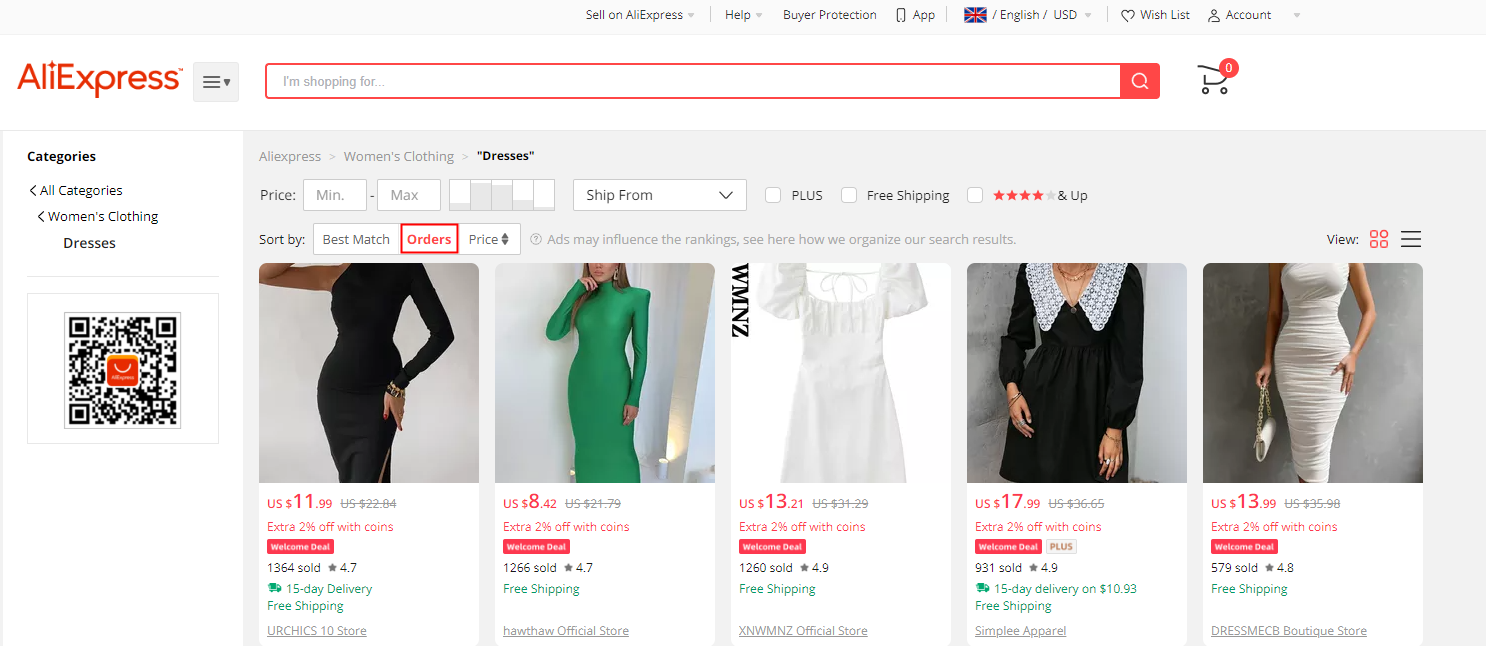 By following the tips above, you can come up with some ideas about which dropshipping niche to choose. If that is the case, you can move on to the next step; otherwise, do more research to make a decision.
3. Choose the Right Dropshipping Apps
If you want to choose the best dropshipping suppliers for your Shopify business, the best approach is to explore the Shopify App Store because it showcases a massive number of third-party apps built by dropshipping suppliers, service providers and alike.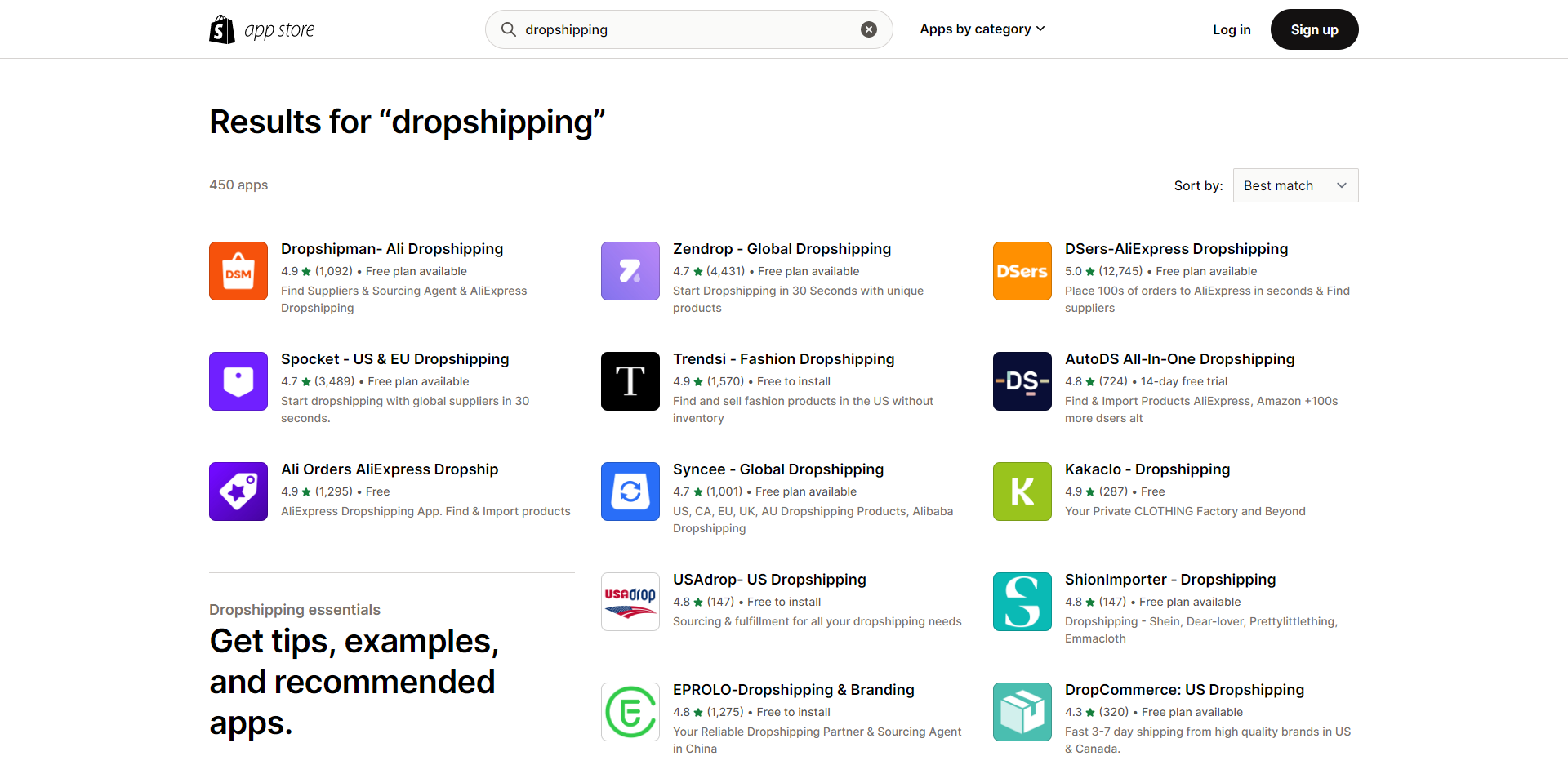 To avoid testing hundreds of apps one by one, you can narrow down the choices by scanning the keywords in the app name and description. 
Here are some common types of keywords: 
Supplier: Ali, AliExpress, Alibaba, Amazon, Walmart, Taobao
Region: Global, US, EU, CA, AU
Service: Branding, Print on Demand (POD), Agent, Sourcing, Fulfillment
Niche: Fashion, Clothing, Makeup, Beauty, Green, Jewelry, COD, Cosmetics
Apart from the keywords, you should pay attention to the rating and the number of reviews that a dropshipping app has. If you try to minimize the cost, it's also important for you to choose an app that provides a free plan as well as a free trial. It's worth mentioning that the free plan shouldn't be too restrictive, and the cost of the paid plan should be relatively low.
Having gone through the list of search results in the Shopify App Store, if you still have no idea which one to choose, considering AliExpress is the biggest and most popular global B2C marketplace for dropshippers to source products, we recommend you to use Dropshipman- Ali Dropshipping. For one reason, Dropshipman ranks in the 1st place in the search results, and its free trial lasts 180 days. For another, it offers a wide variety of automated dropshipping features for free.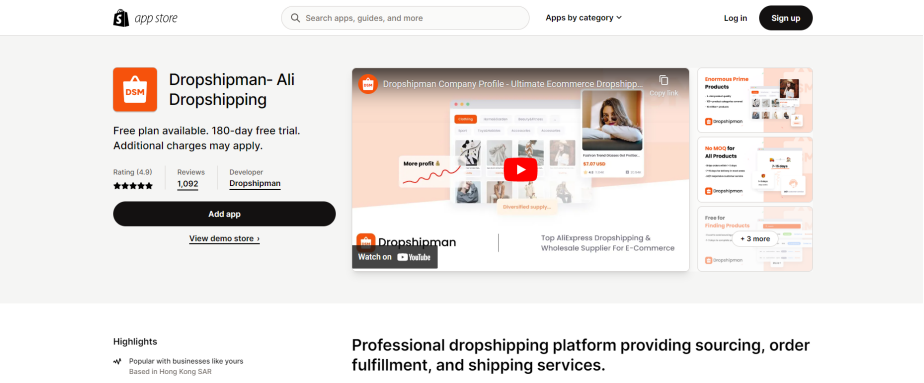 Dropshipman's key features for dropshipping from AliExpress include:
Import unlimited AliExpress products for free
Add AliExpress products with one click via Chrome extension, by link or product ID
Place tens of AliExpress orders in bulk
Automated pricing and inventory sync
Automatic tracking number and order status updates
Integrated with Trustoo for auto import of AliExpress reviews
Certainly, Dropshipman's features are not limited to the above ones. Those who want to ensure high profit margins can take advantage of its free product sourcing service. Dropshipman's product sourcing experts will negotiate with various suppliers to provide you with high-quality products at the best prices possible.

Certainly, you can try out more dropshipping apps if you like. It's recommended that you start by experimenting with the well-received ones. If you want to learn about popular Shopify dropshipping apps, you may refer to this article, 20 Best Dropshipping Apps for Shopify.
4. Add Products to Your Dropshipping Store
After choosing a niche, you can start adding products to your dropshipping store.
4 Different Ways to Add Products
Here are 4 common ways to add products to your Shopify dropshipping store: 
The most straightforward way is to manually add products by copying and pasting product information and uploading images. However, adopting this way will result in extremely low productivity.
A better way is to use CSV files with the format that Shopify supports to import products if your dropshipping suppliers can provide such files. Nevertheless, you might still need to edit the prices. 
Although those with technical strength can get all the product information they want instantly via API once the connection is established, the prior development takes at least one month - it is too time-consuming.
Most dropshippers prefer the fastest and most affordable solution - importing products with one click by using free or paid software or apps that allow them to directly edit product information before uploads.
The way you choose depends on your business strategy. If you want to build a one-product dropshipping store, the first way works well enough. If you need a wide product variety and several product lines, you'd better consider the other options.
This article will focus on the most popular way to add products for beginners to build a Shopify dropshipping store quickly, i.e., using an automated dropshipping app integrated with AliExpress. As mentioned earlier, Dropshipman is the best free dropshipping app, and we'll use it to show you how it works. 
Import Products with Dropshipman
Add products to the import list
With Dropshipman, you can add AliExpress products to your dropshipping store by using links, product IDs or the Dropshipman Chrome extension.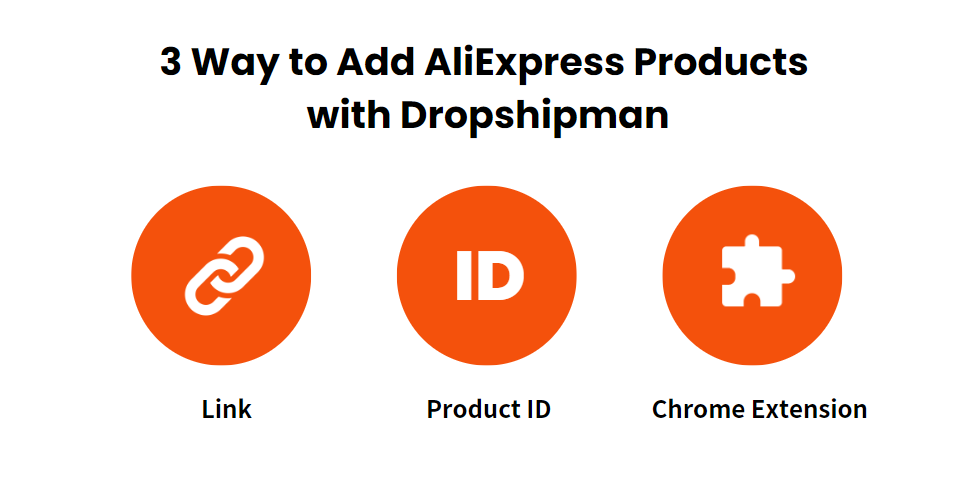 You can edit the title, tags, collection, product type, product description, and prices for different variants, select your favorite shipping method, and choose images you like. After you finish editing, just click the "Import product" button, and the product will be pushed to your store.
Optimize product information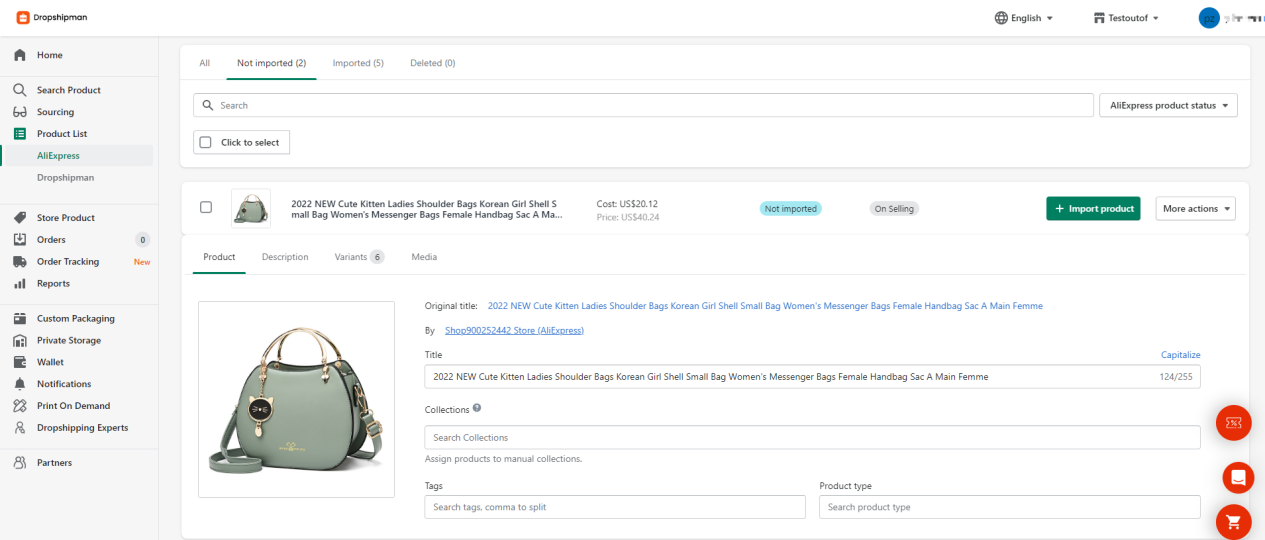 It's worth mentioning that using the same product information on AliExpress will have an adverse effect on SEO. You'd better optimize the product title and description and add the meta title, meta description and image ALT texts after adding products to your dropshipping store. If you want to save time and costs, consider using ChatGPT or AI writers to generate SEO-friendly product titles and descriptions.
Set up rules for automated pricing
If the products you choose have a lot of variants, editing the prices one by one will be time-consuming. Don't worry. With dropshipping apps like Dropshipman, you can define pricing rules to automate pricing. 
Smart selection of shipping methods
Additionally, if there are many shipping methods to choose from, leverage Dropshipman to complete the shipping settings - whether you want orders to be shipped in the fastest or the most economical way, or take into account both speed and cost.
5. Import Reviews for Your Products
To build a high-converting dropshipping store, you need to build trust with customers. Since 84% of shoppers trust online reviews as much as friends, and it's nearly impossible for a new store to generate thousands of reviews in a short time, adding customer reviews can help you improve conversion rates.
However, writing all the reviews by yourself is painstaking. Needlessly to say, you have to submit them one by one. Don't be overwhelmed by the task. Browse Shopify App Store, and you'll find corresponding apps that allow you to import product reviews automatically. 
When choosing such an app, you need to pay attention to the product importer app that it supports. If you choose Dropshipman, Trustoo will be a perfect match.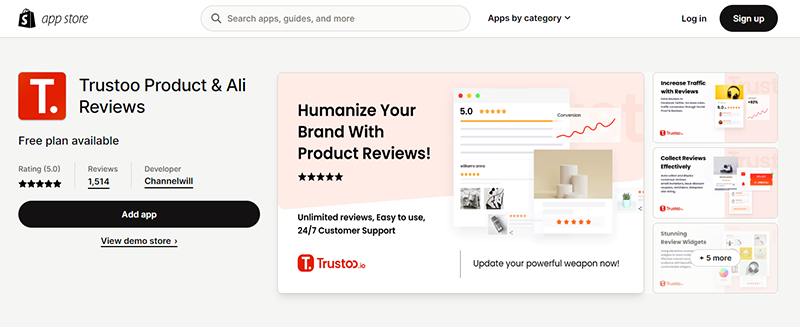 Trustoo review app offers the most generous free plan. It allows you to import unlimited product reviews and display all review widgets and an Instagram feed. You can also send up to 50 review request emails with it. You may wait until you exceed the limit to upgrade to the Awesome plan, which offers extra features, including Google Snippet and Auto Translation. When choosing a review app for your dropshipping  Shopify store, it's important to consider all the points above.

The best thing is Trustoo seamlessly integrates with Dropshipman, which can help you take reviews along with the products from AliExpress. You can access Trustoo via Dropshipman on the interface for importing AliExpress products.

After open Trustoo, go to "Import Reviews," and you can "Sync AliExpress reviews" with just one click.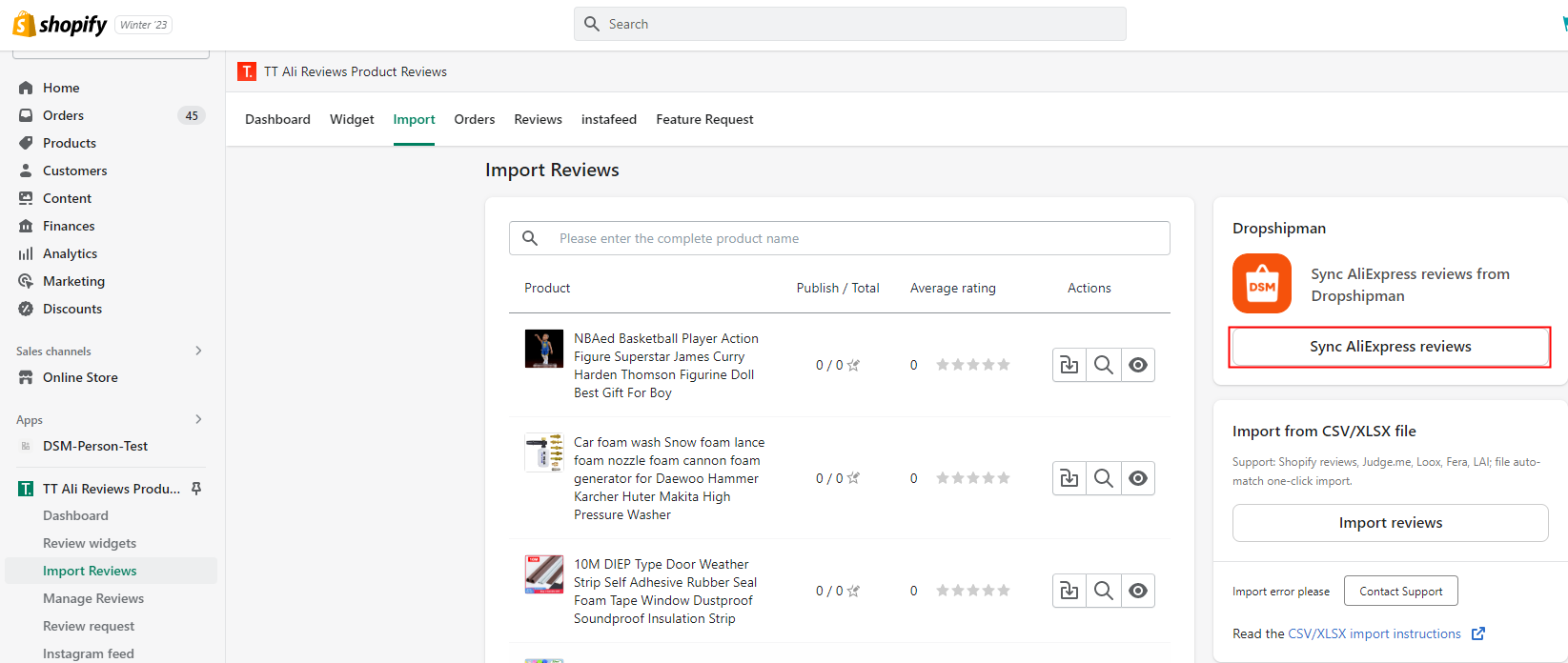 You can choose to import all reviews, set the review quantity, and choose the country where the reviewers are. It's worth mentioning that Trustoo won't import any duplicate reviews, so you can rest assured.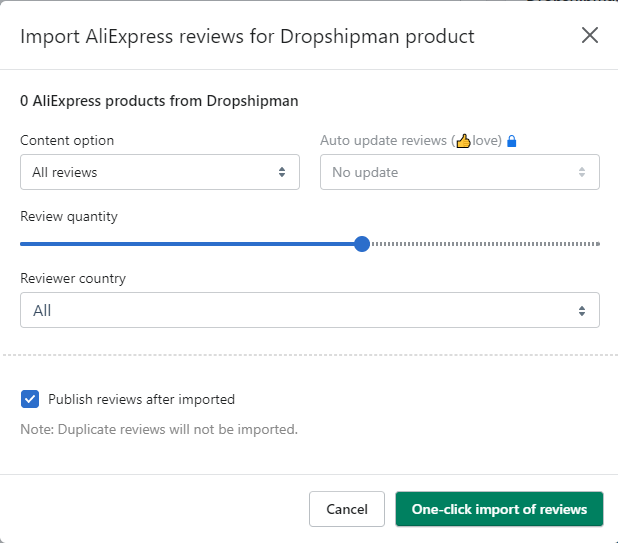 Trustoo works well on a variety of web browsers, including Chrome, Safari, Opera, and Internet Explorer. If you want to add AliExpress reviews in bulk when viewing information on a product page, you can also use Trustoo's "Import Reviews" button, which can be added to your bookmark. However, if you decide to add reviews in this way, you will need to match products existing in your Shopify store with the reviews.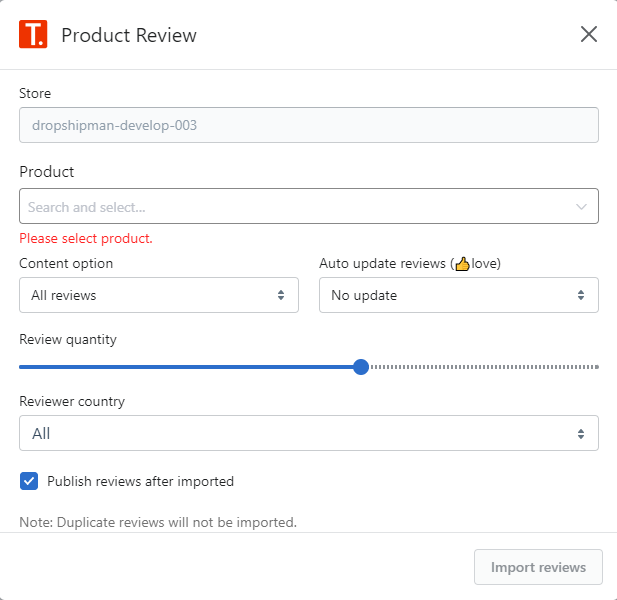 All things considered, we strongly recommend using the first method whenever possible. If you also use other dropshipping apps, you might need to import reviews with Trustoo in the second way or afford another AliExpress review importer.
After importing reviews, don't forget to customize the review widgets that the Shopify review app supports and make them match your branding.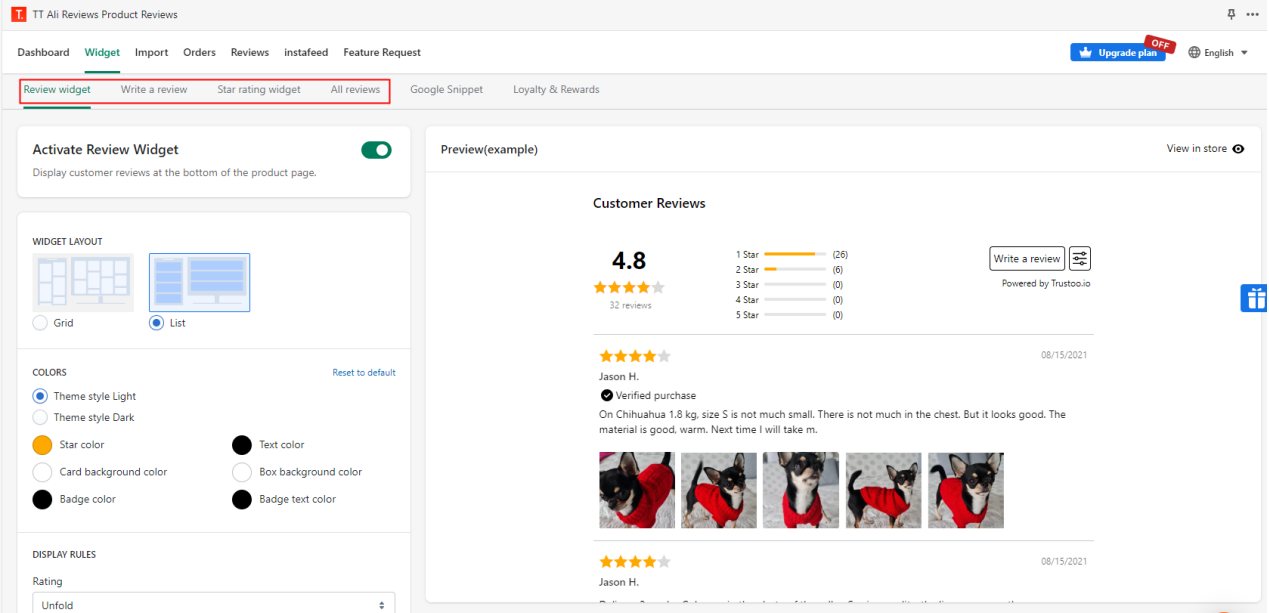 Congrats! You're halfway to building a high-converting dropshipping store - with products you want to sell and a lot of convincing reviews. 
6. Complete Store Settings
Build the Homepage of Your Dropshipping Store
To build a high-converting dropshipping store on Shopify, there is no denying that you should have a homepage that is visually appealing, easy to navigate, and informative for potential customers. You can follow the steps below to build the homepage of your Shopify store:
Carefully select a free Shopify themethat fits the style and aesthetic of your brand by exploring the Shopify theme store.
Add and customize content sections, including featured products, collections, testimonials, and a newsletter sign-up form. 
Customize your navigation menuto make sure that it is easy to use and reflects the collections of products you are selling.
Spice it up with promotions, flash sales, and incentives, such as discounts, free gifts, and limited-time offers to convert visitors into your customers.
Optimize for mobile devices and make sure that it loads quickly because many visitors will be accessing your store from their mobile devices.
Add Store Policies and Payment Gateways
Even if a Shopify dropshipping store has good products, customer reviews, and a compelling homepage. Customers may still have questions or concerns before they decide to make a purchase, such as:
Can the product be shipped to my address?
When can I receive the product?
Can I get my money back if I don't like the product?
How can I pay for the order?
Therefore, it's important for the store to provide clear and transparent information about shipping methods and delivery times, return and refund policies, and accepted payment methods. Providing this information upfront can help build trust with potential customers and reduce the likelihood of returns or disputes later on. 

We will just shed some light here.
Based on your dropshipping suppliers' shipping policies, you can create a shipping policy by including the shipping time, shipping methods, shipping costs, and places where you ship to. Don't forget to set up free shipping, flat-rate shipping, or calculated shipping rates that display at checkout.
To create a return and refund policy, you need to study your dropshipping suppliers' policies, too. If your dropshipping suppliers offer a 30-day money-back guarantee, apart from your return & refund policy, you can also display the information in a prominent position on the product pages to encourage purchases. You may also find some templates that you can modify to fit your dropshipping business.
When it comes to payment methods, consider what the most popular payment methods among your customers are. You should make sure that payment gateway you choose doesn't require high transaction fees. Complete the setup and place a test order afterwards. 
Incorporate Live Chat & Contacts
Offering live chat can also help address any additional questions or concerns that customers may have, which can increase their confidence in the store and their likelihood of making a purchase. You can provide great customer support with the help of a live chat app like Shopify Inbox.
It's recommended to leave your business email so that your customers can reach you when you're away from the computer. If possible, leave your phone number so that they can contact you immediately in case of an emergency.
7. Drive Traffic to Your Shopify Store
By this time, your store will be ready to accept visits, so launch it and focus on driving traffic. According to sixads' research on over 60,000 Shopify stores, the top 5 traffic sources are organic, direct, Facebook ads, Google ads, and Instagram ads.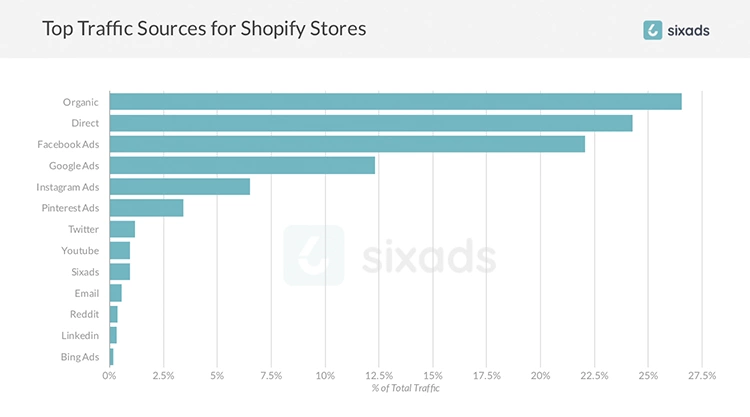 However, it is the direct traffic that generates the highest revenue. It's worth noticing that direct traffic brings over 60% more revenue than organic traffic.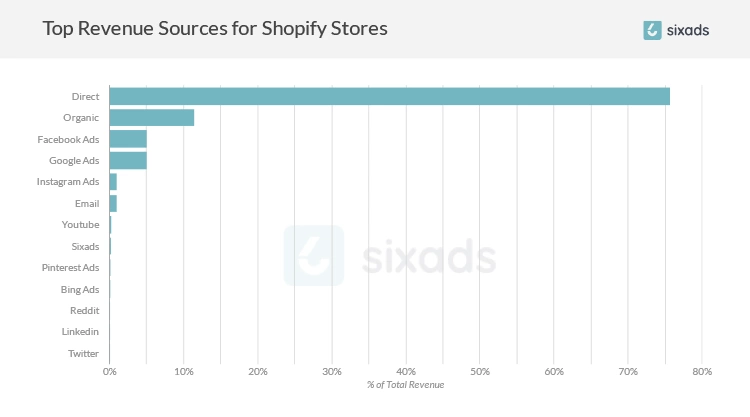 Generally, an online store receives direct traffic after visitors enter its URL or access it by using a bookmark. Such users must be loyal customers or those who are already familiar with the store. To drive traffic for your new store, you concentrate on other sources, like organic, Facebook ads, Google ads, Instagram ads, and email first.
Here are 5 effective strategies that you can implement:
Write SEO-friendly blog articles
70% of consumers learn about businesses through blog posts, and 61% end up buying because of the content in blog posts rather than ads. Therefore, you should carefully research your topics, write for your audience, and use keywords through which people can find your blog content when using search engines. You can also do guest blogging on other websites to build organic traffic.
Promote your business on social media
With social media, you can connect with your customers and target audience. You not only need to reply to comments and answer questions but also try your best to engage with your audience. Build a community around your business, run hashtag contests to increase social mentions, get more followers with giveaways, showcase customer testimonials, and so on.
Facebook ads play an essential role in many dropshippers' newly-opened stores. With Facebook ads, you can improve the visibility of your brand, reach out to a large number of potential customers, and boost sales. To make your Facebook ads successful, you need killer ad copies, compelling visuals, and specific targeting to pull in customers and make sales.
Compared with text ads, Google Shopping ads generate much higher conversion rates because potential buyers can view the price, star ratings, and product image at a glance. The best thing is that Google Shopping ads are generated automatically based on the meta titles and meta descriptions of your products. Thus, you just need to maintain the product data feed via your Shopify store or Google Merchant Center regularly.
Reach your customers via email
Since acquiring a new customer costs 5 times as much as retaining an existing one, it's important to maintain the relationships with your existing customers. Email marketing delivers the highest ROI for this purpose and it ensures the widest reach. You can send special offers to them regularly, and inform them of the new arrivals and latest promotions. 
Final Words
To quickly build a dropshipping store on Shopify for high conversions, you should make sure to streamline the process of importing products and reviews by using popular apps like Dropshipman and Trustoo, complete all-necessary store settings, and proactively use a variety of ways to drive traffic and boost sales.