Print-on-demand is a dropshipping term that may be new to some dropshippers. It empowers entrepreneurs to customize designs on blank products like T-shirts, hoodies, polo shirts, homeware, mugs, tote bags, etc., to sell to customers. The beauty of POD is that it makes it possible for you to research and opt for a suitable provider. If this future business opportunity interests you, then keep reading. We will take you through everything you need to know, from how it works to the pitfalls to overcome and to answer if the right fulfillment for your dropshipping business comes your way.
What's Print On Demand (POD)?
This is the fulfillment model that permits sellers to design graphics for products. The products often entail shirts and hoodies, ranging from mugs, towels, and art prints phone cases to polo shirts.
With POD, you do not have to keep the stock of the product, like a physical retailer. Instead, the supplier will ship the product with your graphics for you!
This is advantageous because you do not have to spend time and energy dealing with the process of delivery and presentation of the product.
Differences Between POD and Normal Dropshipping
A business providing print-on-demand services for its products is poised to dispatch the finished items to print-on-demand customers when ordered. In case that sounds like dropshipping, then you're right! Print-on-demand is another form of advanced dropshipping.
Just take a look at this infographic Print-on-demand 'normal' and see how dropshipping works:
POD is advanced because it allows you to regulate how the product looks. On the other hand, traditional dropshipping is selling a premade product with very little to no customizability.
Analysis of POD Trends 2023
The year 2022 has seen both an exciting and challenging year for the growth and development of the print-on-demand (POD) industry.
The good news, however, is that I foresee a more authentic, focused marketing aimed at putting Gen Z on their toes, with platforms like TikTok leading the charge. Furthermore, timely and thematic merchandise based on politics or world events, such as the pandemic and elections, continues to grow in popularity. 
For instance, the market for face masks (including personalized, customized masks) has exploded. As such, I'm hereby predicting that unique items and a broader range of inventory will be needed in the subsequent years to satisfy demand and boost conversions while noting that cost control has become more important than ever.
Online Purchase is Drastically Expected to Grow
A central theme I predict for 2023 is that online shopping will gain tremendous momentum as traditional retail sales continue to decline, particularly due to the threat that the COVID-19 pandemic poses. After all, it is needless to say that once bitten, twice shy. The convenience of online shopping, including features like fast delivery, has accelerated its acceptance and driven an astounding year-over-year growth of 45.5%.
In addition, millions of entrepreneurs have opened online shops across numerous platforms, and many are involved in the POD market. For instance, let's take a scenario whereby eBay hosts millions of buyers and sellers and saw an increase of eight million buyers in Q2 2022.
 Shopify, which boosts reporting more than one million businesses on its platform, prides itself as the third-largest U.S. online retailer. 
Personalization and Product Assortment Will Remain Important
Consumers who wished to stay in and shop from the comfort of their homes during the pandemic will probably be more demanding in 2023.
Personalization trends in the POD industry will still be on the run, and fast shipping will be achievable courtesy of more adaptable supply chains, which will continue to boost online demand.
In terms of product assortment, shoppers expect a steady stream of new arrivals and a wider range of goods, just like that of Dropshipman. According to Printify, 2023 will be a year of constant adaptation and refinement. POD platforms should therefore adopt merchants' suggestions for new products, including natural and organic clothing and new designs. To applaud the ongoing evolution of the POD market, companies should constantly offer new products and get new global providers onboard to meet changing customer needs.
Homes have become the cornerstone of focus during the pandemic, and 2023 product trends will include increased demand for home and lifestyle goods. This will range from soft blankets to comfy lounging clothes and decorative items. People will not stop turning their homes into places of safety, sanctuary, and coziness in a world full of uncertainty.
There Should be a More Adaptable Platform to Serve a Dynamic, Growing Market
In 2021, pandemic-related accomplishment issues meant that many orders were redirected so merchants could continue with their uninterrupted online selling. As a result, POD platforms should be equipped with new capabilities, including order routing features that transform new and existing orders to alternate providers as needed, as part of an entire strategy to assist merchants in streamlining and optimizing their stores.
Pros and Cons of POD Dropshipping
Let's dig deeper into what should be considered strengths and challenging areas for you to work on overcoming.
Advantages of POD
Easy to set up. You can choose a supplier to upload your design to a product and then sell it on a website quickly. 
Inexpensive.The cost of maintenance of your business is primarily just the website. This means that the hosting, domain name, and possible subscription to the online business depend on who you're using, like Shopify. There, however, can be additional services and miscellaneous charges whose existence depends on how your marketing services accrue. 
No Inventory Investment.The burden of investing thousands into products and then holding the inventory is absolutely nonexistent. You only need to pay once you make a sale. As your products are to cost more, you'll likely not pay more than you'll receive.
Having control of products.While there's only so much you can control in a product, you have control of the look via graphics.
This is absolutely a heavy deal when it comes to branding and competing with others. The design is advantageous and gives a strong reason why someone should use it.
Shortcomings of POD
Low-profit margins. The supplier is poised to take a large cut to save you the burden of worrying about inventory, shipping, and product manufacturing. Suppliers can vary in their charges on a product. Nevertheless, profit margins tend to be a lot lower than dealing with shipping and inventory yourself.
Dealing with returns.It's quite a mountain to climb and a hassle to resell a purchased product due to its potential specifics and even custom-made. There are ways to repurpose it, so you may need to get creative to make the best of it.
Only as good as your designs.The most important reason anyone would want to purchase from your store is the quality, nature, and creative idea of the designs.
That means you must put all your effort into ensuring it has a high demand. Low-quality or quantity products are highly discouraged as they are likely to suffer greatly from getting sales, so it's best to invest as much as possible in high-quality designs.
You do not have access to control of printing quality.Needless to say, not every POD business can deliver a high-quality printed product with every order. Printers may sometimes mess up, and the printing staff aren't spared either. Most importantly, the quality of the products they're using to be printed can be relatively low. This is why you should test them out for your usage to determine how they will work with your customers.
Things to Consider When Doing POD Dropshipping Business
With so many options, finding the right Print on Demand dropshipping company can be a hard nut to crack. Therefore, here are some key factors you need to keep in mind: 
Print Quality: Your whole business revolves around selling customized printed products. 
So it's a no-brainer that if the print quality isn't top-notch, it shouldn't be bad. 
You have to be extra careful with washable products. 
The last thing your customers want is for the print of their t-shirts to fade away right after a single wash. 
Always test the print quality offered by a supplier before you start getting it shipped to your customers. 
1. Shipping Time
The shipping time plays a vital role in any online business. 
It is your mandate to ensure that you forward the order details on the same day and that your supplier proactively creates the design to avoid shipment delays. 
Also important to keep in mind is that you should choose suppliers who have warehouses near, if not in the country you're operating in, to lessen your shipping time. 
In summary, be on the same page with your supplier regarding shipping time to avoid unnecessary delays. 
2. Mockup Generator
This amazing tool lets the customer see what the final product would look like after their custom design is printed. 
Most popular POD dropshipping companies have installed a mockup generator that can at least be integrated with Shopify or WooCommerce stores. 
A mockup generator on your site is crucial since it shows the customers a glimpse of their order. In essence, this reduces the chances of miscommunication. 
3. Product Variety
As far as choosing a product is concerned, there's no one-size-fits-all. Just because another business is doing great with certain products, you need more room to qualify to do well, and vice-versa. 
If you're choosing POD dropshipping services, choosing a supplier that offers a decent variety of customizable products would be ideal. Dropshipman, an all-in-one Shopify dropshipping solution provider, has a solution for every product you may need.
This will enable you to experiment and see what works best for your business, enabling you to find the right niche.
4. Customization Options
The expected revolution behind a POD business is to make it possible for customers to create personalized products. It would be a huge plus if you could find a supplier that offers a range of customization options just like Dropshipman does.
For instance, rather than just playing with the color and design of the product, customers can also change their shape and size. 
5. Customer Service
In conclusion, good customer service is the most important thing to consider in a POD dropshipping company. 
Because you will be fully dependent on your supplier, I believe your guess is as good as mine: you want to work with someone communicative. 
Needless to reiterate, your POD supplier must provide shipment tracking along with a refund/return policy in case of potential mishaps. 
Top 5 Best Shopify Print-on-Demand Apps
1. Printful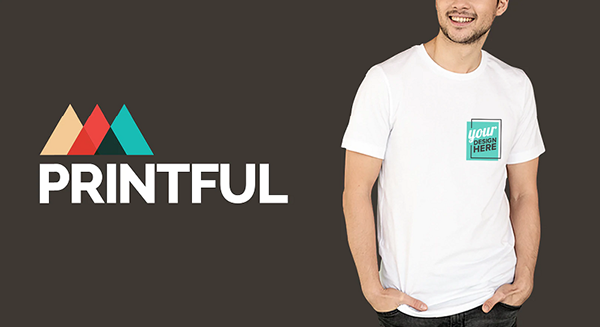 Printful is one of the most widely used selections among print-on-demand sites owing to its wide choice of high-quality products and brands (Gildan, and American Apparel, just to mention a few). It is simple to use the mockup generators and has a variety of options for adding your branding to the unboxing experience simultaneously.
Printful provides some excellent printing techniques that you would readily express your preference in:
Direct to Garment – This technique makes it easier for you to print directly into clothing – majorly used for simple designs. You should note, however, that only certain parts of the product can be printed on.
Embroidered products– This technique is very hard to deal with as it requires a 3D effect on finished goods. It is, therefore, only suitable for uncomplicated products like simple embroidery on T-shirts.
Offers Cut and sew printing –This function allows you to create a better product than just using sublimation printing which may have a higher base cost.
It also offers other handmade products like mugs, bedding, pillows, framed posters, beach towels, and aprons, just to mention a few.
As if all those aren't enough, Printful helps to develop your brand with Printful's mockup images and product videos and lets shoppers create unique products right in your store with their product personalization tool. In addition, Shopify is efficient, effective, quick, and easy to set up and has built-in hosting solutions, making the perfect e-commerce platform for your business.
2. AOP+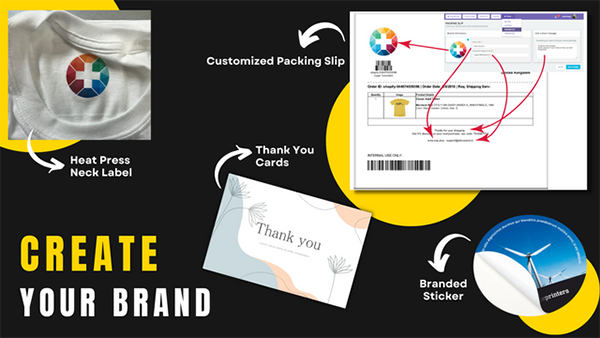 AOP+ This is another good print-on-demand Shopify app which always gains 4.2 ratings. Besides, AOP+ provides a very simplified way for e-commerce store owners to sell custom print-on-demand products anywhere in the world. This is a wonderful start-up-friendly tool for artists, designers, and photographers who want to start a POD business and run their own online stores.
Best features of the app:
Gives you a leeway to bring your ideas to life with their catalog of 120+ classic, premium, and organic product variations.
Saves time to use:Being a fully automated system, it only takes you 30 seconds to create a product with your design.
Low costs: You are offered up to a 10% discount on all prices in premium plans.
Reasonable product pricing: With the manufacturing centers located in London, AOP+ prides itself on having the most competitive prices compared to all other print-on-demand services in the U.K., E.U., and U.S.
You do not need to worry about inventory, equipment, or printing because they'll take care of everything. 
This app also prides itself on an intuitive image editor that gives you a good sense of the appearance of your final product. 
Besides, AOP+ is a good Shopify print-on-demand app to create a dropshipping business with uncomfortable product categories.
SPOD goes beyond just a standard Print on Demand service, providing a customizer tool for customers to customize their designs from more than 150 available products. Courtesy of high-quality products and excellent delivery time, SPOD receives plenty of good product reviews from users, so you do not have to worry about unsatisfied customers and other shortcomings at your Shopify store.
3. Printify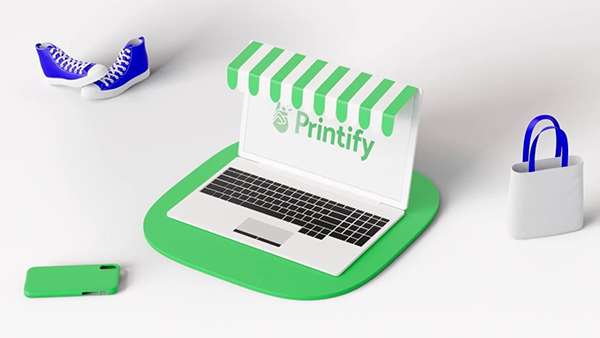 Another exceptionally famous Print on Demand platform on Shopify for you to choose from is Printify. It promptly operates a Shopify store within a minute and gives you quite a number of clothing products to sell. The shipping cost and time will adjust based on the provider and shipping location.
Notable features of this amazing app:
It has a variety catalog: Its library consists of 250 products that equip you with many options.
It Has the Best Product Costs on the Market: You are permitted to use Printify for free for five stores with all features. The premium plan costs approximately $29/month for large dropshipping businesses operating 10+ e-commerce stores.
It boasts more than 90 printer locations worldwide: Besides, this app offers you all the best printing partners network from 90 locations, including the U.S., U.K., and China, to ensure seamless and faster fulfillment.
Providing white-label: This coveted app has an international vendor network that enables a number of unique white-label products you won't find elsewhere, such as jewelry, clocks, shoes, and water bottles.
Approximately 500,000 merchants use Printify's services to operate their POD businesses because it is one of the best Print on Demand options for both new and seasoned sellers. This app brings you good-quality printing and a straightforward mockup generator.
4. SPOD
SPOD is among the top 5 apps offering the best POD services for your Shopify store. This brand has acquired a good reputation as the fastest Print on Demand dropshipping in the U.S. and E.U. thanks to their quick production in 48 hours or less. This is an excellent feature because 44% of customers often do not order products because of slow delivery times.
Best features of the app:
It fully Supports your creativity: This app has up to 50,000 free designs for inspiration. You are free to pick one of them to design your product.
It has a highly tempting discount: SPOD offers up to 20% discounts on each sample order which, in essence, helps customers to save on costs.
It is also relatively easy for beginners: SPOD provides simple product customizer tools to help the users to get the first touch of designs before manufacturing. This function is greatly significant in designing your product and saves you time.
It ensures rapid production: Ensures prompt product fulfillment (up to 50% of orders get delivered within 48 hours).
Has very fair prices: SPOD provides their customers with reasonable prices but with quality products.
It goes beyond just a normal Print on Demand service in that it provides a customizer tool for customers to personalize their designs from more than 150 available products. Courtesy of high-quality products and excellent delivery time, SPOD receives excellent reviews from users, so you do not have to worry about unsatisfied customers and other problems at your Shopify store.
5. Teelaunch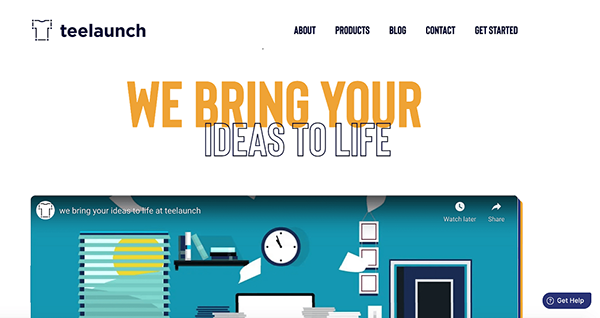 Teelaunch provides good-quality printing with excellently quick customer service. This is why this app is overwhelmed with a lot of reviews. From the time it was founded in 2015, Teelaunch has established over 170,000 print-on-demand production facilities all over the world with extremely high-level quality and performance.
Its observable features include:
Offers the best printing quality for all products, which helps you create premium products.
It boosts extensive product range:These include but are not limited to clothing, dinnerware, household products, and workplace accessories.
Variety of products: Includes: dinnerware, drinkware, home goods, and office accessories,
It offers its sales everywhere: Teelaunch can manage product delivery worldwide with a fast delivery time of within 3-6 business days at a competitive shipping price compared to other Shopify POD services.
Furthermore, it also provides a personalization tool where customers can insert their name or photo into a product. This equips you with a lot of incredible benefits. I can, therefore, unfavorably say that this app is truly an ideal option for Shopify store owners selling homeware items.
End note
Print-on-demand is all about delivering products to meet more personalized needs. You should research, follow market trends while constantly paying attention to your customers' needs, collecting feedback to make informed decisions, and improving customer experience. There is no denying that your business will prosper with flexibility in 2023. To stay on top of the game, you should partner with a reliable print-on-demand dropshipping supplier and add more value to the end customer.