The unsung heroes of TikTok videos are often music and sounds. It is not a secret that finding the right sound to accompany your videos is for sure the key to going viral on TikTok. Up to 88% of Tiktokers say that audio is "critical" to the overall experience on the app. Therefore, acquiring knowledge of how to find trending sounds on TikTok means a massive potential for brands to grow on the platform. 
There are many ways to find trending TikTok sounds, but not all of them are productive. Indeed, scouring video platforms like YouTube for hot songs takes a great deal of time. Instead of looking for TikTok trends aimlessly, the more feasible solution would be to have them curated for you. No deep web searches. No stumbling upon the outdated "Top 10" articles. Here're 7 best ways for you to get the hottest TikTok sounds!
TikTok Sound Statistics
Approximately 73% of the users would "pause and have a look" at TikTok ads with audio.
50% say TikTok content is more uplifting, engaging, and energizing with music.
As if that is not enough, users are eight times more likely to remember a brand.because of the unique sounds and songs it uses in its videos on TikTok than other elements, including visual style, color, slogan, and logo. 
Why Look for Trending Sounds on TikTok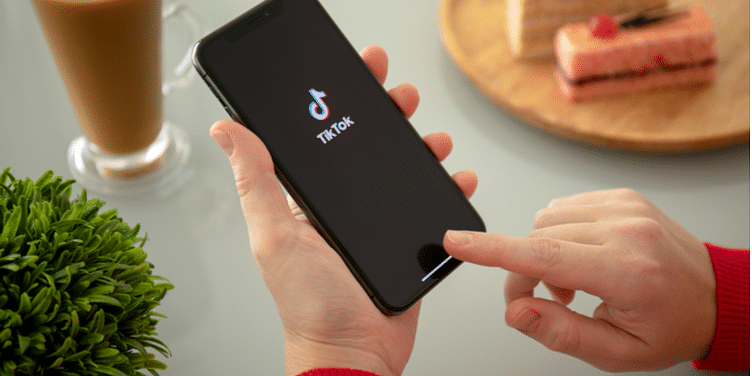 Before finally diving into the how-to on finding the TikTok trending sounds, it is really important to know the amazing stats on how TikTok is dominating the social platform:
Has had the highest download of up to over 30 billion times.
It is the 6th most used social platform in the world.
It has over one billion active monthly users.
It is now more popular than Instagram among Gen Z users in the USA.
Android users spend 19.6 hours per month browsing through TikTok.
TikTok discloses that there were 430 songs which exceeded 1 billion video views as sounds in 2021.
67% of users say TikTok inspires them to shop—even when they didn't have any plan of doing so.
Adding captions increases impressions by 55.7%.
The highest performing videos range between 21seconds and 34 seconds
It is also important to note that countless songs and original audio are being used on a daily basis. Considering the ever-evolving trends, how can you know what's trending so you can pop leverage them in your TikTok Marketing Strategy? 
Thankfully, here are 7 effective and easy ways to help you find trending sounds on TikTok for your videos.
7 Effective Ways to Find Trending Sounds on TikTok
1. Carefully Scroll the For You Page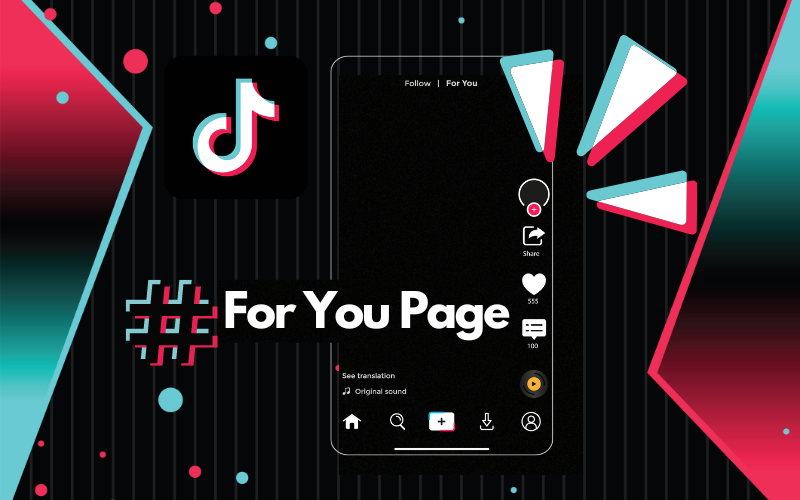 One of the best ways to find TikTok songs is to seek them by using the app itself, mainly via the for you page. Being one of the most crucial parts of a TikTok, the "For You" Page is used by both new and old Tiktokers.
Once you are there making your daily browsing, look at what type of videos others are posting. Pay extra attention to the sounds they are using. 
The flick side of this app is that it requires no additional effort or time. You can effortlessly use it during your TikTok time. Also worth bringing to your attention is that the "For You" Page is different for each user in that it caters for personal interests and TikTok communities they belong to.
In summary, if you want to create brand content that appeals to your target audience, find out what content they see on their "For You" Page by doing a thorough analysis.
2. Use TikTok's Features
TikTok is fully up-to-date with the existence of new trends on its platform. It greatly values the latest trends and makes it easier for users to find them readily by using the search bar.
Simply open the TikTok app and find the search button on the top right bar of your screen. Search for sounds using such features as Keywords, Viral Sounds, Trend Alert, and Tokboard. If you have already gotten acclimatized with the sounds and only want to see how it is used in videos, directly search for them.
Also important to note is that, at the top of the screen, you will see categories for your results. "Users", "Videos", "Sounds", "Live", and even "Hashtags". Just select the sound category, and you can view the details of the song, such as the title and the artist's name, and the number of times the song has been used on TikTok.
3. Dive into the TikTok Creative Center

This app is filled with the latest trends and insights to help you make better content. These include:
The most popular songs on TikTok.
Songs that are trending on TikTok Charts.
You have to sign up to get access to this amazing app. Browsing the site is pretty easy once you have finished signing up. You simply need to:
Go to TikTok Creative Center and head to the "Trending" page.
Choose a region.
Click songs.
Choose between popular or breakout songs. Remember, popular songs are at the top of the charts, and breakout songs are constantly growing in popularity.
Select a time frame, i.e., yesterday, last 30 days, or last 120 days.
You will eventually see a list of the 100 top songs once you have made selections. 
The negative side of it is that it doesn't show user-generated sounds. However, it does indicate whether songs are trending up or down, their popularity over time and whether they can be commercially used on TikTok. 
4. Use TikTok's Search Bar
TikTok makes it extremely easy for users to access trending sounds on its app. Get details below:
Open the TikTok app.
Navigate to the search function at the top of the screen.
Search for viral sounds (or similar keywords).
Once you have the results, quickly hop over to the 'sounds' tab. You will see a list of trending sounds on TikTok and the number of times they have been used in TikTok videos.
The alternative way is to go to the 'hashtags' tab. Here, you will see what popular hashtags related to sounds are being amicably used. Videos with #viralsounds, for instance, have been viewed 1.8 billion times.
5. Leverage TikTok Songs Finder Tokboard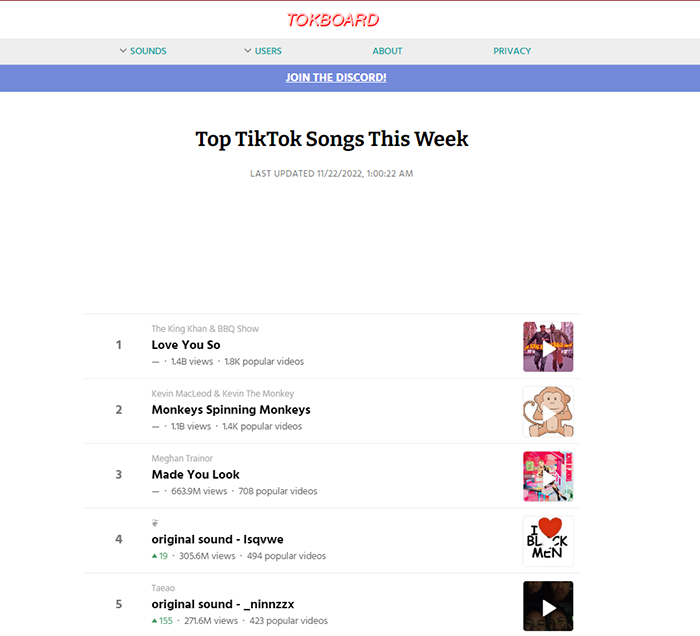 Closely related to TikTok is this amazing external resource tool called Tokboard.
Formerly coined as Tiktometer, Tokboard is a captivating place where you can leverage to find trending songs. It is a platform run on a data-collection engine that monitors data straight from TikTok. According to its latest statistics, it has data on over 80 million popular TikTok videos.
And what's great about Tokboard? 
Amazingly, this app has a list of trending TikTok songs showing you even pretty detailed data—and a chart—about a particular song or remix. These include:
How many times has the song been played?
How many popular videos feature this song?
What are the popular hashtags related to the song?
What are the top countries using this song?
You can also use a link that takes you directly to the videos on TikTok.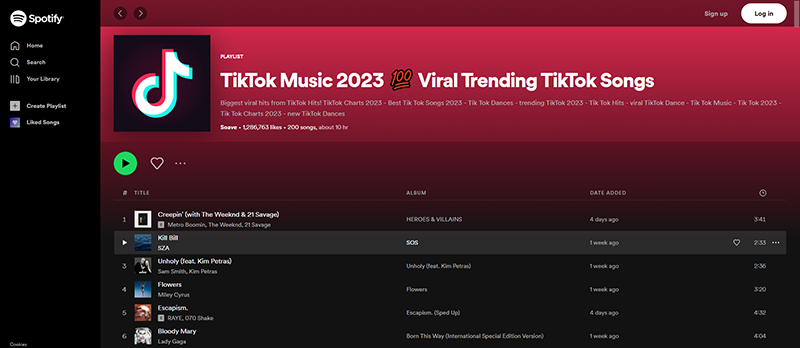 Spotify is the industry-leading music streaming provider with which you can find trending songs. Simply dive into this amazing app, enter "TikTok" in the search bar, and select "Playlists."
Here, you will get acquainted with playlist after playlist of the best trending sounds on TikTok curated by users.
As a strong recommendation, if there is only one user you should pay attention to, let it be TikTok's very own Spotify account. They currently boast 10 public playlists with the latest TikTok hits, carefully sorted by region after region.
7. Hop over to the YouTube
This amazing popular video-sharing platform is one of the most used video platforms in the world. It is a wonderful resource for you to discover trending songs on TikTok.
Just enter keywords such as 'trending TikTok sounds' or even 'trending TikTok songs' in the search bar. With this, you will have access to a plethora of options to choose from.
If you want to follow certain channels and save playlists dedicated to the latest trending sounds on TikTok.
4 Tips on Finding Trending TikTok Sounds
1. Constantly look at how often they are being used
Gain insights on how to find the TikTok trends, especially the videos that are going viral, and look at what sounds are being used. You can also read the comment section of these videos to listen to feedback from other users and discover what you need to improve on or avoid.
2. Save trending sounds as favorites
Remember to save trending TikTok sounds or songs you would like to use once you bump into them. This makes it easier for you to locate them when you need to use them in TikTok posts.
3. Consider your target audience
While searching for your favorite TikTok songs and sounds to use, pay attention to those relevant to your target audience.
Some of these songs and sounds may be less popular. Nevertheless, there's still a chance they will resonate with your target audience.
4. Create unique sounds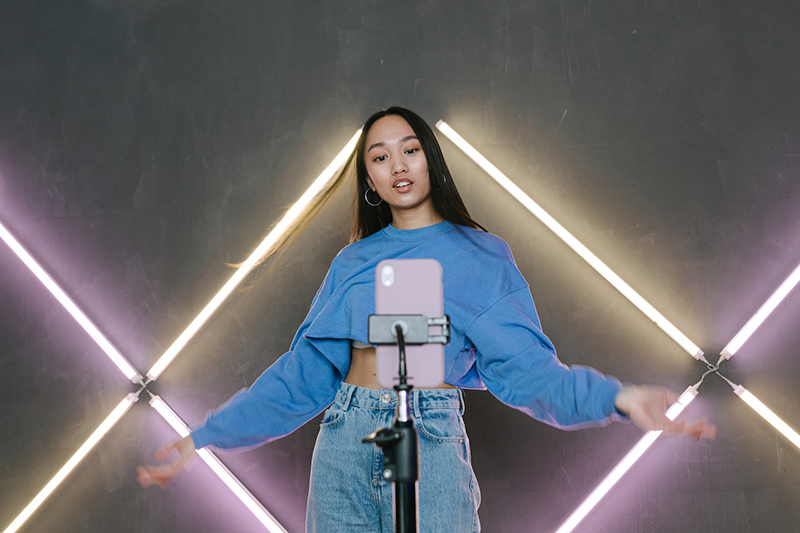 TikTok goes beyond just musical sounds. As a user, you can create unique sounds that are pretty fun to make videos with. Remember, leaving very catchy and trendy songs aside.
To achieve this successfully, your best bet would be to browse the TikTok app itself to find the popular types of music.
End Note
Here are 7 useful strategies for finding TikTok trending sounds. The extremely popular audio on TikTok, including but not limited to the hottest hits in your TikTok content, can really help you increase your overall reach and ultimately boost your sale on TikTok.