Why us?
Dropshipman is trusted by over 40,000 Ecom merchants. We have helped fulfilled over 40 million orders.
Choose Dropshipman, and you can scale your business to the next level easily:
1. High quality products at 50% lower prices;
2. Repackaging your product with 3-layer cart boxes;
3. Bundle your products in one order to lower your shipping cost;
4. Fast and flexible shipping worldwide. 7-15 days to US and EU!
5. Purchase your product in bulk and enjoy free inventory storage service.
How to use dropshipman sourcing feature step by step
Step 1: Post sourcing requests
There are 2 ways to submit sourcing requests to Dropshipman:
1. For products existing in your Shopify store
After login, go to "Store Product" and click "Sourcing" next to the product that you want Dropshipman to source for you.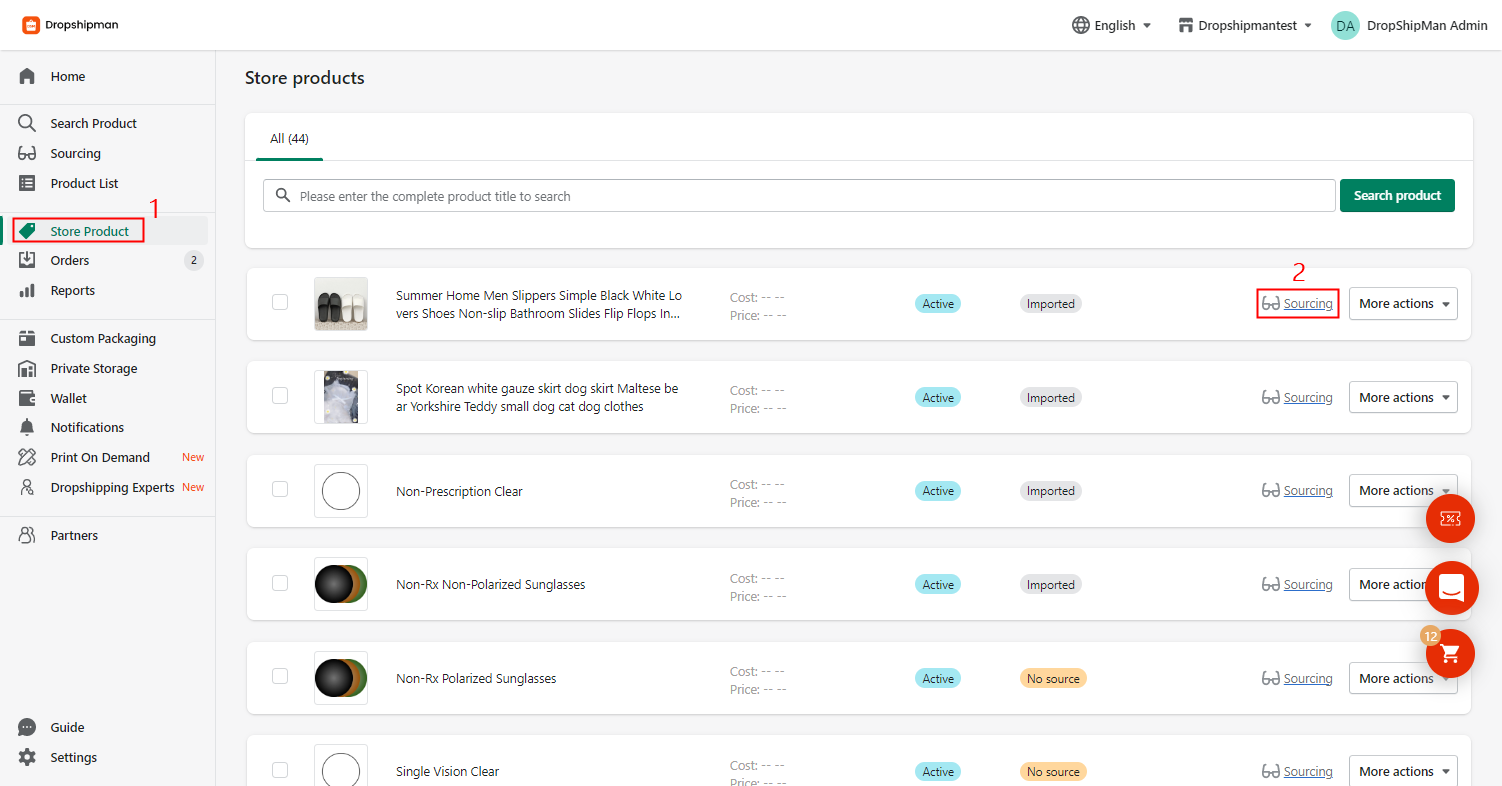 The related product link will be automatically retrieved if the product has been imported by Dropshipman. You just need to confirm the destination country to move on.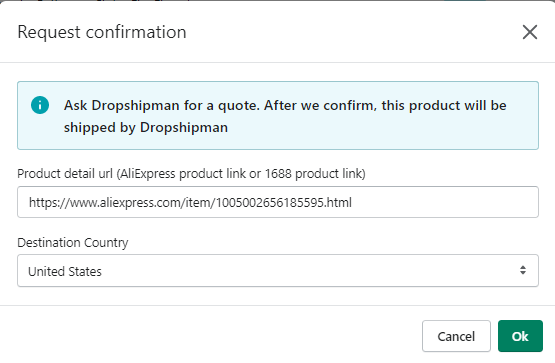 2. For products not in your store, send us a request by going to "Sourcing." 
Click the green "Sourcing" button, and a window will pop up.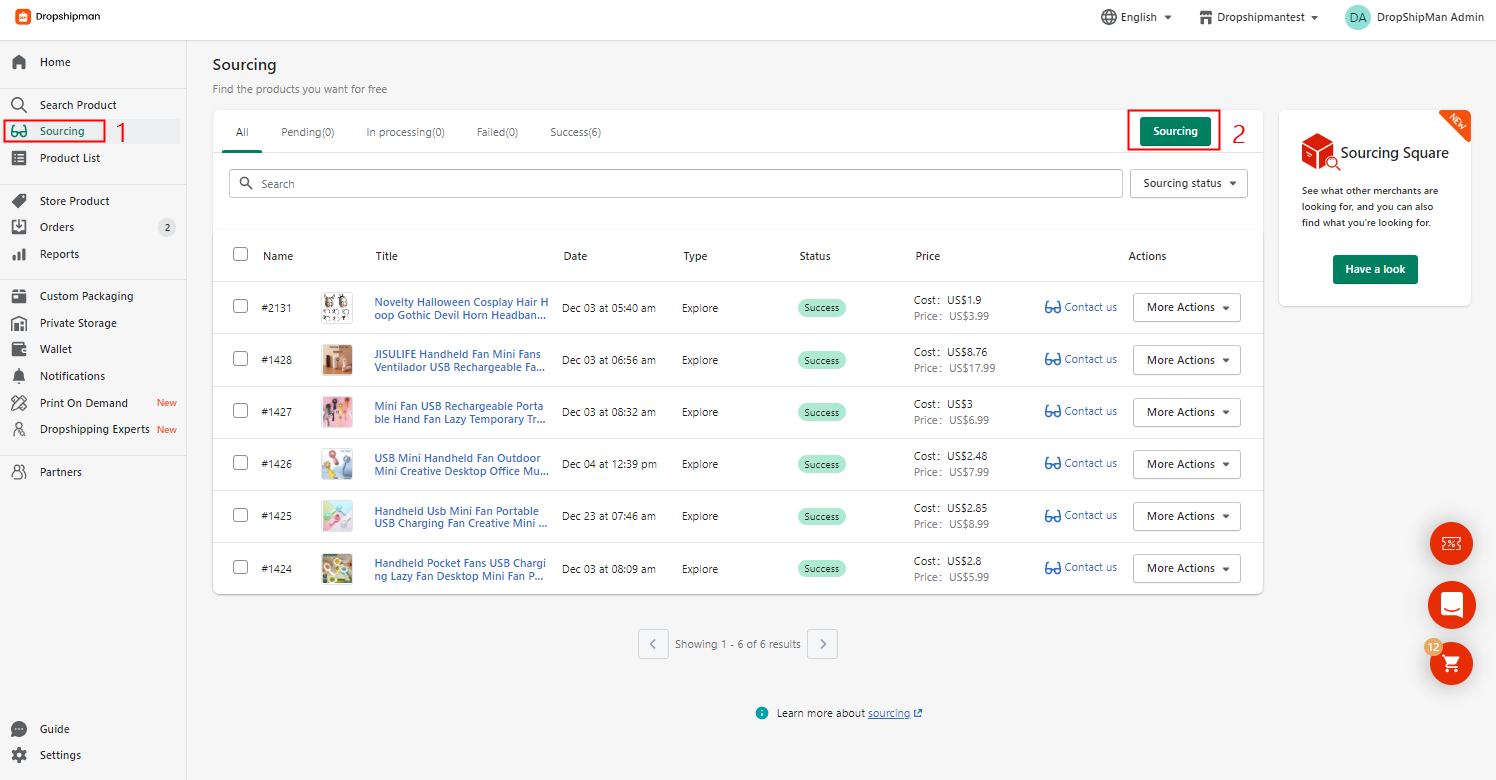 Then, you need to enter the product title, add images and product URL (if any), choose product type, set the target price (including the shipping fee), and tell us your destination country.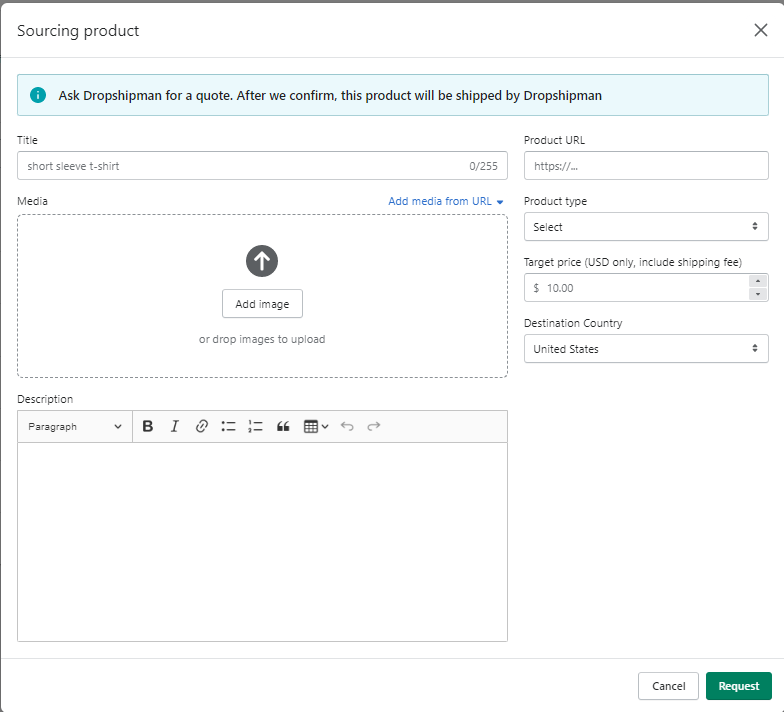 Click the "Request" button to submit the sourcing request to Dropshipman. In the "Sourcing" section, you can track the sourcing progress.
Step 2: Check sourcing results
Generally, we will finish processing your sourcing request within 48 hours. Moreover, if you've already received an order, we will speed up the progress.
If we successfully find the product you want, the product will be shown under the tab of "Success"; otherwise, it will appear under "Failed."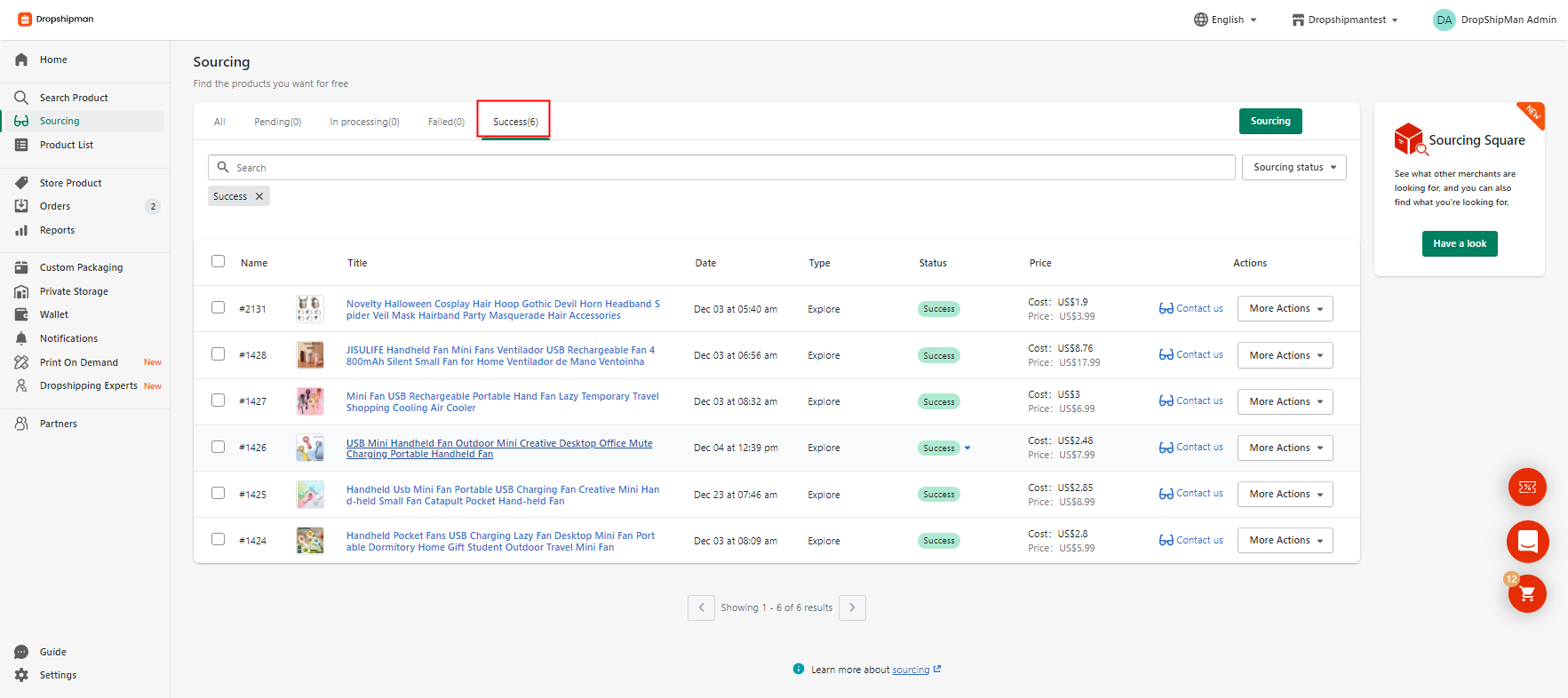 You may click on the "More Actions" button and select "View details" to learn more.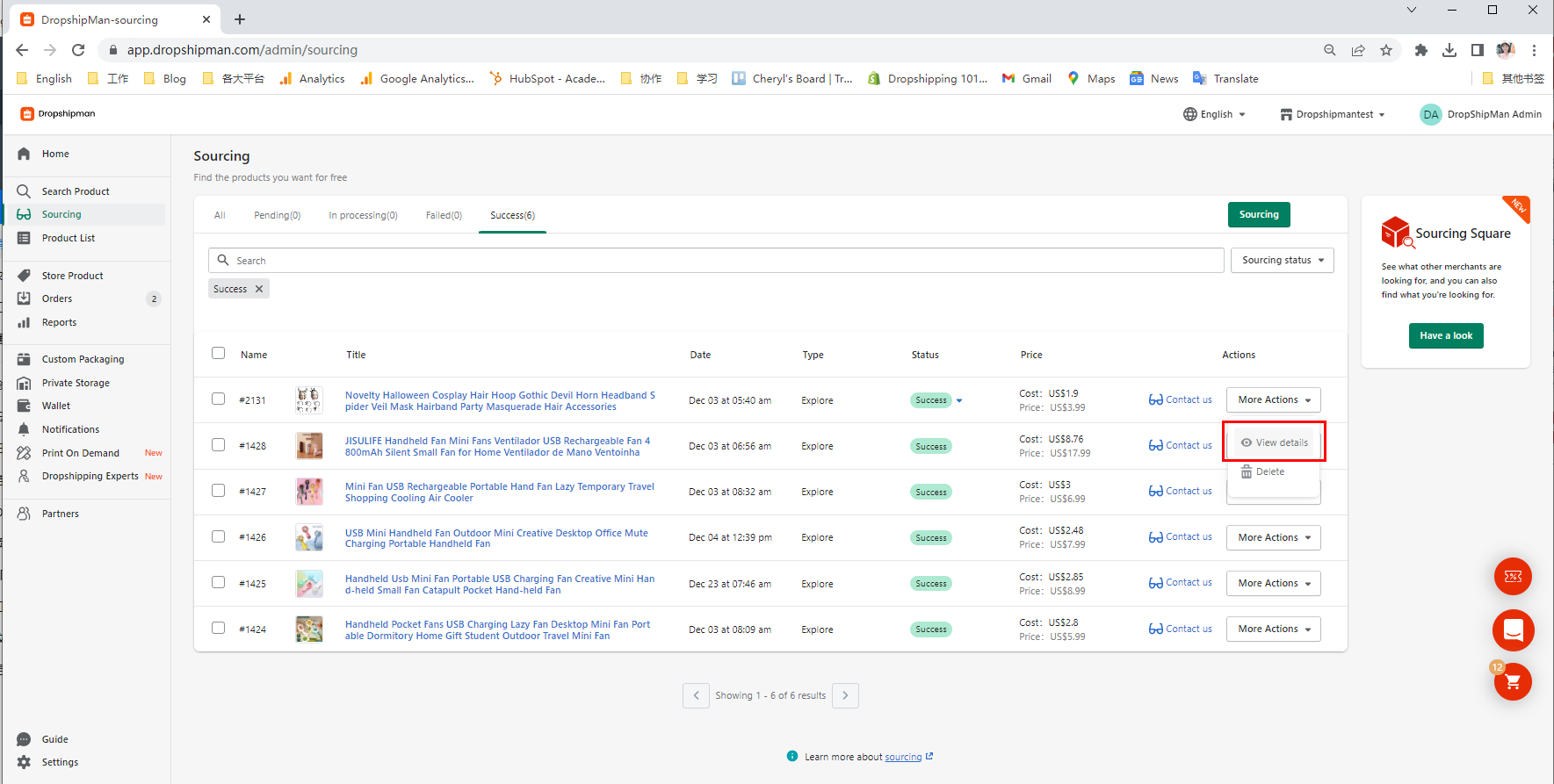 A window filled with all-necessary product information will appear.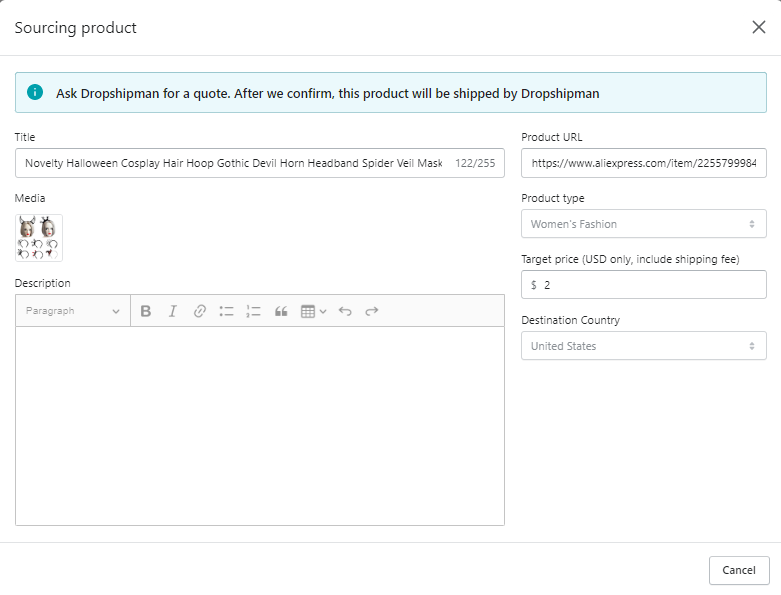 Next, you need to go to "Product List" - "Dropshipman," if there are many products in your list, enter related keywords or the title to search for the product. 
After you complete editing, click the green "Import product" button to add the product to your Shopify store with one click.
Step 3 Processing order
This step is almost the same as your processing of AliExpress orders. We classify products by store, and our products are classified under Dropshipman. 
Step 4 Pay for order
After you click to place an order, the corresponding order will appear in Orders> Dropshipman. We currently support PayPal and Dropshipman Balance. If there are some AliExpress products on this page, please don't forget to forward the orders to AliExpress and complete payment on AliExpress.
Learn more about our sourcing & branding services