E-commerce platforms such as AliExpress are becoming increasingly popular for international shopping. Not only do they offer competitive prices, but many businesses also use them for their dropshipping services. AliExpress has become a household name when it comes to dropping shipping. With an enormous collection of products at low costs, direct communication with millions of suppliers, worldwide delivery, convenient payment options, and customer service support, AliExpress is quickly becoming one of the best dropshipping destinations. However, suppose you're looking for alternatives to AliExpress, or more specifically, AliExpress alternatives USA. In that case, plenty of other e-commerce platforms are available that offer similar dropshipping services and a wide range of products. These alternatives can provide great value, convenience, and peace of mind.
If you also want to streamline the dropshipping process, offer faster shipping and products of better quality, as well as build your brand, consider AliExpress alternatives. Let's know more about alternatives to AliExpress for dropshipping.
Why Should You Use AliExpress Alternatives?
Here are the reasons why you should consider AliExpress alternatives. These alternatives provide dropshippers with access to a wide variety of items from different countries and regions, allowing them to find the best deals available. Furthermore, these alternatives also offer competitive shipping rates, faster delivery, dropshipping automation, and customer service.
Let's dive deep!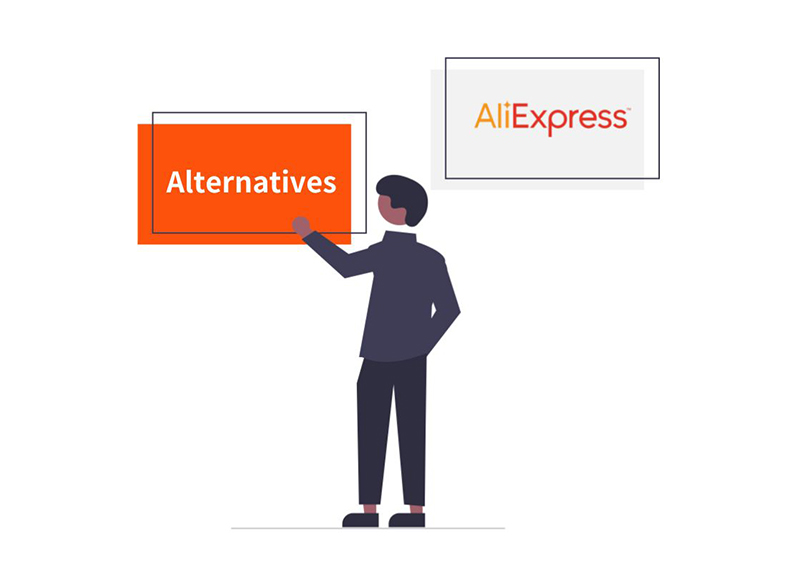 1. Products at the Lowest Prices Available
With a variety of AliExpress alternative websites, dropshippers can now search for the lowest prices of a wide array of products from China and other parts of the world. Whether you're looking for electronics, apparel, accessories, or any other product, these websites can help you find the best deals and get great value for your money.
2. Faster Delivery & Shipping Options
Fast delivery and shipping options are becoming increasingly crucial for businesses, increasing the demand for alternatives to AliExpress for dropshipping. With customers expecting their orders to arrive quickly, AliExpress alternatives working with local suppliers make sure that they can provide fast and cost-effective shipping solutions.
You can compare different shipping times and costs and give customers many options, such as same-day and next-day delivery, which can help you stand out from the competition. By providing faster delivery options with AliExpress alternatives, you can ensure customer satisfaction and loyalty.
3. A Wider Range of Dropshipping Services
In addition to order fulfillment, the majority of AliExpress suppliers don't provide other services like quality inspection, warehousing, custom packaging, inventory storage, and so on, which is another reason why dropshippers are seeking for AliExpress alternatives. Beginners might be satisfied with AliExpress dropshipping. However, dropshippers aiming to improve their services and establish their businesses need to go for AliExpress alternatives. 
4. Better Customer Support
Some AliExpress alternatives offer a range of advantages when it comes to the return policy and customer support. For example, these alternatives come with the option of returning items for a refund, as well as offering them faster responses than AliExpress suppliers. Additionally, these alternatives also offer more comprehensive customer support options, such as live chat and phone support, which can help dropshippers troubleshoot any issues quickly. 
Apart from the above, as most AliExpress suppliers are Chinese and they don't speak good English, you may find it difficult to communicate with them. You won't have such a problem if you work with AliExpress alternatives in the US or UK.
5. Dropshipping Automation That Facilitates Management
Dropshippers need the right tools to run their businesses efficiently and maximize profits. When they go for AliExpress alternatives, they are in search of more options like automation of their tasks. For example, automation can help with product uploads, price & stock sync, bulk order, parcel tracking, and more. It can also help dropshippers save time and money by reducing the number of manual tasks required for day-to-day operations.
20 Best AliExpress Alternatives for Dropshipping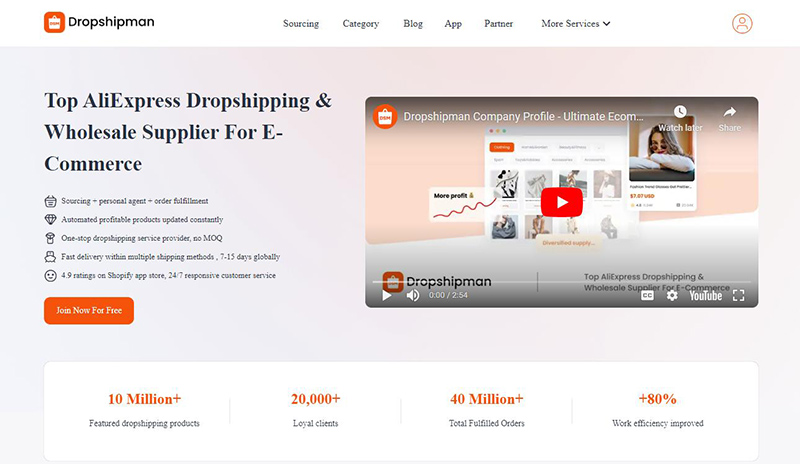 Dropshipman is one of the major alternatives to AliExpress, the popular marketplace for dropshipping. It offers a wide variety of products from over 100 categories, including electronics, clothing, home and garden, beauty and health, and more. Additionally, Dropship Man has a powerful built-in system that allows dropshippers to manage multiple stores in one place with ease. This system makes it easier for online business enthusiasts to manage their inventory across multiple stores without having to switch between platforms. Dropshipman also provides free product sourcing, free bulk inventory storage, custom packaging, and labeling. All products are subject to quality inspection twice before being shipped to customers.
Dropshipman seamlessly integrates with Shopify and AliExpress, which means, with it, you can import products with one click, place orders in bulk, and keep prices, stock levels, and tracking information up-to-date. Dropshipman also offers analytics and reporting features that can be used by store owners to track the performance of their stores.
All these make Dropshipman an ideal AliExpress alternative for dropshippers who are looking for a reliable platform to start or grow their dropshipping business.
Shipping and delivery 
If you choose Dropshipman for sourcing and fulfillment, you can expect your sourcing request to be processed within 1 ~ 3 days and your packages to arrive in 7-15 days worldwide. They provide expedited shipping via DHL so that the package arrives in as little as three to five days.
Payment methods 
Dropshipman only accepts PayPal and DP Wallet for all orders (charged via PayPal or Stripe). You may pay for your AliExpress purchase by forwarding orders and going to AliExpress to complete payment.
Warehouse location
Dropshipman's headquarters is in Hong Kong. Currently, it has a brand office in Shenzhen and the USA, and its warehouse is in Shenzhen. In cooperation with a lot of logistics providers, it provides fast delivery globally at low costs. 
Reviews 
It has a 4.9 rating on the Shopify store. Customer reviews about Dropshipman are mostly positive, with customers praising its easy-to-use interface, a wide range of products at low costs, and reliable customer service.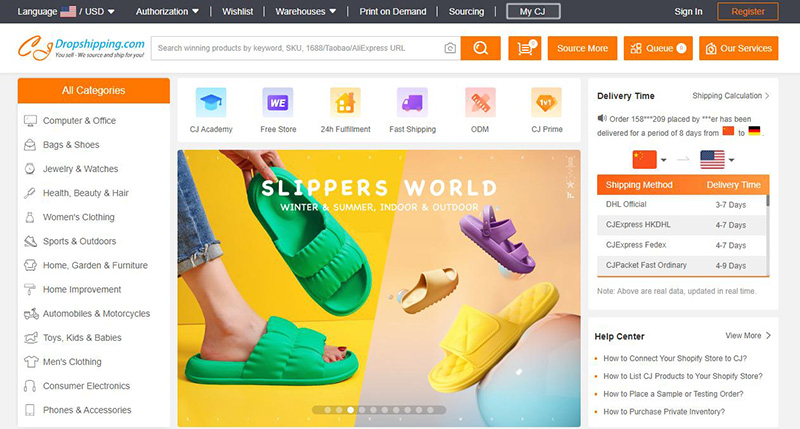 The company's CEO, Andy Chou, and his colleagues launched the business in 2014, initially focusing on the jewelry industry. The CJ platform was introduced after 4 years. With warehouses in China, the United States, Germany, Thailand, and Indonesia, CJDropshipping is now among the industry's top dropshipping suppliers. With CJdropshipping, you can connect to major e-commerce platforms, including Shopify, WooCommerce, eBay, Etsy, and so on.
Including print-on-demand services, CJDropshipping offers items from every conceivable category. They also provide product sourcing, warehousing, custom packaging, photography and videography, API support, and more. Therefore, CJDropshipping is akin to a hybrid of AliExpress, Oberlo, and dropshipping agents. 
CJDropshipping is a great free dropshipping provider in part because it does not charge a commission. Order minimums, subscription fees, and storage costs are not charged. Furthermore, the sale is not accompanied by any additional costs.
Shipping and delivery
Typically, CJ sends its goods in 3 to 15 business days, depending on the warehouse's location and the chosen delivery method. Delivery takes 2–7 days from a US warehouse. Even if the product is stored at a CN warehouse, CJPacket—own CJ's shipping service—can nevertheless deliver it in 10–17 days to people in the US.
Payment methods 
Some of the most popular payment options are CJ Wallet (various benefits based on your order volume; presently, a 0.5% bonus for an amount under $5000), PayPal, Mastercard, Visa, Payoneer, and Wire Transfer.
Warehouse location 
With warehouses in China, the United States, Germany, Thailand, and Indonesia, CJDropshipping can serve businesses all around the globe.
Reviews 
CJDropshipping has an average rating of 4.86 stars out of 5 based on 1,713 reviews on Sitejabber because the vast majority of online retailers are pleased with their personal agent and rapid responses.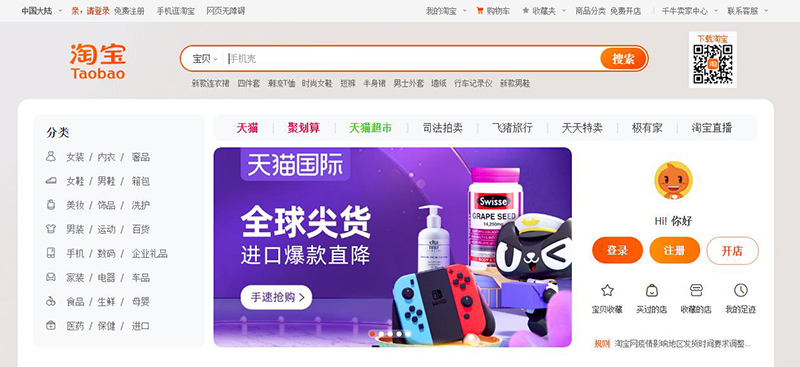 AliExpress and Taobao are both parts of the Alibaba Group, which has its headquarters in Hangzhou, China. Taobao is a B2C platform targeting consumers in China, while AliExpress is a B2C platform for international shoppers. This distinction is what makes the two markets distinct from one another. As a result of this, manufacturers and enterprises in China are able to offer their goods directly to buyers via Taobao.
When it comes to alternatives to AliExpress for companies wishing to dropship, Taobao is by far one of the greatest options. This website offers a wide variety of lucrative opportunities because of its extensive product offerings, which include well-known brand names of apparel and accessories, consumer electronics, furniture, household items, etc. However, due to the fact that the website is written completely in Chinese, it may be difficult for you to use it.
Shipping and delivery 
It generally takes 5 ~ 10 days to deliver orders to USA, Canada, and UK via DHL and 10 ~ 28 days via EMS. Of course, interruptions are possible during peak seasons and holidays.
Payment methods 
Common payment methods, including PayPal and credit cards issued in other countries, are not supported by Taobao (it only accepts domestic credit cards). AliPay is the default payment method, and you will need to link your bank cards to it before proceeding. After that, you may use your AliPay account to make purchases.
Warehouse location 
Taobao is an online B2C platform that connects a significant number of Chinese sellers and consumers. It is the online sellers on Taobao who have warehouses and manage the inventory.
Reviews
The score on TrustPilot is not even close to being decent, but this is due to the fact that there are so few reviews. Keep in mind that Taobao is primarily targeted at customers from China and other Asian countries; as a result, you should anticipate having trouble contacting customer support if you are unable to communicate in Mandarin.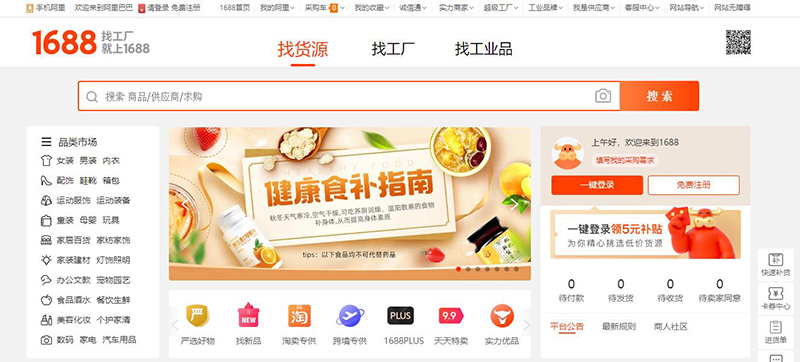 In 2010, the Alibaba Group of Companies in China launched a wholly-owned subsidiary called 1688.com. Before, it was merely a place where merchants could go to find products to offer in China's burgeoning e-commerce market. Now, it's used as a supplier by people selling goods on online marketplaces like eBay and Amazon.
Since only the Chinese language is supported, it is only available inside China. The service is designed for enterprises that deal with the general public and those involved in the production and distribution of goods. Because of the low costs, many companies choose to import goods from here.
They boast the biggest online wholesale and dropshipping marketplace in China, with over 50,000 legitimate suppliers.
Shipping and delivery
1688.com promises to provide you with multiple shipping options, including. SF Express, STO, YTO, EMS, China Post, and so on. Products can only be delivered to China's mainland addresses. Therefore, you need to work with a sourcing agent who can pick up your orders from 1688 suppliers and ship them internationally.
Payment method 
1688 supports payments via AliPay Business accounts, and with the KJB solution, it accepts multiple currencies, including RMB, USD, GBP, EUR, JPY, and HKD. 
Warehouse location 
1688 doesn't have official warehouses. The platform is solely made for Chinese people who do retail businesses at home and abroad. It is the Chinese suppliers who manage inventory and order fulfillment on 1688.com. 
Reviews
1688 is still a relatively untapped market for dropshipping outside of China. However, international dropshippers who have used 1688 to source items are quite pleased.
Due to the huge margins that 1688 suppliers provide to dropshippers, this website has received a lot of support.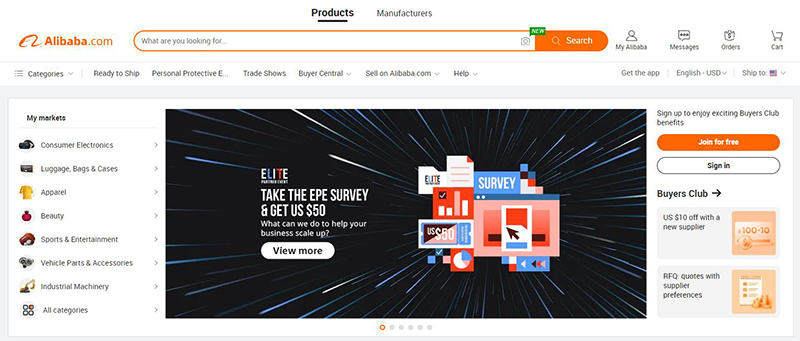 Alibaba is one of the most prominent AliExpress alternatives and a tough competitor. Alibaba is a B2B online marketplace where shopkeepers are mainly manufacturers and wholesaler suppliers dedicated to international block trade and export. The marketplace provides Trade Assurance. It is a supplier verification program that secures payments via its payment platform. With Alibaba, it's also easy to find certified products.
Although not all suppliers here provide dropshipping services, you can access Alibaba Dropshipping Center to connect your online store and automate product uploads and order fulfillment.
Shipping and delivery 
Depending on your location, shipping from Chinese factories might be somewhat lengthy. You may have to wait as long as six weeks for your orders to arrive. Many shipments to international retailers are sent by ship to reduce costs.
Payment methods 
Alibaba's secure payment system accepts credit and debit cards, including Visa, MasterCard, American Express, and more. T/T, Western Union, online bank payments, Apple Pay, online transfer, L/C, PayPal, and D/P are some other payment methods. 
Warehouse location 
Alibaba has no warehouses. It focuses on wholesalers, factories, or trading companies that set up shops on Alibaba. So, when you purchase from Alibaba, the order is directly shipped from the factory, not from the Alibaba warehouse. 
Reviews 
Alibaba is one of the world's largest and most successful e-commerce companies. With over 20,051 reviews, Alibaba has earned an impressive rating of 4.2 on Trustpilot.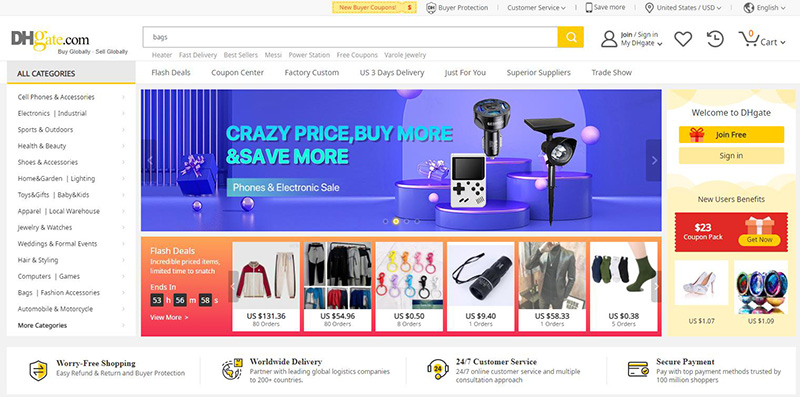 If you are seeking one of the top dropshipping sites like AliExpress, which are quite comparable in appearance and functionality, then you will probably find DHgate beneficial. Since the layout and navigation of this site are very comparable to what is provided by AliExpress, you should have no trouble locating what you're looking for and getting started right away.
In general, DHgate distributes orders more quickly than AliExpress, and their customer service is superior; nevertheless, if you want to make several large purchases, it may not be the ideal choice.
Shipping and delivery 
The delivery timeframes are far better than those of other vendors; the shipping process takes between 3 and 15 days to reach most locations. The following shipping methods are the most used on DHgate: EMS, UPS, DHL, FedEx, HK Post, Singapore Post and China Post. There is an option for free shipping for certain products.
Payment methods 
DHgate supports all of the most common payment methods, including PayPal, credit cards, Western Union, and wire transfers.
Warehouse location
It is a dropshipping platform that has 16 warehouses in the US, PL, ES, UK, DE, RU, AU, HK, CA, NL, FR, MX, BE, CH, IT, and SG to provide fast delivery worldwide. 
Reviews 
The rating on TrustPilot is fairly poor, although good feedback makes up 59% of a total of 28 thousand reviews. Apart from this, they respond to the majority of the negative evaluations, which is a positive sign.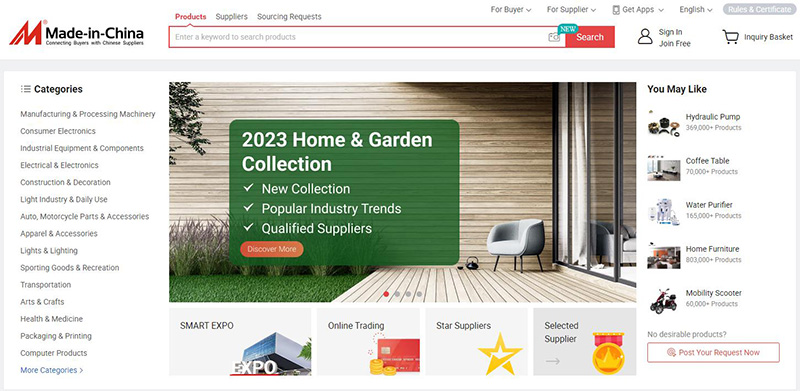 Made-in-China.com, as a comprehensive service platform for international trade, is dedicated to maximizing business opportunities for Chinese suppliers and buyers from other countries, as well as facilitating international trade between the two sides by providing services at a single point of contact. 
Made-in-China.com has become one of the most comprehensive and trustworthy online destinations for international business over the last several years and is one of the top AliExpress alternatives.
Shipping and delivery 
Free shipping services may be provided by the suppliers you engage with if they see that you are making use of their full international trade services. The delivery time depends on the shipping methods you choose.
Payment methods 
You can pay by using credit/debit cards (Visa, MasterCard, Discover, JCB, Diners Club, and American Express cards) and bank transfers.
Warehouse location 
 It has an M Youda warehouse located in Los Angeles, USA, for suppliers to provide faster delivery. The headquarters of Made-in-China.com is in China, and it has 27 brand offices across China. 
Reviews
Things made in China are not of worse quality than those made in the United States, judging from the rating of Made-in-China.com. It is one of the best AliExpress alternatives for those who are looking for trustworthy Chinese suppliers for private label dropshipping or branded dropshipping.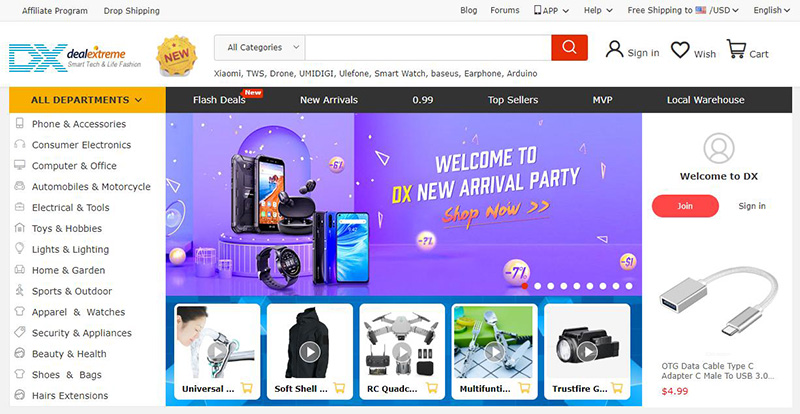 DX is a top B2C retailer based in China that sells electronics, clothes, tools, automotive accessories, and so on internationally. It works with 3,000 suppliers and offers more than 210,000 products in 1,000+ categories. This site offers great prices and good services, as its name implies.
The quality is greater than comparable items on AliExpress. Thus it's worth the additional cost. There are many discounts and promotions. More importantly, you can use DealeXtreme to dropship for free. DX will send packages without the DX logo or any information indicating DX to your customers. 
Shipping and delivery 
The shipping period typically is between 7 and 18 days for delivery to both the US and EU. Most products come with free delivery.
Payment methods 
It accepts payment methods, including American Express, MasterCard, Visa, Diners, and Discover credit cards, as well as PayPal, Webmoney, Ebanx, iDeal, Boleto, and COD (cash on delivery).
Warehouse location 
Its warehouses are in China, the US, and the UK. 
Reviews 
The score on TrustPilot is dismal, with half of the 2,700 reviews being negative. Most of the bad ratings are connected to delivery concerns. Hence, paid shipping alternatives are encouraged.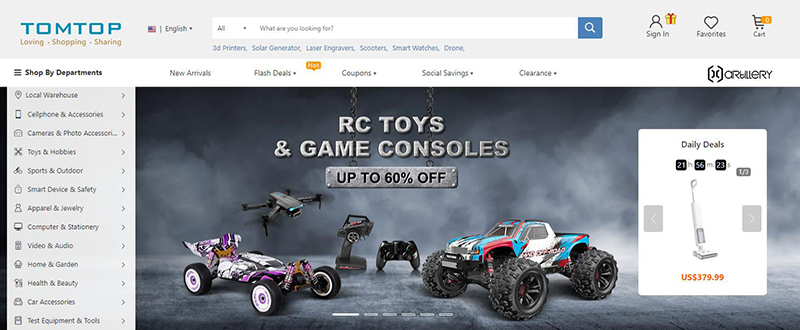 TomTop delivers high-quality services and has a minimal number of drawbacks. It is one of the best AliExpress alternatives, particularly when it comes to the locations of the warehouses. It is also one of Alibaba's suppliers. 
TomTop, in contrast to a great number of other suppliers, has many warehouses located across Europe. Not to mention one in each of the following countries: DE, US, UK, and ES. When compared to providers that only ship from China, this is a significant benefit.
Shipping and delivery 
Customers in most countries get their orders seven to fifteen days after they are sent out from Chinese warehouses. Shipping from local warehouses might take from 3 to 12 days. 
Payment methods 
They recognize the following means of payment as secure: PayPal, credit cards, wire transfers, BOLETO, and QIWI. 
Warehouse location 
Tomtop's warehouses are in China, the US, and Europe. 
Reviews 
Tomtop has an outstanding rating of 3.9 out of 5 stars based on approximately 16 thousand reviews. There is a correlation between shipment and reviews. Your customer will have a shorter wait time if you purchase from nearby warehouses.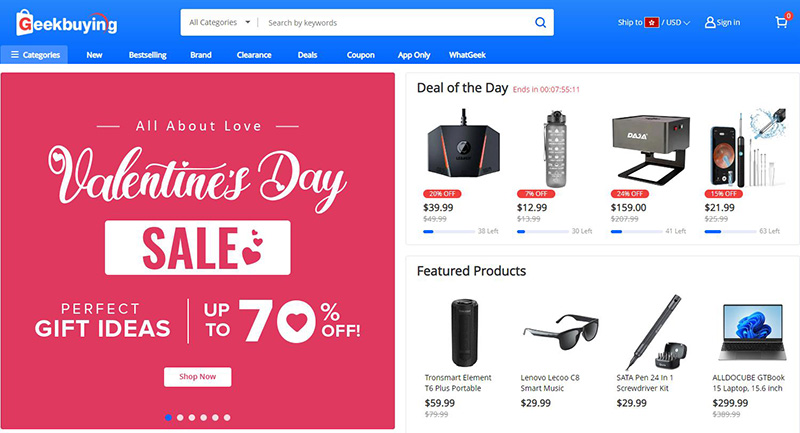 Founded in 2012, GeekBuying is an online marketplace dedicated to a wide range of consumer electronic products. The AliExpress alternative is based in China and has warehouses in the US, EU, and UK. Most of the products are made by obscure Chinese manufacturers, but you may also discover well-known names like Xiaomi, OnePlus, Lenovo, and Huawei. Bluetooth headphones, drones, TV boxes, etc., are available on sale.
Shipping and delivery 
According to their site, "Order processing time is normally 2 ~ 7 business days. However, it only takes 1~2 business days for orders to be shipped from the overseas warehouse." The typical shipping period is between 5 and 8 business days. They provide a free delivery option.
Payment methods
They provide retailers and dropshippers with a variety of convenient payment options, including Klarna, PayPal, credit/debit cards, installments, Konbini, Boleto Bancario, PIX, and many more.
Warehouse location
Geekbuying is a global e-commerce company with warehouses in China, the United States, and Europe. By strategically placing their warehouses in these locations, they are able to provide customers with faster delivery and greater convenience.
Reviews 
Due to the fact that Geekbuying has received a rating of 4.0/5 out of a total of 12,000 customer reviews, this company is considered one of the most reliable AliExpress alternatives.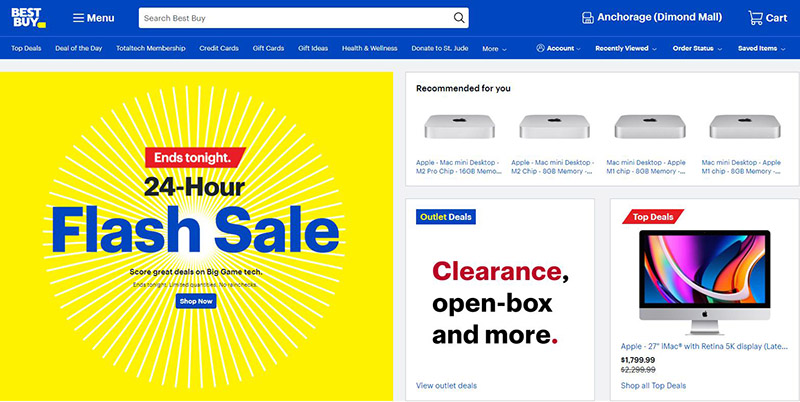 As a top consumer electronics retailer mainly targeting the US, Canada, and Mexico, Best Buy is a great alternative to AliExpress - offering brand-name electronic products for dropshipping in America. It also has an advanced predictive search feature, making it easier to find what you need. Best Buy sometimes provide free shipping for certain shipping options in some categories or free shipping sitewide. Best Buy also provides customer support so that the retailers can get help with any issues or questions that the customers report while shopping. 
Shipping and delivery 
The majority of things in stock in the region may be sent within 2 days. If the item is not readily available in the region, it could have to be custom ordered, which would require more time and effort.
Payment methods 
Online retailers can use Best Buy Credit Cards and Gift Cards, as well as PayPal, Apple Pay, as well as Visa, MasterCard, American Express, Discover, Diners Club, and JCB credit cards to pay for items. They can also use points for their purchases. 
Warehouse location 
Best Buy has a total of 1,144 stores in operation across the world where customers can pick up their orders.
Reviews 
The average satisfaction level expressed by Best Buy consumers is 3.33 stars, as shown by 1,888 reviews on TrustPilot.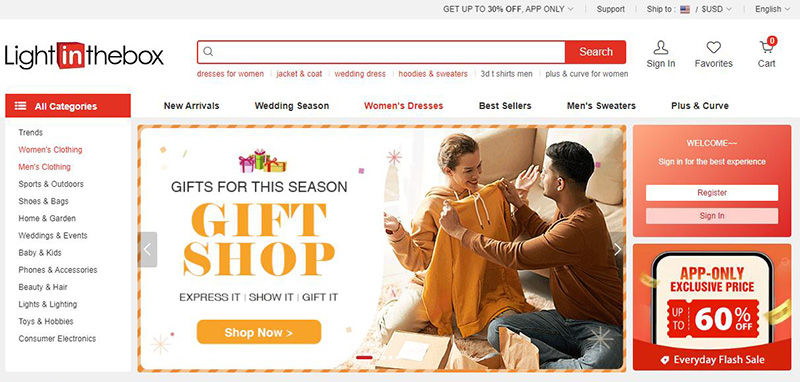 The fact that Lightinthebox is not a marketplace - the business itself is responsible for listing all items rather than the individual vendors. As Lightinthebox is a listed company, you can buy stock it holds. For instance, compared to other marketplaces, such as Chinabrands, they offer superior quality control and more trustworthy customer service.
Shipping and delivery
Lightinthebox ships products to nearly any country in the world. Processing time may vary from one category to another, but around 24 hours is required for the majority of things. There may be a delay in the shipping.
Payment methods
They accept all major credit cards, including Visa, Mastercard, American Express, Discover, JCB, Diners Club, and CB. Moreover, they also accept payments via PayPal, Klarna, Sofort, Afterpay, Google Pay, Apple Pay, and so on.
Warehouse location
LightInTheBox is an AliExpress alternative with a warehouse in China and US, respectively.  
Reviews 
Lightinthebox received a score of 4 out of 5 stars based on over 150 thousand reviews on Trustpilot, which is excellent. The majority of the negative reviews are due to the shipping and delivery process.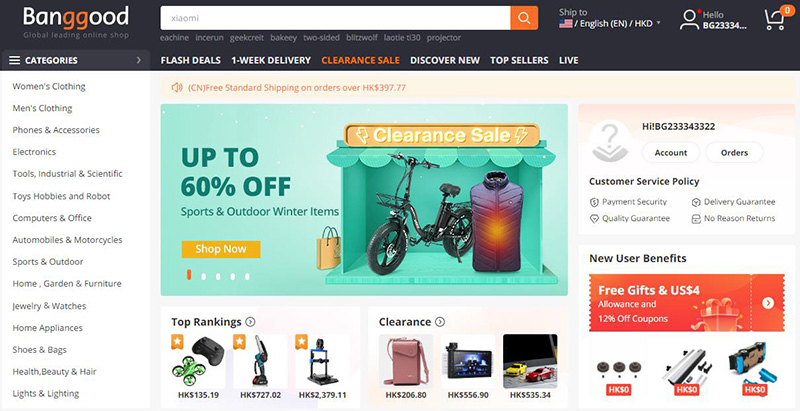 Today, Banggood provides over 200,000 high-quality dropshipping items in 14 main categories, ranging from apparel to tools, sports equipment, and consumer electronics. Banggood offers affordable pricing, much like AliExpress. You'll adore Banggood if you're seeking for AliExpress alternatives that sell nearly everything. App Annie, a reliable app analytics provider, ranked Banggood APP as one of the most downloaded shopping applications in Europe in 2021.
The greatest thing is that they have a dropshipping program that provides you with 5% to 20% discounts, product information, API access, custom invoices, and personalized product recommendations.
Shipping and delivery
Delivery times for the US and Europe generally range from 2 to 30 days when they ship overseas. Shipping might take up to 65 days if you are selling your goods to places like Brazil. Mainland China, South Sudan, Yemen, Crimea, and Syria are among the places they don't ship to. There is a free delivery option.
Payment methods 
Their own payment method, known as BGpay, makes it easier for you to utilize your Banggood wallet. You may add funds to your BGpay account and then utilize the remaining amount to pay for orders placed with Banggood. This is your best choice if you want to save more money with exclusive BGpay offers and events. PayPal, Ebanking, Konbini, Multibanco, Alfamart, bank transfers and so on are also supported.
Warehouse location 
Banggood has more than 30 warehouses in the world for providing a variety of shipping methods to meet dropshippers' needs. 
Reviews 
A fantastic accomplishment can be seen on TrustPilot, where Banggod received a score of 4.0 out of 5 stars from approximately 44,600 reviews.

GearBest aims to offer quality products at affordable prices for consumers worldwide and make it fun to shop. While their main focus is selling electronics and other tech products, they also carry a wide variety of Home & Garden, Sports & Entertainment, Drones, and Toys & Hobbies products. They provide a 7-day Dead on Arrival Guarantee, a 45-day Money Back Guarantee and a one-year warranty. All this makes it the best AliExpress alternative for dropshipping. 
Shipping and delivery 
They ship products all around the globe. Shipping from an overseas warehouse takes between 2 and 7 days, while shipping from China takes between 7 and 30 days.
Payment methods 
Gerabest mainly processes payments via PayPal. They also support bank transfers and accept installments via Visa, Mastercard, Amex, Elo, Hipercard and Diners Club.
Warehouse location
Gearbest has warehouses in China, the USA, Spain, and Great Britain.
Reviews
Although the rating is not excellent, 67% of the 28,000+ customer reviews are favorable.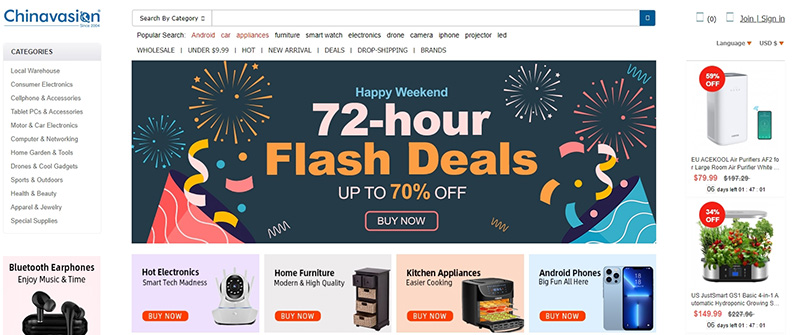 Chinavasion is a Chinese wholesale platform for electronic gadgets that dropships products worldwide directly from China. Chinavasion specializes in providing the latest gadgets and electronics with competitive pricing and reliable shipping services. 
You can browse through an impressive selection of products ranging from mobile phones, tablets, and laptops, to cameras, watches, and home appliances.
If you want to dropship from them, Chinavasion provides you with API access, product descriptions and images without the Chinavasion logo. All products come with a 3-month quality guarantee, and you will get English-speaking customer support 24/7. 
Shipping and delivery 
The cost of Chinavasion shipping is not fixed and may change based on the shipping method and the destination country. The delivery time ranges from 3~7 business days by express shipping. Shipping by EMS may take 5~20 days, while shipping by airmail usually takes 10~30 days.
Payment methods 
They accept payment by Paypal, Credit Card, Bank Transfer, or Chinavasion Credit balance.
Warehouse location 
Chinavasion Ltd. is an eCommerce business located in China with its headquarters in Hong Kong. Its China warehouse is in Shenzhen, while it also has warehouses in the US, EU, Japan and Indonesia.
Reviews
The Trustpilot rating is very discouraging as the platform has received 1.6 stars based on 306 reviews. 

SUNSKY is an industry-leading supplier of electronic items, with a particular focus on mobile phone accessories, computer peripherals, gaming gadgets, and home & outdoor products. A fantastic staff that places a high priority on trust is the driving force behind SUNSKY's today's achievements.
Sunsky has a dropshipping program. With Sunsky API, you can access over 1 million products across 18 categories and dropships from over 800 brands. The system can upload products, update prices, and automatically create orders for you. They also have 10 warehouses outside of China for fast delivery. In addition, Sunsky offers free labeling and repackaging services for you to build your brand.
Shipping and delivery 
The shipping time usually takes around 15~20 business days depending on the shipping method.
Payment methods 
iDeal, Sofort, Giropay, DotPay, QIWI, Cartes Bancaires, Multibanco, and Boleto are the local payment methods supported by Sunsky. You may use your account balance, a credit card, or a debit card to make a purchase using PayPal. AliPay, WeChat Pay, credit/debit cards, and bank transfers.
Warehouse locations
All warehouse locations are EU, US, UK, HK, AUS, JPN, and UAE. 
Reviews 
With 130 reviews and a consumer rating of 4.16 stars for Sunsky Wholesale, it is clear that the majority of consumers are content with their purchases. Customer service, high quality, and quick delivery are mentioned who are happy with Sunsky most often. Therefore, you may rely on the AliExpress alternative to do a dropshipping business.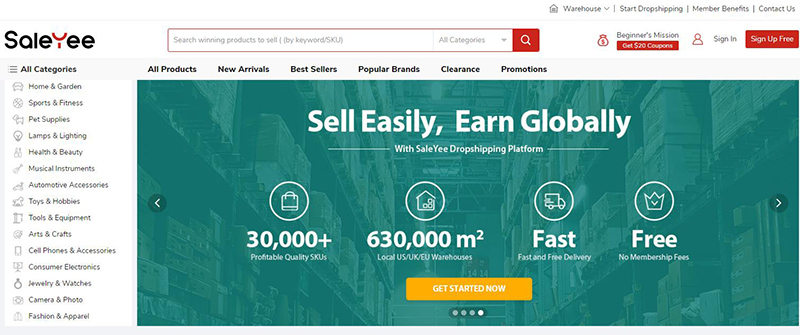 Tengming Limited operates the international dropshipping and wholesale marketplace known as SaleYee. They provide a diverse selection of over 30,000 products, which may be broken down into the following categories: home and garden, pet supplies, health and beauty, kids' toys, consumer electronics, etc. Most of their products are in the category of Home & Garden, as well as sales. 
They provide big-data product recommendations by showcasing their top-selling products on various platforms, including Amazon, Facebook Marketplace, eBay, Shopify, Etsy, WooCommerce, etc.
SaleYee is one of the best AliExpress alternatives for those who want to dropship home and garden products in the US, UK and Europe.
Shipping and delivery 
According to the information provided on their website, orders are processed within 48 hours, and shipping and delivery might take anywhere from 2 to 8 business days. The product price covers the shipping fee, except for delivery to remote areas.
Payment methods
Credit cards, Payoneer, bank transfers, and the SaleYee Balance (which can be topped up via Payoneer or bank transfers) are all acceptable payment methods. The transaction fee is a bit high.
Warehouse locations 
Warehouses are in China, the US, the UK, Germany, France and the Czech Republic.
Reviews
Although the rating on Trustpilot is relatively good, i.e., 4.4 out of 5, there aren't enough reviews to support this claim.

Doba is an established AliExpress alternative USA for dropshipping within the continental United States. It is a platform that offers a wide variety of products from different suppliers, allowing merchants to create and manage their own stores without inventory management and order fulfillment. 
Doba also provides advanced search capabilities, which make it easier to find the right product for their store. With Doba, online retailers can compare prices and find great deals from multiple suppliers.
Doba has built integrations with Shopify, WooCommerce, Amazon, eBay, Walmart, BigCommerce, Newegg, Wix, Square, and Shift4Shop to help sellers streamline dropshipping.
At $49.99 per month, the membership looks like the ideal choice for a dropshipping company, but many bad reviews make you question whether it's worth it.
Shipping and delivery 
Online retailers can select from various carriers, including DHL, FedEx, USPS, and UPS, to get orders delivered to customers in the contiguous US. Only a few suppliers on Doba ship outside of the United States.
Payment methods 
They require all members to put a valid payment method on file to be billed for the subscription. They accept payments via credit cards and debit cards. Funds can be added to the Doba account to pay for orders via online deposit, Payoneer and bank transfer.
Warehouse location 
Doba doesn't have any warehouses, and all suppliers on Doba ship their own products. On the product page, you can view the processing time and shipping time.
Reviews 
On Trustpilot, the company has received a rating of 3.1 out of 5, while the Better Business Bureau gave them a rating of 1.43 out of 5.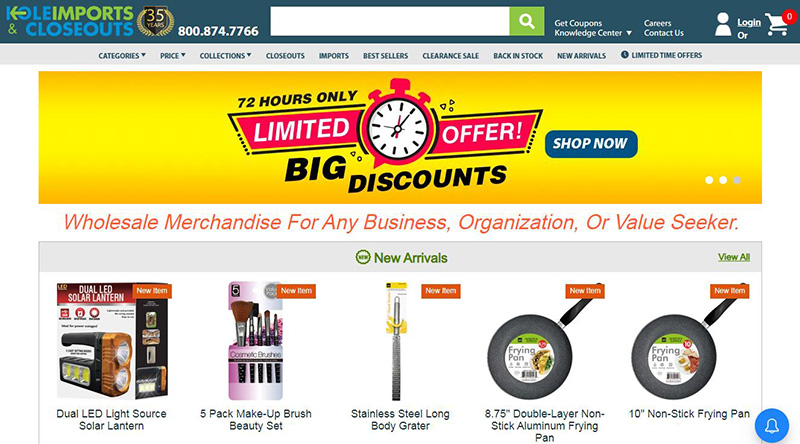 Kole Imports is dedicated to selling in large numbers. However, you may buy their products without minimum order quantity, thanks to their dropshipping service. 
Among the AliExpress alternatives USA, Kole Imports gives you free and instant access to over 3,000 dropshipping products in over 20 categories, including Auto Supplies, Pet Supplies, Toys, Office & School Supplies, Tools, and many more. These products are allowed to be sold on your own website or any online marketplace. 
Shipping and delivery 
The vast majority of purchases that are made via their website will be delivered by either FedEx or UPS. Technically, they can ship to any country. However, dropshippers are responsible for the shipping cost.
Payment methods 
Discover, Visa, Mastercard, and American Express are the credit cards that are accepted at Kole Imports. You may also contact them if you need to pay using your bank account.
Warehouse location 
Its warehouse location is in California, US. 
Reviews 
They have an outstanding rating of 4.0 out of 5 stars on Trustpilot. 75% of reviews are favorable, indicating the AliExpress alternative's trustworthiness.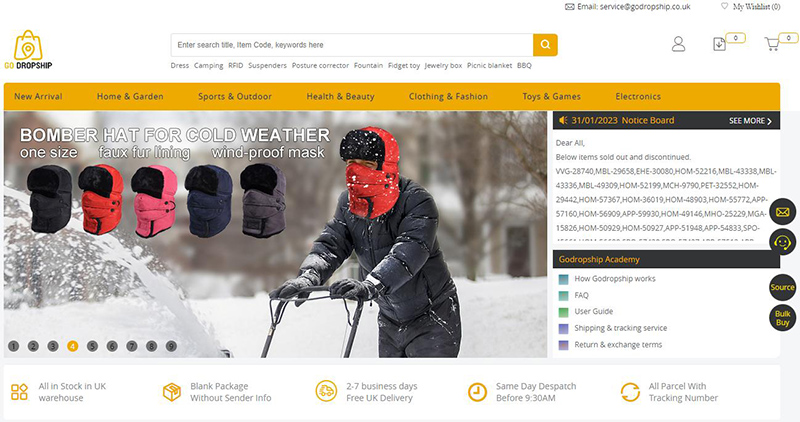 Goddropship is a dropshipping supplier catering to the UK market, offering a wide selection of Home & Garden, Sports & Outdoors, and Health & Beauty products, in addition to clothing, toys and electronics.. In 2016, they made the decision to join the dropshipping market, and in 2017, they launched the dropship platform. They help dropshippers who sell on Shopify, eBay, and Amazon or their own website. 
Up till now, they have over 7,000 active dropshippers and give the service to them at no cost.
Shipping and delivery
Fast shipping times of 2~7 days are possible thanks to their UK-based warehouse and chosen delivery partner, Royal Mail. Hermes, Parcelforce, and DPD are used for larger orders as well. After receiving payment, they provide quick order processing and shipment. All orders placed before 10 am are processed and sent the same day.
Payment methods 
At this time, they will only take payments made via PayPal. At checkout, you will need to pay a PayPal fee, which is 4.2%+0.2 GBP.
Warehouse location 
They have a local warehouse in the UK from which they send everything within the UK. Free delivery is provided for parcels less than 1.3kg throughout the UK. 
Reviews
They have a 3.7-star rating on Trustpilot.
Conclusion
As a global e-commerce platform, AliExpress has become the go-to choice for many dropshippers around the world. However, it is not the perfect choice. After using AliExpress for a while, many of them will look for alternatives to AliExpress for lower prices, faster delivery, a wider range of services, better customer support and dropshipping automation.
Many AliExpress alternatives available in the market can meet your needs. 
If you are still deciding which platform to choose, look at the AliExpress alternatives listed above and see which one suits your needs best.