1. What is AliExpress dropshipping?
AliExpress, a global e-commerce shopping platform, is known worldwide for its hundreds of millions of online products and cost-effective purchasing prices. As a part of Alibaba Group, the famous online e-commerce company, it provides an excellent shopping experience for global consumers. AliExpress is also well-known as the golobal dropshipping sourcing platform, helping entrepreneurs quickly sell overseas with AliExpress' goods and logistics capabilities.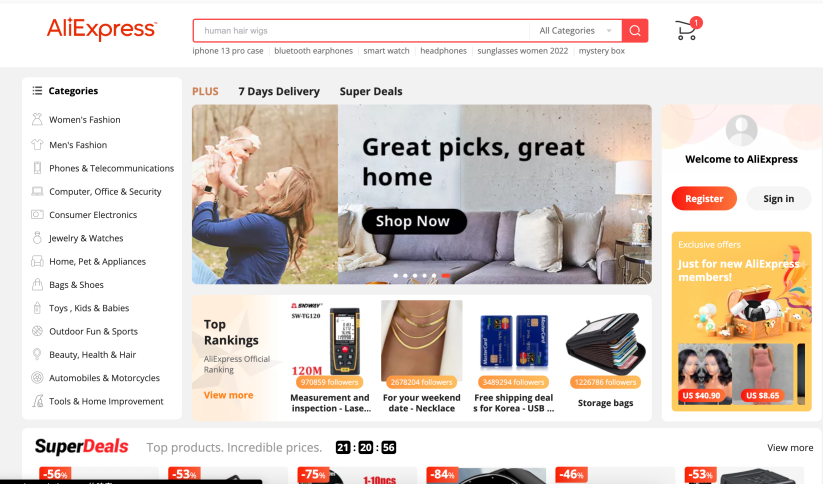 AliExpress dropshipping, dropshippers can easily start their business on AliExpress .There is no need to purchase items and prepare inventory in advance, just select the items they want to sell, reprice them on your own shops, promote them to get orders, and then synchronize orders to AliExpress. AliExpress merchants will help dropshippers complete end-consumer delivery and order fulfillment, helping them save the cost of operations. That's why millions of entrepreneurs around the world choose AliExpress to start their droshipping business.
2. What is DS Center?
2.1 DS Center
DS center is a product platform designed by AliExpress for dropshippers to quickly select and purchase products. With hundreds of millions of products on AliExpress, you don't know what kinds of products are suitable for your buyers, or you don't know which products are better to sell. DS center here can help you efficiently discover winning products on AliExpress.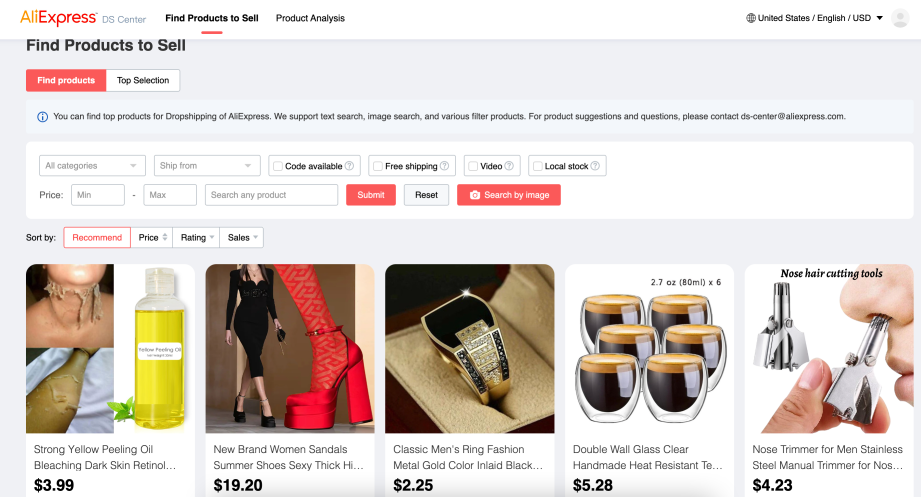 2.2 How DS Center works?
It is incorrect to simply think that DS center is just a product display and search platform. Due to difficulties of product searching on AliExpress, combined with the platform's algorithm ability, according to the country and region, DS hot-selling product ranking, best price, and performance service guarantee scores etc, then
we give the final recommendations. In other words, if you don't know what to sell, or wonder what sells well in the DS field, you can directly use DS center to find winning products.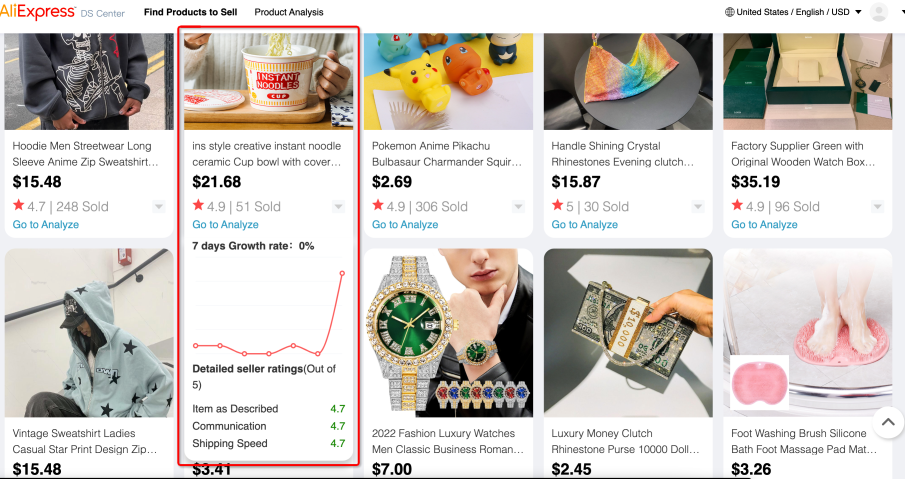 3. How to use DS Center?
3.1 Search winning products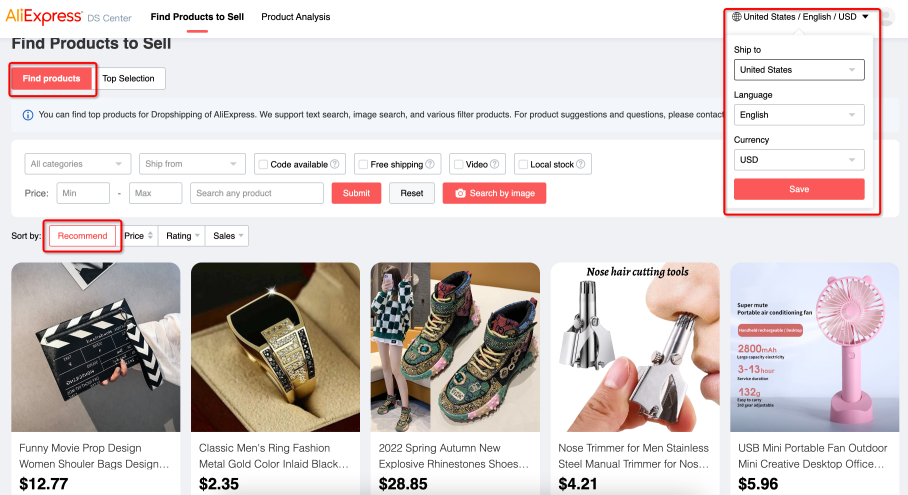 In the section of the homepage "find products to sell" , firstly remember to choose where you want to ship,and click save then there displayed products are the top DS products in this region, which are currently sold well on AliExpress. Or some products with potential for explosive growth are recommended in the list. Yes, you only need to filter the list of products you want according to the attributes, keywords, and categories of the products. Of course, if you already have specific product needs, you can search for the same or similar products by uploading product images.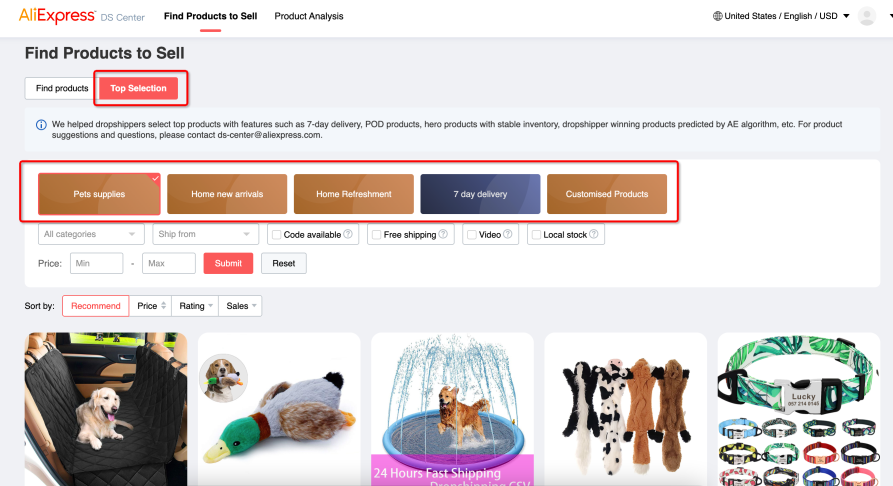 In the Top selection section, it is also required to choose where you want to ship, we will regularly update DS product sets and new product recommendations with different themes and styles, which are also based on the platform algorithm of DS best-selling products.
3.2 Product analysis
Product analysis is a very important function, mainly used to help dropshippers analyze the sales performance, price, logistics performance of products on the platform, and the screening of which merchants are trustable.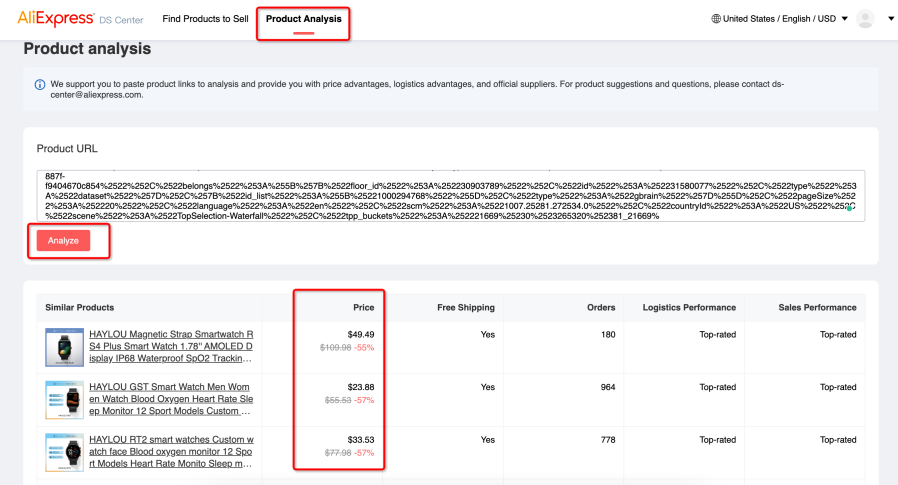 You only need to enter the URL of the product you selected, click Analysis, and you can see the sales of the same product in different suppliers, compare the best price, and the best logistics performance.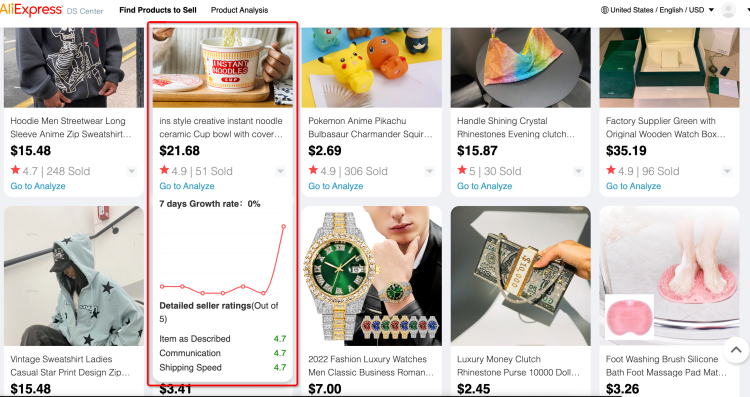 For the recommendation of winning products on the homepage, you can directly click go to analyze to get the right choice for the same product.
3.3 Find reliable sellers
Through Product Analysis tap, we will give a list of suppliers of the same product, and users can filter out which merchants are more suitable, based on the corresponding ratings and sales performance.
You can choose according to historical price transaction, inventory, delivery time, after-sales service and whether to provide additional services.
Meanwhile, We will continue to optimize and update the list of merchants in DS Center, and will also provide users with better services through targeted recruitment of some high-end suppliers.
4. How to enter DS Center, and who can use it?
DS Center is currently only open to buyers who are engaged in dropshipping business.
Footer entrance on AliExpress homepage:

My account entrance: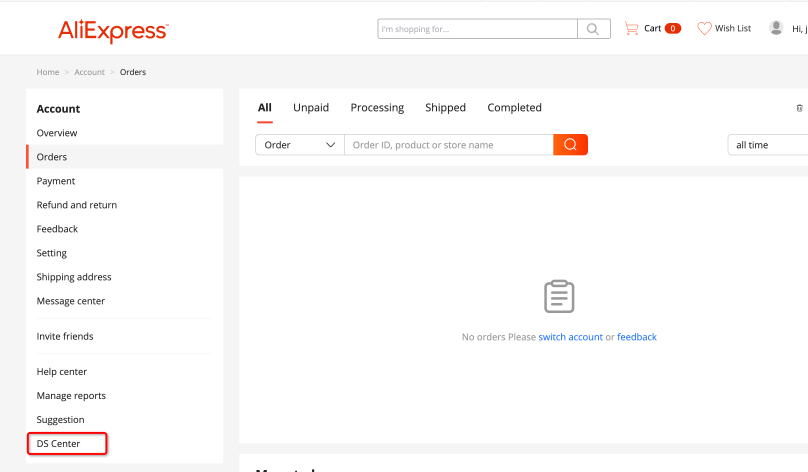 https://ds.aliexpress.com
Authorized dropshippers can log in through the following channels through the registration link,
5. How to dropship from AliExpress?
With ISVs and Plugins
5.1 Choose the right eCommerce platform to build your dropshipping store;
To confirm what dropshipping website systems to choose, website systems here include SAAS eCommerce solutions, open-source eCommerce systems, and 3rd party eCommerce platforms. As the famous dropshipping platform, we have cooperated with hundreds of dropshipping ISVs and plugins in different eCommerce systems.
With the rapid development of global eCommerce systems, each eCommerce system has its own plugin ecosystem. You can search for AliExpress dropshipping in the corresponding app store.
Shopify
You can log in Shopify Appstore and search AliExpress dropshipping.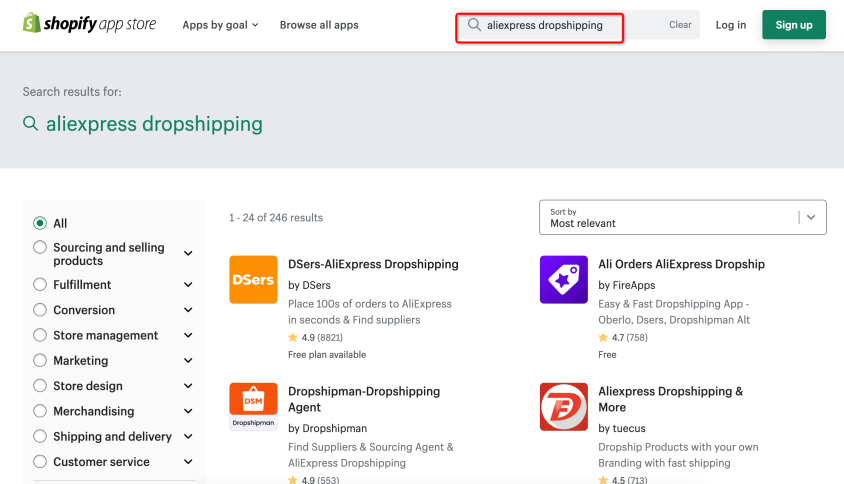 WooCommerce
You can log in WooCommerce extensions store and search AliExpress dropshipping.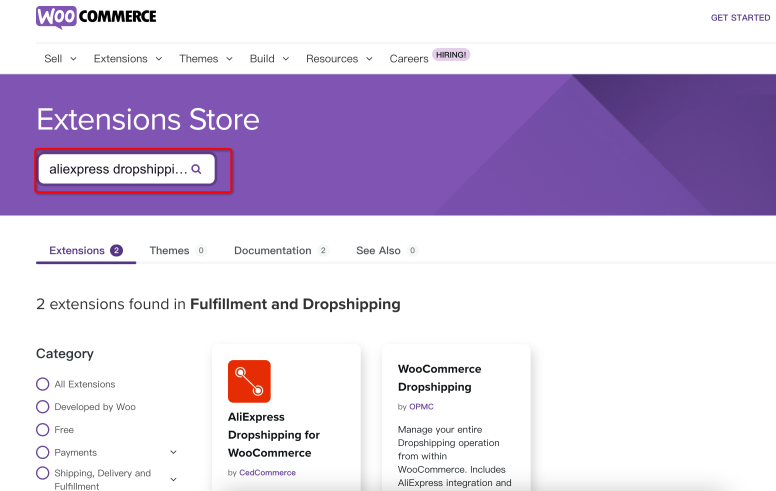 WIX
You can also log in WIX App Market and search Aliexpress dropshipping ;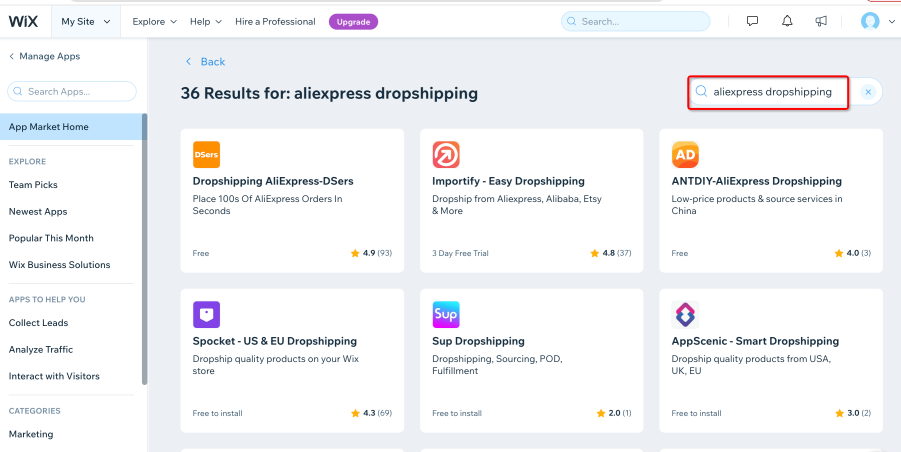 Choose your suitable plugin applications and start your dropshipping business.
5.2 Dropship from AliExpress
A complete AliExrepss dropshipping guide with Dsers, as one of partners with AliExpress for your reference;
DSers is using AliExpress API for efficiency and lossless information transmission for products and orders.
In other words, with the AliExpress dropshipping API that DSers is using, when you import a new product from AliExpress, instead of just copying the product information available on AliExpress like most other solution do, DSers directly get the information from the AliExpress database, ensuring that you get the correct data, pictures and variants.
In the same way, when you place your orders from DSers to AliExpress, relevant information of orders is adapted to fit the AliExpress requirements and DSers ensures that the correct data is transmitted. With the AliExpress API, there is no need to manually fill in extra information or to answer the captcha.
This helps you save a lot of time as DSers is up to 90% faster to place orders. DSers also used the AliExpress API to develop a unique feature called Supplier Optimizer. Using big data, it's able to find all the suppliers currently selling a specific product. You just need to enter the AliExpress link of a product, and DSers will help to find all the other suppliers selling the same product, at lower prices and with better ratings.
With Dropshipping APIs
There are so many eCommerce platforms all over the world. Although we continue to develop more and more partners to improve the dropshipping ecosystem, we cannot guarantee that all of them can meet the needs of users. Therefore, we provide dropshipping APIs to satisfy someone who possesses technical development capabilities and varieties of customization requirements.
5.3 Dropship through APIs
Concerning AliExpress dropshipping APIs, it contains product API, order API and shipping API.
The purpose of the dropshipping APIs is mainly to facilitate users to select products, place orders, pay and accomplish fulfillment on the platform quickly.
We recommend that users give priority to the application and plugins that have already gotten integration with AliExpress, because using and maintaining APIs will cost too much. Of course, applying for APIs requires a strict qualification process, it is mainly for large users and technical groups.
6. Support
If there are any further questions on AliExpress dropshipping, you can directly contact our team via :