Dropshipman is a free top-recommended dropshipping app for all Shopify merchants. The app is easy to navigate with an effective and responsive 24/7 live chat support team. With Dropshipman, you can easily find & import winning dropshipping products both on AliExpress and Dropshipman. Their agents are keen to help your store succeed in your niche. They keep your customer happy, with quality suppliers, meticulous quality inspection, and fast shipping. Join Dropshipman to scale up your store wildly in the busiest eCommerce season of the year 2022!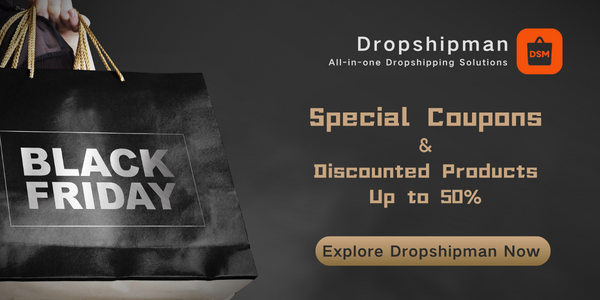 Main features:
Free warehousing service, without MOQ
15 Free sourcing requests are available daily
Personal agent and 24/7 customer service help keep your orders' status up to date
Low customer loyalty? Start branding your store with customized packaging: box, thank-you card, sticker...
Just hand your supply chain to Dropshipman. Effective order fulfillment and fast shipping within 7-15 days.
- Exclusive BFCM Deal: Download Dropshipman now to get special coupons up to $50 and discounted dropshipping products. Valid from Nov. 8 to Dec. 1.