There's no doubt that the dropshipping model has made opening an eCommerce store way easier than ever. Looking to launch an eCommerce brand but don't have the space and time to manage inventory and ship products? No worries! You can consider investing in a dropshipping business.
A dropshipping eCommerce business model allows you to sell products online without managing inventory, shipping, and fulfillment. However, you need to find the right eCommerce platform and supplier to run your dropshipping business successfully.
We understand that it can be intimidating to find the best dropship company with high-quality products for your customers since there are many dropshipping suppliers in the market. 
To make your job easy, we've compiled a list of the 20 best dropshipping companies for your eCommerce business. Let's dive straight into it for details.
1. AliExpress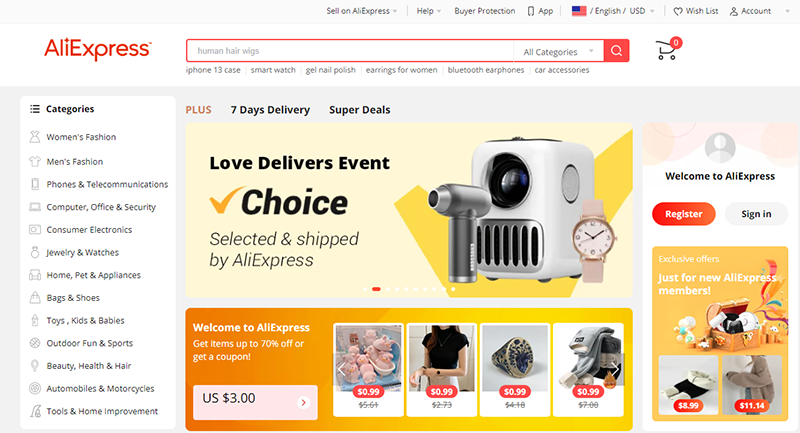 AliExpress is a renowned international dropshipping company that connects eCommerce stores to genuine suppliers and products. This online marketplace boasts an extensive selection of products in different categories, including electronics, furniture, apparel, skin care products, jewelry, and even automobiles.
You can add multiple in-demand products to your online store from AliExpress without having to worry about product storage and shipping. Customers place orders for different items from your store, and the AliExpress seller delivers them straight to customers' doorsteps.
AliExpress ships to over 250 countries across the globe, including the US. The estimated delivery time with standard shipping is 15 to 45 working days. However, packages sent through premium shipping take between 7 to 15 working days. Overall, the platform makes an ideal pick for new and veteran droshippers to take their dropshipping business to the next level.
Features of AliExpress:
Free sign-up process
Huge product categories
Ships products to 250+ countries
2. Dropshipman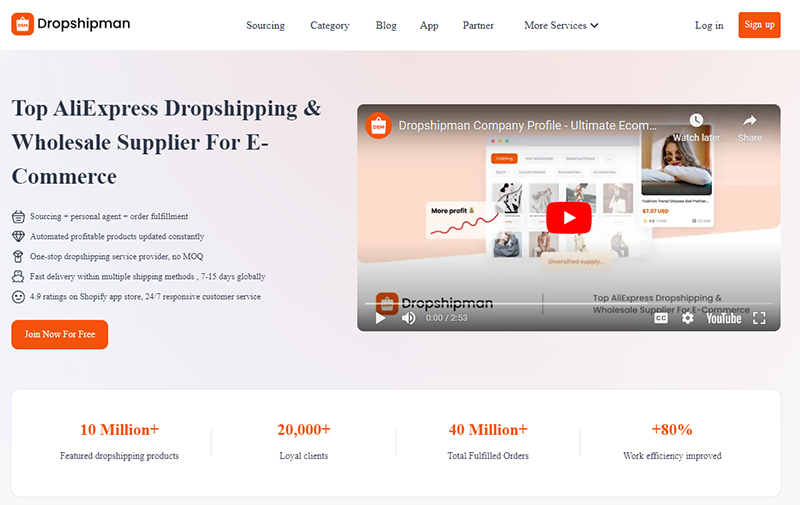 Dropshipman is the best dropshipping company that offers all-in-one dropshipping solution to help you scale your eCommerce business. This Shopify dropship company can help you source a wide range of high-quality products for your online store that comes with reliable suppliers and low production costs.
Apart from finding products, Dropshipman also allows you to import items from AliExpress. You can also place your orders from Dropshipman and let their team handle everything, including packing, labeling, quality inspection, and shipping. This company has collaborated with over 30 logistics brands, including YunExpress and 4PX, to ensure worldwide shipping.
Additionally, the shipping time depends on the destination country. However, the average delivery time with Dropshipman is 7 to 15 days. 
Features of Dropshipman:
Free sourcing using product titles, links, and pictures
Edit and import goods into the Shopify store with one click
Free storage and customized packaging services to help you grow your business
A dedicated 24/7 support team
3. AliDropship
AliDropship is undoubtedly one of the effortless dropshipping options in the market. With its user-friendly WordPress plugin, you can build your dropshipping store in just a few steps.
Furthermore, as the plugin was created keeping automation in mind, AliDropship enables you to export the products you wish to sell automatically from AliExpress, allowing you to concentrate solely on sales and marketing.
Besides, AliDropship provides a range of add-ons to help you automate and connect your social media campaigns and other company operations. You can set up your custom store with AliDropship, even if you are a complete newbie or just lazy. They will handle everything from establishing the hosting for WordPress to assisting you with your product choice. 
Overall, if you want to explore the world of dropshipping, AliDropship is unquestionably one of the most inexpensive and low-risk options!
Features of AliDropship:
Import unlimited products to your dropshipping store
Import product reviews from AliExpress
The plugin provides an auto-update feature to keep product info up-to-date
One-time payment for all AliDropship features
4. SaleHoo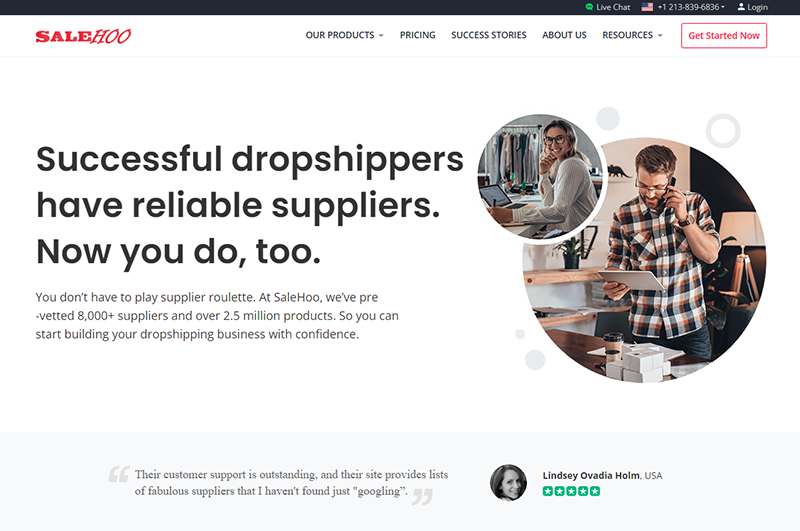 With over 8,000 suppliers and 2.5+ million products, SaleHoo is another platform dedicated to dropshipping. If you're using an eCommerce platform like Shopify, SaleHoo is the best dropship company for Shopify businesses. You can integrate Shopify and SaleHoo with just a single click.
This wholesale supplier directory helps connect dropshippers to suppliers in multiple product categories. The strict screening process of SaleHoo ensures you're dealing with genuine suppliers. You can talk to potential suppliers to negotiate for the lowest prices.
Select from thousands of expert-approved items and add them to your eCommerce site within a few clicks. Overall, SaleHoo Dropship makes operating an online store smooth and effortless.
Features of SaleHoo:
Unlimited one-on-one customer support
An extensive directory of suppliers
Over 50 free guides and unlimited dropshipping training
5. Oberlo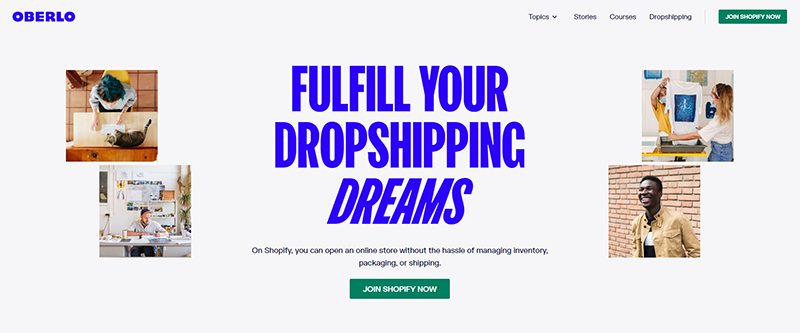 In 2017, Shopify acquired Oberlo, a well-known dropshipping app developed by a Lithuanian startup. Since then, it has attracted tens of thousands of users and has become the preferred choice for all dropshippers.
From May 2022, Oberlo ceased its operations and stopped offering its services. However, over the years, this dropshipping company created abundant resources to educate dropshippers to start and grow their dropshipping business.
Oberlo helped users find reliable suppliers on marketplaces like AliExpress, making it easy to find high-quality products to sell. Through Oberlo, you could search for a wide range of products, from toys to beauty products, with only a few clicks and list them on your website. The best part about Oberlo was that they provided their users with the ability to modify their product listings completely.
Even though online sellers can no longer find the application in their app store or install it from other sources, they can choose other dropshipping platforms on this list to launch or expand their dropshipping businesses.
Feature of Oberlo:
Many resources to educate dropshippers to start and grow their dropshipping business
6. CJDropshipping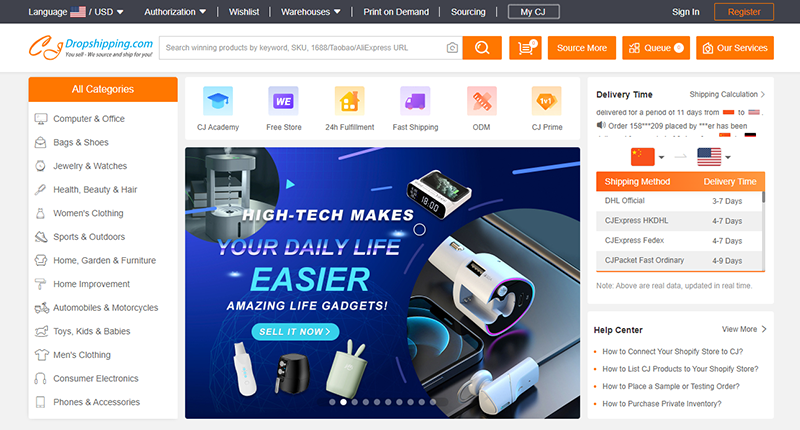 Among the best dropshipping companies, CJDropshipping offers over 400,000 low-cost products and links suppliers with drop-shippers. The platform also provides order fulfillment, warehousing, product sourcing, print-on-demand, and other services.
Furthermore, the platform is integrated with all the major eCommerce systems, including BigCommerce, WooCommerce, and Shopify. By using the integration, you can quickly and easily import items from CJDropshipping to your dropshipping store and benefit from the automatic synchronization of inventory and orders.
Overall, CJDropshipping handles all the fulfillment for you. You just need to add products on CJDropshipping to your dropshipping store and begin with the selling process.
Features of CJDropshipping:
Hundreds of thousands of dropshipping products
Import products from AliExpress, 1688, and Taobao
Local warehouses in multiple countries
7. BigBuy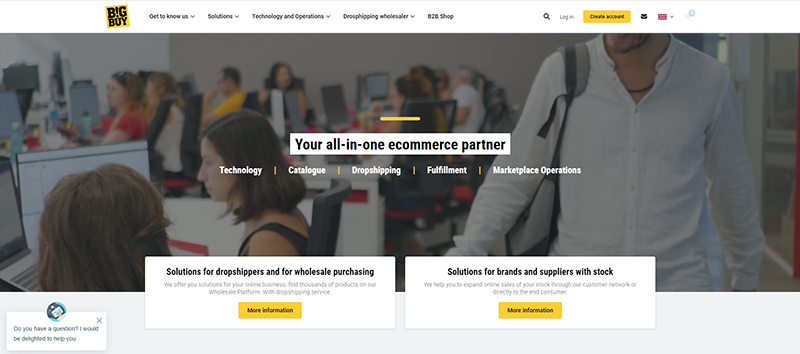 With more than 200,000 items, the best dropshipping company based in Spain, BigBuy ships everywhere in Europe. They have a broad range of product categories available, including fashion, sports, toys, electronics, health, beauty, home and garden, and more.
Dropshippers get the option to join BigBuy as a subscriber in addition to purchasing products at a wholesale price per item to receive additional perks. You can also effortlessly sell their items on popular marketplaces by using their Marketplace package.
Additionally, BigBuy collaborates with reputable shipping companies like UPS and DHL. As a result, shipping is reasonably priced and available throughout Europe. Besides that, BigBuy gives tracking updates once a product is sent out.
Features of BigBuy: 
Extensive selection of products
Competitive shipping fees
Wholesale pricing
8. Spocket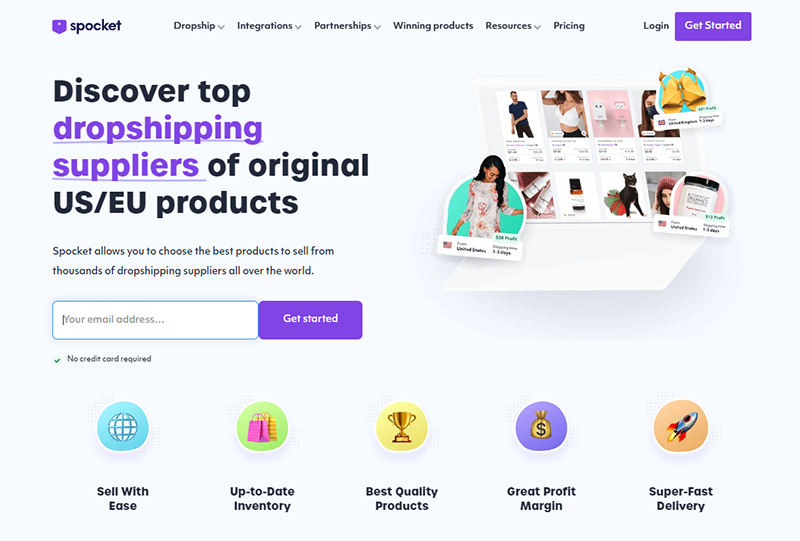 Spocket is a Vancouver-based dropshipping company that works with suppliers from different parts of the world, including the United States, Brazil, Australia, and Europe. With the help of Spocket's dropshipping application, users can easily and quickly import goods from various verified dropshipping suppliers and AliExpress, to their Shopify, BigCommerce, Wix, or WooCommerce store.
 The app even updates your inventory levels automatically so that you know which products are available when consumers make purchases. For efficient order processing, the Spocket app automatically collects orders from your Shopify store. Furthermore, they feature a user-friendly design and a smooth purchasing experience.
You can find a variety of product categories on Spocket, including tech accessories, apparel, pet supplies, jewelry, and cosmetics. Overall, it is one of the best platforms for first-time dropshippers wishing to sell a selection of fashion and beauty items. 
Features of Spocket:
High-quality product suppliers
Automatic pricing and inventory updates
Easy to import products and process orders
9. Syncee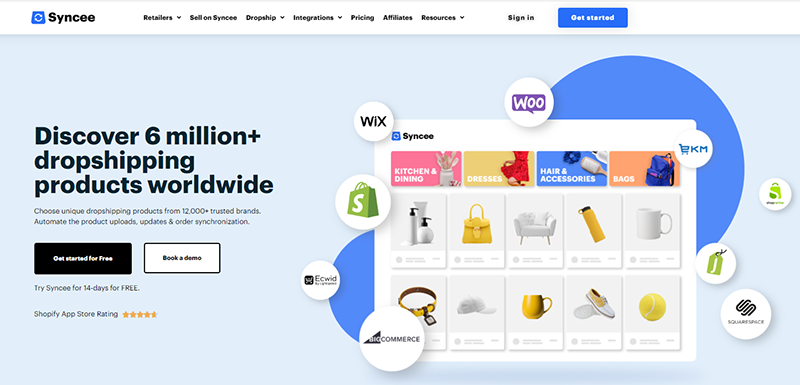 Syncee is an all-in-one dropshipping company that has built seamless integrations with 11 major eCommerce platforms. It is trusted by over 200,000 dropshippers and over 12,000 brands.
When compared to the major dropshipping systems, Syncee not only automates product uploads, stock/price updates, and order sync but also provides you access to the data feed manager from the Syncee dashboard. You can get in touch with suppliers, and examine detailed performance analytics for your dropshipping company, including total profits and sales over any given time.
Considering the monthly and annual plans, Syncee is an affordable dropshipping platform, making it ideal for eCommerce beginners with limited budgets.
Features of Syncee:
Access to over 6 million dropshipping products
Manage orders and create listings in one place
Reliable and professional dropshipping automation solution
No transaction fee is required for paid plan users
10. AutoDS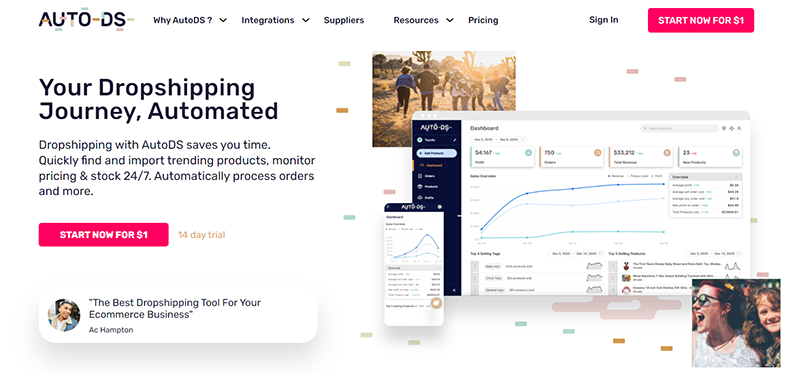 An innovative, all-encompassing dropshipping company, AutoDS, offers everything you need in order to run a successful dropshipping business. With this dropship company, you can purchase products from more than 25 reliable suppliers in Europe, China, the UK, and the US without any hassle. 
Notably, many reputable dropshipping suppliers and retailers are involved in providing supplies. CJDropshipping and Banggood are two examples.
Its system boasts several features like reliable order tracking, stock monitoring, a product research tool, an importer, and automated ordering. Furthermore, AutoDS provides a solution for return processing and customer service messages.
Features of AutoDS:
Product importer for adding products in bulk
Inventory & price monitoring and price optimization
Bulk processing of orders
Automatic updates of tracking numbers
Excellent customer service and support
11. DSers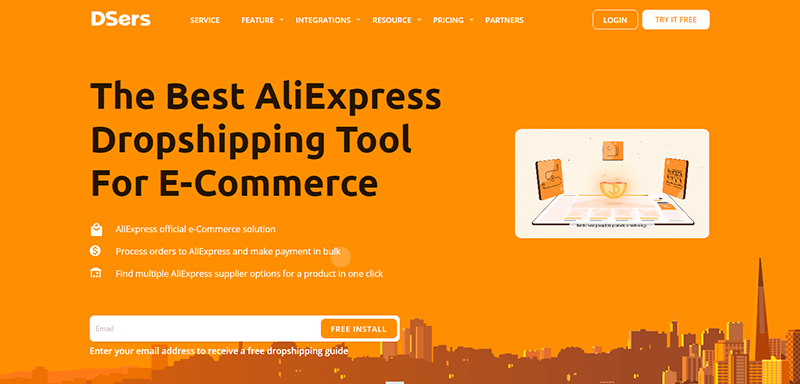 DSers, as one of the dropshipping companies in the industry, is the official dropshipping partner of AliExpress. Their application provides easy and quick access to AliExpress products & suppliers and integrates effortlessly with WooCommerce, Wix, and Shopify platforms.
Furthermore, the DSers platform provides you with the ability to choose the best AliExpress suppliers and products quickly, and place hundreds of orders in a second. You also have access to automatic pricing, inventory updates, and other features, depending on the package you select.
DSers helps you choose the most cost-effective shipping method, like AliExpress Saver Shipping. Plans may also incorporate bundle mapping, variants mapping, and multiple-store management.
Features of DSers:
Automates everyday tasks for dropshipping from AliExpress
Fast order placement
Multiple-store management
12. Importify

Importify is a dropshipping company that offers packages starting at $14.95 per month, making it a cost-effective choice for drop-shippers of all levels. With Importify, you can add products from a wide selection of well-known suppliers like Walmart, AliExpress, Etsy, and Amazon. They also fully integrate with leading eCommerce marketplaces such as Shopify, WooCommerce, and Wix.
Importify provides three reasonably priced plan choices. You can import an infinite number of products from supported websites with these plans. Not just that, the packages allow you to easily establish pricing rules, customize product information, and switch suppliers.
Presently, Importify only provides a free trial that lasts for one day. You cannot access AliExpress and Amazon under the Basic plan. Despite not providing fully automated services, the company's Gold Plan offers semi-automated order fulfillment through DHgate, Amazon, and AliExpress. Also, the platform gives you the option to snoop through other Spotify stores to uncover popular items to sell in your specialized market.
Features of Importify:
Unlimited product imports
Affordable pricing
Semi-automatic order fulfillment with Gold plans
13. Printful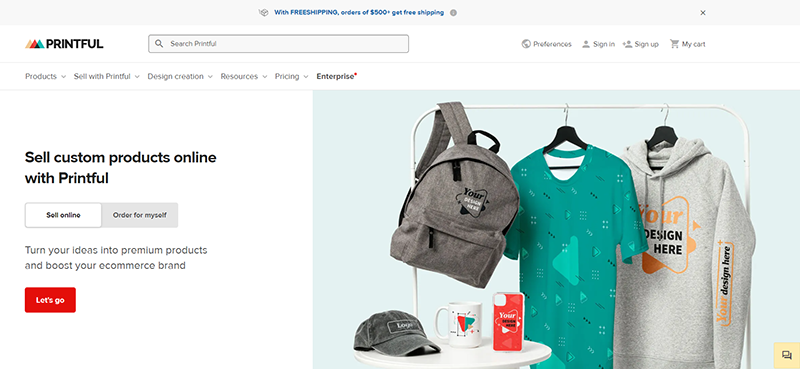 With the help of Printful, a full-service print-on-demand dropshipping company, you can market and sell branded, uniquely created products worldwide. Just visit Printful website and create your unique designs or choose from their collection of designs to print on anything. The products will be printed, packaged, and sent to your clients by the professionals at Printful.
You can put your brand or design on just about everything. Over 340 different products are available on Printful, including mugs, stationery, wall art, backpacks, blankets, caps, water bottles, clothes for women, men, & kids, and more.
The best part about Printful is that they virtually integrate with every eCommerce marketplace you can imagine, including Amazon, Shopify, Weebly, Etsy, WooCommerce, Gumroad, Wix, etc. So, integrating with Printful is hassle-free no matter what platform you're using to run your dropshipping business.
Features of Printful:
Integrates with more than 22 eCommerce platforms
Over 340 premium products that you can customize and sell
Supports branded package inserts and custom packaging
14. Worldwide Brands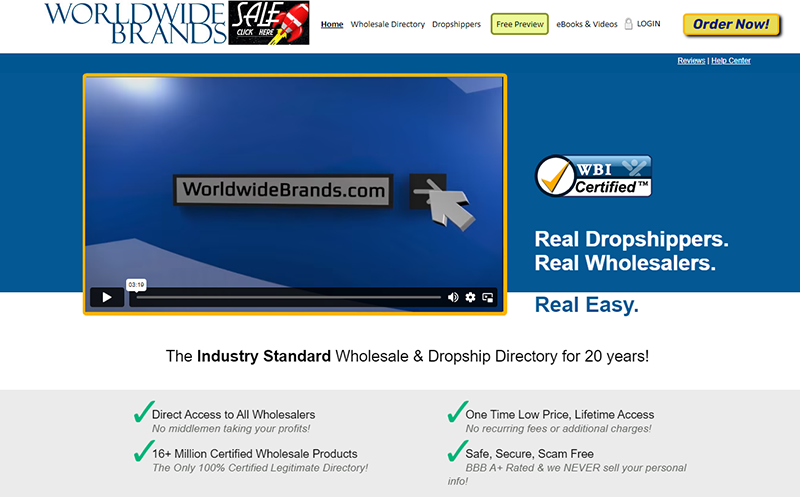 Among different drop shippers available online, Worldwide Brands has earned a good reputation. While the dropshipping company's website may appear a bit outdated, the list of accredited dropshipping suppliers and wholesale distributors it maintains is as authentic as it was when it was established two decades ago.
Worldwide Brands make an extra effort by attending trade shows to find wholesalers and confirm their legitimacy. This company is the best choice for drop shippers selling on crowded markets like eBay or Amazon—thanks to its commitment to ensuring reliability.
With this dropshipping company, you hardly have to worry about profit margins as you're working with certified wholesalers.
Features of Worldwide Brands:
An extensive directory of certified wholesale and dropshipping suppliers
Over 16 million verified wholesale products
The membership lasts forever
15. Inventory Source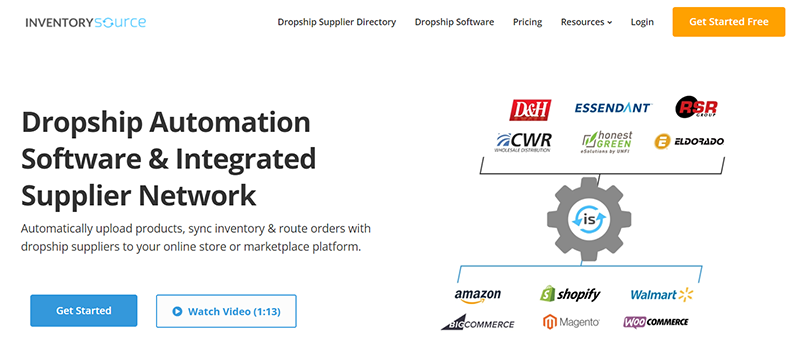 Founded in 2022 by experienced eCommerce experts, Inventory Source is among the best dropshipping companies that provide excellent dropshipping software for you to upload products automatically, sync inventory, and send orders to dropshipping suppliers efficiently. They integrate with almost all the leading eCommerce marketplaces, including Amazon, eBay, Walmart, Shopify, BigCommerce, Magento, etc.
A free supplier directory with thousands of vendors is also available. Their directory features some of the top wholesalers and premium brands for anything from home décor to camping products.
Founded in 2003, Inventory Source currently provides two types of paid plans: Full Automation (starting from $199/month) and Inventory Automation (starting from $99/month). You can send orders to your dropship suppliers and automatically sync tracking information with their Full Automation plan in addition to all the features available in the Inventory Automation package.
Features of Inventory Source:
Full automation service available
More than 230 pre-integrated suppliers
Automatically import products, sync inventory, and forward orders
16. Sell The Trend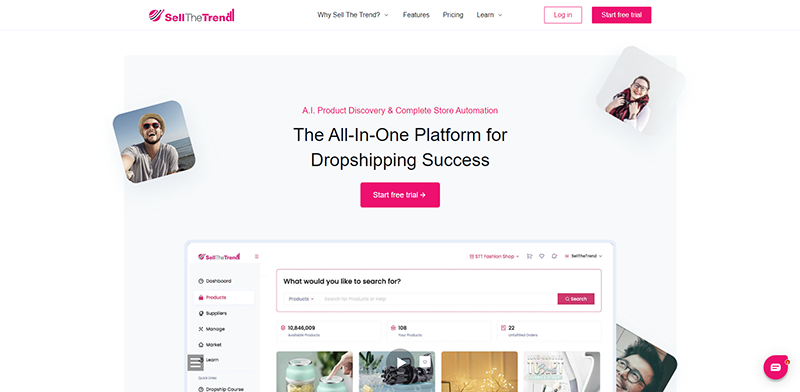 At first, Sell The Trend may just appear to be a data-fetching app with a database of over 7 million products, but its benefits significantly outweigh those of the popular dropshipping apps and platforms. It enables you to integrate with Shopify and WooCommerce and import products directly, making it one of the best dropshipping companies.
AI technology, product explorer, AliExpress/Amazon trend explorer, 1-click push to store, store spy tool, 1-click order fulfillment and other cutting-edge features are some of the primary aspects that set Sell The Trend apart from other dropshipping platforms.
Additionally, through Sell The Trend, you can access a free dropshipping course and create high-performing pages. With this platform, you can peek inside the Shopify stores of your competitors to discover what top-selling products they are offering and how much they can earn.
Considering its unique features, we can say that this is the best company to dropship with and grow your business.
Features of Sell The Trend:
A huge database to help discover profitable dropshipping items
Powerful NEXUS product research tool and website builder
One-click push to store and order fulfilment
Integrations with Shopify and WooCommerce
17. Doba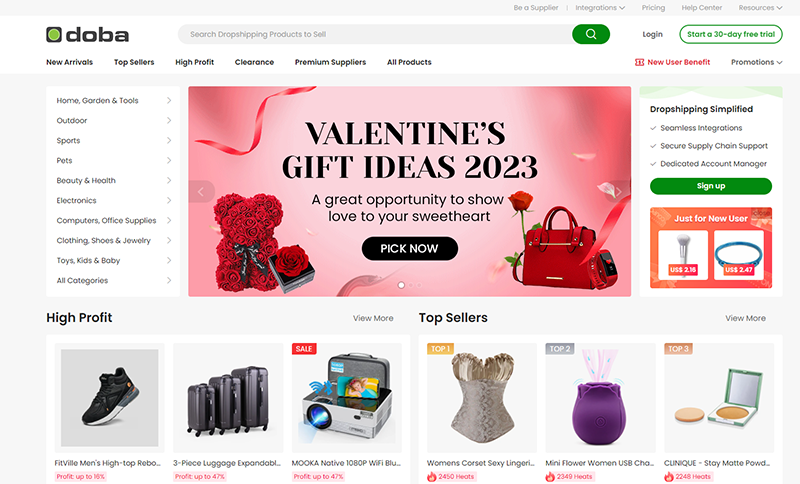 Doba is the perfect dropshipping company for finding dropshipping products and suppliers for different niches. This US-based dropshipping company takes care of all crucial aspects of your dropshipping operation, from product selection to order fulfillment.
Doba enables you to choose from millions of dropshipping products, place orders, keep track of orders, and manage inventory. It also offers sales and bulk discounts regularly. The best aspect is that Doba has integrations with platforms like Amazon, eBay, Shopify, and other eCommerce platforms and marketplaces.
Whether you are an established drop-shipper or just getting started, Doba works fantastically for you. All in all, this is one of the best dropshipping companies on this list for hassle-free dropshipping.
Features of Doba:
Integration with major eCommerce marketplaces
List products to your online store conveniently
Fast US local shipping and real-time order tracking
Multi-store management in one place
Excellent 1-on-1 customer service
18. Wholesale2B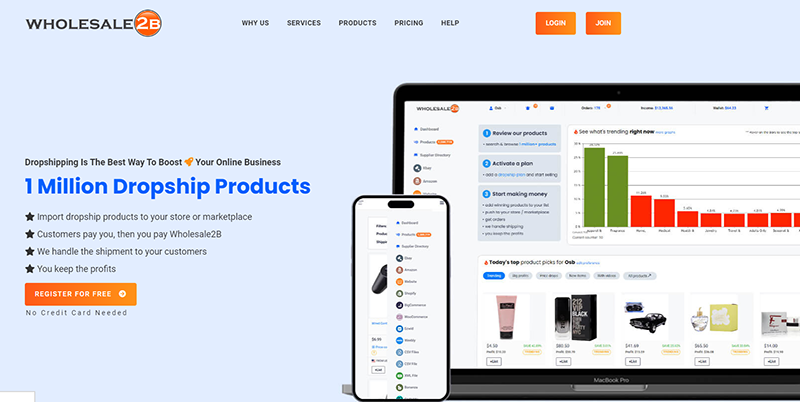 Wholesale2B is the best dropshipping company to connect with more than 100 dropshipping suppliers that provide over 1 million products. Here, you will find some suppliers from China, but the majority of them are from the United States. Since Wholsale2B only shows products from suppliers after properly examining them, you do not need to get in touch with suppliers directly. 
Additionally, the platform offers comprehensive information about the products listed. You also get the option to compare their costs to similar items on well-known eCommerce platforms such as Amazon and eBay.
Not just that, Wholesale2B provides specific supplier details, including supplier policies, shipping location, cancellation rate, and eBay image compliance, among other things.
Features of Wholesale2B:
Over 1 million products from 100+ verified suppliers
Detailed supplier information
Compare pricing with various other online retailers
19. Sunrise Wholesale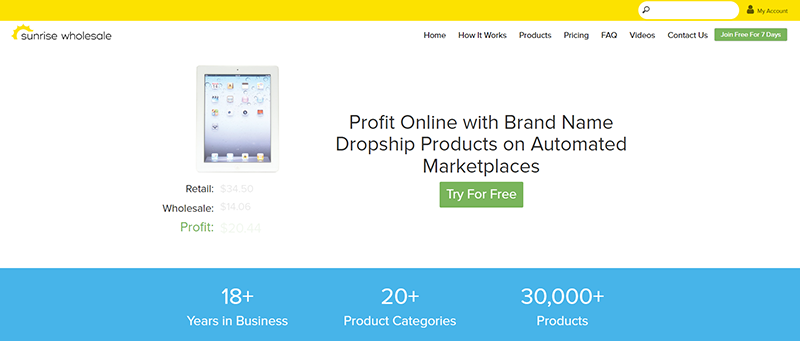 Sunrise Wholesale is one of the best dropship companies in the USA that has been in the business for over 18 years. It currently has more than 30,000 products available. It is excellent in terms of the products from top brands, fast fulfilment, and eCommerce integrations.
The platform is responsible for managing the inventory itself and can ship the products in less than a week to consumers in the United States. Additionally, Sunrise Wholesale smoothly integrates with popular eCommerce marketplaces, greatly enhancing the convenience of dropshipping.
They charge a monthly membership fee of $49 for stock notifications, research tools for eBay and Amazon, gold member pricing on all of their items, store integration with Shopify and BigCommerce, etc.
Features of Sunrise Wholesale:
No minimum order nor additional charge for dropshipping
Delivers items within 5 to 7 days to customers in the continental United States
Toll-free telephone support service
20. Megagoods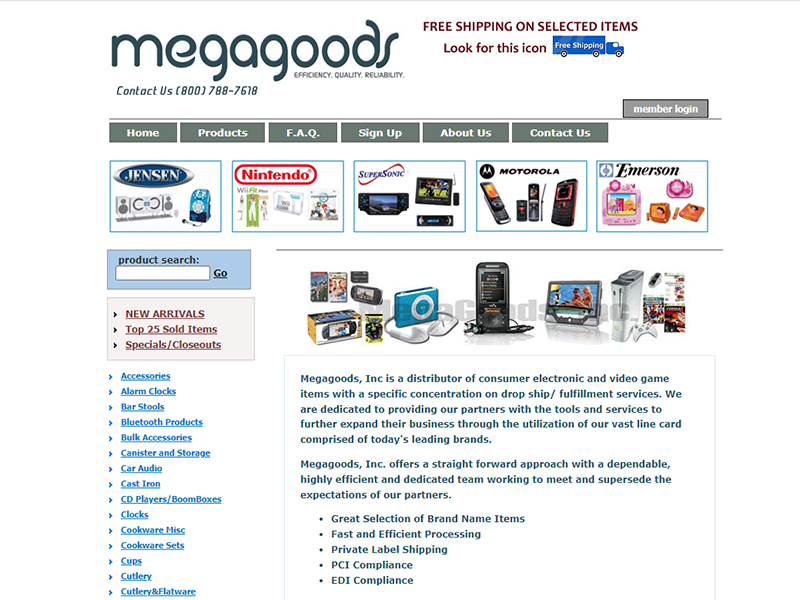 If you are planning to sell consumer electronic products, kitchen appliances, video games, or other items, Megagoods is one of the best dropshipping companies with a good reputation and authority. They provide a wide range of branded products, fast order processing, private-label shipping, and so on.
They are based in the US and provide international shipping. Additionally, they can drop-ship products under your brand name. All in all, Megagoods is an excellent option if you are just getting started in this market because they do not have any minimum order quantity restrictions.
However, they impose a dropshipping cost of $1.50 for each purchase and a general service price of $14.99 per month.
Features of Megagoods:
Access to 2,000 dropshipping products
Beneficial to dropshipping consumer electronic products in the United States
Products are shipped out within 1 to 2 business days
Conclusion
The dropshipping concept is appealing to anyone interested in opening an eCommerce store. It only works well if you're using the right dropship company. These are some of the reliable and top dropshipping companies you can rely on to make your eCommerce business successful. Check out this list of the best dropshipping companies, compare them, and pick the one you find suitable for your online store.