Dear customers, we've just launched the "Order Tracking" feature! After you log in to the Dropshipman app, you can find it at the left column under "Orders." How can you make the most of Dropshipman Order Tracking feature? This guide aims to help you to learn everything about it.
Order Statuses
As for orders handled by Dropshipman, after the payment, you can keep track of the entire fulfillment process by using "Order Tracking." Here, orders are categorized into 8 different statuses, including:
Under stocking: Orders in this status are to be stocked. On average, stocking takes 1 ~ 3 days;
Under quality inspection: Products in the orders are being subject to quality inspection, which is estimated to take 1 ~ 3 days;
Waiting for logistics collection: After stocking and quality inspection, orders in this status are to be picked up by carriers;
Transit: Collected by carriers, orders in this status are in transit;
Out for delivery: Having arrived at the local distribution center, orders in this status are to be delivered;
Delivered: Here, you can find orders which have been successfully delivered to customers.
Expired: The order status is abnormal or failed to be updated for a long time;
Failed Attempt: Orders in this status failed to be delivered to customers.
You need to pay keen attention to orders in the last two statuses, namely, "Expired" and "Failed Attempt." Contact your personal agent or our customer service in time when you need further assistance.
Order Tracking
Click on the "truck" icon, and you can view specific order tracking information.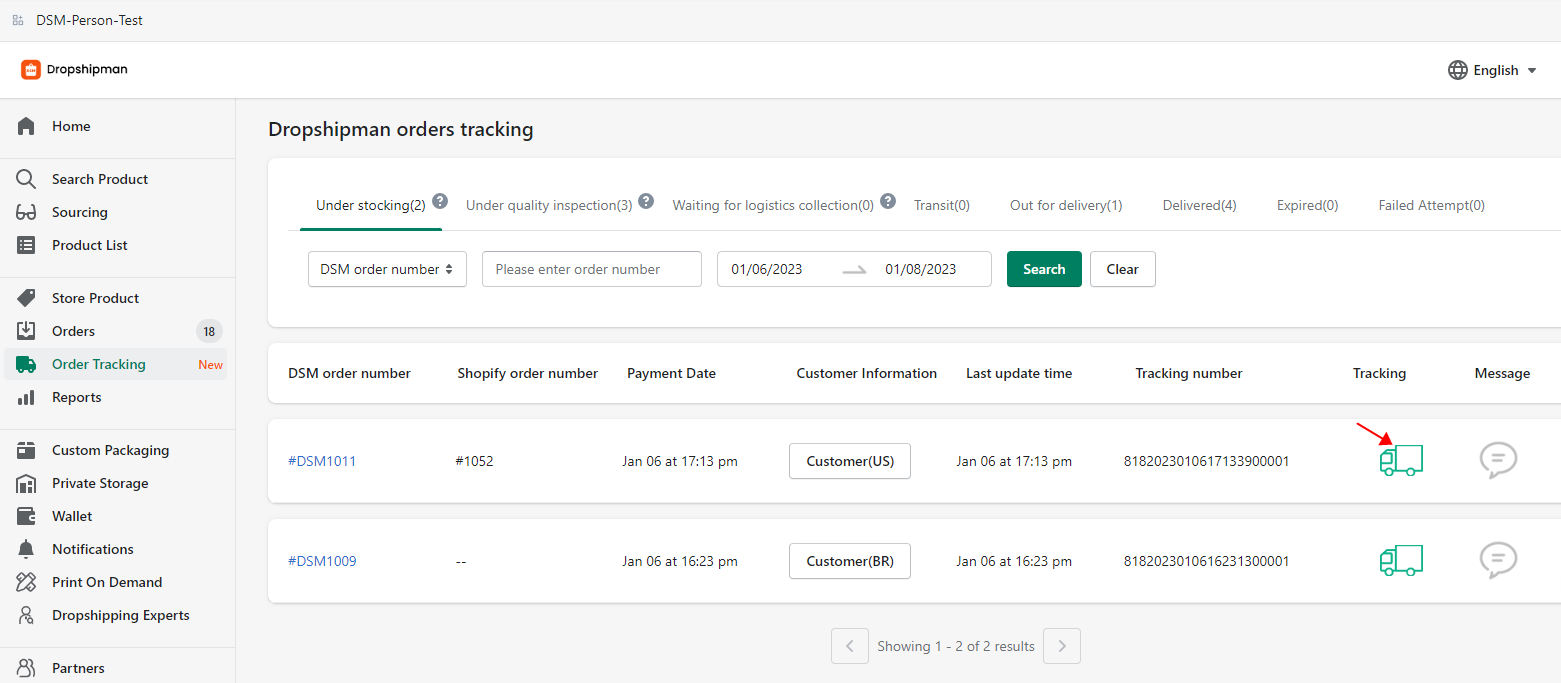 Typically, the moment you finish paying for an order, a tracking number is generated and uploaded to your online store. Notably, the first tracking number will be overridden when the order is shipped successfully. It is useful for sellers who are eager to get a tracking number to impress customers with fast shipping.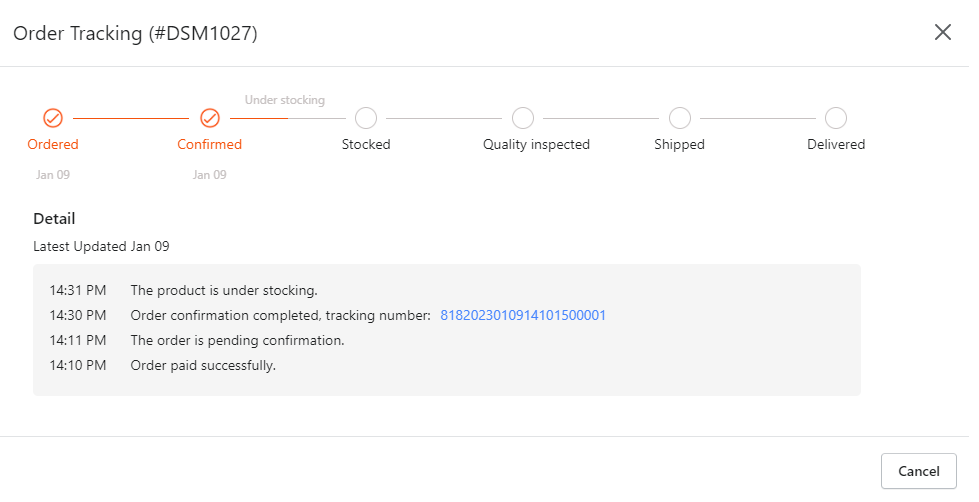 Dropshipman seamlessly integrates with TrackingMore via API, which makes for real-time order tracking from payment completion to last-mile delivery. You won't need to head to a parcel tracking website and copy and paste the tracking number anymore. If you want to display order tracking information on your storefront, you may choose to install TrackingMore or ParcelPanel Shopify app.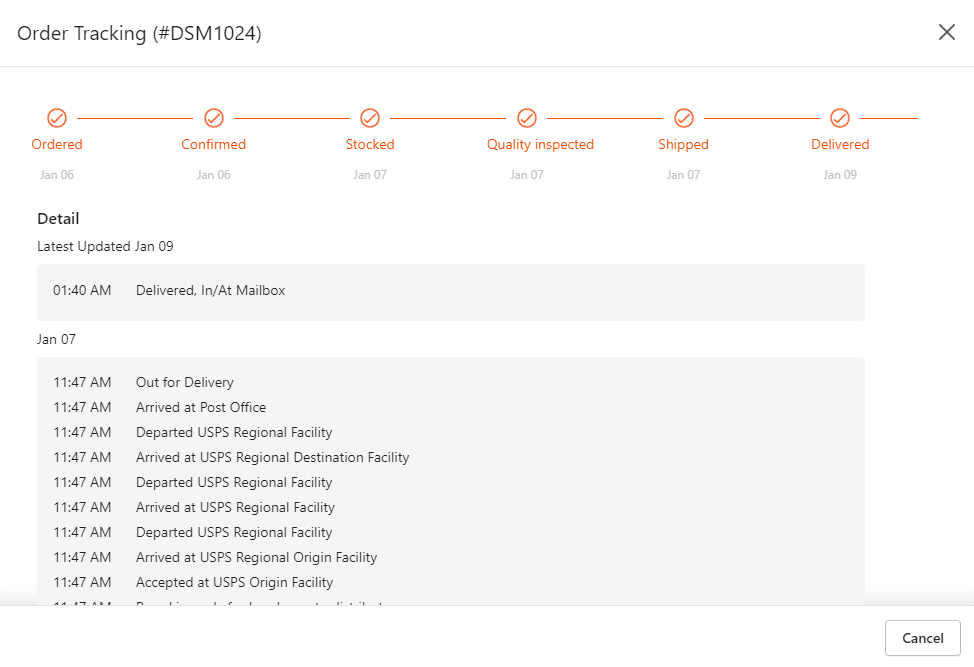 Message
By clicking on the "message" button, you can view the related messages left by your personal agent if there is anything related to the order worth your attention.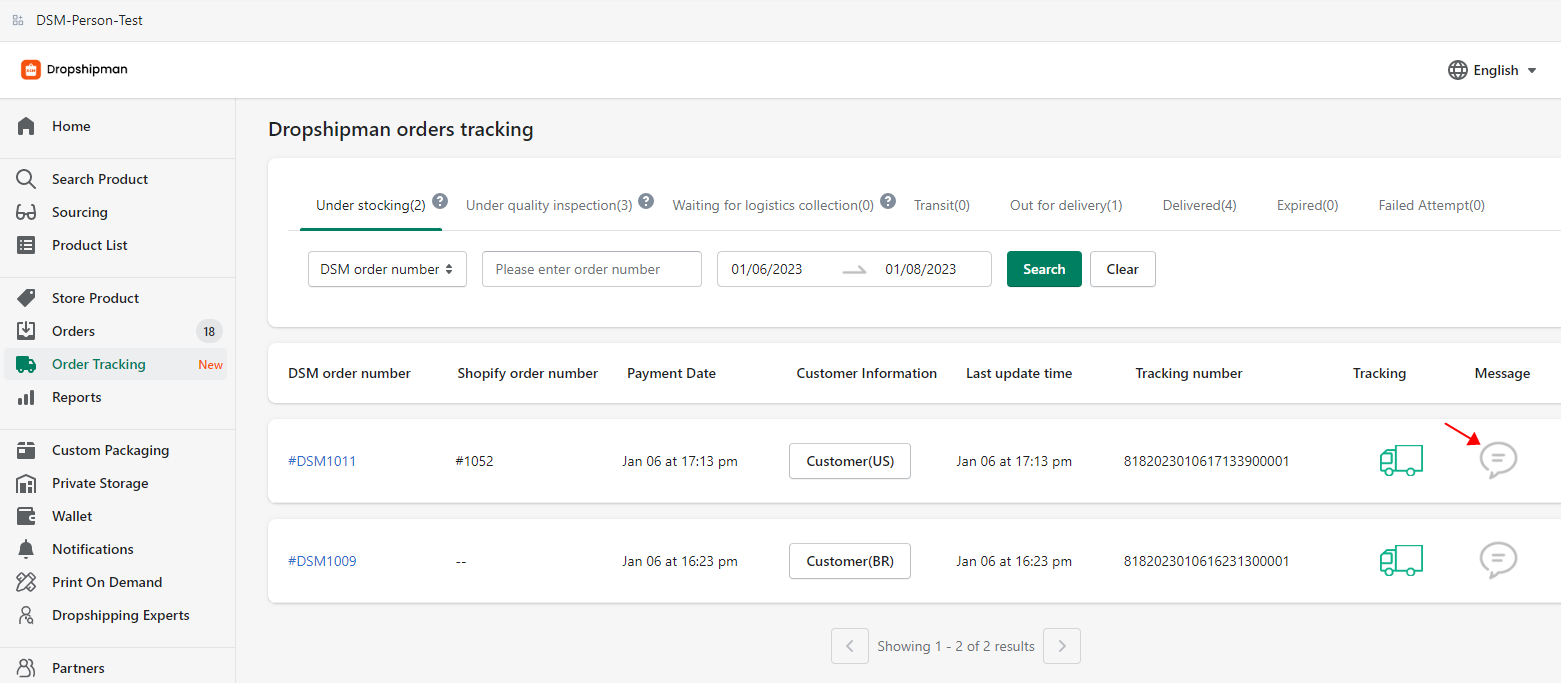 Don't worry that you might miss the important information because the number of unread messages will be shown to raise your awareness.

Advanced Search
If you have many orders, to learn about a certain order, you can use filters in the search bar.
For example, you can specify the order you want to track by entering the Dropshipman order number (short for DSM order number) or Shopify order number and clicking the "Search" button.

You may also learn about a certain order by clicking on the DSM order number. In this way, the related product information will be shown.

By Setting the Time Range
To learn more about orders placed during a certain period, you can specify the start time and end time, and click the "Search" button to do so. The time here is referred to as the payment date.

Customer Information
The customer information section is specially designed for you to know where the order will be delivered in a convenient way. In other words, you won't need to check the delivery information elsewhere. "Customer" is followed by the exact country code here. To view more specific information, just click on the button.

Then, in the popup window, you can view the complete delivery information, including the recipient's first name, last name, company (if any), address, country, province, city, zip code, phone number, email, and so on. Notably, you won't be able to change any delivery information here.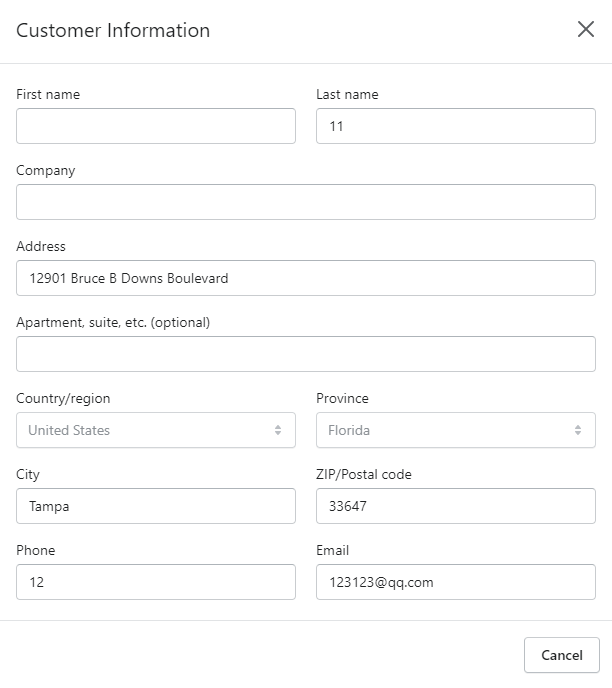 Now, you're more familiar with the order statuses and the use of order tracking, message, advanced search and customer information section of the Dropshipman Order Tracking feature. If you have any questions, you may check the FAQ below.
Dropshipman Order Tracking FAQ
1. Can my customer view the tracking number?
Of course, Dropshipman's system will upload the tracking number to your Shopify store as soon as it is available. Please note that when the order is shipped, an accurate tracking number will replace the previous tracking number.
2. How can I inform my customer of the tracking number?
Navigate to "Settings," choose "Notification," and go to the last section of this part - "Notify customers about shipped orders." Tick "Notify my customers" to send an automatic email whenever the tracking number is generated or updated.

You can customize the order tracking URL in the email. For more personalized settings, you can make changes to the email notification template in Shopify admin.
3. Can my customers view theorder tracking information in my Shopify store?
Dropshipman is in the backend of your Shopify store, which means that it is impossible for us to display tracking information directly to your customers. You probably don't want your customers to know that you're partnering with dropshipping suppliers, do you?
Nevertheless, you may install the TrackingMore Shopify app if you want to build a custom order tracking page, avoid answering "Where is my order" questions and reduce pressure on customer support. The Shopify app is free to use if your orders are less than 50 per month.
4. What can I do if the order status is abnormal?
"Expired" orders and orders with "Failed Attempt" are generally abnormal orders that require your attention. You may look at the tracking information first to find out something wrong with the order. Check the messages if there are any. If you need more help, don't hesitate to contact your personal agent or Dropshipman customer support team.
5. If the original delivery information is wrong, how can I modify it?
If you use Dropshipman to dropship products from AliExpress, you need to contact your AliExpress suppliers in time to change the original delivery information provided by your customer.
If the order is to be fulfilled by Dropshipman, the information left by your customer will be automatically checked. In case any information is wrong, the order will be recognized as an abnormal order and shown under "Orders" - "Dropshipman" - "Incorrect customer info."

Click on the button with a question mark, and in the popup window, you can find that the incorrect information is highlighted. In this case, you need to contact your customer in time and ask the person for the correct information. Once you've filled in the correct information, click the "Save" button.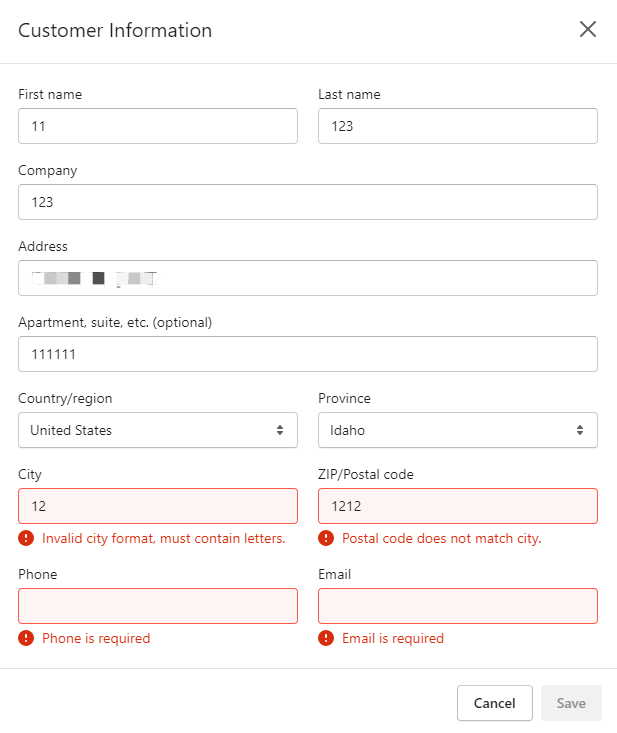 Final Words
So far, we've gone through everything about the Dropshipman order tracking feature. We hope that it will be of great help to you!
Dropshipman team strives to provide you with everything you need to automate your dropshipping business. Our 24/7 customer service is always available, and a dedicated personal agent will assist you along the way. We are open to your feedback and suggestions at any time!