Dropshipman Vs Printful…which ranks better?
It is always a hard nut to crack to be a judge. More often than not, many people are yearning to acquire full knowledge and recommendations on the best e-commerce app to launch their dropshipping business. The Dropshipman business model seems to take a blooming knock in the dropshipping industry. Data-backed show that Dropshipman provides over 10 + million in-depth quality products to help your online website quickly start a dropshipping business. Besides, there is no secret that there are hundreds, if not thousands of new products momentarily trickling into this app, courtesy of the Dropshipman model. Very low overheads, vast mark-up potential, and low barrier to entry are some of the selling points that make Dropshipman app an ideal for beginners looking forward to venturing into a dropshipping business.
So far, both Dropshipman and Printful stand out as one of the best dropshipping Shopify apps that exist. But in the long run, you will draw your conclusion on which is better based on the pivotal consideration of the strengths and snags of each of them as I'm going to discuss below.
As a hint of what is ahead, this article will give a full account of how each platform stacks up in the market. You will get to learn the pros and cons of each of them. As if that's not enough, we will take a detailed look into each of the following factors:
Pricing
Order fulfillment
Customer support
Print quality
Integrations
I am sure that this article will give credit where it is due as well as point out all the pitfalls of both. Then you will be your own judge on which particular app suits your soon-to-be dropshipping business model. Let's set the ball rolling by giving definitions of each of these apps.
1. What is Dropshipman?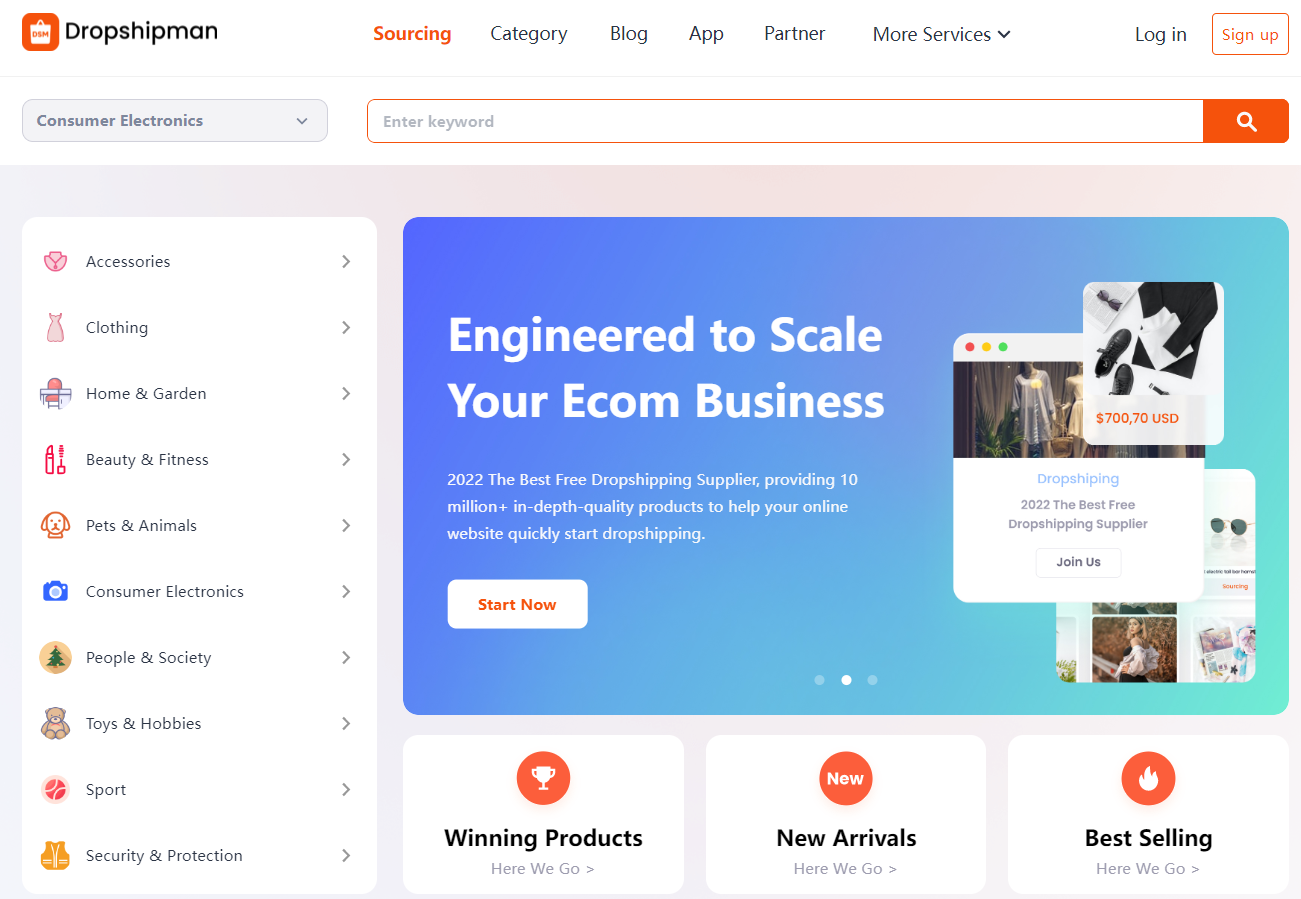 This is a professional dropshipping application that enables you to import products from AliExpress to Shopify and automate your fulfillment with 7-15 days of shipping. It is engineered to scale your business to greater heights. Its diverse product management, fast delivery, and competitive price make it one of the best Shopify apps for a one-stop dropshipping business model. Since Dropshipman have both the AliExpress interface and its own delivery services, you are assured to get the best winning, high quality, and at affordable price products as a beginner.
How Dropshipman Works:
• Automate your dropshipping fulfillment: As a professional dropshipping application, it enables you to import products from AliExpress to Shopify and automate your fulfillment within 7- 15 days of shipping. It is engineered to scale your business.
• It's sourcing: with just your product photos, keywords, and budget, Dropshipman makes it possible for you to successfully source your products. For more information about how to source your products with Dropshipman, dive into DSM-Global dropshipping application.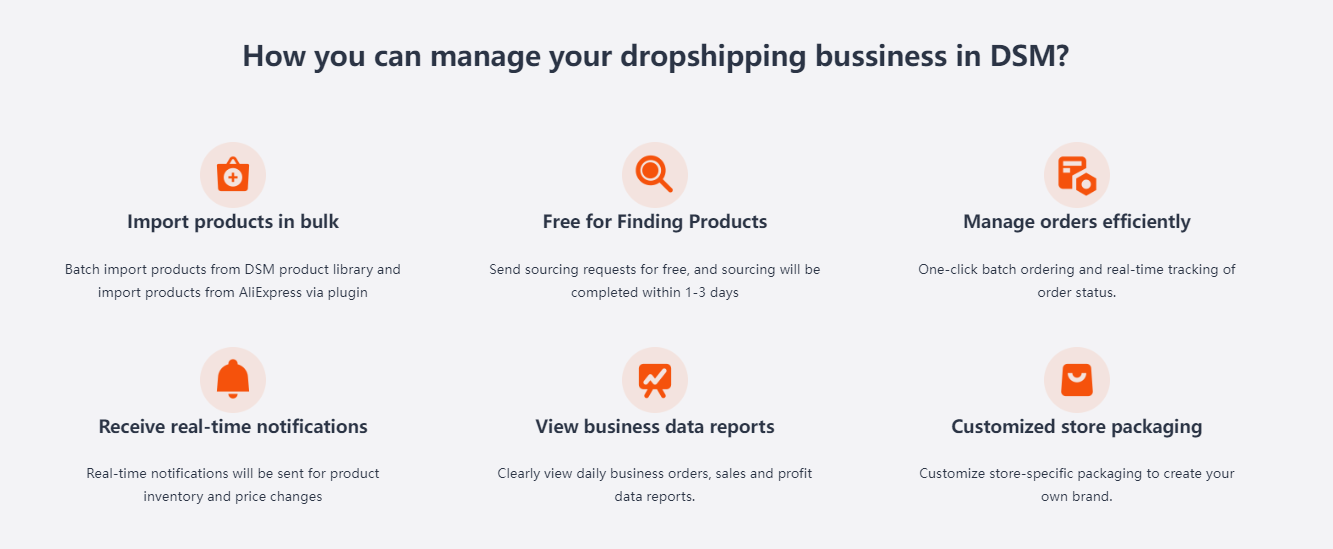 • And what shipping services? Due to the fact that Dropshipman deals with such reputable logistics and parcel delivery solutions companies as 4PX, Yunexpress and Yanwen, you are assured of different shipping services to meet your faster delivery requirements. The special lines from these 3 couriers mainly ship from China to USA and EU within 7-15 days of delivery. This is a way much faster and more stable than the ePacket standard.
• Label and Packaging Dropshipman provides beautiful label and packaging services to help Shopify sellers brand their stores.
• Quality inspection. This is a very imperative advantage of a Dropshipman as it affects your customer experience very greatly, lowers your return rate, and helps you gain more profit with your products in the long run.
Pros of Dropshipman:
• Ensures bulk import of products on category stores' and search page on AliExpress.
• Filters AliExpress products by warehouse location, shipping method, shipping fee, and product price.
• Assists in importing and editing of products: Once you have spotted products of your preference in AliExpress, with just a few clicks, Dropshipman assists you in importing these winning products to your store. As if that is not enough, to ensure the complete validity of your products, it customizes the product's title, description, variants, and pictures. Then it selects and modifies variants in batches.
Dropshipman also provides advanced editing through splitting for pages, overrides for product lost sync, mapping for change suppliers, and creating bundles.
• It also assists with product editing as well as setting price rules. It sets a price rule for your products that suits your brand and your customers. It also reprises to make products win more. What about adjusting the price? Based on the price rules it would have assisted you in making, you can easily adjust your prices within the limit set. You only need to update your price rules on various occasions on your existing products in a few clicks.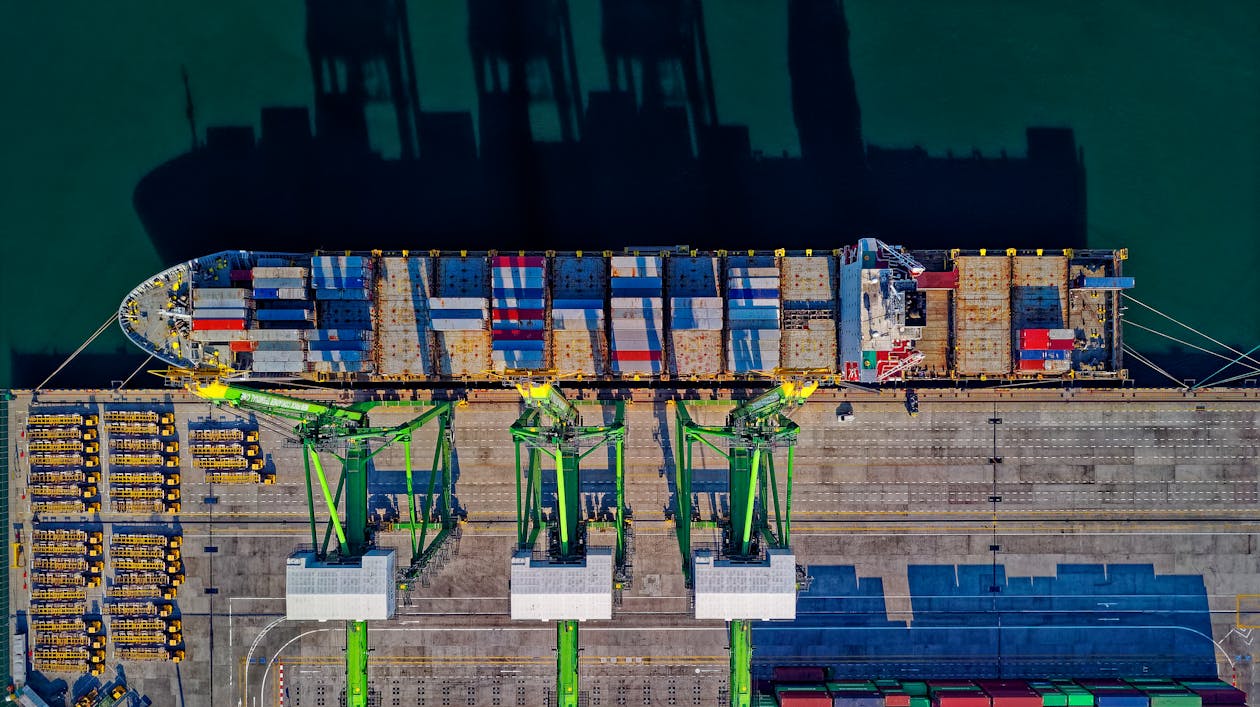 Image source: pixels
• And did you know that Dropshipman offers bulk orders to AliExpress without limit? Well, you should know that it helps you to easily manage your orders, setting your default and shipping method to bulk place orders. For merchants in Brazil, their CPF number is automatically received and can be modified before shipment.
• Syncing and updates: No need to be troubled by the occasional info updates. Dropshipman will automatically sync and update your product status, inventory, and price. You only need to spend your time promoting your product and leave the rest to them.
• Dropshipman ensures smooth order processing as well. This is done by automatically capturing the tracking number and then synchronizing it with your Shopify orders.
• Finally, Dropshipman gives support for the migration of Shopify business from Orbelo to Dropshipman and in this case, has a similar function as DSers.
2. What is Print On Demand?
Printful is an example of a Print on demand company and thus there is a need for us to start by defining what print-on-demand means. As the name suggests, Print On Demand, also sometimes simply referred to as POD, as the term suggests, is an online order fulfillment process where the seller works with a supplier to make a custom-print product on an order basis. The supplier, who in most cases is a print-on-demand service with a warehouse and an online platform, integrates with the dropshippers online selling channels and customizes white-label products under the seller's brands or pre-made print designs. Similar in performance to dropshipping, the model permits not holding any upfront fees until the time a product is sold to the customer. This makes an ideal solution to taste a business idea since it has low overheads and a marginal barrier entry.
How does Printful work?
Be notified that Printful runs production houses in the USA, Mexico, and Europe. It covers a wide scope to fulfill its customers' orders on time. Sign up and connect your store to Printful and as simple as that, you would have gotten started.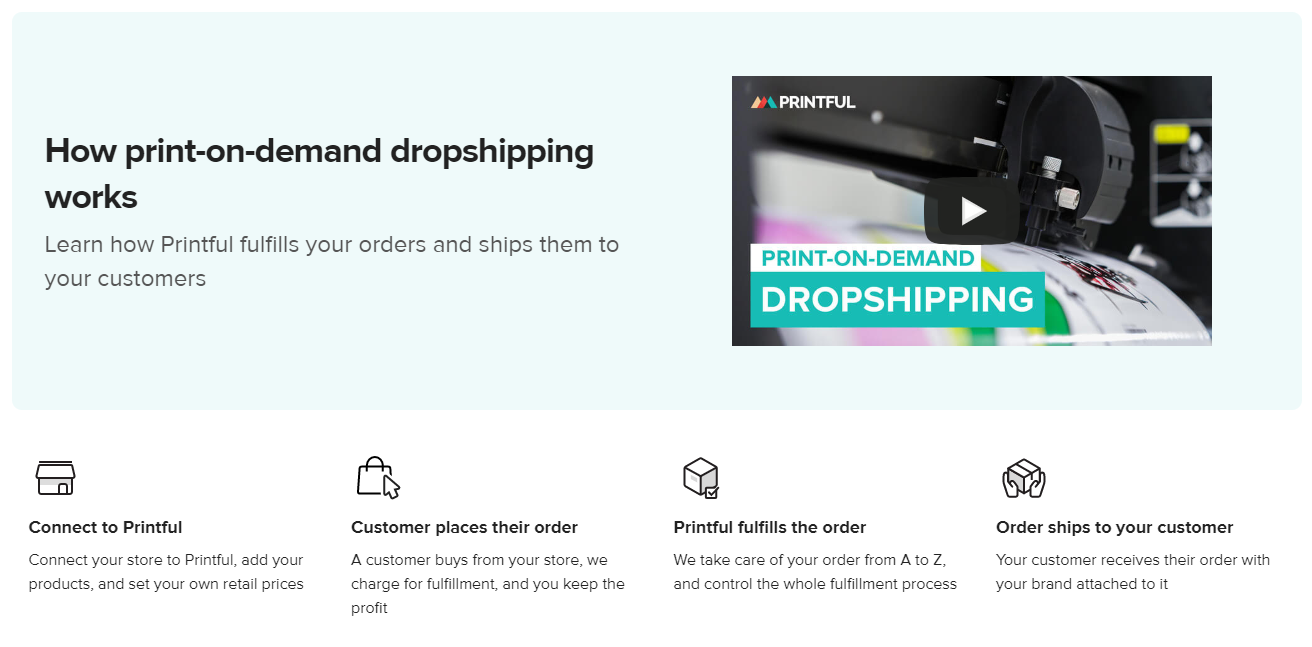 Why would it be necessary for you to connect your store to Printful service? Well no sooner had you finished all the integrations than you will need to work on your customers' products using the mock-up generator. I know you may be wondering what a mock-up generator is. It is more like a design to help you virtually create custom prints for your listed products. Besides, it aids you in creating an amazing and high-resolution photo using the suggested templates.
On Printful, you are able to reach out to any of its categories and pick any of its POD items that you want to upload to your online store. There are up to 200 products + you 
can choose from.
Some of its high-selling categories include but are not limited to:
• Clothing—T-shirts, Hoodies, Sweatshirts, Leggings, Shorts, Tank-tops, Polo shirts, Long sleeve shirts, etc.
• Accessories: stickers, phone cases, Necklaces, Bracelets, etc.
• Bags: Laptop cases, Tote bags, Drawstring bags Backpacks, Fanny packs, etc.
• Home and living: Coffee mugs, posters Canvas prints, bean bags, etc.
• Collections: Sportswear, Streetwear, Beachwear, etc. Cons of Dropshipman
• Do not provide print-on-demand services currently, but are working to have it in place sooner or later than immediately.
• They can't mage multiple stores.
• Only have integration with Shopify platform yet there are many other giants and better platforms outside there used by their competitors.
Pros of Printful
• Printful gives users a multifold approach due to its large volume of custom branding options. You simply need to put your mockups together and it will import all the product designs to your store. Then there you go! Promote your products to your target audience and be on the wait for the order automation features to take effect. 
• It also prints, packs and ships all orders as requested by your customers to your store. The dropshipper only has to pay for the fulfillment cost once and there you go, the order is fulfilled. This relieves you a lot from the daunting process of manually designing a print design and shipping orders to your customers.

• Doesn't charge their customers any membership or subscription costs. If for instance, you want to sell white-label products, Printful will offer you a modest price for all your needs.
• It also allows you to create a design that captures your logo and prints it on the packaging for free. With this, you are assured of building better customer relationships, issuing discounts, and introducing a new product in the already existing market.
• It has inbuilt APIs to aid the merchant in integrating with large e-commerce platforms like Shopify and Woocommerce selling channels. It also syncs with other e-commerce platforms like Squarespace, Bigcommerce, Weebly, Pristashop, Bigcartel, and Wix…the list is long.
• Printful also works with some global shipping solutions like FedEx, DHL, and USPS. Com and DPD companies give the quickest shipping duration of between 2-7 business days.
• The company also offers onboarding sessions to all new users at no cost. They have an insurmountable set of tactics to engage with their customers at a detailed snappy level. You will also find a help center with a variety of articles on important topics like integration, troubleshooting, product payments, etc. Some of its cons include
• Its products are away a head overpriced as compared to Dropshipman.
• The number of products under their custody is slightly lower as compared to its 
close competitors like Dropshipman.
• It also has limited branding services.
• It has a fluctuating quality of print.
• Its shipping costs though having faster delivery, is very expensive.
• Mockup Generator Models all look similar. This even though makes it possible for you to easily include a product photo on your website, from the user experience perspective, your store may end up looking really repetitive marking it hard for customers to differentiate which products they should buy.
Dropshipman Vs Printful similarities
• They both involve dropshipping. No bulk inventory to incur. The supplier package as well as the shipping of products are discharged directly to your customers.
• Both of them have automated order processing.
• They are both low-risk models as you don't need to buy inventory upfront in both cases. You only pay once a customer places an order in your store.
• Both want the merchant to have the same skill sets to meet great results. Such skills include marketing, customer service, and advertisement skills.
Dropshipman Vs Printful: Differences
• Dropshipman has millions of winning products to choose from. Printful on the other hand has only 2000 + products to make your choice upon.
Product diversity is very huge with Dropshipman. You have the freedom to sell any type of product with Dropshipman. Be it dresses in different styles and materials or the fidget spinner trendy early. You are not limited to your style of design.
• Shipping cost is extremely low with Dropshipman as compared to Printful.
For the beginner, Dropshipman may offer as low as zero shipping cost and even if you have to make payments, then it will still be relatively low. If not free, it will be under $5.
• Dropshipman is a less risky business model than Printful. This is because there is more data behind Dropshipman to assist you in ensuring you have a great product. With Printful, however, you can only try your best in terms of design and hope that the customers will resonate well with your offerings.
• Dropshipman makes it easier for you to predict what the best-sellers are:
With Linking products with Dropshipman, you can find the best products based on volumes, seller ratings, and customer reviews. Printful on the other hand is very hard to tell what would be the best seller as you only need guesswork to arrive at the same.
• Printful has an edge over Dropshipman in terms of its integration with various e-commerce platforms like Woocommerce, eBay, Wix Bigcommerce, and Shopify. Just to mention a few. Dropshipman on the other hand only integrates with the Shopify platform.
• With Printful, you are assured of faster delivery of your products to the required store. It only takes between 2-7 days and you will have your product. Dropshipman on the other hand takes up to between 7-15 days to have your product delivered.
Dropshipman Vs Printful, My final verdict:
In both cases, it is promising to see how these two e-commerce business apps are receiving upward trend lines in the top dropshipping business apps. While this two have their Selling points to consider as I have highlighted above, product quality, affordability which in turn breads better profit margin, and a variety of products to choose from which, are the top tier features that help a product boasts repeat sales. In your own analysis from all the facts we have stated above, I believe your guess is as good as mine that Dropshipman has an edge over Printful, in terms of general dropshipping stores. For POD dropshipping stores, Printful is a great choice to start with. You can tell from the factual context that Dropshipman has better product quality inspection and a variety of dropshipping products to choose from, low to zero shipping cost, and low product price which in essence are great deals for dropshippers.