Dropshipman and SaleHoo are two dropshipping tools helpful in finding and easily importing products into your online store to dropship. Although they share several features, there are some fundamental differences between what they provide. 
If you have ever conducted product research online, which I hope you have, you must have inevitably experienced a lot of noise and false promises when researching options online. E-commerce tools are not an exception. 
If you have done your homework well, you must have come across Dropshipman and SaleHoo. Both are expert contributors in the dropshipping sector. Nevertheless, what sets their offerings apart and which one is right for you?
Well, don't worry, as I will take you through their features, customer service, pricing, reviews and so on to give you the full picture. In the end, you will know which is the best option for your business.
Dropshipman vs SaleHoo: Overview
Upon thorough examination of these two dropshipping tools, you will see that they edge closer in terms of easy functionality with product upload and bulk order processing. However, having been in the dropshipping business for a very long time, SaleHoo boasts an extensive directory of vetted suppliers and products that Dropshipman lacks. Giving credit where it is due, Dropshipman made a tremendous rise in its features, having been in the industry for a short time. 
This has been proved by Websitescoop conducted on February 2021. By then, Dropshipman had merely finished a year. The estimated number of visitors per day by then was 29,184, the estimated Ad revenue was $56, and the average time a visitor spent per day was 2:50 minutes. The estimated worth of both the website and domain was $33,146. All these are amazing.
In both cases, they offer continuous 24/7 customer support and have received positive customer feedback. Below is a summary of these two prestigious dropshipping apps. 
| | | |
| --- | --- | --- |
| Overview | Dropshipman | SaleHoo |
| Founded | 2020 | 2005 |
| Indicated customer count | 40,000+ loyal customers | 130,000+ businesses  |
| Dropshipping tool | ✓ | ✓ |
| Directory tool | No | ✓ |
| Vetted suppliers | No | ✓ |
| Easy product upload | ✓ | ✓ |
| Bulk processing of orders | ✓ | ✓ |
| 24/7 customer service | ✓ | ✓ |
| 100% satisfaction or your money is fully refunded | No | ✓ |
| Estimated number of visitors to the platform per day | 29, 184 |   |
| Average time a visitor spend on the platform par day. | 2:50 min |   |
| Total fulfilled order | 40 million+ |   |
| Featured dropshipping products | 10 million+ | 2.5 million+ products |
| Work efficiency improvement | +90% |   |
Dropshipman vs SaleHoo: Features
Dropshipping Tool
It is now time for us to dig deep into the abovementioned features. The most important among them is the dropshipping tool. It tops the list as far as choosing to pay for a dropshipping service is concerned.
Dropshipman and SaleHoo offer easy product importers for importing AliExpress products and an immense product catalogue. Importing products from AliExpress to your store is as easy as ABC as long as you have a Shopify store and an AliExpress account. Besides, both Dropshipman and SaleHoo ensure bulk import and product editing for your store, making everything much easier and less time-consuming.
Admiringly, Dropshipman has a Chrome Extension, which lets you import products directly while at the same time browsing AliExpress and 1688 without having to log out of the site. In the Dropshipman Marketplace, you can find various top-selling products by sales volume and rating. 
SaleHoo has over 2.5 million high-quality products you can choose from confidently. SaleHoo keeps track of the products in its supplier directory, which allows you to find a viable niche with great potential. With it, you can learn more about the market, as it provides data including:
Competition intensity
How many times is the product listed
Sell rate
Price
Popularity
The more you can automate, the more you can lean back, relax and see the money roll in!
Supplier Directory
SaleHoo also prides itself on over 8,000 vetted suppliers that you can filter by location, minimum order quantity and shipping locations—to find what you are seeking.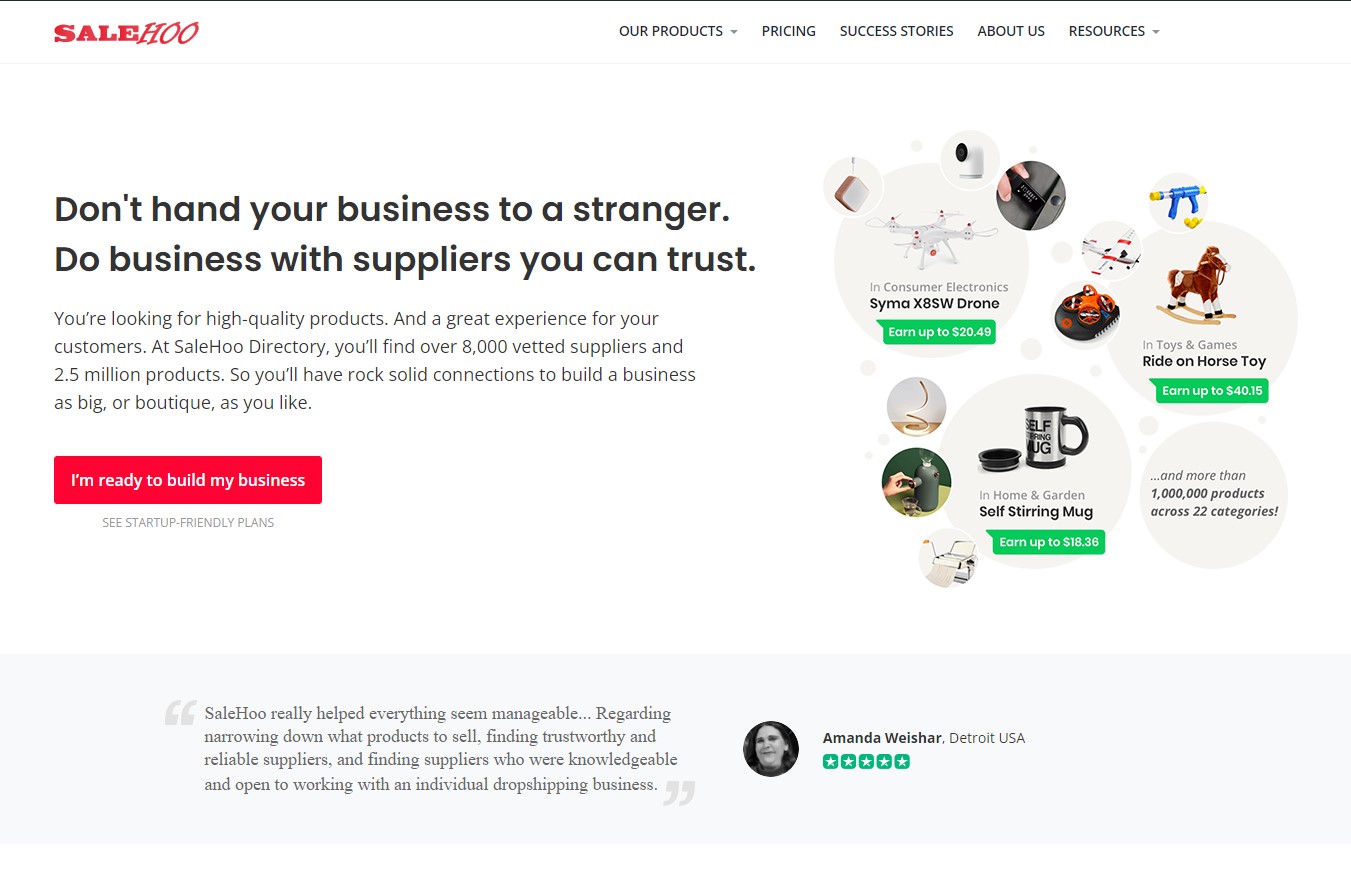 These suppliers include dropshipping suppliers, wholesalers, and even manufacturers, which gives it a slight edge over Dropshipman, which relies only on dropshipping suppliers and, mainly, AliExpress. Moreover, with SaleHoo, you won't need to check the suppliers' reliability by yourself because it provides you with all the following information:
Contact information
Product categories
Quality of products
Customer reviews
Where do they ship to
Shipping methods
Minimum order quantity
This makes it an important app, especially for sellers who want to expand their business from dropshipping to probably working with a wholesale supplier and collaborating with a manufacturer to create a private-label product.
Here are some ways through which SaleHoo Directory can add higher flexibility in developing your online business:
Helping you find wholesale suppliers to purchase your products in bulk yet at a cheaper rate.
Helping you find liquidation to buy products from trusted brands that people already love, at steep discounts, to resell then.
Use manufacturers to produce your custom products or private-label existing ones.
Dropshipman vs SaleHoo: Pricing
Generally, Dropshipman's products are offered at relatively low prices. Dropshipman is absolutely free to use. It is the best app I will recommend beginners in this field to consider using.
The SaleHoo basic plan costs $27 a month and provides you access to a wide range of vetted suppliers and products, the ability to upload up to 500 products and 2 staff accounts. The advanced plan gives you unlimited product uploads, a dedicated onboarding manager at your beck and call, and a total of up to 4 staff accounts.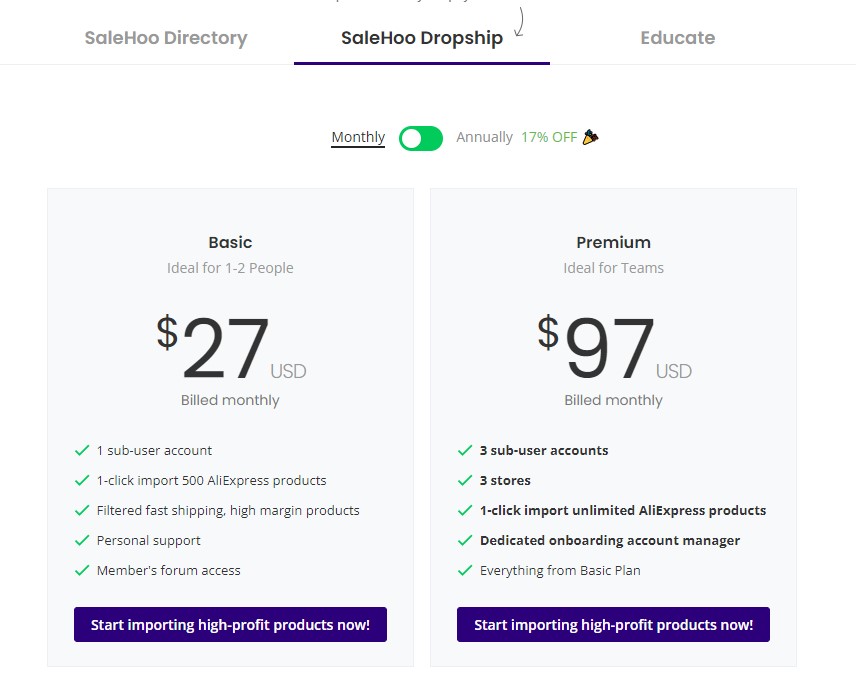 Dropshipman vs SaleHoo: Customer Service
Online is different from a brick-and-mortar store where there is direct interaction. Nothing is more important than having fervently outstanding customer service. 
Imagine a scenario where more than 60% of people have stopped purchasing products because of unsatisfactory customer service! Such a business would be as good as dead because the revenue would be relatively low.
Luckily, both Dropshipman and SaleHoo have consistently wonderful reviews about their customer service, which is a gem.
Dropshipman Customer Reviews
Below are some of the customer reviews I have shared to validate how excellent Dropshipman's services are. For detailed coverage, dive into Dropshipman Shopify app reviews.
Location: United States
Time spent using the app: 23 days
Angel was great in assisting me with my needs. I was a first-time user of Dropshipman and needed help with shipping questions, and she answered everything in a thorough manner. Thanks for making it easy for me!
Location: United States
Time spent using the app: About 1 month
The best app always has everything I'm looking for, and the customer service is better than any other customer service rep. Angel is the best of them all. She's always very helpful and goes above and beyond to help. It is always a pleasant experience.
Location: United Kingdom
Time spent using the app: About 1 month
The live chat is excellent. The live chat is fantastic. I 100% recommend it!
Location: South Africa
Time spent using the app: 39 minutes
Easy to use, Nice product layout and information regarding the product. Fast and helpful response to queries. I like it.
SaleHoo Customer Reviews
The service is worth it. The team is more than willing to help with any issue you may face. Thank you.
Date of experience: June 03, 2022
Rhea was quick and patient with me. Something came up in my personal life, so I couldn't respond until the next day. We resumed right where we left off the next day, and she accommodated and gave me her best wishes! Thanks Again!
Date of experience: May 12, 2022
Based on my experience during these two weeks using the SaleHoo platform, I can say that all my questions have been answered. I want to say thank you to Rhea and Jeo.
Date of experience: May 08, 2022
Dropshipman vs SaleHoo: Product Sourcing
With Dropshipman, you can post sourcing requests for free and get the exact products you're looking for within 1 ~ 3 days. Dropshipman has more than 100 categories and 10 million high-quality but low-priced products, which makes it effortless to find profitable products. 
SaleHoo, on the other hand, makes it easier for you to search for products and suppliers by placing an order you can directly ship to your customer or even your warehouse (Wholesale) and sell them to customers.
Dropshipman vs SaleHoo: Pros and Cons
Pros of Dropshipman
It offers products at quite reasonable prices, and the app is quite easy to use
Automated order tracking and tracking number sync
Highly qualified customer service representatives who are at the beck and call of the customers at any time
It has passed the world's most stringent information security and privacy standards and thus provides the safest guarantee to ensure your information security and privacy
Provides absolutely free warehousing to lower your costs even more
All your orders are provided with full-process order fulfillment and logistics tracking services, allowing you to track orders without hassle
Cons of Dropshipman
Currently only supports Shopify stores
They have not added print-on-demand services
Dropshipman can't be used to manage multiple stores
Pros of SaleHoo
Boasts over 2.5 million high-quality products and over 8,000 verified suppliers
They do not charge a start-up fee except the membership fee
Great customer service. You will hardly get negative customer feedback, indicating that the service provided is outstanding
They have a 100% money-back guarantee. They give a grace period of up to 60 days after signing up. During this period, you are assured of a full product refund in case of dissatisfaction
Cons of SaleHoo 
They charge relatively expensive membership fees
The number of products that can be listed from AliExpress is quite limited (Basic Dropship plan)
Final Remarks
As I indicated in my introductory note, I have taken you through various features these two giant e-commerce apps possess. Thus, once again, I'm reiterating that it is now upon you to judge the best up to use. 
They are both great platforms. You need a relatively cheap dropshipping app if you're an entrepreneur aspiring to venture into a dropshipping business to maximize the profit margin to the fullest. 
In contrast, if your business is already flourishing to greater heights, you will need to go beyond dropshipping suppliers. 
Either way, these apps are very great and deserve your trial!