The clothing industry continues to grow with each passing year. Many brands, including those run by aspiring fashion entrepreneurs, have contributed to this trend. With the demand for high-quality and unique clothes expected to remain strong, why not start your clothing dropshipping business?
Dropshipping clothes is easier than launching a traditional online clothing brand. However, you have to find reliable suppliers you can trust to arrange and deliver products to your customers.
Fortunately, the internet has made connecting with potential suppliers worldwide easier without asking boutiques for referrals or attending trade shows nationwide.
In this article, I will list the 20 best dropshipping clothing suppliers you can use to source your products. Plus, I will share reasons why each supplier should be chosen, the drawbacks of working with them, where they are located, and more.
What is a Clothing Dropshipping Business?
Clothing dropshipping (aka. fashion dropshipping) involves selling clothes via suppliers that manage inventory and shipping. It comes with very little overhead since you only take orders and send the details to the dropshipping supplier. The supplier handles the fulfillment on your behalf.
What's in it for the clothing dropshipping supplier? They take a 10-20% sale cut as a fee for their service.
20 Clothing Suppliers to Consider for Your Dropshipping Business
Location: China
Niche: clothes in every category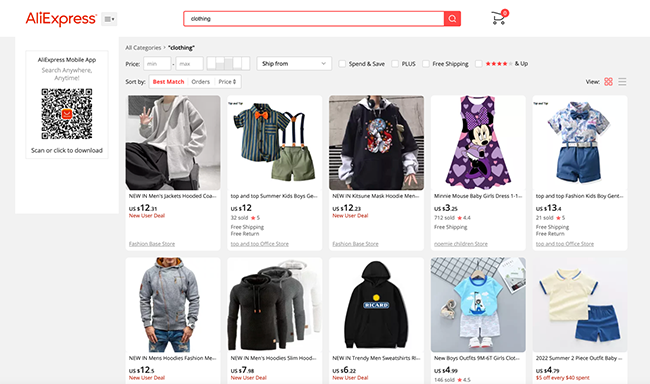 AliExpress is one of the best clothing dropshipping suppliers around. There are thousands of manufacturers on its platform, including those that offer private labeling. The company also runs regular flash deals on jeans, tank tops, swimsuits, and other clothing.
AliExpress ships to over 200 destinations, so you shouldn't have problems receiving products in your country. Plus, it has an easy refunds and returns policy—you'll have peace of mind knowing you'll get your money back if the supplier ships the wrong order or size.
Pros
AliExpress sells clothing on both wholesale and retail basis
Many clothing suppliers speak good English
Suppliers have warehouses in the US, Europe, the UK, and Russia
Cons
Customer support isn't the best

Shipping times to Western countries can be long

It can be time-consuming to identify niche suppliers
How to connect AliExpess to your store?
You can use an app like DSers to connect AliExpress to your to your Shopify store and start selling.
Price: AliExpress is free to use.
Location: China
Niche: high-quality clothing and accessories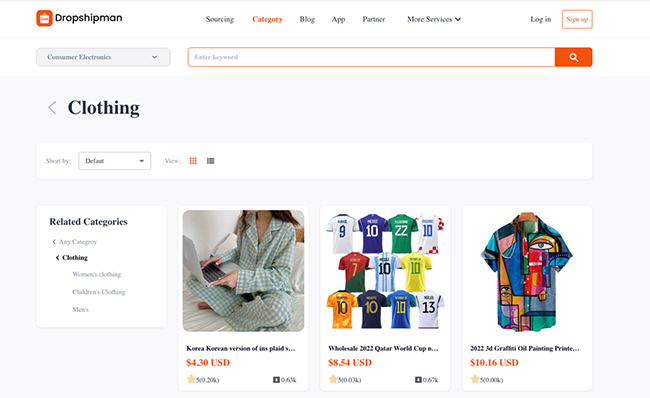 If you're looking for a one-stop dropshipping clothing supplier with no minimum order quantity, Dropshipman is your best bet. With over 40 million orders fulfilled, it's one of the most reliable vendors for high-quality apparel. You'll find a variety of styles and outfits across the men's, women's, and children's clothing categories on its site.
Dropshipman also has low-priced shipping. You can choose from over 30 affordable shipping methods and have your products delivered in 7-15 days. The supplier offers shipping to most parts of the world.
Pros:
Efficient order fulfillment with logistics tracking service
24/7 customer service and personal agent
Free for finding and importing products
One-click batch ordering and real-time status tracking
Cons:
Shipping time to certain areas can be long due to customs
How to connect Dropshipman to your Shopify store
You can use the Dropshipman Shopify app to get started with clothing dropshipping.
Price: Free
Location: China
Niche: All categories, costumes, and sewing supplies
DHgate has something for everyone when it comes to clothing dropshipping. Their range of options is wide and varied, providing costume pieces and ideas that will surely be a hit.
DHgate also offers frequent flash deals, shopper coupons, and a reliable buyer's protection program, giving you and your customers peace of mind. They have you covered if you're looking to supply the latest fashions or the best materials. That said, you'll want to evaluate sellers by looking at their transaction history, feedback score, and pricing.
Some transaction history means the seller has been trading for DHgate for a while. A positive feedback score implies customers have been fairly satisfied with the goods they've purchased from the seller. As for pricing, ensure it's not too low as that could be a sign that the merchant is selling fraudlent or counterfeited goods.
Pros
3-day shipping to US customers
Buyer protection
Great range of products and materials
Cons
Not the cheapest option
Product quality can be difficult to control
How to connect DHgate to your store?
Use the the Importify app to clothing from DHgate to your store.
Price: Free (and introductory coupons and discounts given)
Location: China and the US
Niche: Fashion and accessories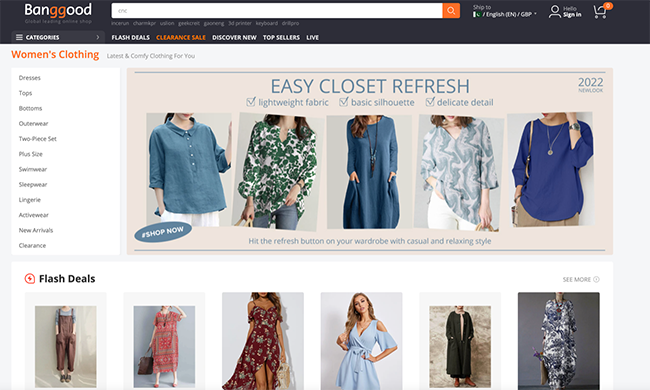 Banggood's range of high-quality fashion goods and accessories are each rigorously tested before being put on sale. Banggood has a catalog of over 250,000 items and operates out of multiple warehouses in China and the US. They also offer great flash deals, discounts, and cashback for their VIP customers, earned through sales.
Pros
Tested high-quality goods
Wide range of products and shipping locations
Tiered memberships with benefits for dedicated customers
Cons
Known issues with tracking numbers
Occasional issues with Chinese-to-American clothing size differences
How to connect Banggood to your Shopify store?
Connect Banggood through the DSM tool to automatically update and compare your chosen products with other stores.
Price: Free, with points earned per sale that add to your VIP status.
Location: China
Niche: Private label and general clothing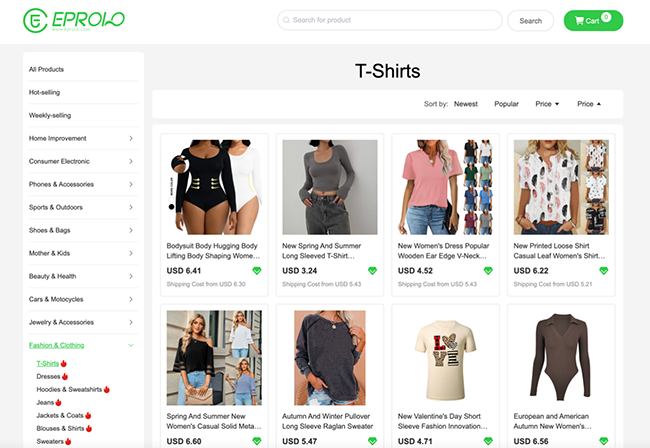 EPROLO's business is helping you build your brand. They are a branding company that sources your desired fashion products and dropships them for you after applying your unique branding. They also offer Print on Demand services so that you can create and upload your designs and styles. They do all of this with their two-tier membership program, which offers:
Junior Membership – applies custom labels, hangtags, and packing bags with your branding
Senior Membership – all the above, as well as custom-branded gift cards and custom scotch tape for every order
Pros
Individuality for all your products
Builds your brand and brand loyalty
Allows you to create your style without tracking down individual products
Cons
Requires your input to build brand awareness
Creating a brand costs time and money
How to connect EPROLO to your Shopify store
Create your branding and connect it to your Shopify store using the EPROLO app
Price
Junior Membership - $19.90 for lifetime membership
Senior Membership - $99 per year
Location: Canada and the US
Niche: men's, women's, and children's fashion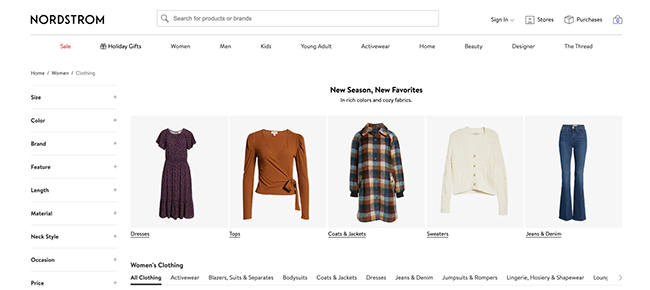 Nordstrom is the perfect choice for anyone looking to provide great designer products at affordable prices. Nordstrom is common in stores across the US and Canada, with over 300 department and outlet stores. Well-known for their great prices and high-quality products, they offer products from popular brands such as Givenchy, Prada, and Gucci.
Pros
Great range of own-brand and popular brand fashion goods
Up to 60% discount for well-known brand products
Ships from the US
Cons
The minimum order processing time is seven days
Shipping costs vary
How to connect Nordstrom to your Shopify store
Connects with Shopfy via the Dsco platform. Additional sign up necessary, but no additional fees.
Price: Free
Location: Italy and US
Niche: Luxury fashion brands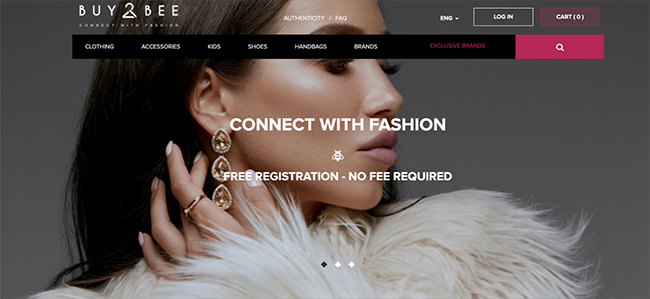 Operating out of Europe and the US, they provide many great offers for brands such as Hugo Boss, Georgio Armani, and Dolce & Gabbana. The supplier offers shipping at a flat rate of €9.90 with a 3–6-day delivery time and a 4-7-day processing time. Plus, there's no minimum order quantity, and it is free to set up an account!
Pros
Great range of 100% authentic luxury brand products
Fixed shipping cost, no matter the order size
Operates out of both the US and Europe
Cons
Somewhat limited catalog
Only luxury brands
How to connect Buy2Bee to your Shopify store
Requires a CSV file from the company that will incorporate their store into yours.
Price: Free
Location: US
Niche: Women's fashion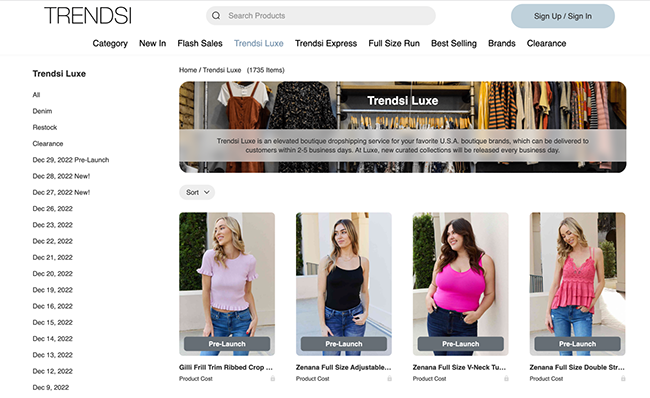 Trendsi is touted as being a fantastic starting point for anyone looking to get into clothing dropshipping. Their stock is limited to low-price brands, with few entries in well-known or luxury brands. They also focus solely on women's clothing, but their ranges are well-loved and popular. Their services are free, with no monthly account costs, and affordable products.
Pros
Wide and affordable range of fashion products
Popular and reliable products and services
A great place to start with fashion dropshipping
Cons
Women's-only clothing catalog
How to connect Trendsi to your Shopify store
Use the Trendsi app from Shopify's app list to get your store set up with them.
Price: Free
Location: China
Niche: All fashion types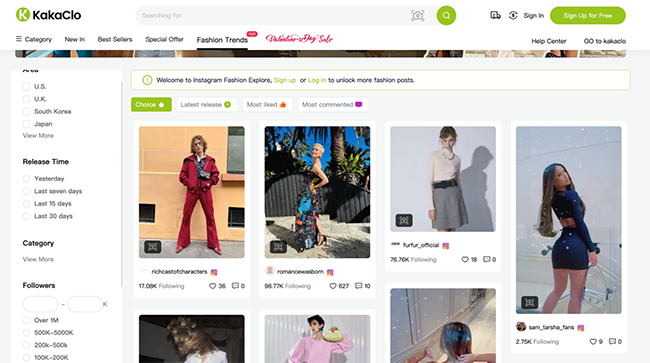 Although operating from China, KakaClo offers a range of shipping locations, including England, Germany, and the USA. Their range is varied and classy, including a wide selection of beautiful maternity wear.
They also offer print on demand and packaging on demand services so that you can integrate your branding. Their popular clothing is determined based on Instagram trends, allowing you to be the best source for all the most popular fashions. And best of all: it's completely free!
Pros
Ever-growing catalog of products sourced globally
Multiple dispatch location options
Custom packaging and branding options
Cons
Basic help center setup has occasionally been noted as unreliable
How to connect KakaClo to your Shopify store
KakaClo has its app in the Shopify store for easy integration.
Price: Free
Location: China
Niche: Women's fashion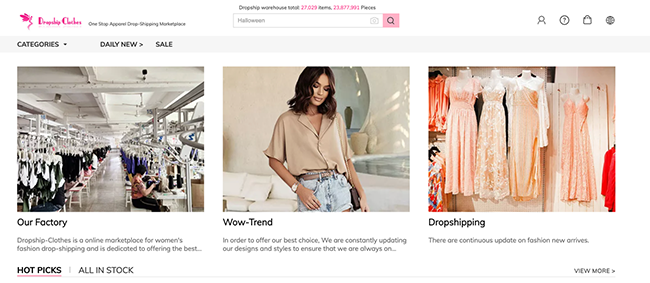 Dropship-clothes.com's whole purpose is worn brightly on its sleeve. It is a great source of women's fashion that focuses hard and fast on seasonal trends. Every product is divided according to its seasonal relevance, and it is easy to find exactly what may be popular at any given moment. As a source of fashion, it couldn't be easier to start a new dropshipping business.
Pros
Organized a range of seasonal fashions
Global shipping
Cons
Exclusively sells women's fashion
How to connect Dropship-Clothes.com to your Shopify store
Contact the company for more information
Price: Free
Location: Estonia and US
Niche: luxury and well-known brands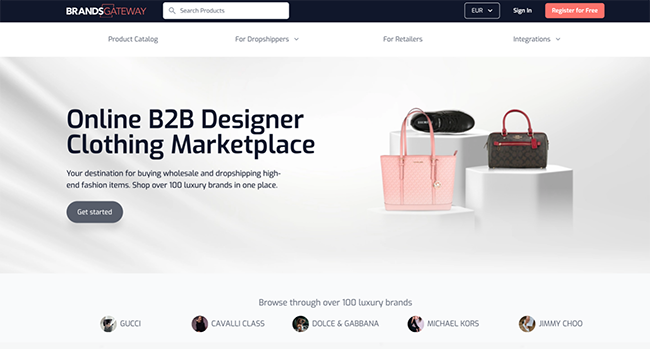 Based in Estonia, BrandsGateway has spread worldwide and now operates in Europe and the US for easy global distribution. Their catalog includes favorites such as Dolce & Gabbana, Prada, Versace, and Michael Kors.
They offer a flat shipping rate on all orders, no matter the destination, and promise a 24-hour dispatch time. Delivery times are noted as three days within the EU and 5 to 7 days for international orders.
Pros
Luxury brand products at great prices
Fast dispatch and delivery times
Flat shipping cost
Cons
Not ideal for people just starting in clothing dropshipping
High subscription charges
How to connect BrandsGateway to your Shopify store
Use the BrandsGateway Shopify app for simple catalog integration.
Price:
$314 monthly billing
$150 per month ($1806 annually) annual billing
Location: Italy
Niche: Popular and luxury brands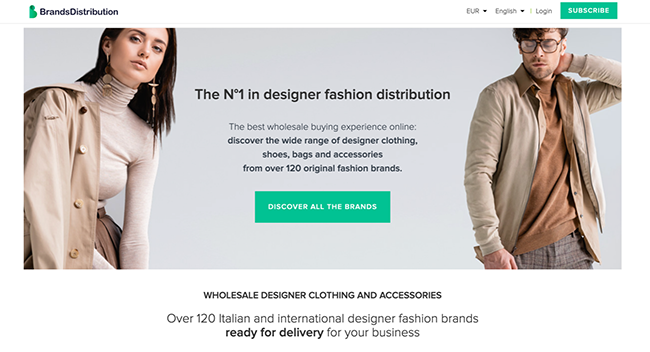 Another great option for providing a catalog of brands like Tommy Hilfiger, Gucci, and Prada. Unlike number 9 on our list, BrandsDistribution is a much cheaper option with next-day delivery. However, it does require a VAT registration number to create an account.
You can find all types of clothing on BrandsDistribution, from the latest women's outfits to designer clothing for kids of all ages. Navigate the website to see what's on offer and dropship trendy clothing to earn sales.
Pros
Next day delivery
Great range of products for everyone
Cons
Requires a VAT registration number
Has monthly or annual billing
How to connect BrandsDistribution to your Shopify store
Download the Brandsync app to use BrandDistribution on Shopify
Price
Monthly billing - € 99
Annual billing - €990
Location: Italy
Niche: Luxury brand fashion products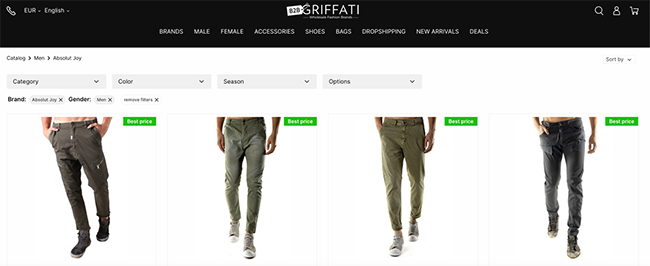 Griffati offer over 20,000 products from more than 200 popular brands at reasonable prices. Through them, you can buy brands such as Tommy Hilfiger, Levi's, and Burberry and have them shipped worldwide within 48 hours. They also guaranteed delivery within 2 to 4 days to keep them on top of the dropshipping list.
You can launch an online boutique with Griffati's inventory. Since you would be able to dropship branded clothing, it's a good opportunity to target brand-conscious consumers while keeping a good margin for yourself.
Pros
Great brands at great prices
Fast dispatch and delivery times worldwide
Free accounts and site usage
Cons
Requires a VAT registration code to create an account
Each order must be a minimum of 500 euros
How to connect Graffati to your Shopify store
Requires file-integration services to connect with Shopify
Price: Free
Location: US
Niche: Custom-branded apparel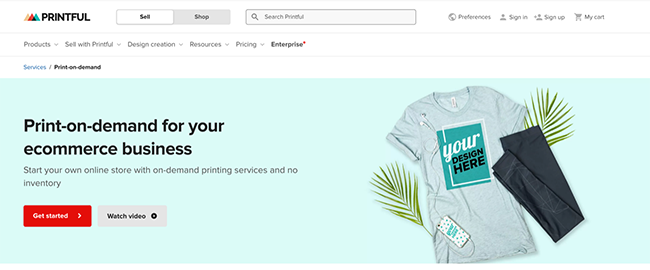 As a popular option for custom-branded clothing,  Printiful has a wide range of customizable clothing options. Printful products can be customized with your branding or designs, from shirts and hoodies to dresses and pants. They are a great option for any affordable clothing business and will ship worldwide.
You can sell private label custom clothing through this service. This is when you sell products under your own brand. Make sure to come up with a unique design as clothing is a highly competitive field.
Pros
Fully customizable range
High-quality, affordable products
No upfront costs
Cons
Some items can't be shipped everywhere
How to connect Printful to your Shopify store
The Printful Shopify app allows you to fully leverage its offerings on your online storefront
Price: Free, with a percentage taken from orders made
Location: US
Niche: Print on demand men's and women's fashion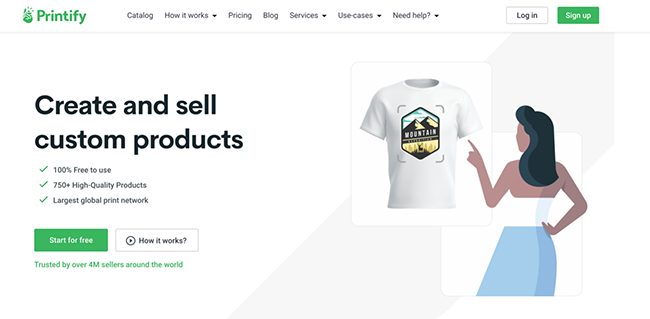 A leader in POD services, Printify offers a wide range of high-quality products at great prices. Everything is sourced to provide the best for self-designed or branded clothing, from everyday clothing to simple fashion items.
Printify's subscription service is free for a limited time before upgrading to a paid one, but this keeps you connected with their excellent customer service teams. P.S. Printify is a good option for private labeling—you can put your brand's logo on the clothes and sell them through your storefront.
Pros
Popular POD service across the globe, operating out of the USA

Great for building your brand

Wide selection of clothing for everyone
Cons
Requires your work to create your brand

A small selection of popular fashion items
How to connect Printify to your Shopify store
You can use the Printify Shopify app to connect the plaform to your store.
Price
Free for your first five stores
Premium - $24.99 for up to ten stores
Location: Globally
Niche: Print on demand clothing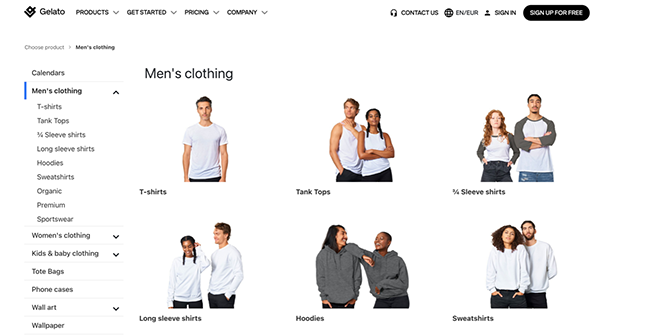 Gelato offers some of the widest ranges of POD clothing choices out there. Just produce your branding and designs, upload them to your Gelato account, and you're good to go! Moreover, their deliveries are made super-fast thanks to a worldwide network of offices in more than a dozen countries. You're never too far from a Gelato printer.
Using Gelato can be a convenient way to start your own apparel brand. With a creative or niche design, you can attract audiences from across the globe and earn a profit. Pro tip: make sure to work on your post-purchase experience as customers love brands that care for them even after the sale has been made.
Pros
Quick production and delivery times
Worldwide support from local offices
Cons
Initial personal design and time costs
How to connect Gelato to your Shopify store
The Gelato Shopify app connects your Gelato account to your Shopify store
Price: Free
Location: China
Niche: Fashion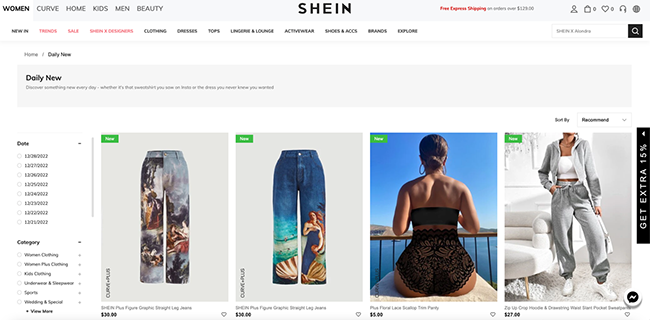 Shein is a B2C online retail marketplace with one focus on apparel. The Shein catalog is constantly evolving—the company has many designers that work year round to create new lines and products as the times change.
Shein mainly sells low-priced clothing, so you can keep your product costs low when sourcing products via this platform. The price is also good for earning a profit with better margins.
And while Shein doesn't officially allow dropshipping, you can sell their products by taking your own product images and agreeing terms with the supplier. Additionally, Shein products arrive in the company's branded packages, so you'll have to forgo private labeling and inform customers that you're selling a Shein product.
Pros
Ever-evolving catalog of products
Worldwide distribution
Cons
Recently suffered some negative reviews that affected its public image
Some delivery issues reported
How to connect Shein to your Shopify store
You can use the AutoDS app to import Shien products into your Shopify store.
Price: Free
Location: China
Niche: Fashion and accessories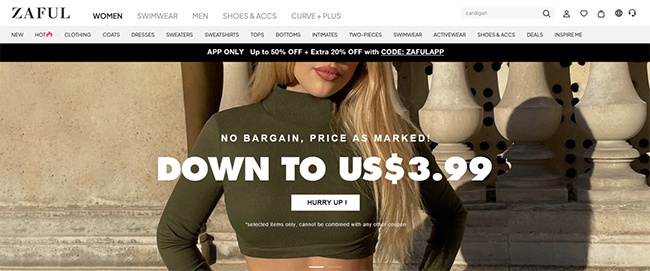 The people behind Zaful pride themselves in their range of up-to-date fashion masterpieces, which shows in their catalog. They ship to over 260 countries and aim to fulfill all orders as quickly as possible. Their original designs make them a great place to find new and exciting trends as they form.
Pros
Frequently updated catalog of popular fashion
Great shipping options for global sales
Cons
It does not connect with Shopify
How to connect Zaful to your Shopify store
Orders must be placed manually on the Zaful site.
Price: Free
Location: China
Niche: Women's fashion

Dresslily's main focus is on women's fashion, and its range is fantastic. They do, however, have a limited selection of men's and babies' fashion options available, as well. Dresslily organizes its products according to bestselling and in-fashion options, so you can always be on top of the trends.
Pros
Wide range of women's clothing
In-fashion and popular item selections
Worldwide shipping
Cons
Limited men's and babies'selections
How to connect Dresslily to your Shopify store
There's no app integration available for Dresslily, so your only option is to import products manually.
Price: Free
Location: USA
Niche: Fashion and Accessories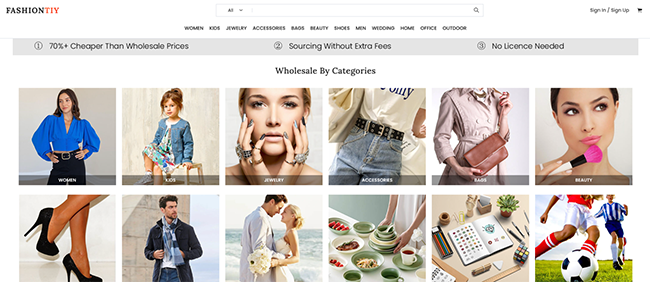 FashionTIY boasts an easy-to-use app that gives you complete control over your fashion dropshipping needs in one easy place. They offer over 100,000 great products at competitive prices across various styles. They also pride themselves on their customer service and post-purchase care.
Pros
Great range of products
Custom app to give you mobile control
Strong customer service
Cons
Prices vary according to the production factory in use
How to connect FashionTIY to your Shopify store
You have to dropship manually since FashionTIY doesn't have a native app for Shopify
Price: Free, including a currently free VIP system
FAQ About Dropshipping Clothing
1. Can you dropship clothing?
Yes, you can dropship clothing without any hassle.
Clothing accounts for a considerable portion of the global e-commerce market (about a fifth of all e-commerce purchases happen in the clothing sector), so entrepreneurs can make money by dropshipping clothing through their storefronts.
The dropshipping model allows you to keep costs low, as you don't have to keep inventory and only pay for goods after you've made a sale. This makes clothing dropshipping a low-risk business that can be very profitable with the right marketing and business branding approach.
With the apparel market expected to reach an astonishing valuation of $1.855 trillion by 2024, it's one of the high-potential niches for many novice and professional dropshippers.
2. How does clothing dropshipping work?
Clothing dropshipping also doesn't have a big learning curve. You can choose from various styles and begin to dropship fashion. Here's how it works:
Set up your store: Browse and add items to your Shopify store from clothing dropshippers.
Accept payments: Your customers buy products, and your payment gateway manages the incoming funds.
Fulfill orders: An auto-synced solution fulfills buyers' clothing orders. The fulfillment speed varies from supplier to supplier—the best suppliers can deliver clothing orders worldwide in 7-10 days. Plus, most reliable suppliers offer shipment tracking service along with a refund option.
3. What are the pros and cons of dropshipping clothing?
Clothing dropshipping offers a variety of benefits, but it also has a few drawbacks.

Pros:
One of the reasons why it makes sense to dropship clothes is the huge demand. This stems from clothing being the necessity of life as well as new styles of fashion replacing old ones. These trends make people constantly look for clothing products worldwide.
With the clothing niche, you get a variety of sub-niches to focus on, such as women's clothing, sportswear, sustainable attire, etc. There is always a niche with low saturation where you can profit with the right dropshipping strategy.
Shipping costs are low since all clothing, whether shirts or leggings, are easy to transport and deliver. Not to mention, the chances of item damage are low since clothing isn't that fragile. The right packaging can help get the apparel delivered to your customers in excellent, ready-to-wear condition.
Branding could indicate quality
If you manage to establish a solid clothing brand, customers are more likely to buy your products as they will perceive them to be of superior quality. Make sure to use a reliable supplier who sells apparel made with good-quality fabric to enhance the customer experience.
Cons:
Although fashion and clothing dropshipping offer many advantages, you should tread with caution when it comes to returns. In other words, take whatever steps possible to ensure shoppers know exactly what they are buying.
Although shopping for clothes online is convenient for busy people, they can't see, feel, or touch a product like they can in a physical store. Therefore, you have to be very descriptive in the items' descriptions. This especially applies to those who use manufacturer-provided images when dropshipping branded clothing.
Here's what to include:
The item size and name
Washing instructions
Precise measurements
The fabric used to make the garment
With the return rate of dropshipped clothing one of the highest, make sure you do whatever you can to keep customers from sending back their packages.
One of the negative aspects of dropshipping clothing is higher returns due to sizing issues. The way to avoid this is to convey accurate information through your product descriptions. Mention sizing differences between Asian and US/UK size so your customers fully understand the size they have ordered.
4. How to dropship trendy clothing?
With clothing trends changing all the time, it can be tough to keep up with the latest products. Fortunately, there are a few ways you can identify trendy clothing to dropship.

Bookmark fashion websites
There are a few websites that talk about the latest developments in the world of fashion. You can bookmark and visit them frequently to see what clothes are trending. Some websites to note include:
Trendzoom. Trendzoom forecasts fashion trends for both women and men. You can visit its stunning gallery for street-style apparel inspiration.
Glamour: This website has a fashion section that offers inspiration for celebrity styles, handpicked apparel, and plus-size fashion.
theFashionSpot: You'll find coverage and opinion on runway dresses, model outfits, and emerging trends on this website.
Who What Wear: This site talks about clothing trends for different occasions, such as party outfits, work-from-home attire, etc.
Find products by picture
Sometimes, you may come across a celebrity wearing a great outfit on television. To relocate the same style to offer your customers, you can capture an image of the item and use apps to find similar styles on the web.
Apps like Google Lens and Amazon StyleSnap are built to help you find clothing of similar styles (and sometimes the exact same style) to the one you captured. Once you supply the app with the image, it will search for clothing in similar styles. Once found, it will give you the link to the website/marketplace where it is available for easy purchasing.
Reach out to dropshipping clothing suppliers
Sometimes the best option is to talk to a clothing supplier. Leading suppliers know what products are trending based on demand, so they can make good suggestions about what to dropship.
Don't be surprised if some manufacturers say they'll let you know after talking to their R&D department—many clothing companies have dedicated in-house personnel whose job is to only identify trendy clothing.
5. Dropshipping branded clothing vs. private label clothing
When it comes to the clothing business, you could promote your own brand via private label dropshipping or reselling products from other clothing brands. Of course, selling a popular brand means you get a seal of approval from a well-known clothing player alongside higher demand.
However, only a few entrepreneurs know that some brands require them to get a distributor license. This comes at a cost, which you can avoid by dropshipping your own clothing brand using private label suppliers.
Another benefit of taking the private label route is that customers will have lower expectations than if you were dropshipping a premium brand. So make the decision wisely, as private-label clothing might generate higher profits for your business.