Dropshipping is one of the latest advancements in the e-commerce business model. Statistic says it is expected to reach $200 billion by 2026. The convenience of working and administering from anywhere and steadily growing profits are reasons why many people are moving on to dropshipping. 
However, dropshippers can ensure all those and make clients happy as long as they have a reliable supplier at the backend. But that's not always the case, as many dropshippers face deadline misses, low-quality products, and shipping and delivery delays with their suppliers. 
Here's our article about 40 dropshipping wholesale suppliers to assist your supplier findings. We have segmented them into 5 distinctive categories for you. So, without further ado, let's dive in. 
10 Best General Dropshipping Wholesale Suppliers 
We will start off our dropshipping wholesale suppliers' list of best suppliers for general products. Considering the range of products, service availability and customer support, here are our 10 best suppliers for general products. 

Alibaba is a vast B2B platform for wholesaling and one of the versatile and dynamic dropshipping wholesale suppliers for online businesses. This China-based marketplace has over 40 major categories of products collected from over 150,000 suppliers. 
Why Choose Alibaba 
Hundreds of thousands of verified manufacturers and wholesale suppliers
Millions of products at low costs 
Offers private-label manufactured products 
A dedicated Alibaba Dropshipping Center
How to Process
To place an order from Alibaba, either you can register and contact suppliers on Alibaba. Or, you can use Alibaba dropshipping center to connect your Shopify, WooCommerce, Ecwid, eBay, or Squarespace store and fulfill orders. Accepted payment options are PayPal, Apple Pay, Western Union, Boleto and more.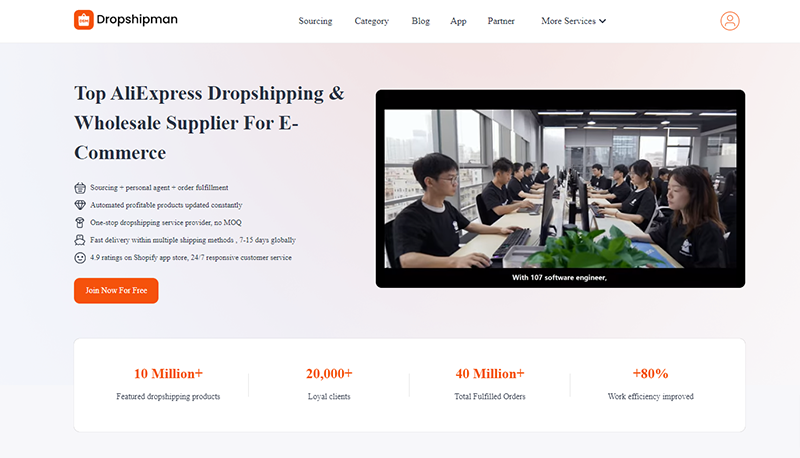 Dropshipman is a one-stop wholesale dropshipping supplier. This popular and reliable vendor has millions of products in over 100 categories. 
Why Choose Dropshipman
Offers over 10 million products without MOQ
Free inventory storage for wholesale orders
7 ~ 15 days fast worldwide order fulfillment with logistic tracking
Has multiple low-priced shipping options 
How to Process
Dropshipman is now free to use. You can upgrade your store for free by contacting its customer service. 
You need to install Dropshipman Shopify app to get started. Dropshipman. Payment methods are PayPal and DP wallet. AliExpress orders can be forwarded to your connected AliExpress account, and you need to finish the payment on AliExpress.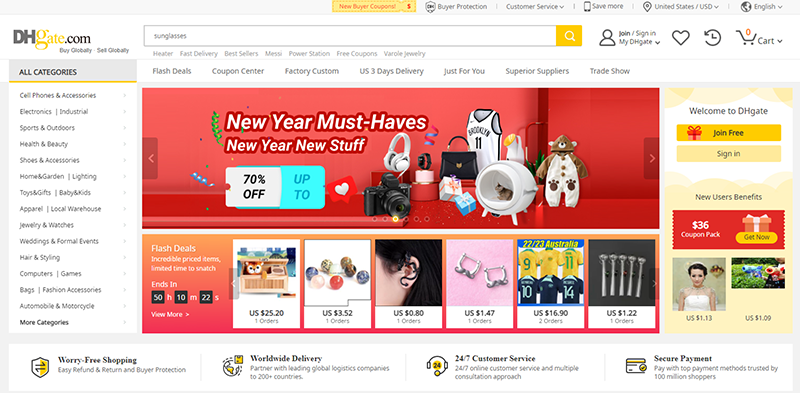 DHgate is another China-based reputed dropshipping wholesale supplier for small businesses. At present, it has umbrellaed over 2 million registered suppliers and 30 million products. 
Why Choose DHgate
Offers international shipping, free for some products 
Provides flash deals, coupons, etc.
Customer service is active 24/7 
Offers flexible shipping, which usually takes 3 to 25 business days 
How to Process
All sellers have to pay a standard service fee of 3% upon transaction. Payment options include Paypal, Visa, MasterCard, Union Pay, bank transfer and more.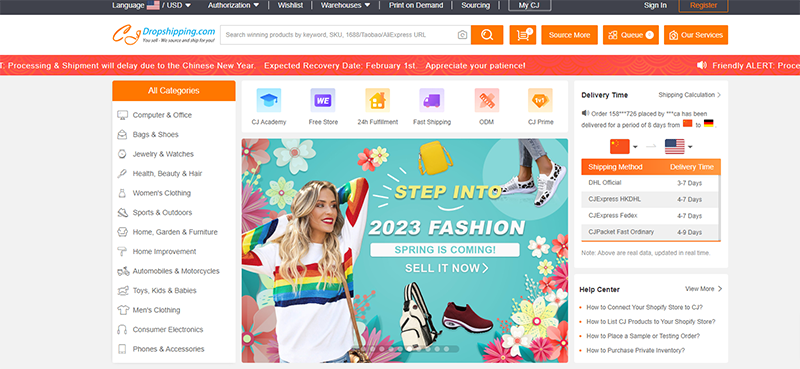 CJDropshipping is an all-in-one dropshipping wholesale platform for retailers to connect with suppliers. It offers 400,000 products in 13 main categories. It offers order fulfillment, wholesale, preorder inventory, product sourcing, and warehousing for clients. 
Why Choose CJDropshipping
Has a large catalog of products – over 400,000 items
Offers a wide range of shipping options
Has warehouses in the US, Germany, Thailand, and Indonesia, saving time for shipment 
Allows sourcing products from AliExpress, Shopify, Taobao, etc., on request 
Lists products on request
How to Process 
When it comes to using CJ's overseas warehouses, different service fees apply. It accepts 11 payment methods, including PayPal, Wire Transfer, Payoneer, WeChat Pay, etc.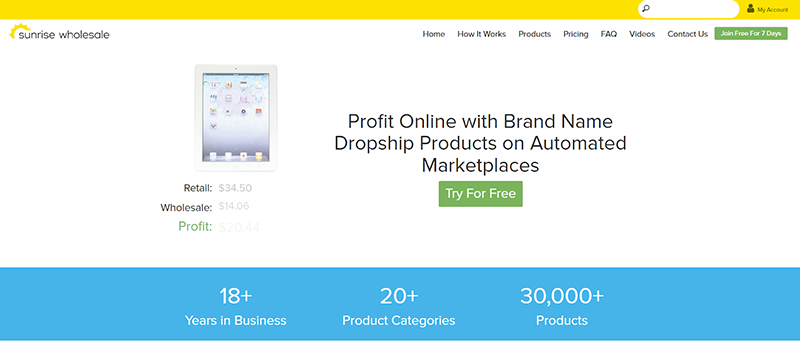 Next, we have Sunrise Wholesale, one of the renowned dropshipping wholesale suppliers USA for general products. Its business was started in 1999. Currently, the supplier offers over 20,000 wholesale dropship products. 
Why Choose Sunrise Wholesale
Allows you to sell products from big brands
Integrates with Shopify, eBay, Amazon, and BigCommerce
Access to product data feeds
Same-day or next-day order fulfillment
Top-notch customer service
How to Process
Sunrise Wholesale doesn't accept new members currently. You may choose other dropshippers and directories.


Chinavasion is a cross-border export e-commerce company. As a dropshipping wholesaler, the supplier is widely known among electronic product consumers; it also wholesales other regular commodities such as health & beauty products, apparel, furniture, pets, etc. 
Why Choose Chinavasion
Ensures quality products and electronic gadgets from trusted brands at wholesale prices 
Has warehouses in the US, the EU, Japan and Indonesia for global buyers. 
Offers custom shipping invoices and fast delivery
Access to professional images and descriptions made by Chinavasion's in-house team
Resellers in VIP programs enjoy more privileges
How to Process
To make an order, you must register first and then log in. It accepts payment by PayPal, Credit Card, bank transfer, or Chinavasion Credit balance.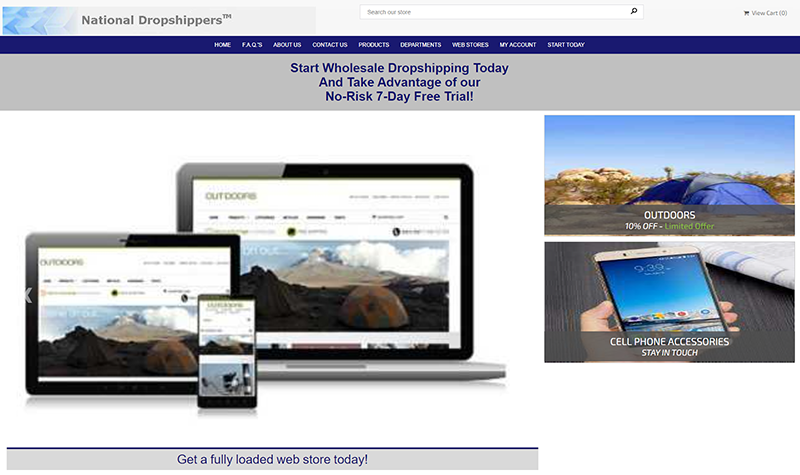 Intending to serve e-commerce retailers with assured quality commodities, National Dropshippers launched its business in 2005. Since then, the wholesale dropshipping supplier USA has partnered with manufacturers and master distributors so that the US dropshipping wholesale suppliers can bring you thousands of products to dropship to your customers. 
Why Choose National Dropshipper  
Offers trendy, cutting-edge, and high-quality merchandise 
Competitive pricing- about 33% to 66% below MSRP
Timely delivery and fast shipping 
Having membership allows more flexibility and freedom in wholesaling and dropshipping
How to Process
To proceed, you can choose Monthly, Quarterly, Semi-Annual, Annual, Lifetime, and E-commerce Web Store from the wholesale membership plans. You can try 7 days for free. 
The payment methods include PayPal, e-Check, Visa, MasterCard, American Express, and Discover.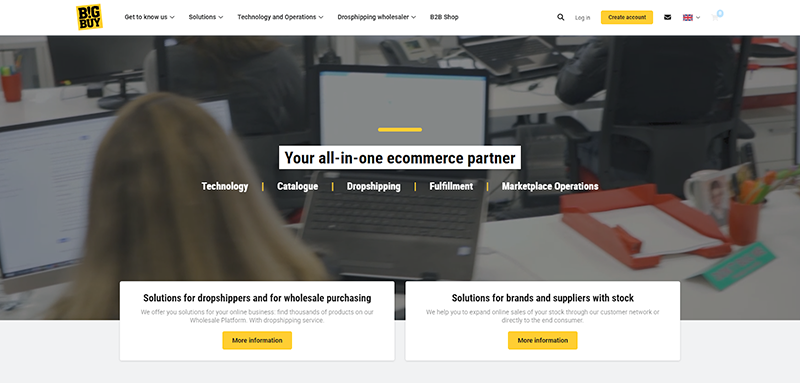 Here's one of the top-level dropshipping wholesale suppliers from Europe. It is a Spain-based B2B and B2C supplier, BigBuy. It offers a catalog of over 220,000 products translated into 24 EU languages. 
Why Choose BigBuy
Ensures fast shipping throughout Europe 
Provides customized packaging & branding 
Offers competitive pricing and discounts for bulk orders 
Has an app that synchronizes with different e-commerce platforms 
How to Process
You need to pay for the registration and choose a monthly pack (Pack B2B, Pack Ecommerce, or Pack Marketplace) to make the most of BigBuy's services. It accepts Money Box, PayPal, Bank Cards, and bank wire transfers. 

We have BuyMerchant, a wholesale dropshipping supplier from the US. It offers over 40 categories of items to choose from. It dropship liquidated merchandise, with closeouts ranging from brand name to dollar store items, making it a reliable wholesale supplier for general products among the US dropshippers. 
Why Choose BuyMerchant  
Has no minimum order quantity 
Offers quality products at the best wholesale prices
Has countless regular, seasonal, closeout & refurbished items 
How to Process
You have to register first to wholesale or dropship from this platform. Its accepted payment methods are MasterCard, Visa, American Express, and Discover credit cards.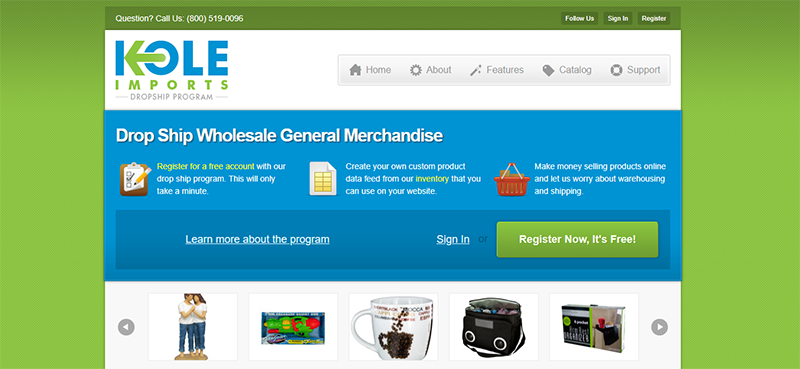 Kole Importers is one of the largest general merchandise wholesale suppliers. Since 1985, this US-based supplier has been offering a wide range of products and meeting clients' needs. It provides over 3,000 products across 20+ categories for you to dropship.
Why Choose Kole Importers
Allows dropshippers to download product information fast and free 
Provides flexible wholesale product pricing options
Sends real-time tracking updates to your customers
How to Process
It is a free program, and registration is needed to proceed. 
However, the only time you have to pay is when placing an order. Payment can be made through Visa, Mastercard, American Express, and Discover cards. 
10 Best Furniture Dropshipping Wholesale Suppliers
The global furniture market is growing. It was valued at $648.12 billion in 2021 and is expected to reach an annual growth rate of 5.7% by 2030. Growth in the housing sectors, construction development, and increasing disposable incomes are some of the major catalysts for this expansion in the furniture industry. 
Therefore, this section will focus on the 10 best wholesale dropship suppliers for furniture products.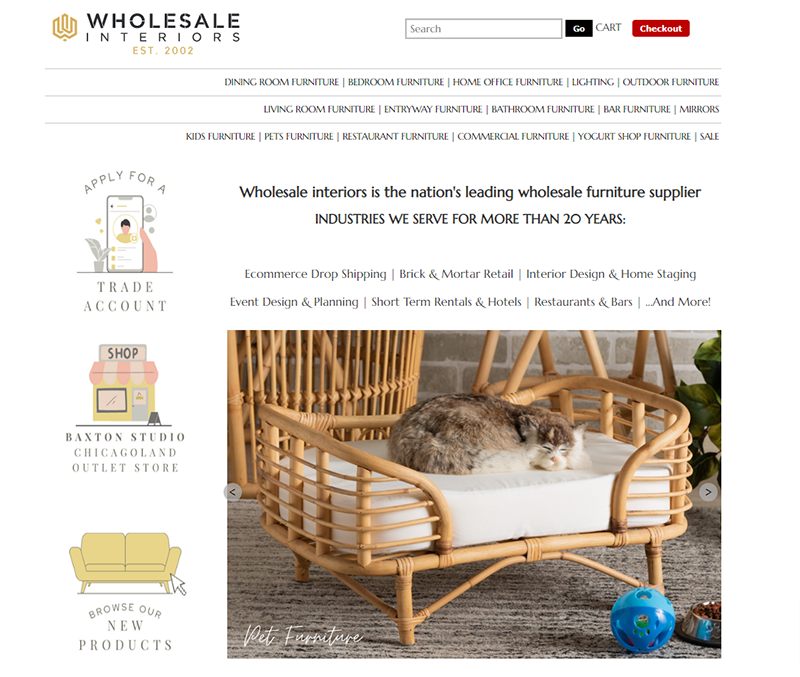 Wholesale Interiors, Inc. is a Chicago-based company that has been in the industry since 2002, both as a manufacturer and a wholesale supplier of stylish and uniquely designed furniture. 
Why Choose Wholesale Interiors
Has nearly 4,000 furniture products
Offers fast delivery within 4 ~ 12 business days 
Offers drop shipping service to sellers in the US, with no minimum order value 
How to Process
You have to register first and submit the required certificates and documentation. Then, you will be able to view the pricing and make an order.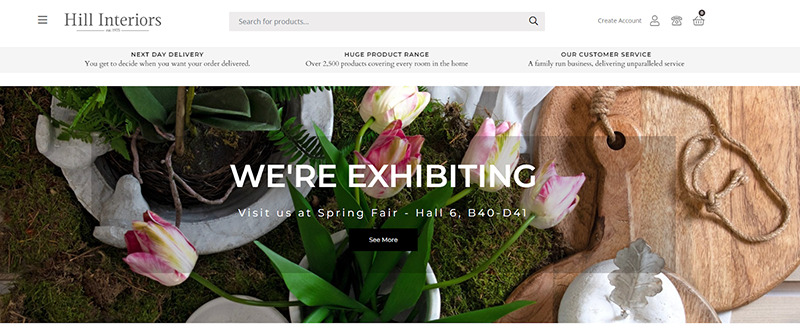 This is a family-owned wholesaler and distributor of furniture products in the UK. With 45 years of experience, it offers great products and services. In its portfolio, there are Beds, Cabinets, Display Units, Seating, Tables, and more. 
Why Choose Hill Interiors 
Allows you to access over 2,500 products
Next-day delivery option available
Reduces delivery costs and dropships to British mainland and offshore locations
How to Process
By being a registered customer, you can access the product data feed (CSV/XML), see the pricing, use a third-party app to sync stock, and make your order. It accepts credit cards, BASC, and 30-day credit accounts.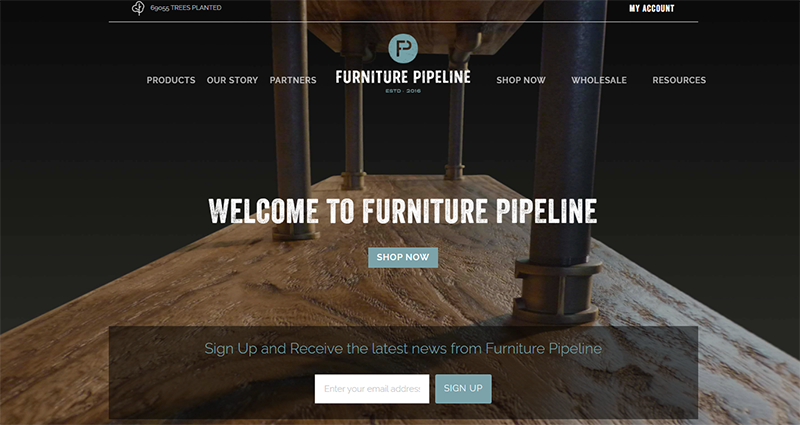 Furniture Pipeline specializes in furniture dropshipping. It offers modern-day solutions for dropshippers in the global market. 
Why Choose Furniture Pipeline 
Offers high-quality, environment-friendly, sustainable furniture and decor products
Offers services to online retailers, brick-and-mortar stores, dropshippers, designers, etc. 
Supplies products within the US and overseas areas 
How to Process
You can start by filling in your details for the application. Payment for orders is made through ShopPay and Google Pay.

Artisan Furniture is a London-based dropshipping wholesale supplier of handmade wooden furniture. It also has upholstered, painted and iron furniture in stock as well. Its products range from TV units, chairs, sofas, tables, and many more. 
Why Choose Artisan Furniture 
Trade-only dropshipper has no MOQ 
Offers white-label packaging, no branding or invoices 
Offers fast and free delivery within the UK mainland
How to Process
You need to sign up for a trade account to access pricing, product information, and livestock feed and place orders. Artisan Furniture supports payments made online, by telephone, bank-to-bank, and by PayPal.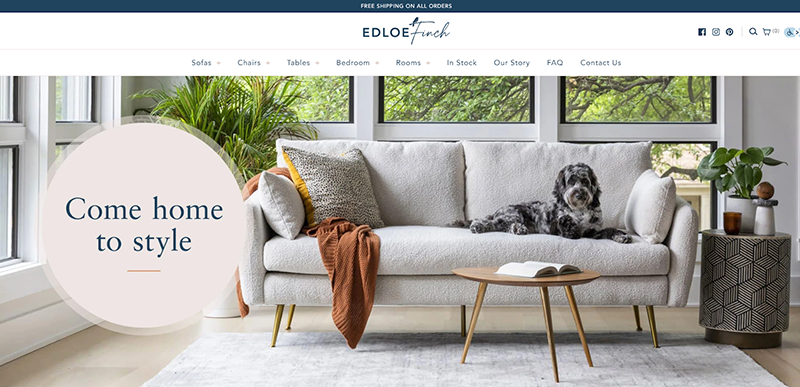 Founded in 2008, Edloe Finch is a US-based dropshipping wholesale supplier of furniture products. Its offered products are ranged from sofas, chairs, tables, and so on. 
Why Choose Edloe Finch
Offers high-quality modern furniture products made of premium materials with a 1-year warranty
Free and fast shipping on all orders across North America with a Houston warehouse 
Accurate and up-to-date inventory
Offers a discount for dropshippers
How to Process
To dropship with Edloe Finch, you have to make an application first. After approval, you can access the customer portal, see the pricing, and place orders. Approved payment methods include credit cards and Affirm.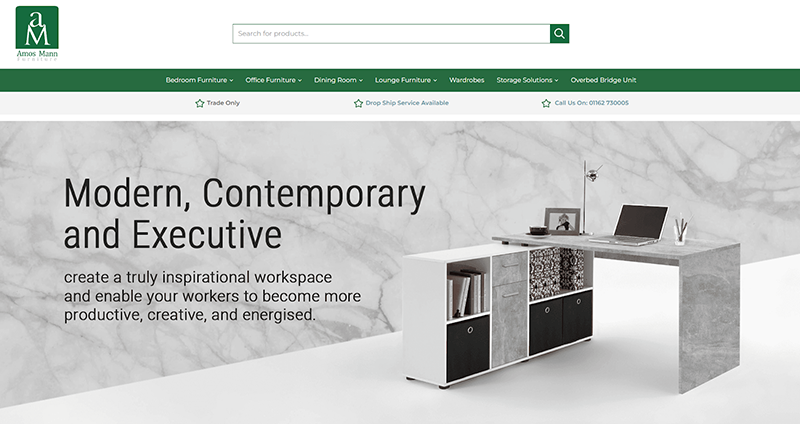 Amos Mann is a reliable family-run furniture wholesaler that provides a drop shipping service in the UK. Its furniture ranges are selected through extensive market research and customer trend analysis. 
Why Choose Amos Mann
Supplies to trade-only customers
Holds huge stock in the UK warehouse and ships products within 1 ~ 3 days
Wholesales to shops, businesses, and online retailers
Allows registered dropshippers to see their order progress 
How to Process
First, create a trade account first. Then, you can order your required product and pay by using MasterCard, Visa, or Maestro cards. 
For more details, call Amos Mann sales on 0116 2730005.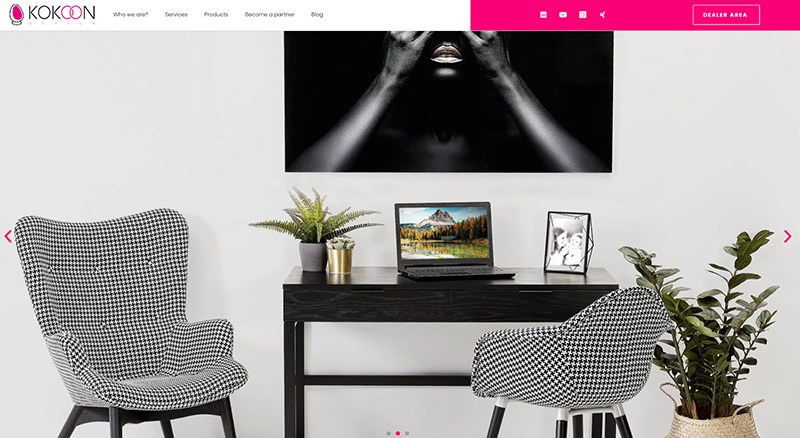 Looking for a stylish furniture supplier? Take a look at Kokoon Design. This is a Belgian brand that has spread its products of the latest trends throughout Europe, available for wholesale and dropship. Products range from tables, chairs, stools, armchairs, and many more that cater to all tastes.
Why Choose Kokoon Design 
Furniture products in different styles: modern, vintage, contemporary, Scandinavian, etc. 
Allows access to 1600+ products and provides a 2-year guarantee for Europe-wide dropshipping 
Ensure product quality by selecting and frequently visiting leading factories and checking the production procedures
How to Process
It requires registration, and after that, you can easily import products to your online store via CSV files or API. 
Payments are accepted only through bank transfer.

Fast Furnishings is a wholesale and dropshipping supplier with 15 years of experience based in the US. It has a collection of 3,000+ furnishing products for homes and yards. 
Why Choose Fast Furnishings  
A large collection of home furnishing products and eco-friendly furniture products 
Offers wholesale dropshipping program and discounted pricing 
Allows you to copy product details and list them on your website or eBay store
Standard ground shipping for free within the contiguous United States (4 ~ 10 days delivery)
How to Process
You need to choose from 3 different pricing plans, namely, Entrepreneur ($0), Pro ($49), and Pro Annual ($39), and fill out an application form to become a reseller of Fast Furnishings. It accepts payments via PayPal.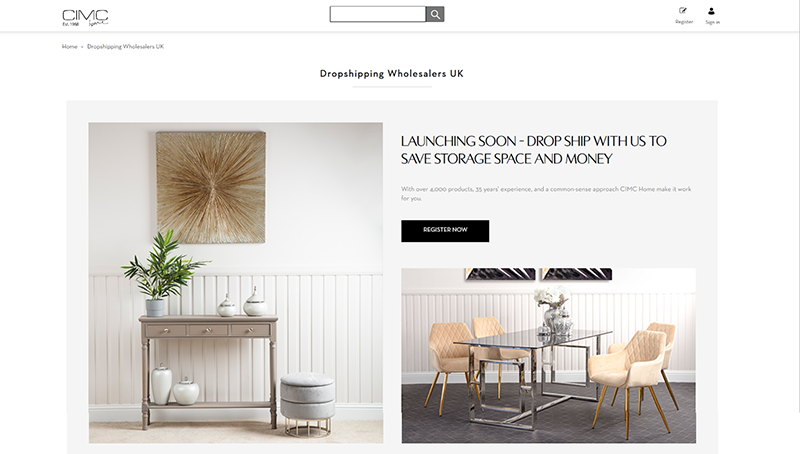 Established in 1988, CIMC Home is one of the leading wholesale suppliers of furniture, lighting, and home decor in the UK. It will launch the dropshipping service soon, offering a total of over 4,000 products. 
Why Choose CIMC Home
A comprehensive range of furniture products, including bedroom furniture, living room furniture, dining room furniture, seating, bar furniture, etc. 
No MOQ, free delivery for orders over £500 in the UK 
How to Process
Clients who want to order from CIMC Home have to register for an account. They can pay by using SagePay, Visa, MasterCard, etc.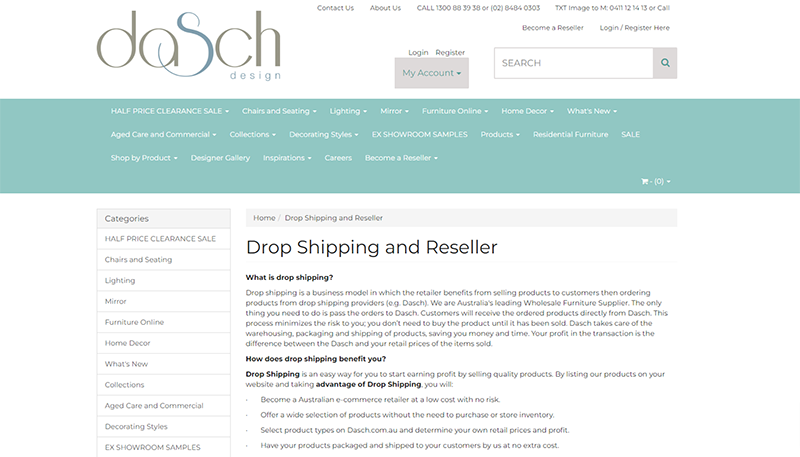 Dash Design is Australia's premium dropshipping wholesale supplier of furniture, decorations, and lighting products, established in 1983. 
Why Choose Dash Design 
Offers over 2,000 products for dropshipping and bulk purchasing
Has competitive pricing and allows timely refunds & replacements
Shipping and order tracking in Australia
How to Process
You need to fill in a registration form to become a reseller. 
After registration, you can place orders and pay by using Afterpay, Cheque, MasterCard, Visa, PayPal, etc. 
7 Best Home Decor Dropshipping Wholesale Suppliers
A lot of enthusiastic buyers look for trendy home decor products to furnish their homes. 
On that note, this section covers 7 home decor dropshipping wholesale suppliers. Let's know about them.

Since 2008, Costway has been a dealer of versatile and multi-style home decor products. In the beginning, its retail journey was with Amazon and eBay. But now, it is collaborating with some of the retail giants and has become a big dropshipping supplier for outdoor & patio furniture, kitchen accessories, appliances, and more. 
Why Choose Costway 
A wide range of home decor available in Holiday Décor, Mirrors, Lighting, and Decorative Accessories 
B2B service team support for dropshippers and large order programs available 
Fast shipping and 30-day return 
Provides a warranty lasting 365 days 
How to Process
Upon registration, clients can choose to be a Cosway+ member, the annual fee of which is $69/year. Payment methods include bank cards, PayPal, Visa, MasterCard, American Express, Klarna, etc.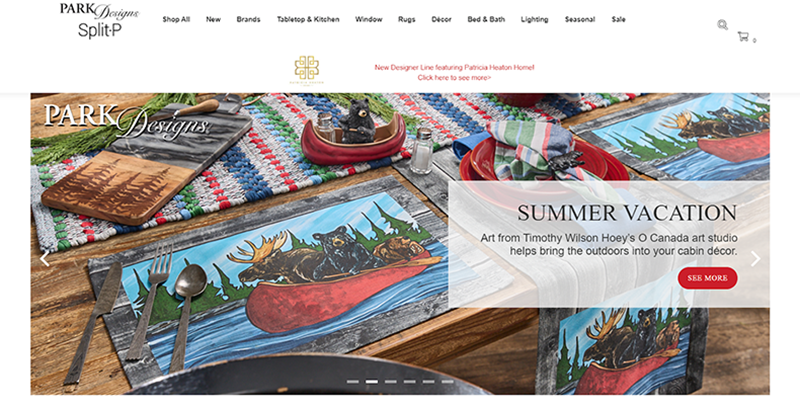 Park Designs is a top-level home decor supplier for tableware, windows, rugs, beds & baths, lighting, etc. For over 20 years, it has been selling home decor products to the public and wholesale customers. 
Why Choose Park Design 
Offers quality products to independent retailers at fair prices 
A flexible dropship program for wholesale customers
Has exciting offerings for the customer who got approval after registration 
How to Process
Interested customers have to contact customer service at 1-800-326-3382 or email [email protected] to join the dropship program or get quotes for wholesale purchases.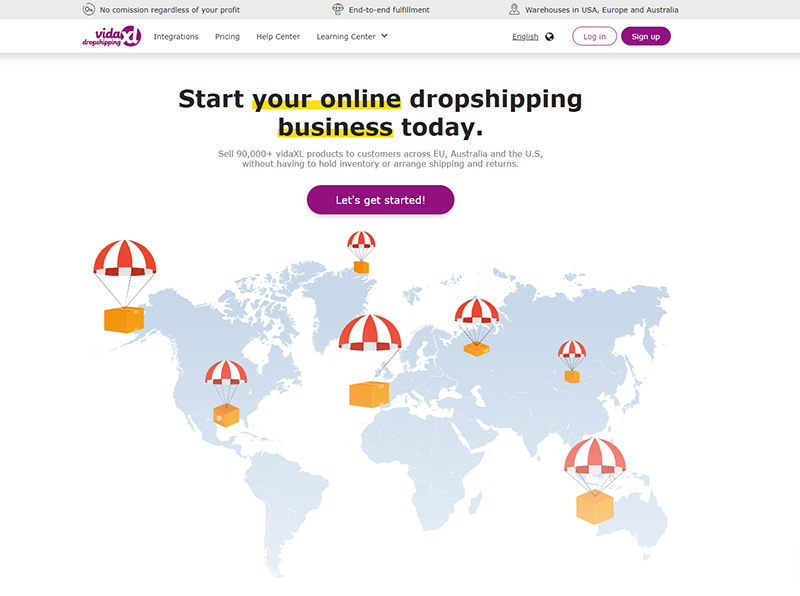 DropshippingXL is operated by VidaXL, an international online retailer that sells home decor products. Since its establishment in 2006, the Netherlands-based retailer has been offering vast categories of products in home & garden, furniture, and more. 
Why Choose DropshippingXL 
Access to more than 1,000 home décor products and over 10,000 furniture products
Allows registered dropshippers access to real-time data, bulk import, and API access 
Has expanded services to 29 European countries, the US, Australia, etc. 
How to Process
Upon registration, you are good to go for €30/month. Payments can be made through PayPal, credit cards, and wallets.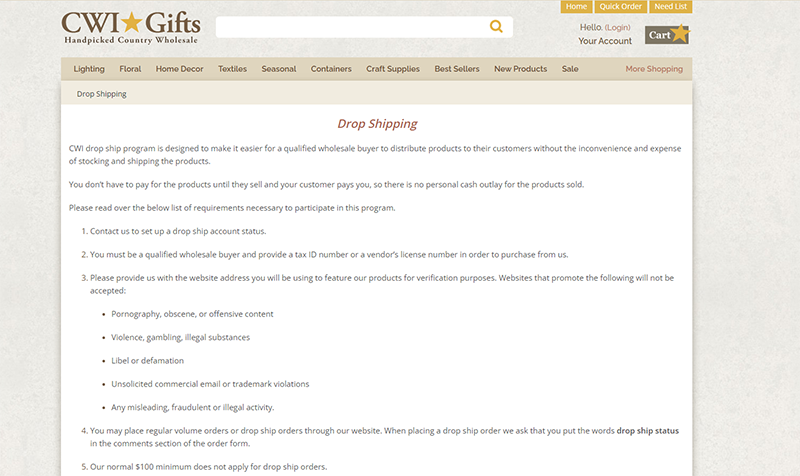 CWI Gifts is a family-owned company and home decor wholesale supplier that started its business more than 40 years ago. It offers an expansive selection of home decor products that are collected from over 100 vendors. They offer a flexible dropshipping program to wholesale customers.
Why Choose CWI Gifts 
Offers competitive prices and multiple ways to shop
No requirement for minimum order value 
Fast shipping within the 48 states in the contiguous USA
Discounted pricing 
How to Process
To order from CWI Gifts, you have to contact them to set up a drop ship account status and provide a tax ID number or a vendor's license number, and a website address. 

CTW Home Collection is also a family-owned company in Greensboro, NC. It has been a leader in the wholesale home for 40 years, selling to retail businesses in the US with a State Resale Certificate or Sales Tax Exemption Certificate. It offers curated products that make space impressive from the initial stages of design to the subsequent hand-picked collections.
Why Choose CTW Home Collection
Offers an array of products, including tabletop, wall decor, furniture, outdoor living accessories, and more
With collections of numerous styles like farmhouse, vintage, boho, etc.
Dropshipping products to US addresses only
How to Process
Register and request the dropship status. You can pay by using Visa, Mastercard, Discover, American Express credit cards, and Net-30 payment terms.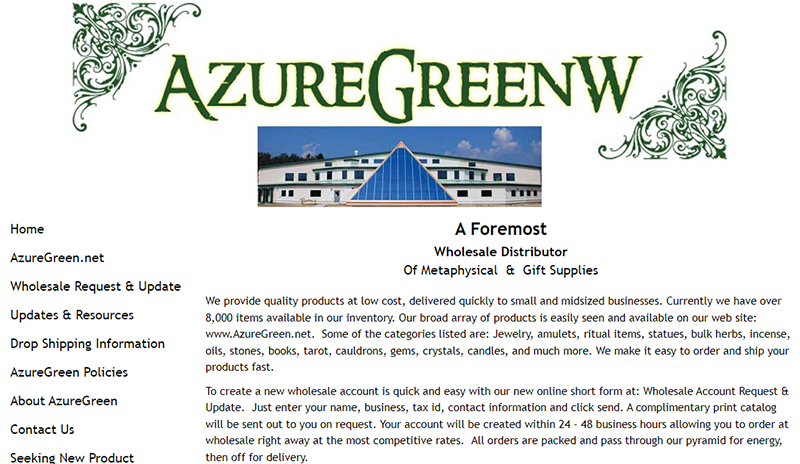 Azure GreenW is a dropshipping wholesale supplier of metaphysical, spiritual, and gift items. It offers hundreds of Home Décor items and many decorative Wall & Window items. 
Why Choose Azure GreenW
Allows access to over 8,000 in-stock products, no MOQ 
Standard wholesale rates for dropshipping orders; quantity discounts apply to wholesale orders
Worldwide shipping from the US is typically via USPS or FedEx
How to Process
First, be a registered wholesale customer by filling out a wholesale acceptance form and then make as many orders as you want. It accepts MasterCard, Visa, Discover, Money Orders, and PayPal payments.

AE Wholesale is from Florida, a family-owned wholesale business for home decor products. It launched its business in 2004. Up until now, it has a record of selling over $6 million retail. 
Why Choose AE Wholesale
Offers home decor, bathroom decor, and a wide range of accessories 
No minimum order requirement 
Free shipping on orders over $70 
How to Process
AEWholesale doesn't restrict where its products are sold. After registration, you can download the spreadsheet file to list products to your online store. It accepts all major credit cards and PayPal.
8 Best Cosmetics Dropshipping Wholesale Suppliers 
People are now more concerned and conscious about their appearances. The value of the global cosmetics market is estimated to reach $103.8 billion in 2023, registering a year-over-year increase of 11.6%.
On that note, in this section, we will cover 8 dropshipping wholesale suppliers for cosmetics, one of the most sought-after products of the time.

BTSWholesaler is one of the reliable dropshipping wholesale platforms that offer original and latest products for growing beauty, perfumery, and parapharmacy businesses. At present, it has listed over 17,000 products from 600+ brands. It offers competitive wholesale pricing to small businesses. 
Why Choose BTSWholesaler
Offers a large number of products with EAN at competitive prices, and a catalog in 5 languages 
Shipping within the European Union
Discounts on large orders
Easy to synchronize product data (CSV, XML, JSON) to your e-commerce store
Allows you to sell on online marketplaces, such as Amazon, eBay, Rakuten, etc.
How to Process
You need to sign up to get started.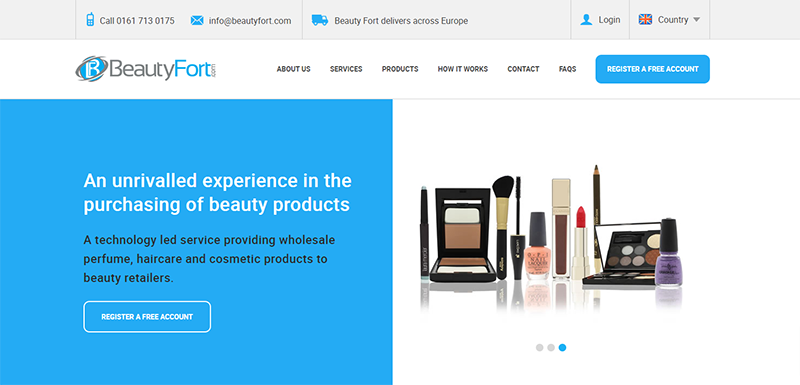 Beauty Fort is a one-stop cosmetics wholesale platform that sources products from European suppliers. It offers 8,000 beauty products, ranging from branded perfumes and cosmetics to aftershaves, skincare, and health care products. 
Why Choose Beauty Fort
Access to over 8,000 products
Quality products at competitive prices, delivery to the whole of Europe 
Offers dropshipping services, break bulk dispatch, wholesale ordering, etc. 
How to Process
You can register a free account and access the catalog. Order is taken to Beauty Fort's system via API. As for payments, it accepts MasterCard, Visa, and PayPal on request. 
Nova Engel is a Europe-targeted wholesaler of perfumery, cosmetics, sunglasses, and haircare products. It has collections of 30,000 products from 800+ brands. Though the supply was initially started for the European market, Nova Engel now has a strong international presence, being a leader in retail, wholesale, and distribution.
Why Choose Nova Engel
Offers high-quality, diversified branded products 
Ensures fast order processing and worldwide shipping (European delivery within 5 working days)
Offers API access to dropshippers 
How to Process
You join the dropshipping program by clicking here. It's worth noticing that an initial deposit of 500 euros is required, and the minimum annual sales must exceed 30,000 euros. 
You can also become a wholesale client first by registering. Then, you will receive the catalog. 
It accepts payments through credit cards and wire transfers.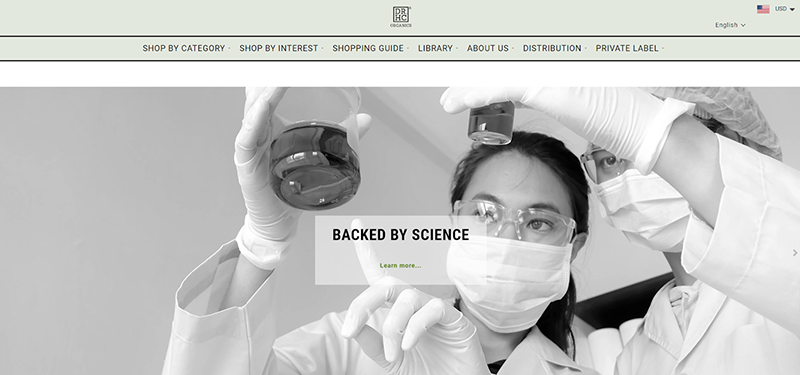 DRHC Cosmetics is a top-notch cosmetic brand that uses natural scientific methods, natural ingredients, and personalized methods to manufacture products. Also, it is a reliable dropshipping wholesale supplier of cosmetic products. 
Why Choose DRHC Cosmetics
Offers a variety of products, ranging from skincare, makeup, hair & body care, perfumes, and bath products
Offers eco-friendly, organic, GMO-free, and hand-crafted products 
Options of dropshipping via Web and App
How to Process
You need to fill out an application, pay the one-time setup fee, and choose a plan – No-branding ($19/month) and Branding ($29/month) – to get started. It accepts payment methods, including credit cards, PayPal, Venmo, and bank deposits.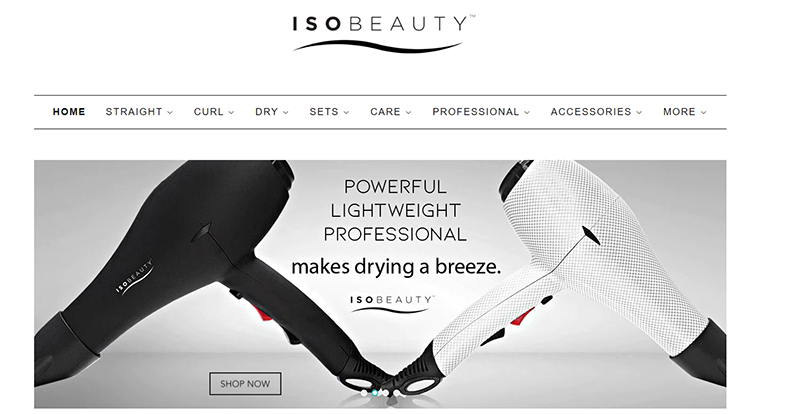 ISO Beauty is one of the US-based top-level dropshipping wholesale suppliers for hair care and hair accessories and supplying these products globally. Vogue, Cosmo, Allure, and Life & Style have featured ISO Beauty. 
Why Choose ISO Beauty
Requires no MOQ and offers blind dropshipping, wholesale, and private labeling services
Offers 4 samples to the registered vendors
Same-day order fulfillment in California time before 3 pm PST
Delivers products to the US, Canada, and Mexico within 2 ~ 10 working days
Provides vendors with a 1-year guarantee for defective products 
How to Process
You need to submit an application form via email at [email protected] or [email protected]. 
To proceed with your orders, you can pay daily, weekly, bi-weekly, or monthly after approval. Payments are made through credit cards, cheques, and wire transfers.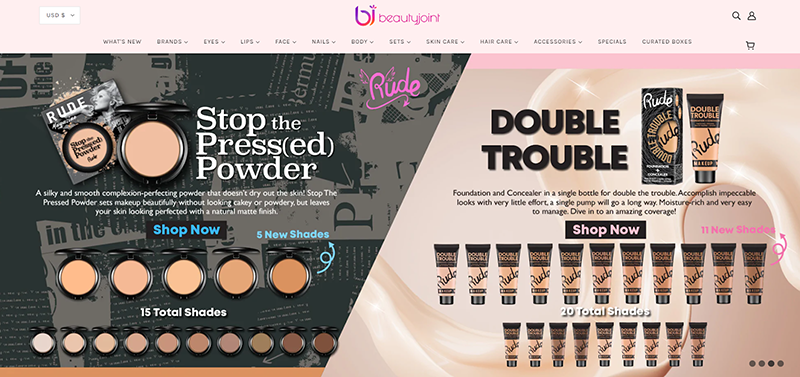 Next is another US-based cosmetics dropshipping wholesale supplier, Beauty Joint, a storehouse for makeup products and such accessories. It has collections from renowned brands like Ardell, Jordana Cosmetics, ELF, L'OREAL, LA Girl, and many more. 
Why Choose Beauty Joint 
Offers numerous skincare, beauty products, accessories, etc., for wholesale customers and dropshippers
Offers the latest trendy collections of the season
Reasonable pricing and international shipping 
How to Process
Upon registration, you must pay a setup fee of $25 and a monthly fee of $15. 
It accepts major payment methods, such as credit/debit cards, ShopPay, Amazon Pay, and Google Pay.

Dropship Beauty is also a US-based dropshipping wholesale platform. It offers unbranded makeup, lashes, health, and hair care products. 
Why Choose Dropship Beauty
Offers nearly 100 quality products and worldwide services as fast as possible 
Offers flexible pricing for dropshippers to scale their business
Provides turnkey Shopify stores for cosmetics dropshipping
Has a Shopify app for the vendors to streamline the entire dropshipping process 
How to Process
Install the Shopify app of Dropship Beauty to get started. To order a sample from Dropship Beauty, go to its wholesale website, Private Label Extensions. 
Payments can be made through AMEX, Apple Pay, Discover, Visa, Google Pay, and more.

The Perfume Spot is a wholesale supplier with diversified product categories, including makeup, skincare, bath and body products, candles, fragrances, gift sets, and many more. It started its journey in 1986 as a family business, and now it uses a fulfillment center in New Jersey to ensure fast order processing for delivering to consumers in the US.
Why Choose The Perfume Spot 
Offers high-quality, original, and fresh products at reasonable wholesale prices 
Products from popular brands like Calvin Klein, Elizabeth Arden, Burberry, Cuba, Coty, and more
3~6 business days fast shipping within the lower 48 US states
Award-winning customer service and a 30-day money-back guarantee
Received many truly significant awards 
How to Process
To wholesale, you have to fill up a form. Then you are good to go. 
Payments can be made through American Express, Discover, MasterCard cards, PayPal, and Google Pay.
5 Best Toys Dropshipping Wholesale Suppliers 
Our last section includes the best wholesale dropshipping suppliers for toys. If you are a toy retailer or dropshipper looking for such a supplier, take a look at this list. 

One of the best toy dropshipping wholesale suppliers in the UK is Empire Distribution. They supply more than 1,600 customers throughout the UK. The products of Empire Distribution are only available B2B.
Why Choose Empire Distribution
Offers CE-compliant remote control toys, drones, helicopters, tanks, cars, boats, etc., for high margins
No monthly cost, direct shipping to customers for dropshippers 
Free CSV/XML product feeds, marketing materials, and technical support
How to Process
Due to the coronavirus, the company has stopped trading temporarily, but you can still register an account. The drop shipping service is free. You have only to pay stock, postage, and VAT. 
Its payment methods include cheques, BACS, Visa, Maestro, AMEX, MasterCard, and Klarna.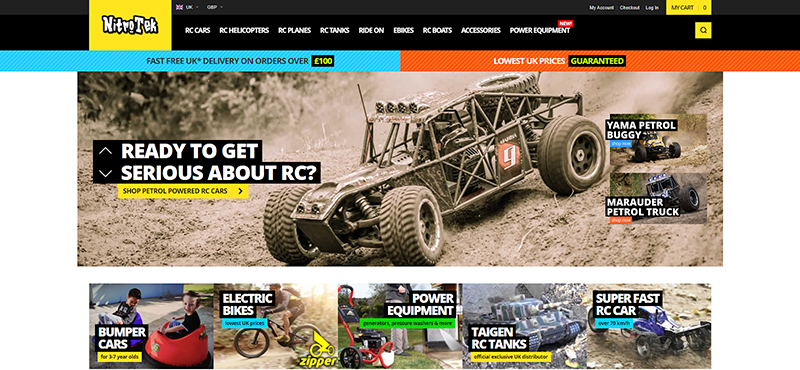 NitroTek is one of the retailers of toy products that started its business in 2004 in the hobby market. Its products include a wide range of radio-controlled items like RC planes, RC tanks, RC cars, RC boats, RC helicopters, etc. It has one of the best toy dropshipping programs in the UK.
Why Choose NitroTek
Offers high-quality RC models and accessories with full parts backup 
All products have EANs to be sold on marketplaces, such as Amazon and eBay
No extra charge for credit card payments
Delivers through Royal Mail/Parcelforce (UK) and UPS (outside of the UK). 
How to Process 
You have to open a trade account by completing an application form.
Payment options include Klarna and credit cards.

Insplay is a toy product wholesale supplier based in Estonia, Europe, with 30 years of experience. Its products include 4,000 development toys, such as educational robots, electronics, puzzles, board games, etc. 
Why Choose Insplay
Offers products of famous brands, such as LEGO, Tactic, Revell, Wonder, and many more 
Offers shipping discount for bulk orders and 2- to 3-day fast delivery to customers in Estonia, Latvia, Lithuania, and Finland
Offers API to integrate buyer's store. Or, buyers can load product data in the XLS or CSV format 
How to Process
You need to sign up in order to become an Insplay reseller. Payments can be made through credit cards, bank links, or invoices.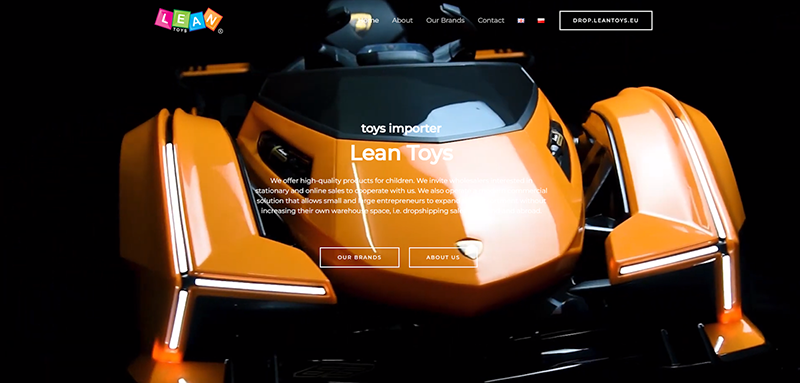 Leantoys is the biggest dropshipping supplier in the toy sector in Poland. It has a mission of offering products with quality, service, and integrity. It is one of the biggest suppliers of battery-powered kids' ride-on vehicles in Europe.  
Why Choose Leantoys 
Provides over 3,000 quality toy products at competitive prices 
Provides toys for children and babies, educational toys, pools, games, and many more
Has battery-powered vehicles licensed by top brands like BMW, Audi, Mercedes, etc. 
Delivers products to 26 European countries via DHL and GLS 
API connection, product data feeds (XML/ CSV), and stock feed
Professional and responsive customer service
How to Process 
You need to register a wholesale account to get started. 
3 payment options are available: bank transfer, account top-up, and trade credit. 

Giftable World, Inc. is a quality product manufacturer and supplier of over 300 high-quality plush toys and seasonal and customized items. For over 10 years, it has worked as a direct manufacturer and supplied to different retail businesses, and tailored unique staff animals to meet the expectations of Fortune 500 companies, novelty stores, zoos, museums, and many more. 
Why Choose Giftable World 
Guaranteed quality – with "Quality System Certificates" of ISO9002 and ICTI
Over 300 plush toys made of high-quality materials at affordable prices
Product images, data feed with detailed product information available
Provides discounted pricing options for large orders 
How to Process
Registration of a wholesale account is required to proceed. 
Payments have to be made through PayPal, Maestro, Discover, and Visa cards. 
Conclusion 
Though dropshipping is an easy form of online business, what's challenging is having the right products and the right suppliers for the inventory. 
Please remember, while selecting suppliers, to have a detailed discussion with them and check samples. Once you are assured from all perspectives, you can pick suitable suppliers. 
Good luck on your dropshipping journey!