Dropshipping is a flexible way to start and grow an online business because it allows the seller to offer a wide range of products without having to invest in inventory upfront. This can be especially helpful for businesses that are just starting and don't have a lot of capital to invest in inventory.
With dropshipping, you may sell goods without keeping any inventory on hand or making any purchases before closing a deal.
The dropshipping business is becoming increasingly popular worldwide. Here are some key statistics that you need to know:.
If you're considering starting a dropshipping business on Shopify, this definitive guide can teach you more about how it works and how to build a prosperous Shopify dropshipping business.
In this article, we will explain in full detail what is drop shipping, what is Shopify, why dropship on Shopify, how to do dropshipping on Shopify, and how to set up a Shopify store for dropshipping. Without further ado, let's get into it.
What is Dropshipping?
Dropshipping is a common business model used by online merchants who don't keep their goods on hand. It is a form of product fulfillment where a retailer collects orders for goods presented on the storefront and then sends orders to the supplier for shipping.
The retailer serves just as an intermediary, which is the main difference between dropshipping and the conventional retail business.
Dropshipping is a business model in which retailers can focus on acquiring customers and building relationships with them, and suppliers can maintain inventory and ship products. This is beneficial to retailers who are skilled at selling. Dropshipping relieves retailers of the burden of managing inventory and delivery. They only need to pick a supplier with the appropriate systems in place for shipping orders.
What is Shopify?
Shopify is a subscription-based online ecommerce platform for creating a website that hosts your online business. With your Shopify subscription, you have access to a good number of the tools you need to operate an online store.
Shopify is a website builder that is specially designed for online stores. When we refer to online stores, we mean people that conduct business online and accept payments, much like you would on Amazon.
Shopify is the ideal option for anyone who wants to sell products online such as jewelry, gadgets, furniture, and even digital commodities like eBooks and audio recordings. Given that Shopify offers one of the best solutions for selling and processing payments, all businesses can operate smoothly on it.
Why Dropship on Shopify?
Starting a dropshipping business is incredibly easy to everyone. The greatest platform for dropshipping is Shopify because it makes it so simple to build a functional website within a few days.
Here are some of the reasons why you should dropship on shopify:
With Shopify, it is easy to manage a dropshipping business. A variety of dropshipping apps are available to integrate Shopify with suppliers's systems to deliver products to customers.
Shopify has many features available: Shopify's user-friendly theme editor lets you produce highly professional-looking designs. You may access the theme's code quite easily and make changes to it. As a result, you have complete control over every aspect of your site's appearance. And it doesn't end there; Shopify also allows you to use hundreds of applications, manage your sales and payments, etc.
Shopify is without a doubt the most user-friendly CMS (Content Management System) because with Shopify, it is so simple to manage all the content needed to promote an online business. No more difficult installations and interfaces like Prestashop.
Now that you have a clearer understanding of the advantages of Shopify, let's look at how to start a Shopify dropshipping store.
How to Start Dropshipping on Shopify in 8 Easy Steps
Shopify is an excellent choice for people wishing to launch their own online business because it's simple and inexpensive to set up a dropshipping store there. We will go over the fundamentals of how to dropship with Shopify in this section, which includes picking a niche, finding reliable suppliers, and setting up your business. So let's get started on how to start Shopify dropshipping step by step.
1. Decide your dropshipping niche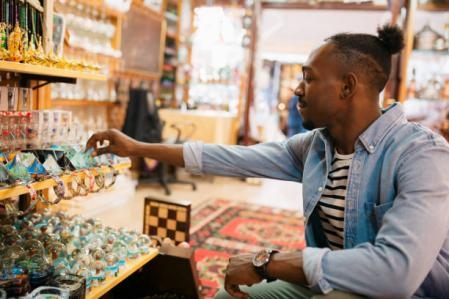 When it comes to choosing your dropshipping niche, here are two important questions you should ask yourself:
What kind of goods do you intend to sell?
How profitable or lucrative is the market?
It is important to select a niche that both piques your interest and has a large market. Since your goal is to reach a large audience, never make the mistake of focusing on a niche that is not viable.
You must consequently consider the products' popularity, demand, and return rate when conducting your research.
For example, someone who enjoys both sports and yoga will be keen to start an investigation into well-being, exercise, and other related topics. He or she must look for things that are for sale and in high demand if he or she wants to grow a successful dropshipping business.
However, it's not as simple as defining an extremely specific audience/niche. Validating your product idea to make sure there is a market for it is necessary if you want to discover a successful niche.
Here are 3 simple steps you should follow to validate your niche:
A "keyword" is a word or phrase that users use when searching on Google. Keywords that are often searched for can be found using tools like SEMrush. This provides you with information about online consumer trends.
If we go with the fitness and yoga examples, it would be wise to check the popularity of terms like "sportswear," "leggings," "yoga pants," and "yoga mat," among others.
When you enter any of these keywords by using tools like SEMrush, you will be provided with details about how often people search for that keyword.
To find your niche, follow this example. Check the popularity of products in your preferred niche with these tools. You may use SEMrush, Ubersuggest, or Google Keyword Planner.
Name a few potential markets. Create a list of prospective niche keywords. The most popular of them might be the collections on your upcoming website. After doing this, you can be fully sure there will be a market for your product.
Additionally, it is vital to monitor performance over time.

Even when a keyword receives a lot of monthly searches, it may not remain popular for long. It would be great if you can catch the trend by arriving on time. Make sure to avoid products whose popularity is ephemeral.
How can we validate this criterion? I advise using Google Trends. You can quickly see how popular a keyword has become over the past ten years. Additionally, you have the option of focusing on a nation or region.
If you discover that the product has an upward trend over previous 10 years, you can go for it without too much concern.
Therefore, follow this practice when researching your niche. Choose a niche that maintains a certain level of popularity over the years if you want a website that endures.
Check to see if your niche is lucrative
The most important thing to look at is whether or not the products will be lucrative. So, before you begin, do a little calculation.
Calculate the expense of attracting traffic (advertising). Your website should be optimized for SEO (search engine optimization) to increase free visitors and your profit margins.
Calculate the delivery expenses, even though they are typically not very costlyif you dropship small and light items.
Calculate the productcostand how much you can charge for resale. Some categories, like jewelry, are ideal for marketing because these products cost low and have a high perceived value.
A good margin often ranges from 40 to 70%. If your product has a very high perceived value, you can of course have a good profit margin.
2. Choose a Store Name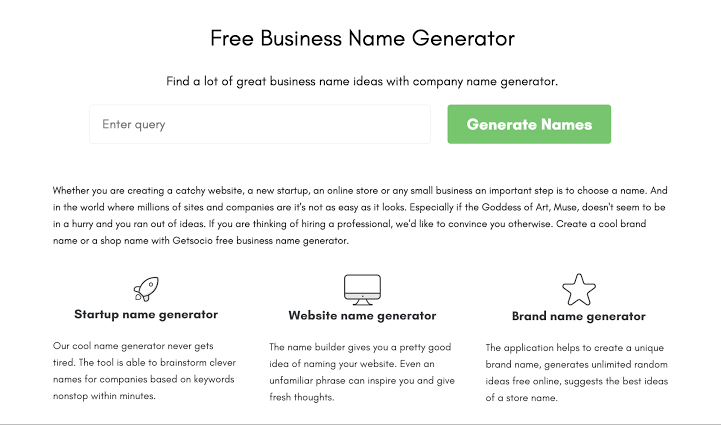 The next important thing to do is to give your dropshipping store a name. For all new stores, Shopify automatically offers this named template: your-store-name.myshopify.com.
However, to appear more professional, we strongly advise you to remove the "myshopify" part by getting a custom domain name for your website.
To come up with the name for your store, you may use the free business name generator on Shopify.
The following are the most important factors to consider while coming up with a name for your store:
Relevance: Your Shopify store's name needs to be appropriate for the goods or services you are selling. Customers will be able to understand what your store is all about as a result.
Make sure your store name is simple to spell and remember so that clients can locate you and spread the word about your business.
Keep It Professional: A credible and trustworthy store name can help you build credibility with customers. A store name should not contain vulgar or slang terms.
Flexibility: Think about whether the name you've picked will work for any future product line adjustments or expansions. A name that is excessively devoted to a particular good or service might not be as adaptable as one that is broader.
Availability: Verify that the name you have selected is available on social media sites and as a domain name. Choose a name that is consistent across all platforms so that your customers can locate your business easily. Having a consistent brand presence across all media is crucial.
Additionally, we advise using the Namechk tool, which allows you to quickly check if your desired domain name is available.
3. Create a Shopify Account

Now that you've decided on a product or niche, you want to create your store to start selling. Here is how to go about it.
Start by visiting Shopify's main page. Click on the "Start Free Trial" button from the menu.
Here, you are asked to provide your email address. There are 14-day free trials available for all Shopify plans, so you can try it out without having to enter your payment card information.
On the following page, you'll be asked to enter your email address, password, and store name. Use any email address you want to be connected to the business with, and then make a strong password to safeguard your login information from hackers.
To proceed, click the "Create Store" button.
The next few steps are optional, but they will help Shopify understand what kind of business you intend to run and how to configure your store. It requests information such as what you intend to sell and whether you need to transfer from another site. Generally speaking, this is to assist you in switching from another platform and offer the best user interface.
Click the "Next" button after completing the form as required.
To make sure you get paid, you must fill in the business address. It also has legal implications because the payment processor (as well as the customer) must be aware of the location of your company. Include every detail, including your name and address. Please type your full name.
Don't forget to enter your phone number as well. If the business is registered, don't forget to tick the box at the bottom.
To finish the first registration process, click the "Enter My Store" button.
4. Complete Store Settings
You are all redirected to your dashboard after creating your Shopify account.
To complete your store's settings, you should learn how to set up a Shopify dropshipping store by completing these four parts:
Add Product
Customize Theme
Add Domain
Set Up Payments
Let's get started with each of them very quickly.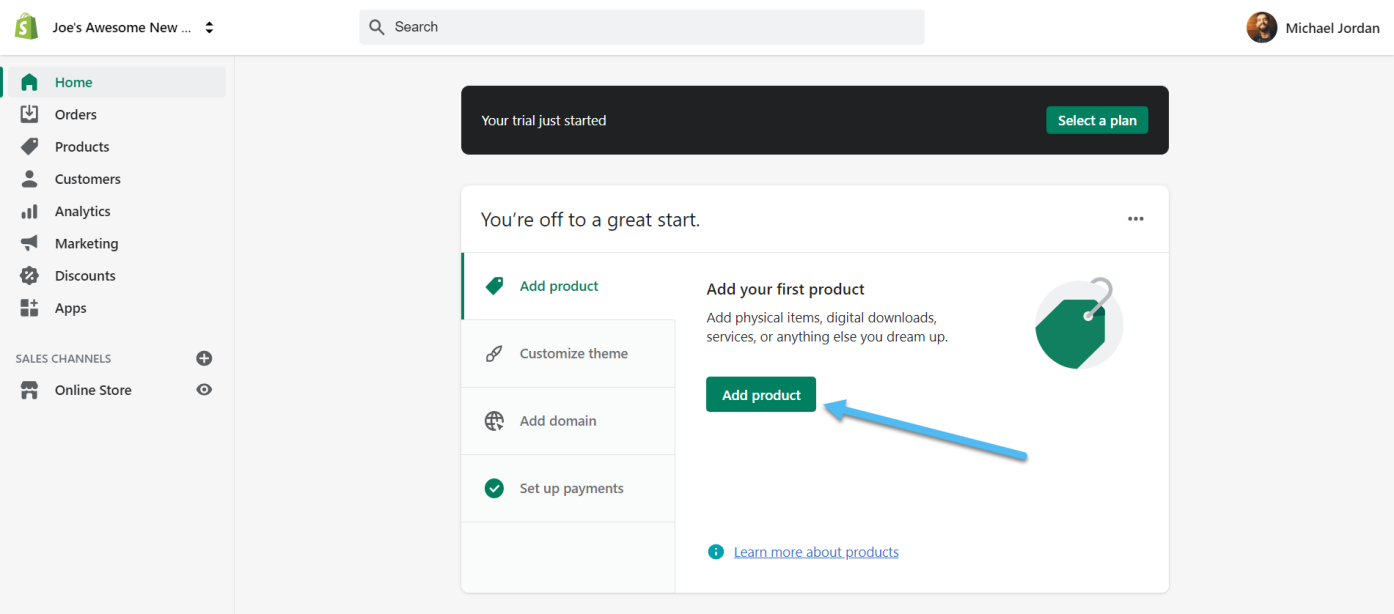 The first step is to create your first product and add it to your store by clicking the "Add Product" button.
There are many fields on each product page where you can enter data, including the product's title, description, and price. The information that needs to be added varies depending on the product, but it's a good idea to start at the top and work your way down.
By selecting the "Add File" button from the Media section, you may add some visual components to your product page. You can also type in the product's pricing, product category, vendor, and other information.
You can see a preview of the product's search engine results at the very bottom of the product page. You can update the particular page to increase SEO and make the product page more visible online.
Lastly, it's necessary to post the goods to your store. In the top right-hand corner, locate the Product Status tab.
Choose the "Active" state from the drop-down menu. This notifies Shopify that it is no longer in draft status and that you can add it to your website's store for sale.
To finish the product publication procedure, click the "Save" button.
You can keep importing or manually adding new items to your store.
You have the option to change the website's appearance to better reflect your brand, add a logo, and rearrange the items on the homepage.
Go to the dashboard's Home area and select "Customize Theme."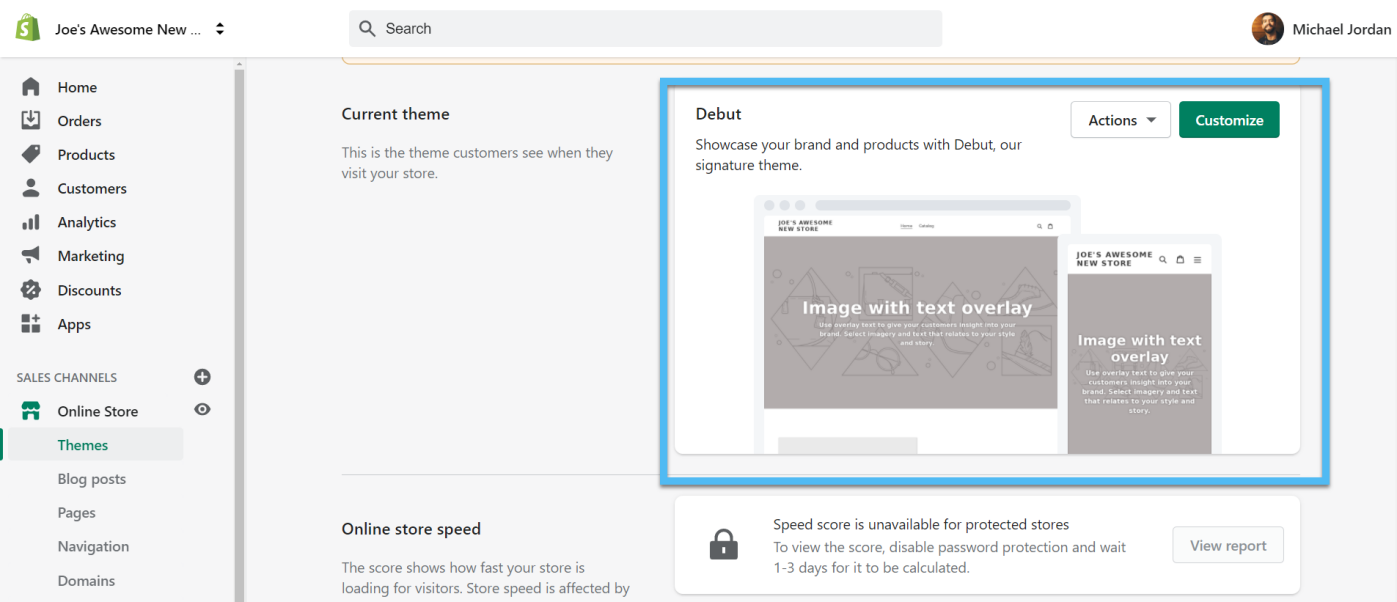 Shopify has already set up a default theme on the Themes page. The debut theme is available for you to try out and determine if it's effective for your company. However, we advise browsing the different free and premium themes offered in the Shopify Theme Library, you might find a theme that even better suits your business there.
The links to the theme store are located further down the page. It can be found in the theme library area. Click to visit the theme store or browse free themes. The theme store also offers premium themes, some of which run from $50 to $150. Smaller stores can get by with the free Shopify themes, but the premium collections start to provide more sophisticated functionality and better looks.
Look through the themes to see which one is best for your store. Remember that most themes have two or three alternate styles, so it's a good idea to study the theme specifics in case one of them somewhat better suits your business and industry.
A theme that has been added to the theme library will appear in the dashboard but not on your website. After the theme has finished installing, select the "Publish" option by clicking the Actions icon next to the new theme.
By selecting the "View Your Store" button, you are welcome to take a peek at the preview.
People can access your store online by using your domain name as the address. You might already own a domain name or have one in mind. From the Shopify dashboard, you may transfer an existing domain or acquire a new one. This is especially useful because Shopify does not require you to visit a third-party domain registration website to buy a domain.
Go to "Home" and select the "Add Domain" button and tab.
Pick from the following:
Connect Existing Domain
Transfer Domain
Buy New Domain
As previously indicated, purchasing a domain is done through the dashboard, where you can enter an address to check for availability and pricing. Shopify can assist with transferring a domain from another service as well.
You'll see that a domain is already set up for you in the Primary Domain area. Once you choose a primary domain, the existing MyShopify.com subdomain will be replaced.
Go to "Home" and select "View Payment Settings" under "Set Up Payments."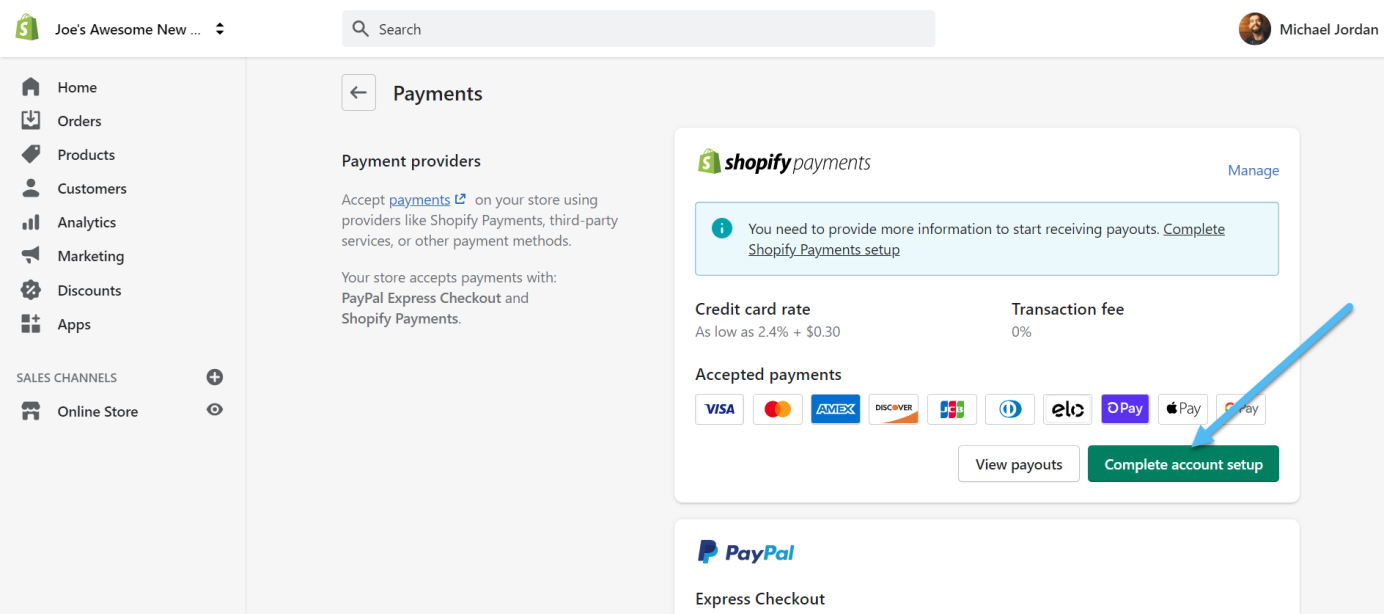 The most popular choice is Shopify Payments because there are no third-party transaction fees and you are entitled to low credit card rates. Given that everything is already integrated into the system, it's also the most straightforward payment gateway to link with your store.
Therefore, to continue, click the Complete Account Setup option. This explains how to link your bank account, identify yourself, and get your request to use Shopify to process payments approved.
If you discover that another option offers a better price or that your location isn't supported by Shopify Payments, you may choose to link to other third-party payment processors.
It is recommended that you think about different payment methods like PayPal and Amazon Pay. To give your clients greater freedom to choose how to pay you, you can enable various payment alternatives. For instance, it makes more sense for a customer to use PayPal when his/her PayPal account is saved on the phone.
5. Design Your Store
The next stage is to give your store a look that will differentiate you from your rivals.
Shopify provides more than 100 themes (free and paid). To find the ones that are suitable for your brand, you can browse them by industry. Additionally, you may quickly add or remove content blocks from each theme to suit your needs. You can further customize your store if you have coding experience.
Guidelines for setting up your Shopify dropship store:
Use top-notch pictures
Remember that all other dropshippers have access to the same photographs. Therefore, if you want to differentiate yourself from the competition, purchase samples of the goods you intend to sell and arrange a photo shoot.
Additionally, fantastic images can be found at no cost on stock image websites like Unsplash, Pixabay, or Pexels if you require images to create the overall atmosphere for your store.
Keep it simple
The fewer distractions your potential customers encounter while shopping on your site, the more probable it is that they will make a purchase. Avoid overuse pop-ups or being overly vibrant.
Use reviews and testimonials
Create a spot for user-generated content and consumer reviews. If customers see that others were pleased with their purchases, they are more likely to trust your brand.
Additionally, you must design a logo for your business. You may use a free online logo maker like Hatchful to generate a business logo.
6. Partner with a Dropshipping Supplier
When you use Shopify to sell dropshipped goods, information about your orders is sent to your third-party supplier for shipping. The supplier marks the order as "Shipped" and provides you with a tracking number before sending the order directly to your customer.
You must partner with a supplier who can offer the goods you wish to sell. To achieve this, you can use a sourcing platform, ask other companies for referrals, or conduct an online search.
Negotiate the terms of the relationship with the supplier once you have found a potential partner. These terms should cover the cost of the goods, the payment terms, and the delivery schedule.
There are many dropshipping suppliers to pick from, but if you want your checkout process to be fully automated, you should choose those who have built or can be found on Shopify dropshipping apps. You may choose from the popular Shopify dropshipping apps below:
Dropshipman: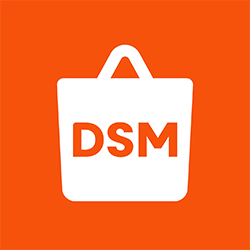 Dropshipman offers the best free AliExpress dropshipping tool and free product sourcing services. It is trusted by over 40,000 dropshippers worldwide. Choose Dropshipman, and you can enjoy the lowest product costs and shipping costs in the industry, 7 ~ 15 days fast & reliable order fulfillment to most countries, as well as 24/7 live chat customer support. 
Dsers:
DSers is an official AliExpress partner trusted by over 1.2 million merchants for quick and easy bulk order fulfillment. It allows users to manage dropshipping suppliers by setting multiple suppliers for one product, get the most economical and fastest shipping method by default, and track customer orders with ease.
Spocket: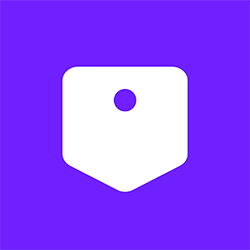 With Spocket, you can swiftly add products to your Shopify store and organize them by location with ease. The majority of the suppliers on this platform are based in the US and EU, which allows your customers to receive their orders much faster than they would from suppliers in China.
Wholesale2B: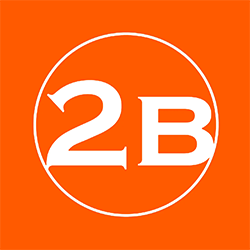 Wholesale2B is one of the best Shopify dropshipping apps. Consider them your one-stop shop for all your requirements for dropshipping. You may create product collections more quickly because they have a vast database with 1 million listed products from various categories.
Modalyst: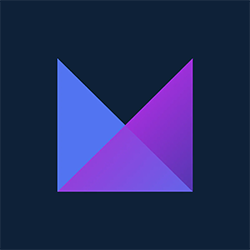 Similar to the other choices, Modalyst integrates with AliExpress, making it simple for business owners to add merchandise right into their Shopify store. Along with luxury brand names like Calvin Klein and Dolce & Gabbana, Modalyst also provides carefully curated products from independent firms.
7. Start Marketing Your Store
Now that your store is up and running, your target audience needs to be made aware of it. If we stick with the yoga and wellness example, you'll need to make sure that people who are interested in this topic can find your website.
How?
There are numerous options and tactics. There are sponsored traffic sources (via Google Ads, Facebook Ads) as well as free traffic sources, such as SEO (through Google and YouTube) .
Dropshipping has several advantages, one of which is that it frees you up from inventory management so you can concentrate on promoting your company.
We will briefly go through the most popular e-commerce marketing strategies in this section:
Facebook Ads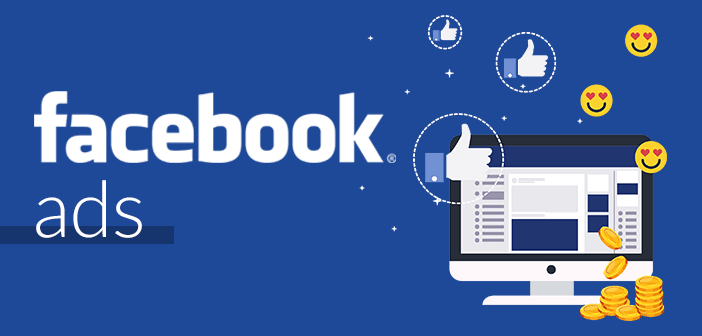 The biggest social media site in the world is Facebook. Your buyers are likely on Facebook regardless of what you sell on your website. More than 2 billion people worldwide actively use this social network. With Facebook ads, you can laser-target your audience by age, gender, geographical location, profession, and even interests.
To run Facebook ads to promote your Shopify dropshipping store, you need to have a Facebook Business page to introduce your business as well as a Facebook Business Manager account.
Google Ads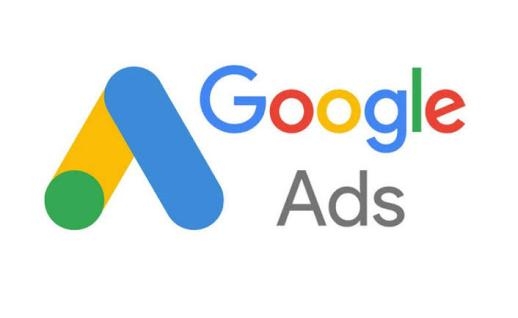 Without a doubt, another good advertising option is Google Ads, because Google is the most popular search engine on the web. As a result, your ads will receive plenty of traffic that is both qualified and hot.
Numerous ad formats could be used, including text advertisements, display ads, YouTube videos, etc. You should learn more about it since there are unquestionably enormous prospects for all e-merchants. You can get amazing margins by properly optimizing your ads.
SEO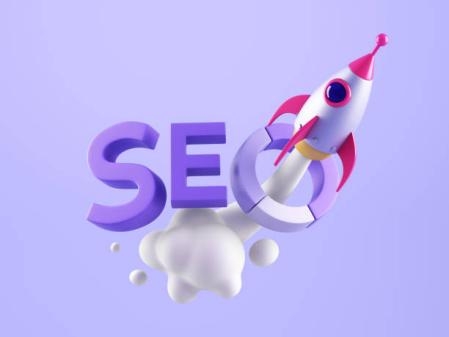 SEO is the act of leveraging search engine data to optimize the content on your website to drive traffic to your online store.
Over 100,000 searches are processed by Google per second. That much web traffic is impressive. Search engines account for approximately a third of all website traffic, which means enhanced visibility on search engines is extremely beneficial for small enterprises. Additionally, because there are so many free SEO tools available, SEO marketing expenses can be quite low.
Influencer Marketing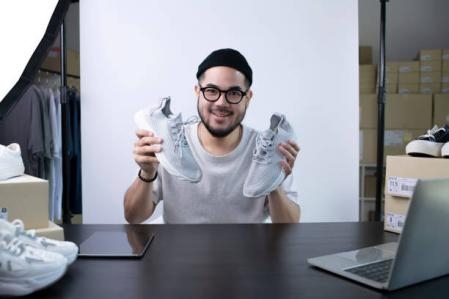 Influencers are those who have a huge following within their target audience. They are genuine gurus who are respected by the entire community. You will benefit from an influencer's authority and a huge audience if you collaborate with them. With the help of influencers, your business can receive a wide attention immediately, getting a large amount of traffic and generating more sales. That's why some businesses even have an always-on influencer marketing program.
Email Marketing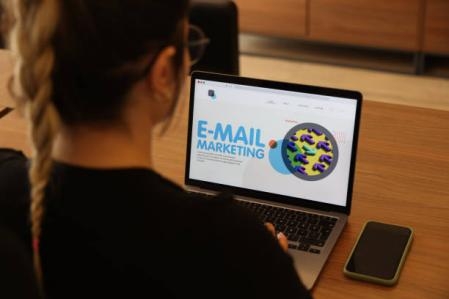 Not every person who browses your website will buy something. Because of this, it's critical to get their contact information so that you can canvass them in the days that follow.
To get people's emails, generally, you can use a bonus, a coupon, an ebook, etc. as an exchange.
Email marketing has the advantage of allowing you to reach a large number of audience who has shown interests in your products at low costs.
It is strongly encouraged that you frequently filter your email lists to get rid of everyone who is unqualified. For example, people who never check their emails or click links.
Finally, email marketing makes it possible to keep a continuous line of communication with your customers. An effective email campaign can help you connect with your clients on a more personal level by providing them with helpful information about your products.
8. Get Orders Fulfilled by Your Supplier
To get orders fulfilled by a supplier, you will need to follow a few steps:
Place an order: You can place an order for the goods you want to buy once you receive an order from a customer. Pass necessary information to your dropshipping supplier, including product information, contacts, and delivery address. This is usually done faster if Shopify integration is available for order processing.
Keep track of your order's progress to ensure that it is being processed according to the timeline you have established. You will have to get in touch with the supplier to resolve any problems or delays.
After the order is delivered, ask your customer to confirm they have received the order and check it in time. You will need to cooperate with the supplier to find solutions if there are any problems.
Dropshipping on Shopify FAQ
Is Shopify dropshipping legal?
Yes, dropshipping with a Shopify store is legitimate. However, before you do business with your suppliers, be sure they are reliable. Otherwise, the only time you might have issues is if your suppliers illegitimately use the intellectual property of another party. 
Is Shopify dropshipping worth it in 2023?
Of course. A dropshipping business can be turned into full-time work that covers all of your expenses. Additionally, it offers you the option to enter the world of e-commerce and work for yourself. You can also realize your lifelong ambition of having a profession that is related to your pastime by selling things that are related to your area of interest or love. Dropshipping is worthwhile. But bear in mind that for it to work properly, you must approach dropshipping as a legitimate online business and not as a way to become rich quickly.
How to do Shopify dropshipping?
If you're looking for how to start a dropshipping business onShopify, here are 8 steps you should follow:
Decide your dropshipping niche
Choose a store name
Create a Shopify account
Complete store settings
Design your store
Partner with a dropshipping supplier
Start marketing your store
Get orders fulfilled by your supplier
How can I find Shopify dropshipping suppliers?
Dropshipping providers can be identified on approved directories, dropshipping platforms like AliExpress, or by simply looking at the suppliers for your favorite brands.
Is Shopify dropshipping profitable?
It's practically impossible to overstock products or lose money while dropshipping on Shopify because everything is only shipped after it has been sold. The only expenses are those related to your Shopify plan, your domain, and your advertisements. Therefore, as long as the money you may can cover all your expenses, Shopify dropshipping is profitable.
How to fulfill orders on Shopify?
Order fulfillment for dropshipping on Shopify is quite similar to order fulfillment for regular orders. You can select either the automatic, manual, or partial fulfillment of the three methods. Of course, your supply chain needs to be ready before that.
How to make money dropshipping with Shopify?
Many dropshippers have lucrative dropshipping stores where they can earn up to $100,000 annually. To achieve your goal of becoming a successful dropshipper and earning $100,000 a year, you must pick the best suppliers and establish your brand.
Conclusion
In conclusion, it is really simple and it costs very little money upfront to launch a dropshipping business using Shopify. Spend a day or two looking for a product, then use Shopify's user-friendly platform to build a website. From there, try out various marketing strategies and determine which ones are effective in generating traffic and sales.
Within a few weeks or months, if you follow all the steps in this definitive guide to dropshipping on Shopify, you will be able to operate a successful dropshipping business.