Dropshipping is one of the most popular methods for completing orders placed online. It is a retail fulfillment for online stores in which merchants fill orders without having any inventory on hand. Oberlo is a very popular dropshipping app for Shopify. The app enables dropshippers to automate every step of their online sale. Additionally, it enables the purchase of goods from suppliers on AliExpress and helps to import them, along with product images, descriptions, and other data, into the Shopify store.
However, Oberlo isn't the only dropshipping app on the market, though, and since it shut down sometime in 2022, the demand for Oberlo alternatives has increased. In this article, we will discuss the 15 Best Oberlo alternatives for Shopify. Read on!
Contents
Why You Need Oberlo Alternatives
It is not surprising that Oberlo is widely used and well-liked in the dropshipping industry because it provides a number of very practical functionalities and features: it is quick and easy to use, beginner-friendly, and one can easily see how frequently a product has been imported.
Nevertheless, despite being widely used in the dropshipping industry, Oberlo is not a perfect tool. It is flawed in several ways. For instance, it only works with the Shopify platform and supports AliExpress as its sole supplier.
Expectedly, these may be sufficient justifications for you to look for an alternative to Oberlo for Shopify, but since Oberlo was shut down on June 15, 2022, dropshippers were forced to do so. The question then is, "Why did Oberlo shut down?" According to Shopify, Oberlo made the decision to stop offering an order fulfillment service and concentrate solely on its dropshipping store-building platform.
15 Best Oberlo Alternatives for Shopify
Following our conclusion that dropshippers require alternatives to Oberlo, we will discuss 15 of the top alternatives, their key features, and their prices for Shopify users. Follow along closely.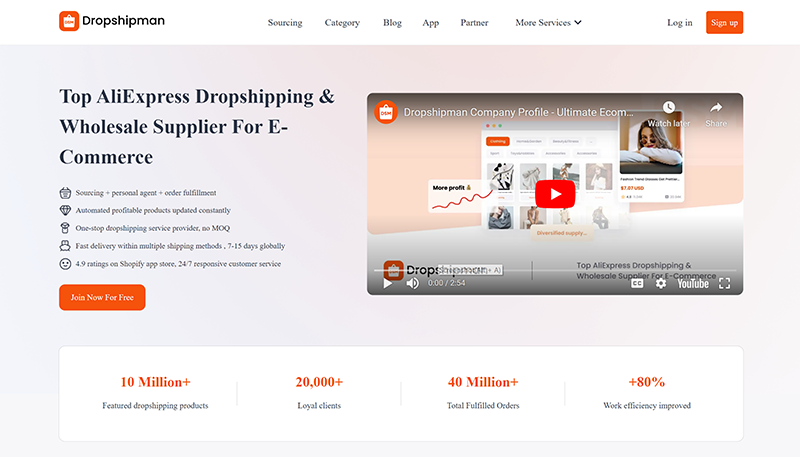 Dropshipman is a fantastic alternative to Oberlo for Shopify. Using the app, you can import products from AliExpress to Shopify, automate your fulfillment and get orders delivered within 7 to 15 days worldwide.
Furthermore, Dropshipman makes it simple for you to find products and supports the bulk import of products from AliExpress. Shipping to more than 100 countries is supported by the service industry's 30+ logistics providers, including 4PX, YunExpress, etc.
The service is clearly popular with users based on its rating of 4.9 in the Shopify app store. Once you sign up, you also receive a free personal agent and access to a 24/7 responsive customer service team, in addition to all the other benefits it offers.
Main Features:
Quickly edit product info and import AliExpress products to your Shopify store with one click
Free product sourcing by providing product images, titles, target prices, destination countries, etc.
Auto-sync prices, inventory, tracking numbers, and order statuses
Offers labeling and custom packaging services to support branding
Offers services for convenient order fulfillment and rigorous product quality inspection
Personal agent and round-the-clock customer service (in English, German, Spanish, and French)
Chrome extension available for easily importing products from AliExpress and 1688
Pricing:
The installation is free, and judging from the reviews, Dropshipman also provides a free upgrade to the advanced plan.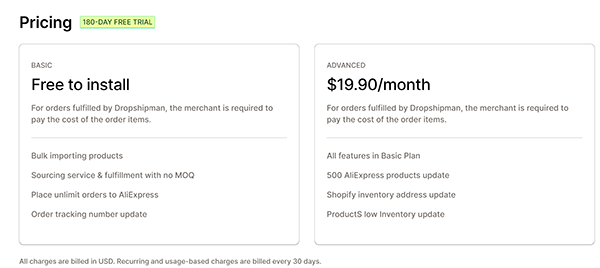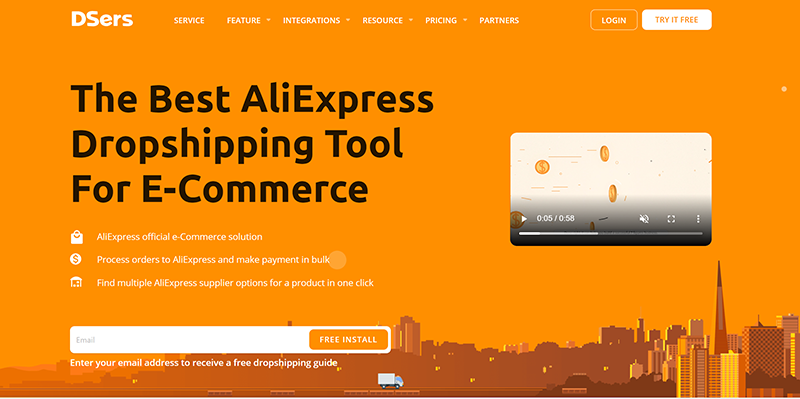 With an average rating of 5 from almost 13,000 reviews on the Shopify app store, DSers is one of the most well-liked Oberlo alternatives on the market. For a good reason, AliExpress dropshipping is made simple by Dsers – you can easily place hundreds of orders with just a few clicks using DSers' tested integration with AliExpress.
It also offers multi-store management on e-commerce platforms like Shopify, WooCommerce, and Wix and has excellent customer service. With DSers, you can manage every one of your stores from a single page and navigate to any other store more quickly than ever.
Additionally, using a few simple clicks, you can find more affordable suppliers, import goods from different sources, find better and more dependable suppliers, automate time-consuming tasks, and more!
Main Features:
Helps to find better suppliers selling similar products as yours to improve the quality of your products and your margins
Helps you find, import, and manage products in one place
Auto-update prices, stock, order statuses and sync tracking numbers
You can place hundreds of orders in one click
Makes it possible to use one account to manage multiple Shopify stores
Pricing:
DSers charges $19.90 for the advanced plan and $49.90 for the pro plan each month, but the basic plan is free.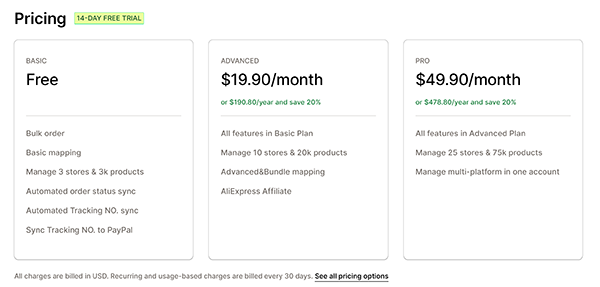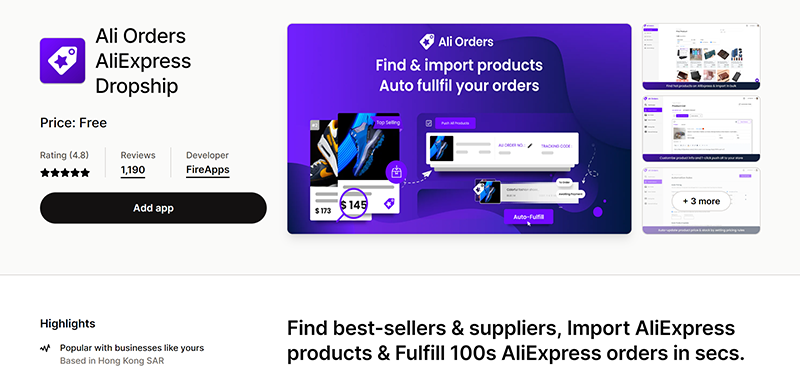 One of the alternatives to Oberlo that is popular among dropshippers is Ali Orders. You'll save a lot of time and effort using Ali Orders, and you'll be able to upgrade and improve your dropshipping business more quickly than before. Ali Orders offers dropshippers a way to import products from AliExpress, automatically fulfill orders and set pricing with just a few clicks.
Additionally, you can browse through tons of products from thousands of dropshipping vendors and filter them according to factors like seller reviews, shipping costs, and price range. Therefore, the products you choose to import will only be supplied by trustworthy suppliers with substantial sales potential!
Main Features:
One-click import AliExpress products with a built-in product information editor
Helps to sort out products with ePacket
Placing bulk orders in one click
Auto-update prices, stock and tracking number
Easy to migrate from Oberlo and Dsers
Integrates seamlessly with Ali Reviews
Pricing:
A free plan is available. After its free 7-day trial, Ali Orders charges a monthly subscription fee of $19.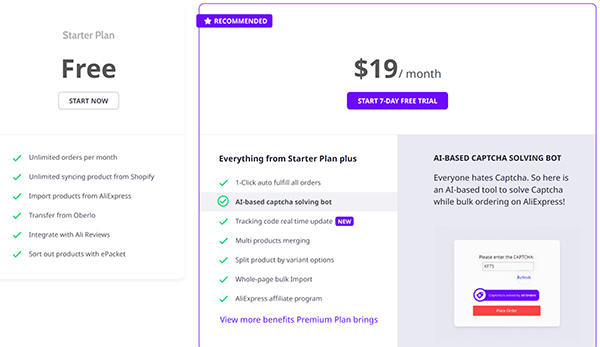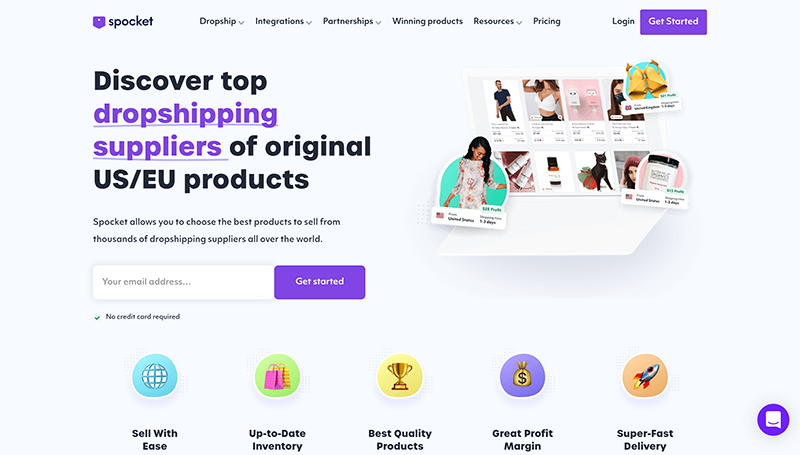 With Spocket, you can Choose top products in a variety of categories to dropship from suppliers in the US, Europe, Canada, Asia, Australia, Brazil, etc. Like a lot of the other Oberlo alternatives, Spocket enables users to start out without paying any registration fees or similar costs. With just one click, dropshippers can easily complete their orders. After a simple connection with your online store, all orders will also automatically appear in your app. Spocket is integrated with BigCommerce, WooCommerce, Shopify and Wix.
You may take advantage of automated AliExpress dropshipping with smooth product import and order fulfillment via API, thanks to Spocket's partnership with AliExpress.
Main Features:
A wide selection of US and European products and fast shipping
Huge discounts and wholesale prices with no minimum order requirements
Provides branded invoicing to help dropshippers build a strong brand and customer loyalty
Fully automated AliExpress dropshipping
24/7 assistance for fast responses
Pricing:
The basic plan is free, as was already mentioned. Starter, Pro, and Empire are the three paid plans; they each cost $29.99, $49.99, and $99.99 per month.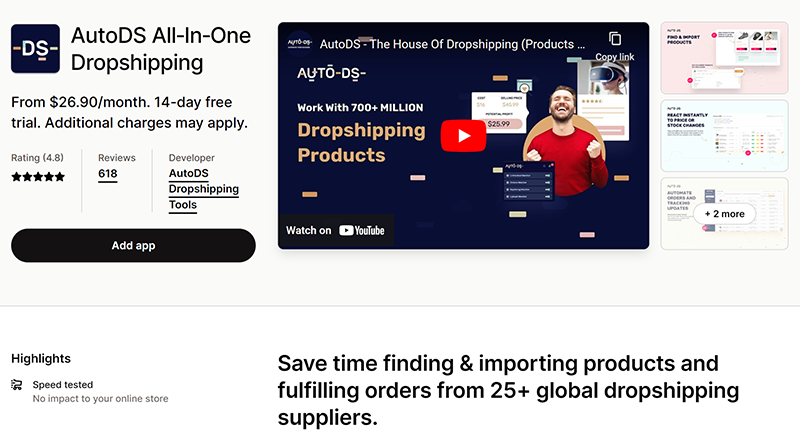 AutoDS states on its official website that it assists over 67,000 business owners and has helped them generate over $200 million in annual sales. These remarkable numbers highlight how crucial this tool is to the dropshipping industry.
AutoDS may be the solution you're looking for if you're looking for a tool that can automate your online business, speed up product discovery, process orders automatically, and much more.
Main Features:
A special tool for researching products day enables users to quickly find and import popular dropshipping items
A Product Importer that enables one-click product importation from 25+ international suppliers to your store
Order fulfillment features for automatic orders that work even when you're not there
A price and stock monitoring system makes sure that prices are tracked around the clock in the event that stock or pricing changes
Inventory management allows you to oversee all of your stores' merchandise in one location
Offers Automatic Price Optimization, which enables you to change the prices of your products in a wise way to increase profits
Integrates with eBay, Shopify, WooCommerce, Facebook Marketplace and Wix
Pricing:
AutoDS anticipates that you will subscribe to one of their plans following a 14-day trial period. As for Shopify businesses, they charge between $29.90 and $66.90 per month for monthly subscriptions.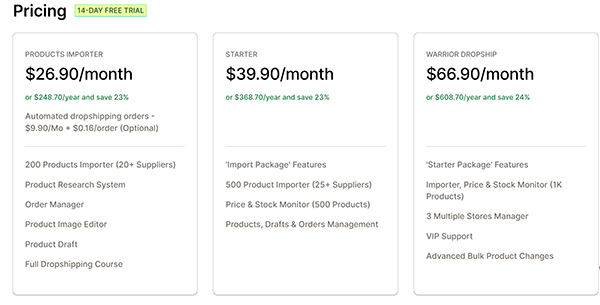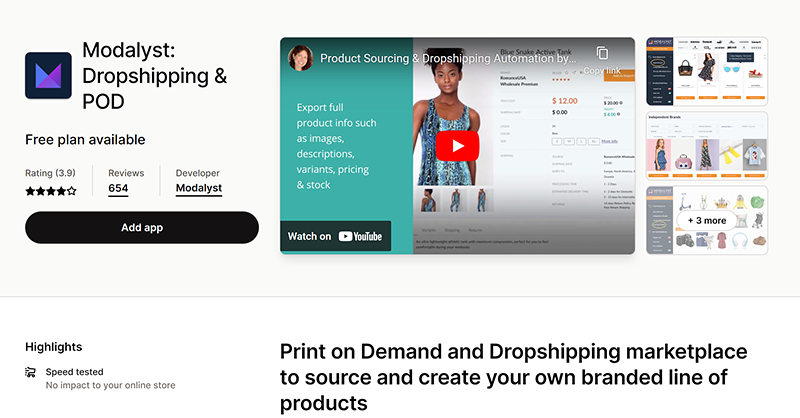 Modalyst considers itself the future of dropshipping. Modalyst is used by over 350,000 business owners who operate dropshipping businesses. The Oberlo alternative software also helps retailers build and grow their eCommerce brands by providing some of the best print-on-demand and dropshipping options.
Dropshippers can easily integrate popular e-commerce sites like Shopify, Wix, and WooCommerce stores with Modalyst. The integration process is pretty straightforward. It can be done with just one click.
Modalyst also offers a sizable selection of various product categories and fully automates the order fulfillment process for your dropshipping website.
Main Features:
As it is a marketplace with millions of products, there is a wide variety to choose from. The number of products you select is only limited by your bandwidth and business model, and you can add new products whenever you like.
Quickly sync your products with one click!
You can set up your inventory for straightforward export. Products can be chosen for your online store and arranged into lists for simple export based on categories and themes.
You can directly sell on your eCommerce website, including Shopify, Wix, and WooCommerce.
Pricing:
Modalyst has a free plan, a startup plan and a pro plan. The startup and pro plans cost $35 and $90 for monthly subscriptions, respectively.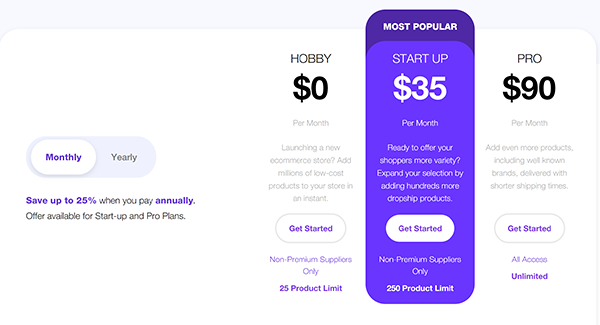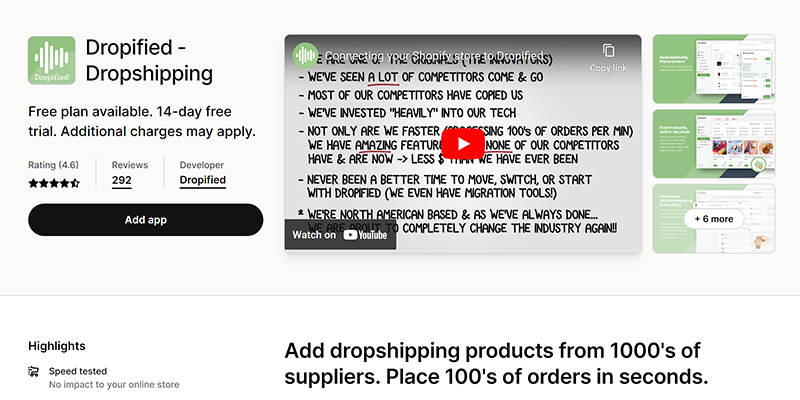 Dropified is one of the widely used Oberlo alternatives. You can find and sell dropshippable items easily by using the Dropified extension. Products from more than 75 marketplaces can be added with just one click. You can also send hundreds of orders to suppliers right away and keep track of shipping information and save yourself hours of labor.
Among other daily tasks, Dropified help you process hundreds of orders at once. Dropified has built integrations with Shopify, BigCommerce, WooCommerce, CommerceHQ, and GrooverKart for great convenience.
Main Features:
You can easily add products from Alibaba, AliExpress, eBay, and 75 other supported websites to your online stores
You can place orders automatically
It is simple to find, import, and edit products
Orders can be easily tracked, managed, and customized using Dropified
Easily fulfill orders and switch suppliers
Profit Dashboard allows you to keep track of your profits
Pricing:
Like most alternatives to Oberlo for Shopify, Dropified offers both free and paid plans. It bills $47 /month for its Pro Plan and $97/month for its Elite Plan.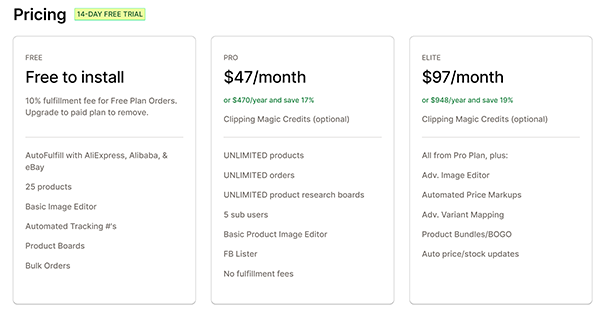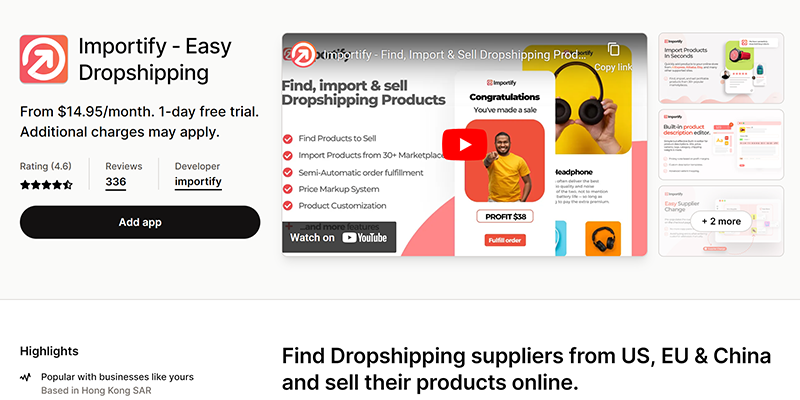 Importify integrates quickly with a number of the largest wholesalers, including Shopify, Wix, Jumpseller, and Woocommerce. Additionally, it enables businesses to swiftly import goods from over 30 popular marketplaces, including Amazon, Walmart, Gearbest, AliExpress, Banggood, Alibaba, Etsy, Taobao, and DHgate.
Importify has a built-in editor that helps dropshippers edit the title, price, images, category variants, tags, and other details for product descriptions. Additionally, it also automates orders in a matter of clicks and enables users to quickly switch suppliers when a product runs out of stock.
Main Features:
Users can easily switch suppliers for existing products and add them to their websites with a few clicks
Unrivaled Product Research: this feature allows users to spy on other Shopify stores in order to identify the best products to sell on their eCommerce store
The product editor enables users to tailor product information such as titles, descriptions, photos, prices, and more to their own business requirements
Semi-automatic order fulfillment for placing orders on AliExpress, Amazon and DHgate
Pricing Optimization: While importing products from suppliers, users can use Importify to set up pricing rules
Shopify to Shopify Importer: Use Importify for Firefox extension to add products from any other Shopify store with one click.
Pricing:
Importify offers three paid plans in addition to its free one: Basic, Premium, and Gold. The cost is $14.95, $27.95, and $37.95 per month, respectively. You can have a 1-day free trial if you choose Importify.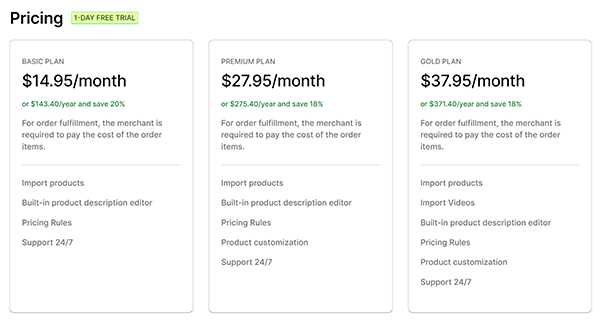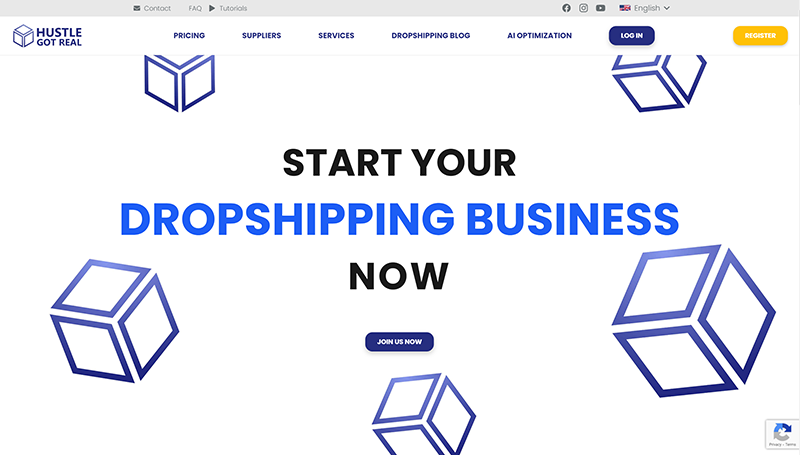 One of the best Oberlo alternatives is Hustle Got Real.  It is an advanced dropshipping automation program with AI optimization for product titles and descriptions, automatic ordering, price & stock monitoring and bulk product importing.
The software is quickly rising to the top of the list of dropshipping apps used by eCommerce companies in the US, UK, and Europe. Since 2018, Hustle Got Real has got over 35,000 users, and it has helped to generate 2.5 million dollars in sales. It is compatible with a variety of e-commerce platforms, including eBay, Shopify, eBay and Amazon. It also features an all-in-one dashboard for managing listings, processing orders, setting pricing rules, and so on.
Main Features:
Integrated with over 100 dropshipping suppliers
It helps you manage orders in bulk efficiently
It permits real-time tracking of the order status
Aids in managing and automating the order fulfillment
Aids in price and stock monitoring and management
Pricing:
Hustle Got Real offers a number of paid monthly plans with prices ranging from $27 to $2009 per month, as well as a "freemium" plan.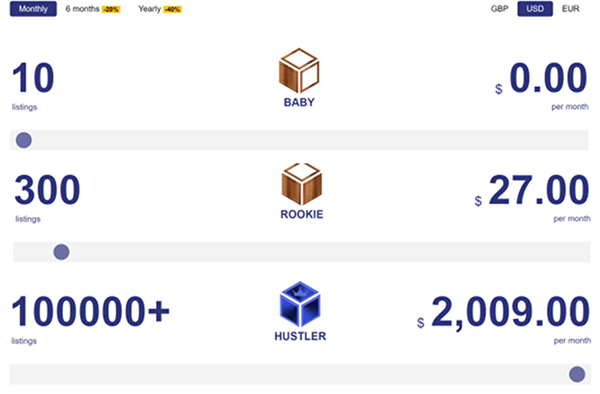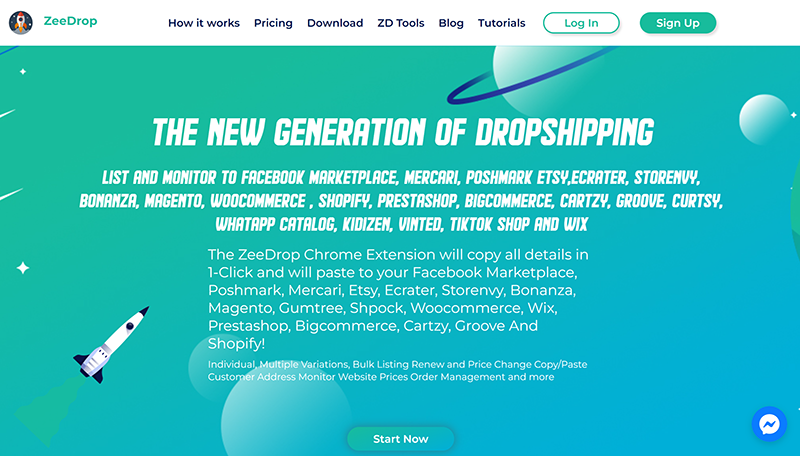 ZeeDrop is a Chrome extension that is used to automate the management of multiple e-commerce sites, including Facebook Marketplace, Mercari, Etsy, Poshmark, Shopify, and more.
The extension interfaces with these platforms very quickly and will swiftly copy and paste all of your product's details there with just one click.
The Oberlo alternative also has features for bulk ordering, unlimited stock and price monitoring, and quickly pulling reviews to your Shopify/WooCommerce store. One advantage of using this program is that Megasaleboot, an incredible research tool for finding winning products, is available for you.
Main Features:
Adding products from a variety of platforms with a single click
Copying reviews from Amazon and Walmart
Generates tracking numbers
Supports product branding
Pricing:
After a 7-day trial period, ZeeDrop charges a $16.99/monthly bill.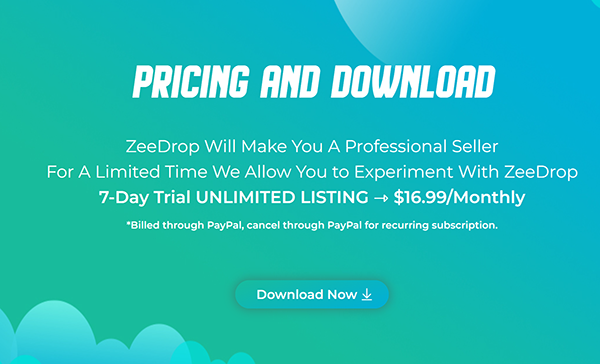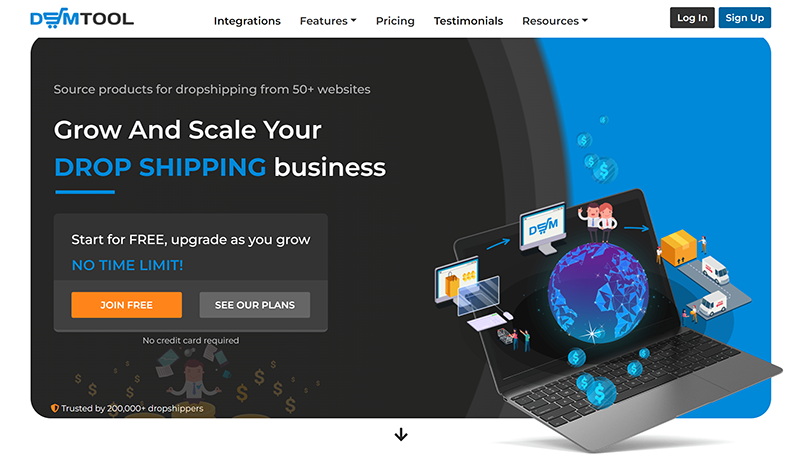 Another Oberlo alternative is DSM Tool, which enables eCommerce companies to choose dropshipping products from a number of providers. It includes a DSM Auto-Paste addon for Chrome that enables users to quickly and easily access 50+ dropshipping suppliers. Dropshippers are able to manage order status well and update buyers on tracking with one click.
Additionally, the software has capabilities like a bulk product lister, price and stock auto-sync, smart order processing, and more that aid companies in streamlining the workflow. Users of DSM Tool may keep their seller rankings high by keeping an eye on dropshipping suppliers' stock and prices.
Main Features:
Import products along with variations in just one click
Repricer for pricing optimization
Automated order processing and tracking number uploads
Automatic messages and feedback
Price and stock are synchronized automatically
Virtual assistance access
Multiple-store connection
Pricing:
DSM Tool offers three paid plans in addition to its free one: Basic, Business, and Enterprise. They cost $24.97, $99.97, and $499.97 per month, respectively.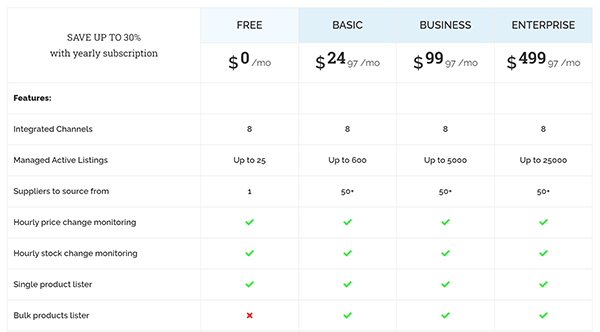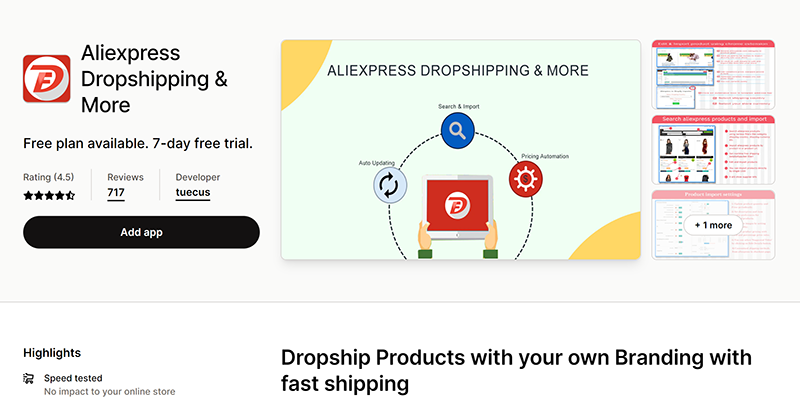 Another great Orbelo alternative is AliExpress Dropshipping & More. By helping dropshippers find and sell inexpensive goods — in comparison to other online shopping channels — dropshipping on AliExpress enables your store to maximize profit.
Consequently, it is possibly the most profitable online drop shipping approach now in use. Additionally, you may quickly and effectively import products with only one click from websites to your Shopify store, thus ensuring you manage your product list effectively.
Main Features:
Quick product import from AliExpress, Alibaba, Amazon, etc., with one click to your Shopify store
Easily find winning products with different types of filters
Keeps AliExpress product information updated
Pricing automation with pricing rules
Image optimization by setting the image quality
Synchronization of order tracking details
Pricing:
After a 7-day trial period, you can subscribe to the basic plan ($5/month), standard plan ($10/month), or professional plan ($20/month).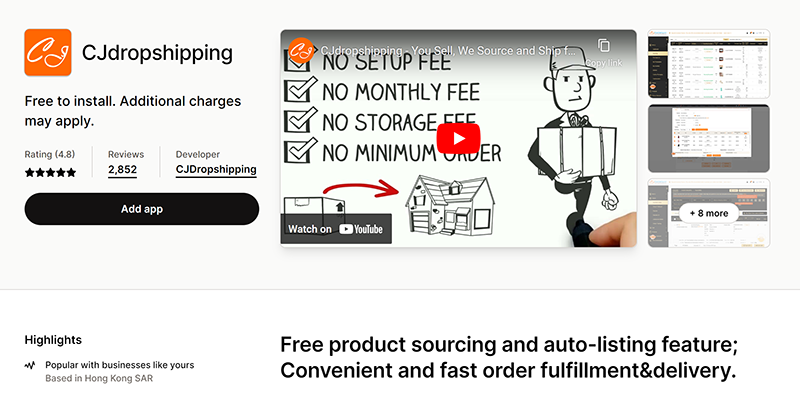 Another superb dropshipping supplier and Oberlo alternative is CJdropshipping. With a team specialized in product management, CJdropshipping suggests top trending products with YouTube videos, making it simple for dropshippers to keep informed about the goods they ought to promote.
As soon as you sign up, you'll have a knowledgeable agent who offers round-the-clock online support. Millions more products are also ready to be included in your store and are offered at affordable costs. Additionally, CJdropshipping offers POD and OEM services and assists with product customization and packaging.
Main Features:
CJ products encourage the use of DIY product bundles
Your orders will be automatically matched with the best shipping option
Shipping Calculation tool for the comparison of shipping methods and costs
Imports product reviews into your stores
Google extension available to import goods from Taobao, 1688 and AliExpress into your stores
Pricing:
The installation of CJDropshipping Shopify app is free, but CJdropshipping also offers the Plus, Prime, and Advanced plans whose monthly fees are $15.99, $39.99, and $59.99, respectively.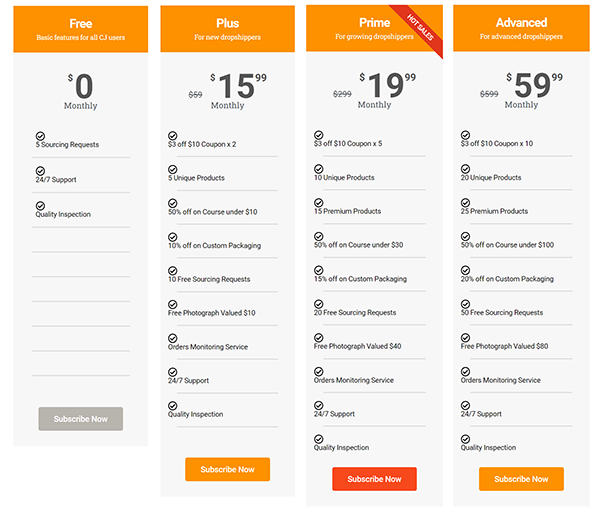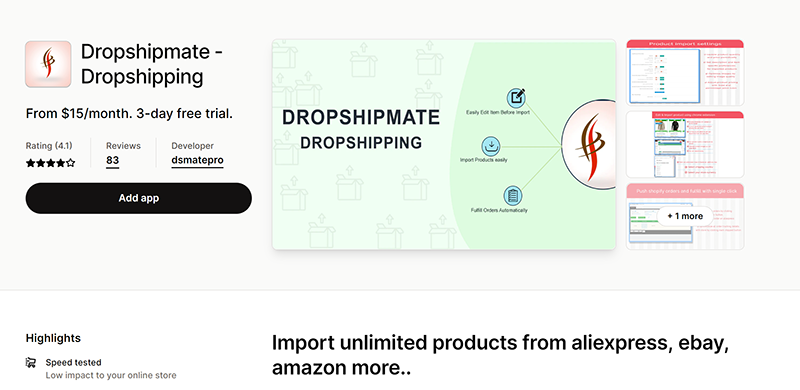 Dropshipmate is one of the best Oberlo alternatives if you want to start dropshipping at a low cost. Dropshipmate is a great option for Shopify store owners who want to import products from sites like AliExpress, eBay, Alibaba, Amazon, Walmart, and DHgate in order to scale and increase their income.
Main Features:
Rapidly import goods from sites such as eBay, Amazon, AliExpress, Alibaba, Banggood, Walmart, etc.
Edit and customize the products title, description, weight, tags, and price
Automate order fulfillment with a single click
Image optimization through image quality settings
Pricing rule settings
Automatic customer notification
Pricing:
Dropshipmate offers a 3-day free trial. Its Standard plan costs $15 per month, while the Enterprise Plan allows you to import from more marketplaces, and it costs $30 per month.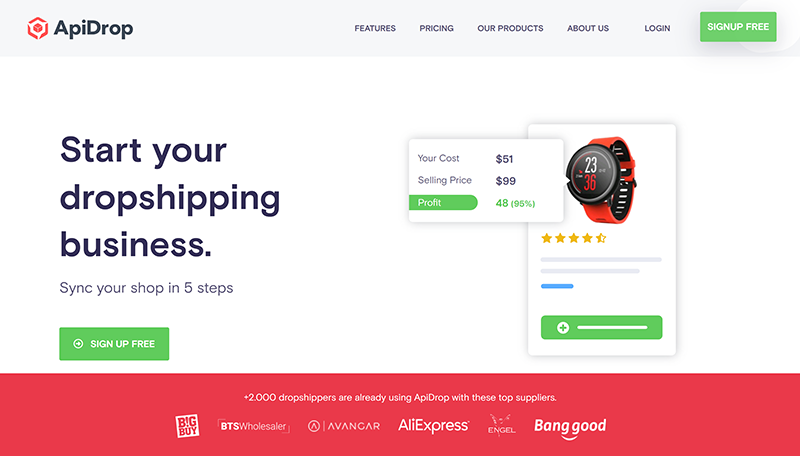 With the help of the Oberlo alternative, ApiDrop, you can quickly set up your online store and start making money. The app enables you to set up an online store in only five simple steps. Then, you may use ApiDrop's sophisticated and effective capabilities to focus on things that sell and improve profit margins.
Top e-commerce platforms, including Shopify, Wix, Ecwid, Magento and so on, are supported by ApiDrop. It makes use of patent-pending technology to provide very simple and comfortable c-commerce connectivity without downloading anything or copying and pasting anything.
Main Features:
Find products with the help of market trends data
Purchasing from multiple suppliers easily
Import a whole category or all products in search results
Bulk processing of orders
Top-level sync automation (order statuses, customer information, tracking numbers, etc.)
Price and stock auto-updates
Price optimization tool
Multi-language and multi-currency conversion
High-quality photos to meet high marketing standards
Pricing:
ApiDrop supports a free trial, and it offers three paid plans at $29, $49 and $99 per month, respectively.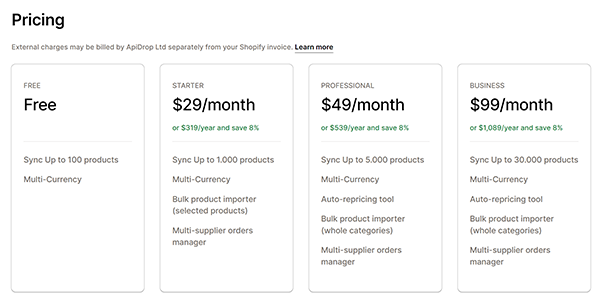 Conclusion
We have now gone through the list of 15 best alternatives to Oberlo out there. For dropshippers that don't want to work with just one supplier, these apps are perfect because they can perform all of Oberlo's functions without its limitations.
In addition, a lot of them are reasonably priced and even provide free trials at first, so you can test them out before deciding to buy and eventually find one that suits your needs.