Want to sell your own branded products but don't have a lot of capital for product development? Private label dropshipping might just be the thing for you.
Private label dropshipping takes the responsibility of product manufacturing off an entrepreneur's hands. But it still allows you to customize and brand items with your own colors, logo, and more.
What Is Private Label Dropshipping?
Private label dropshipping is the process of selling third-party products, branded as your own, directly to consumers. It is a low-cost business model since you don't need to invest large sums of money in inventory. The third-party dropshipping supplier handles the inventory and fulfillment on your behalf.
Unlike conventional dropshipping, private label dropshipping gives you the maximum flexibility in how the products are made, designed, and packaged. Your supplier (typically a manufacturer) will let you select components, features, packaging, label, and more.
Plus, they will do all the heavy lifting from sourcing, manufacturing, and QA testing to packing to fulfilling all your product orders as they come in.
Can You Dropship Private Label Products?
Yes, but you need to be aware of the pros and cons of taking this approach.
Benefits of private label dropshipping
Sell exclusively – Private label dropshipping gives you exclusive rights to the products you create. The supplier won't sell them to anyone other than your business. As a result, you'll find it easier to stand out from the competition.
Control pricing – Having private labels enables you to price your items on the basis of your branding effort and marketing strategy. Set your own rates without facing competition from businesses that have access to the same suppliers and products as you.
Scale faster – Introduce new product lines, items or variations quickly and more often. With the dropshipping model, you don't need to hire additional employees to fulfill orders and don't need space for new inventory.
Drawbacks of private label dropshipping
Responsible for everything – Since you will sell under your own brand, any shortcomings in product quality will make you accountable to the customer. So, you'll want to work with high-quality suppliers who focus on delivering the best products possible.
Procurement constraints – Most private label manufacturers have minimum order quantities (MOQs) they want you to meet. To keep your cash flow healthy, you will want to analyze these and ensure you don't over-purchase. Ordering more than you need may leave you with a lot of dead stock that eats into your finances.
Customer loyalty challenges –Most consumers will trust brands they've used in the past. And your smaller, less-known brand will initially be seen as unproven. To overcome this perception, research customer preferences so you know what people want and position your offerings accordingly.
How to Dropship Private Label Products?
Ready to dropship products under your own brand? Here's how to get started.
Create a brand
Before anything else, take the time to establish your brand identity. Think about assets like your business logo, name, fonts, colors, and more. If you don't have a logo yet, you can use Hatchful by Shopify to make one for your business. Additionally, make sure your overall brand aesthetic matches your mission, values, and other aspects of your identity.
Choose your niche and target market
Although it's tempting to sell a wide range of products, it's better to be specific when it comes to private labeling. Start by discovering how your ideal customers use the item (and the motivators behind their selection). Jot down your findings to share with your dropshipping supplier.
Audience learning can help keep your messaging well-targeted and tight. Plus, it lends to more unique products to help people remember your brand by.
Find private label dropshipping suppliers
We'll share a list of the best private label suppliers with you in a while. For now, let us guide you on how to vet suppliers.
Among the several questions you should ask include:
Do you have a minimum order quantity?
What is your average process and fulfillment time?
What type of packaging do you offer?
What happens if a customer requests a return or refund?
Moreover, consider ordering a few samples to test the overall experience from a customer's POV. This will help you check whether the quality of the products is consistent.
Set up your online store
Next, pick an ecommerce platform like Shopify and build your website. Once done, connect to a private label supplier to add customized products to your store. When someone places an order, your supplier will be notified and make, pack, and ship the product to the customer.
Besides setting up dropshipping, make sure to:
Create unique product descriptions for your items
Develop a brand story that forms an emotional connection with your audience
Set up various payment options via processors like Shopify Payments
Keep branding consistent throughout your website
That's it—the stage is yours.
10 Popular Private Label Dropshipping Business Ideas
Need some inspiration on what private label business to start? Here are 10 ideas to help get you going.
Supplements: Create your own brand of "sports" or "family-friendly" supplements, but make sure to comply with the various regulations so you don't face legal issues down the road.

Coffee: You'll find many private label dropshippers offering quality coffee products, from Moroccan coffee to Italian varieties and more. Many of them also offer custom design and packaging.

CBD: Often used for offsetting depression and relieving pain, it's easy to source and dropship CBD products. Choose from options like gummies, capsules, and bath products to start your private label business.
Candles: Often used for home scenting and aromatherapy, any candle products not only smell great but offer a range of uses cases, such as being a source of light during a power outage.

Skincare products: Some examples of skincare products you could private label are anti-aging cream, tea tree oil, and organic sunscreen. "Think natural" if you want to resonate with modern buyers.
Pet products: Popular items you could private label within this category include pet clothes, food bowls, litter boxes, and grooming brushes.
 
Tea: There's a vast market of tea lovers around the globe. And you could grab a slice of the pie by starting your own private label tea brand. Herbal or black, flavored or non-flavored—good tea is bound to sell.

Clothing: People love discovering new brands when it comes to clothing. You can start your own clothing line by working with print-on-demand companies. Design t-shirts, maternity dresses, jean shorts, and more.
Shoes: Hiking boots, dancing shoes, gym trainers; the options are endless when it comes to the shoes category. Private label manufacturers will allow you to select style, color, and even stitching in some cases.

Essential oils: With people often willing to pay good money for a "life-changing oil," your profits from private label dropshipping could be big. Choose from varieties like lavender, cedarwood, and grapefruit to get your business started.
20 Best Private Label Dropshipping Suppliers
To execute any of the business ideas in the list above, you will need a supplier. Although there are many suppliers out there, not all of them are created equal.
To ensure you only work with the best vendors, we have compiled a list of the 20 top private label dropshipping suppliers.
Note that our list will feature important details like the niche, region, and product category of each supplier—the information should help you find the perfect supply partner for your business.
Region: China
Niche: General
Dropshipman offers over 10 million high-quality items for dropshippers to choose from. You can make any product your own with the company's custom labeling and packaging service. Plus, you can choose from a variety of package inserts (thank you cards, hangtags, tape, stickers, etc.) to help you deliver a memorable customer experience.
Dropshipman's team can also help you with the design, communicate with factories in China, and oversee the production on your behalf. Once you've selected a product, tell them how you want it to be packed via live chat. So every time you receive an order, they will create the product package according to your requirements.
The private label dropshipping supplier also makes it easy to get a business started. You don't need a lot of investment since Dropshiman has no MOQ. Plus, one-click batch ordering makes it easy to manage your business.

Pros
More than 100 categories of products
Free warehousing service to help you lower your costs
7-15 days delivery to most regions worldwide
Logistics tracking service to help you keep tabs on orders
24/7 responsive customer service team
Cons
Shipment to specific areas may take time due to customs
Supports: Shopify merchants
Region: China, US, Parts of EU
Niche: General
CJDropshipping offers a vast range of dropshipping products at lowest prices. You don't need to incur the cost of warehousing or fear about delayed shipping—the company has 3 warehouses in China and 3 warehouses abroad (including one cooperated warehouse in Poland). Your products can be shipped out the same day as your customers place an order—most deliveries take 2-25 days on average.
CJdropshipping offers a custom packaging service for those interested in private labeling. The company has its own printing machines and partners with many packaging suppliers, which also helps it offer lower MOQ. You can even share specific needs of your items' packaging, like customizing its pattern and size, with CJDropshipping's team and they will bring your vision to life. Multiple packaging options are available for products like sunglasses, earphones, etc.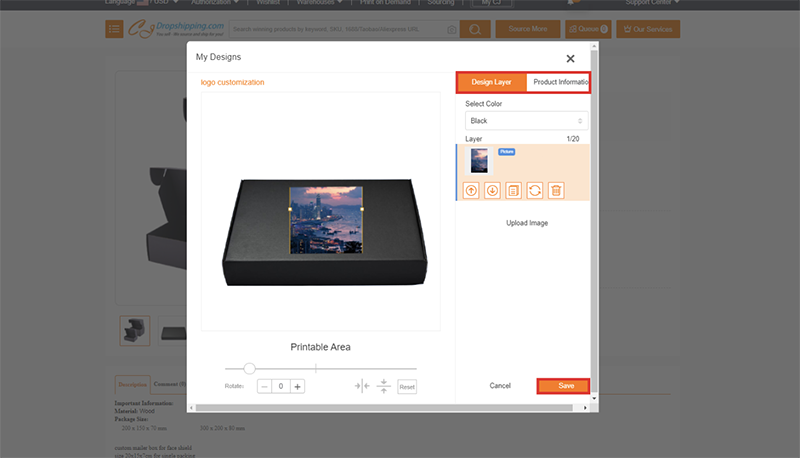 Pros
Product packaging tailored to your needs
Dedicated customer support staff
Warehouses worldwide to speed up shipping
A decent range of high-ticket products
Has a print-on-demand service
Cons
Calculates shipping fee based on the product's weight
Details of some products are missing
Supports: Merchants selling on a variety of ecommerce platforms.
Region: US
Niche: Print-on-demand
Printful is one of the purest private label dropshipping suppliers with warehouses all over the globe. You can use it to start your own line of t-shirts, hats, mugs, and other products. Use its mockup generator to create a design, then add that design on the product you want to sell. It's easy.
Aside from printing your design on the product, the supplier can also add your brand's label to it. Plus, it offers customized packing slips to help make the product completely yours. You can even request a branded invoice to leave no room for thoughts in the customer's head.

Pros
Has no minimum order quantity
Boasts high-quality printing capabilities
Shipping prices are transparent
Fast shipping in 3 days on average
Integrates with many ecommerce platforms
Cons
Some items (like framed posters) can't be shipped worldwide
Lower margins than other suppliers
Supports: Merchants selling on a variety of ecommerce platforms
Region: US
Niche: All-over-print clothing
Apliiq is a private label dropshipping supplier specializing in all-over-print clothing. Its products are luxurious and handmade by seasoned sewers and cutters. The supplier's catalog includes a variety of clothing options, from zippers, v-necks, and polos, to leggings, joggers, and hats of various colors and styles.
Apliq offers a diverse range of custom services that include screen printing, digital printing, sewing, stitching, and labeling & branding. You can access all these services in one place, meaning it's convenient to start a private label clothing business.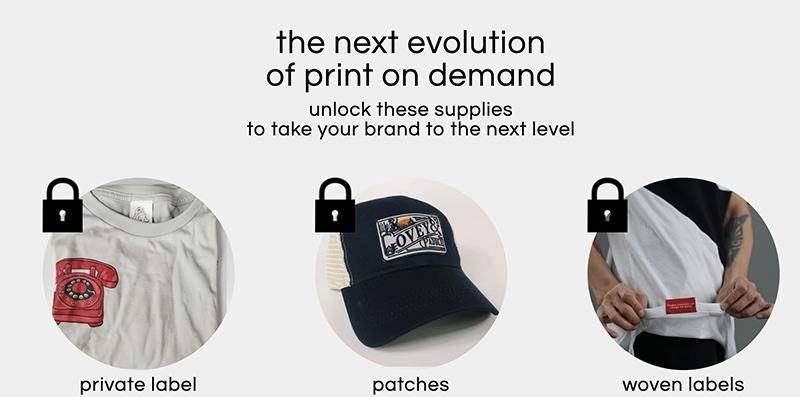 Pros
Offers a mockup tool to help you create a custom design
Ships to over 150 countries within 15 days
Accepts payments with credit cards and PayPal
Offers generous discounts on bulk purchases 
Cons
Higher prices for personalized labels than other suppliers
They can take up to 5 business days to produce an order
Supports: Shopify and WooCommerce merchants
Region: US, EU
Niche: Activewear
Modalyst is known for offering well-known brands that people love, including Dolce & Gabbana and Calvin Klein. But that's not the only thing it's known for—the dropshipping supplier also offers a catalog of high-quality apparel that you can customize to make your own.
Modalyst's private label service enables you to create hangtags and stickers for your packaging. Plus, the company sends you images, videos & other content of the packaging so you can use them in your marketing campaigns.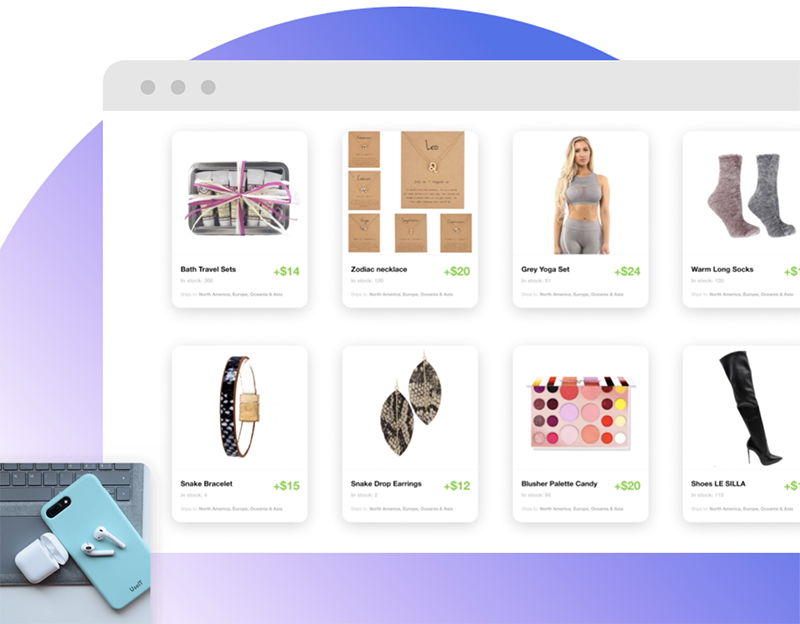 Pros
Handles returns from customers
Offers shipping to most countries
Syncs stock alerts directly to your store
Offers shipping and tracking details
Cons
Order placement isn't fully automated
Charges a 5% transaction fee on orders (Basic plan)
Shipping times vary
Supports: Shopify, Wix, and BigCommerce merchants
Region: UK
Niche: Print-on-demand
Contrado was started in 2002 and has come a long way in the dropshipping and print-on-demand industry. It allows you to apply your unique branding to the custom clothing that you order. Just choose the label options when designing your clothing, and add your own personalized label to the product.
It's even possible to add some text to the product. Whether it's your company's slogan or a motivational quote, Contrado is among the best private label dropshipping suppliers that helps your creative freedom run wild. Besides private labeling, this dropshipping supplier offers top-notch manufacturing and printing services.
Contrado operates under the Contrado Imaging Ltd. This corporation has a network of 40 websites across 14 regions in 9 languages. Their mission is to empower entrepreneurs and artists worldwide to own an independent business.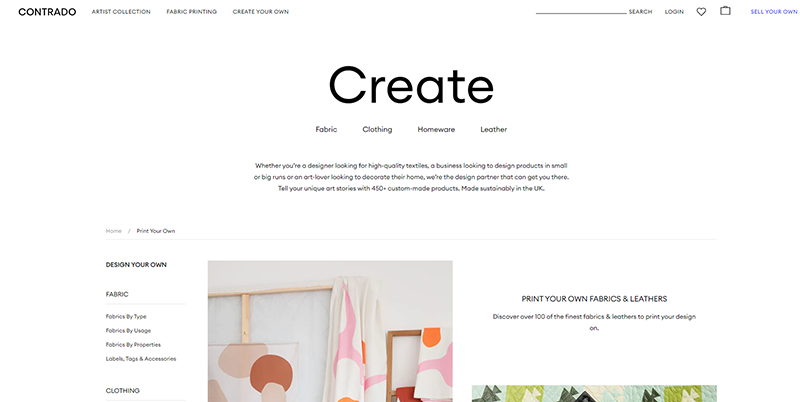 Pros
Offers a variety of printing options
Accepts most forms of payment
Has no order minimums
Processes orders in 1-3 days
Offers up to 40%discounts on wholesale dropshipping orders
Cons
Products are on the expensive side
Shipping costs are high
Supports: Shopify merchants
Region: US
Niche: Supplements, skincare, and more
Dropified allows you to private label supplements, skincare items, CBD, and more. All of their products are manufactured in the US, meaning retailers can sell items with some of the highest-quality ingredients. And shipping to most states within the US is fast, too.
Dropified has no labeling costs and no minimum order quantity. This gives entrepreneurs the room to test unlimited products and brands without splurging thousands of dollars in labeling costs to find the right idea.
Whether you're a skincare enthusiast looking to start your own business or a fitness trainer looking to offer high-quality supplements to your students, Dropified has the resources to fulfill your needs.


Pros
Access various tools form one place
Automates functions like item uploading and order fulfillment
Offers shipment tracking
Has responsive customer service 
Cons
Expensive products
Limited self-help resources
Supports: Merchants using Shopify, CommerceHQ, GrooveKart, WooCommerce, etc. 
Region: US
Niche: Consumer-packaged goods and supplements
Supliful's mission is to help entrepreneurs create a self-sustaining brand selling personalized CPG. Their core focus is on FDA-compliant supplements, which you can retail under your own label.
First, choose from over 100 nutrition-tested items. Then, customize the product's packaging with your brand logo, typeface, and colors. You can also set the pricing of the item based on the margin you want to earn. Once done, install the Supliful app on your Shopify store and publish your items with your retail price.
Since Supliful is a private label dropshipping suupplier, it takes care of the packing, inventory storage and delivery. Therefore, you get more time to focus on sales and marketing.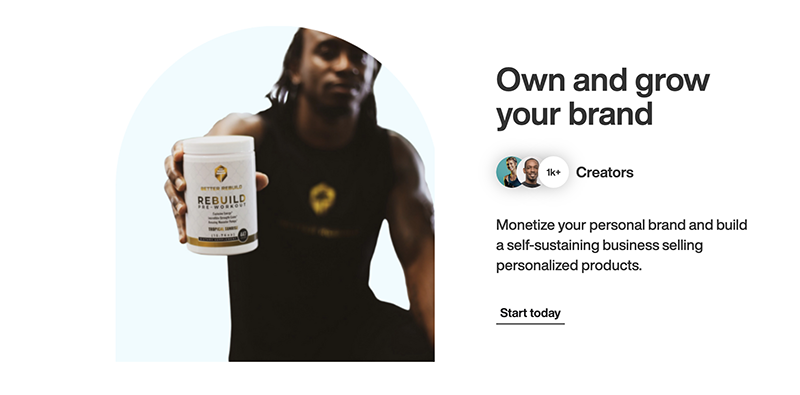 Pros
Higher-quality products than other suppliers
30 day refund and replacement policy
Label design service
Ships within 1-9 business days
Cons
Limited product range
Long processing time
Supports: Shopify merchants
Region: US
Niche: Coffee
If you've always wanted to launch a private label coffee brand, you should get familiar with Dripshipper. It's a company that offers high-quality coffee beans and other products featuring the customer's brand. Dripshipper roasts all coffee products in the US and ships within three business days.
Starting a gourmet coffee brand is simple with Dripshipper. You can choose from over 32 different roasts and 20 flavored beans, then add them to your online storefront. Once the customer places an order, the supplier will carefully pack the coffee in heat-sealed bags, and then ship them via FedEx.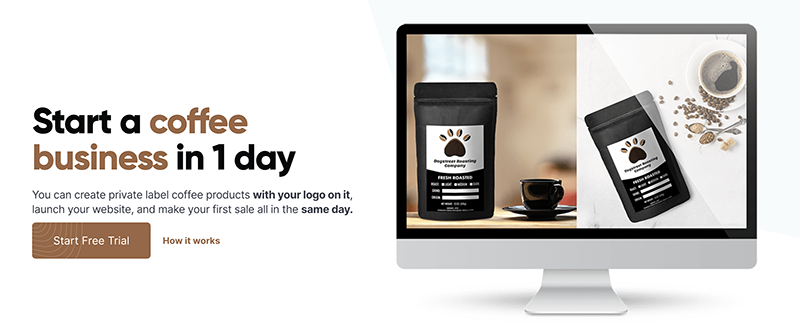 Pros
Offers unlimited products
Adds shipping costs to the total cost
Makes high-quality products
Accepts most forms of payment
Has dedicated customer support
Cons
Not a large database of suppliers
Some products are expensive
Supports: Shopify, BigCommerce, Wix merchants.
Region: China
Niche: Print-on-demand
ERPOLO is one of the best private label dropshipping suppliers for apparel items. Once you get its membership, you can enjoy benefits like customizing hangtag, packing bag, label, gift card, and even scotch tape. The supplier has no minimum order quantity, so you don't need a lot of investment to launch an online boutique or clothing store.
ERPOLO will print the branding assets and designs you make onto the packaging. Then, it will ship them directly to your customer. You can use your own set of tools to create the designs or utilize the supplier's native programs to make the packaging design. This dropshipping supplier ships products worldwide.

Pros
Broad clothing range (t-shirts, jeans, socks, plus-size apparel, and more)
Personalized wrapping and packing
print-on-demandapp
Ships worldwide within 5-15days
Cons
Costs and shipping times can be inaccurate
Limited transparency about suppliers
Supports: Supports Shopify and WooCommerce merchants
Region: US
Niche: Essential oils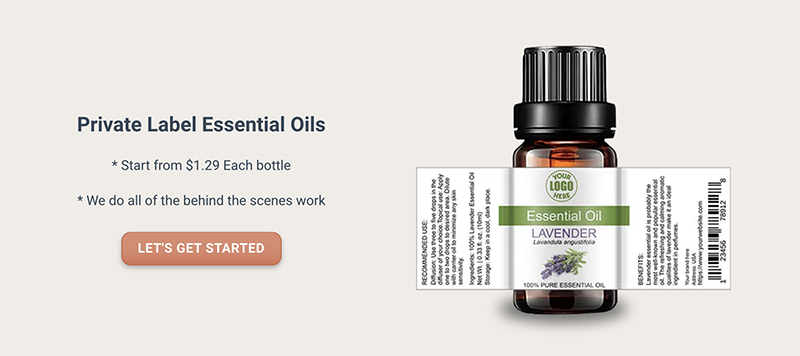 AromaEasy focuses on one product: essential oils. You can take advantage of its private label services to start your own essential oils store. The supplier can use custom blends according to your exact specifications. It also boasts specialized certifications like USDA-certified Organic, which is an indication of its high product quality.
Getting started is easy. You can order the oil you want to private label, then upload your brand logo on AromaEasy's site. The supplier will design and print labels for you starting from $1.29 each. Plus, it will bottle, cap, and pack your product with utmost care.

Pros
Pre-fills oils in an elegant ember glass bottle
Has no minimum order quantity
Accepts various payment methods
Ships to Australia, US, Canada, and Europe
Cons
Can only private label dropship essential oils
Supports: Shopify merchants
Region: China
Niche: General
Founded in 2015, Wiio grew into an all-in-one dropshipping solution provider with over 150 staff in 2020. It mainly targets the Brazilian market. Up till now, Over 12,000 dropshippers have chosen Wiio. The company collaborates with many reputable suppliers to offer high-quality products in a wide range of categories at low prices. It helps dropshippers to source products, buy wholesale, store inventory, check product quality, and fulfill orders.
Wiio is also a private labeling dropshipping supplier that offers custom product photos, custom cards and labels as well as custom package inserts. Wiio has 1 US warehouse and 2 CN warehouses, and it provides multiple shipping methods, including DHL, FedEx, express lines, ePacket and China Post. The shipping time varies from 3 ~ 60 days.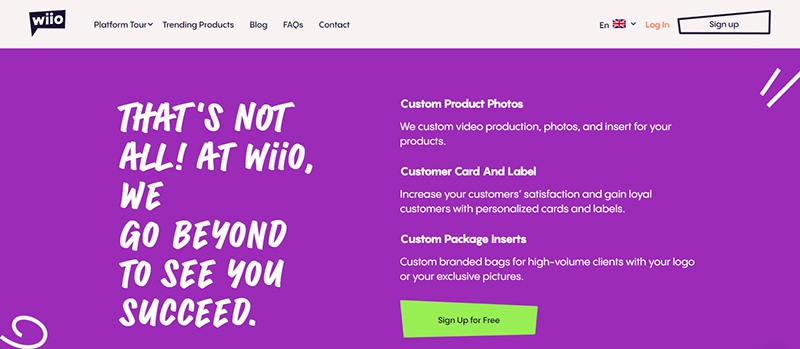 Pros:
A comprehensive dropshipping solution the covers warehousing and branding
With a team of designers to handle custom packaging and product photography
Refunds customers 70% of products which are not sold if they choose to stockpile products
Cons:
Must connect a Shopify/WooCommerce/CartX/Yampi/LPQV store to get started
Long shipping time by using ePacket/China Post, shipping fee usually starting from $7
Supports: Shopify, WooCommerce, Yampi, and LPQV merchants
Region: India
Niche: Tea products
Headquartered in India, TeaSwan is a fast-growing supplier of tea products. You can become a member of its private label program to dropship tea products worldwide in customized packaging.
The company also offers business setup assistance if you want to start selling products fast—they can create your online store and add your inventory, allowing you to start marketing in as little as a couple of days.
You can choose your preferred packaging as well as create customized product labels. TeaSwan will share the sticker dimensions upfront so you can have your own designs. Plus, they offer a label design service you can use to speed things up.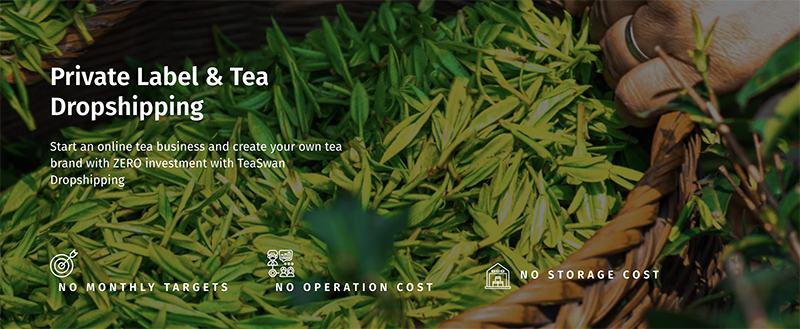 Pros
Offers free shipping
Ships high-quality products
Offers label design service
Cons
Requires one-time registration fee
Takes 3-10 business days to deliver
Charges shipping for small orders
Supports: Cannot be integrated with an ecommerce store.
Region: Italy
Niche: General
Yakkyofy is a private label dropshipping supplier that offers all-in-one branding. The supplier is based in Italy but has warehouses in Shenzhen and Bari. It can arrange products from high-quality factories and ship them out to your customers in branded packaging. Additionally, it's possible to use branded packaging, insert discount cards, and use fliers.
You can also use Yakkyofy to create 360-degree rendering, pictures, and videos of your product. This can be used to test product ideas or run advertising campaigns for your private label business. The supplier also manages the documentation for customs clearance and gives a quote that covers all the costs.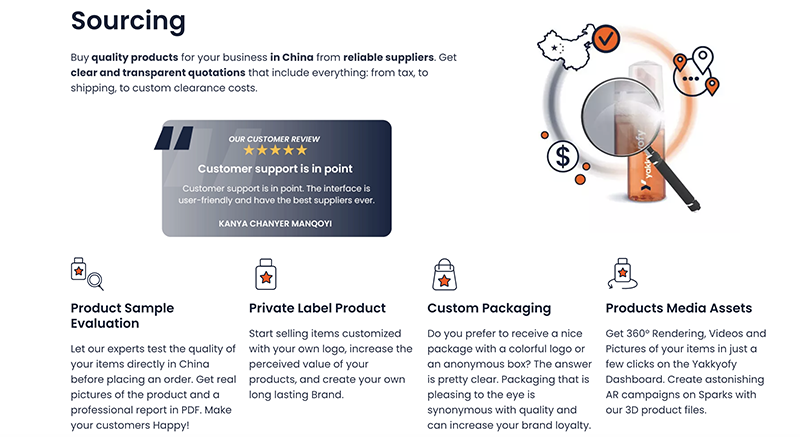 Pros
Ships to over 100 countries
Offers Amazon FBA transfer service
Provides free warehouse space
Italian consumers can pay via COD
Automates product listing and shipment tracking
Arranges customs documents
Cons
Takes 5-9 days to ship to the US, EU shipping within 15 days
Logistics delays may occur
Supports: Shopify and WooCommerce merchants
Region: China
Niche: General
NicheDropshipping is a "sourcing agent-based" dropshipping company that offers a range of private label services. This includes product development, sample sourcing, quality inspection, and inventory management. It also offers various shipping methods and can deliver the products you order worldwide.
The platform connects you with professional experts in China to help bring your brand to life. It has helped hundreds of Amazon and Shopify sellers start a private label business over the years. You can also take advantage of its branded packaging option to offer a 360-degree branding experience to your customers.


Pros
Offers private labeling end-to-end
3 warehouses in China and 2 in the US
Accepts most payment methods
Cons
Logistics delays me occur
Supports: Shopify merchants
Region: China
Niche: General
HyperSKU offers a range of ways to private label your products. For instance, you can leverage thank you cards, branded packaging, and product customization to make any item your own.
To get started, brief the supplier with your customization ideas and wait for a quote. Then HyperSKU will order samples from factories and inspect their quality. Then, once you confirm the design and the quantity you want, your orders will be sent to the warehouse, from where they will be fulfilled.


Pros
Has a huge catalog of products
Offers express shipping
Automates fulfillment
Cons
Lack of supplier transparency
Bases shipping expense on estimations
Supports: Shopify merchants
Region: China
Niche: Wholesale and B2B
Alibaba is a great supplier for private label dropshipping, but you need to put in the work on its platform. Enter keywords like "private label + [your product idea]" in the search bar, and the platform will present you with listings of private label suppliers and manufacturers.
From there, you need to filter the suppliers based on the type of product want to customize. Plus, you should communicate with the vendor to learn what type of private labeling they offer.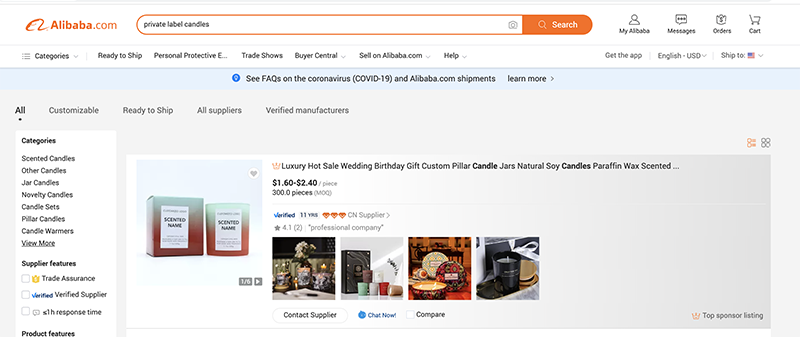 Pros
A vast range of products
Can order products wholesale
Accepts most shipping methods
Ships worldwide
Cons
A lot of manual work involved
Quality suppliers are hard to find
Supports: Shopify, WooCommerce, Ecwid, BigCommerce and Wix merchants
Region: EU
Niche: Bodybuilding supplements
Power Body is a UK-based distributor of bodybuilding supplements that you can private label. Its catalog consists of over 7000 products, ranging from Castrol oil to collagen powder. Power Body offers branded labels, invoices, and packaging to help you build affinity with customers.
This private label supplements dropshipper offers same day shipping and has no order minimums for those in UK Zone 1. Plus, it offers features like favorite products list, item reservations, analytical panels, and file order uploads.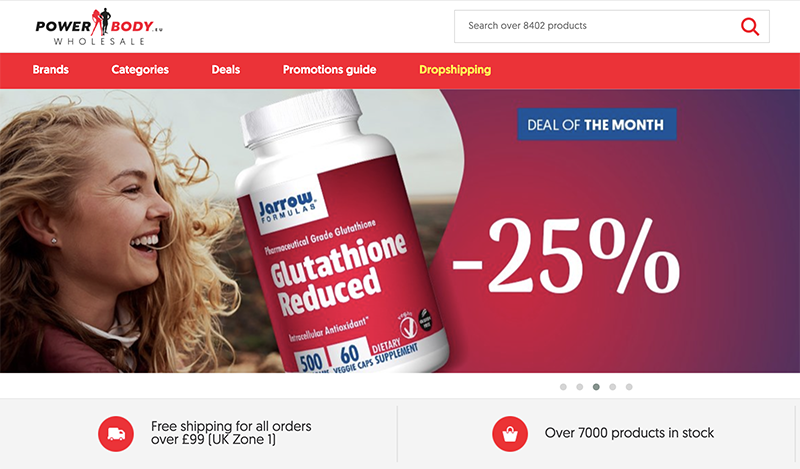 Pros
Offers an innovative discount system
Accepts many forms of payment
Accepts returns within 14 days of invoice
Cons
Expensive products
Delivers from zone 1 to zone 6 (only EU countries)
Supports: Shopify merchants
Region: UK
Niche: All-over-print clothing
AOP Plus allows you to create your own clothing designs and print them using organic and vegan friendly solutions. You can use its mockup generator to get your visual/artwork on 140+ high quality products. AOP+ offers various branding options to help you launch your own private label store.
Adding a personalized message and logo on packing slips is the first step to creating your own brand. Then you can also put a branded sticker on postal bags, heat press your branded label, and include a full color promotional card or thank you note. The company makes it easy to get your store started.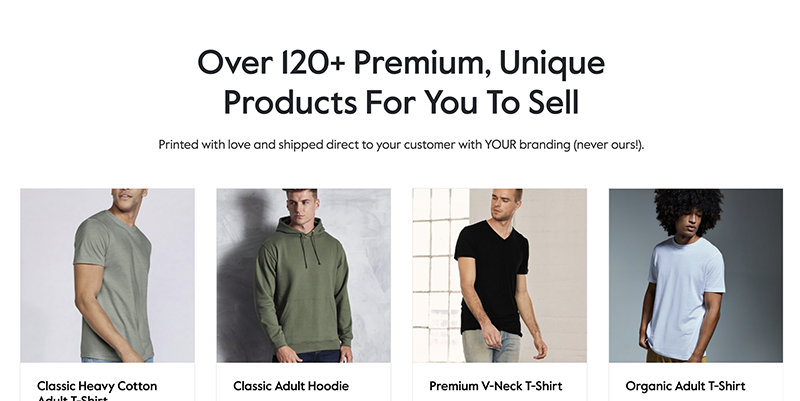 Pros
Good quality items
Excellent customer support
Various printing options
Cons
Shipping outside the UK is expensive
Supports: Shopify and BigCommerce merchants
Region: Canada
Niche: Clothing, accessories, home décor, stationery, etc.
Art of where offers a variety of products that you can customize in several ways. For one, the supplier offers easy-to-use custom labeling for pillows and garments. Plus, you can put custom stickers in the product package to reinforce your brand after the purchase.
If you're an artist or creative, you can also use "artist cards" to communicate with your customers. These cards work like business cards—telling customers the URL of your online store. The card can house any design and is printed on a tough card stock. It's a marketing asset that people will want to hold onto.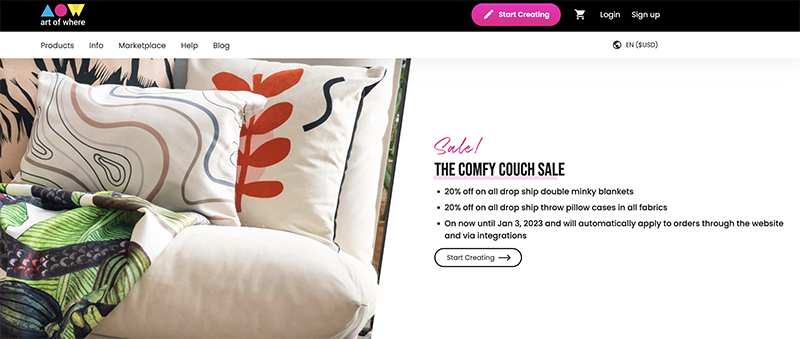 Pros
Diverse private labeling options
High-quality products
Accepts Paypal and credit cards
Offers international shipping
Cons
Tracking is somewhat limited
Supports: Shopify, BigCommerce, Squarespace, and BigCartel merchants
Conclusion
There you have it—everything you need to know about private labeling and the dropshipping suppliers you could use to customize and sell products.
Compared to standard dropshipping, private label dropshipping offers a variety of benefits. You can make higher profits through your customer experience and build relationships with customers.
With the correct strategy, you can build a powerful brand that generates consistent revenue and loyalty for your business.