Did you know that efficient knowledge of your buyer's personas gives you vast insights into how to prepare your social media marketing to reach the right audience? Brands with Instagram marketing strategy use the platform to drastically enhance their brand awareness, drive engagement, and eventually sell their products or services to followers.
Modern consumers, and more so Gen Z, have a long list of criteria that the brands they buy from must meet. The most important one on their top priority list is shared values. In 2021, according to Statista, about 67% of US consumers purchased products from brands reflecting their personal values—from transparency to commitment and eventually to sustainability.
To learn more about products and inspiration for new ideas about the latest product trends, get acclimatized with Instagram. 
Ranked as the fourth largest social network after Facebook, YouTube, and WhatsApp, this powerful tool allows marketers to reach their target audience easily by creating visually appealing posts that attract potential customers.
But then, how do you research new products on Instagram? What powerful tools should you use?
No need to panic, as in this article, we will take you through 7 tips on how to do product research on Instagram. We will cover everything from using Instagram insights to testing Instagram ad audiences.
1. Use Instagram Insights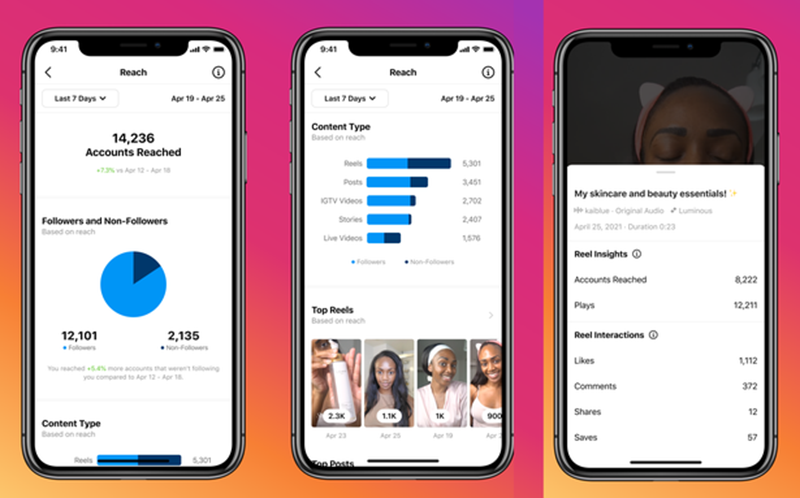 The first step in Instagram product research is carefully leveraging your starting point. Luckily, Instagram Insights are important metrics strictly streamlined to fit your business's account. Its breakdown is as shown below:
Most Instagram users fall between the age of 18 to 34 years (Mostly Gen Z and millennials). Your audience may differ depending on the type of person who purchases your products. You should consider that younger audiences are much more likely to engage with videos on social media than older generations.
The location where your audiences come from plays a vital role in determining how they will frequently purchase from your online store, and in essence, it will determine the type of suppliers to engage with. The Instagram demographic data shows the top countries and cities among your followers. Take advantage of this to tweak your strategy. If 90% of your followers, for instance, are based in Florida, consider hosting an Instagram pop-up shop there. You can also make improvements by reposting the events happening in the area and using geotags to reach your local customers.
Your new followers need to discover each type of your content. But then, how do they successfully do this? Well, whether it is Explorer's page or through the standard grid, use Instagram analytics to fine-tune your approach. For instance, if most visits come from the Explore page, it indicates that the content generates more engagement of the target audience than just the brands they follow—which should be good news to you.
2.  Use Hashtags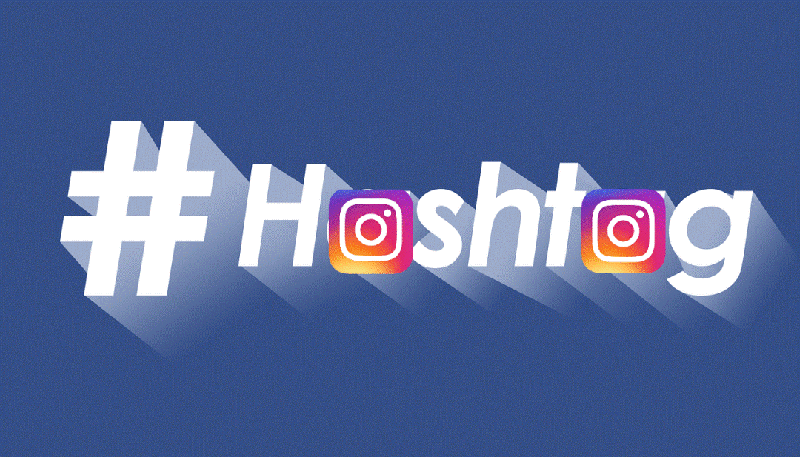 The hashtag is one of the most effective tools to help your products stand out among potential customers. If you are restless to find what other people are talking about a particular product, then hashtags should be your best friend. They can be very significant in product research.
Use relevant hashtags specific to the category of products and audiences you are looking for. Let's assume you are selling skincare products. Some relevant hashtags could be:
#skincare
#beauty
#cosmetics
#makeup
To make it easier, consider using the best hashtag generator tools like Sistrix. This Instagram hashtag generator permits you to search through all the available tags and filter them according to your preferences. Once your hashtags have been filtered according to your needs, paste them into the Instagram search bar to help you find the most popular products effectively.
3. Validate Product Ideas Through Instagram Story Polls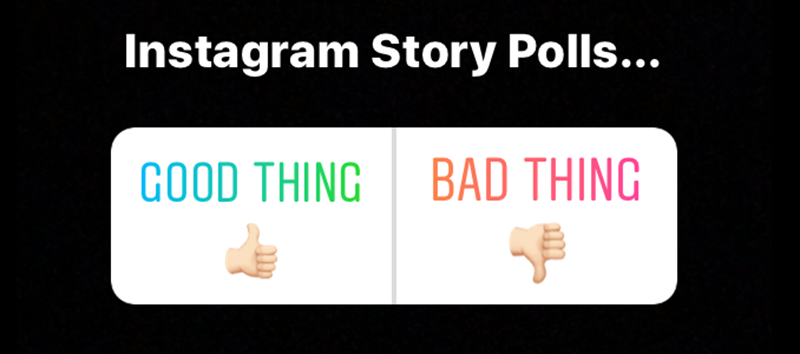 Benefiting from audience research might go beyond your social media strategy. However, Instagram is a superb way to painstakingly gather customer feedback—especially when developing new products or services. According to Kim Kardashian, one of the world's most popular influencers, "Instagram is the most amazing platform that has been invented to help brands."
The simplest and most efficient way to collect customer feedback is using Instagram stories. Research indicates that 70% of Instagram users watch stories every day, among which 25% of Gen Z and Millennial audiences use them to discover new products and services.
You are privileged to use the following stickers to collect feedback from your Instagram followers:
Quizzes
Question boxes
This or That polls
Sliding scale emoji polls
We can also see this concept put into practice through SweetPeeps Jewelry's Instagram account. The retailer uses story stickers to attract its audience, judging the popularity of its products by asking whether viewers will add them to their cart.
4. Conduct Competitive Analysis
It is nearly impossible to unearth relevant data and find out what makes your competitors' Instagram strategy successful. Nevertheless, by explicitly evaluating the content they share, you acquire a solid understanding of what they are targeting.
You can do this by listing your most significant competitors –those who offer similar products or services –and monitoring their content strategy on other social media platforms, including TikTok and Instagram. Learning about your competitor can give you a head start on Instagram.
Moreover, pay keen attention to your competitors' followers and have both common and unique topics jotted down. For instance, by having a quick scan, you will notice that people who follow your competitors have sizeable audiences. In that case, it is safe to assume that building a brand is their goal. Share similar content on your profile to stand a chance at growing your followers.
In conclusion, comb through a competitor's Instagram posts and identify which influencers they are working with in case there are any. If an influencer's audience has enough overlap for a competitor to pay to reach them, take note of the content format they use, topics they talk about and ways in which they engage with their audience.
5. Use Social Listening Tools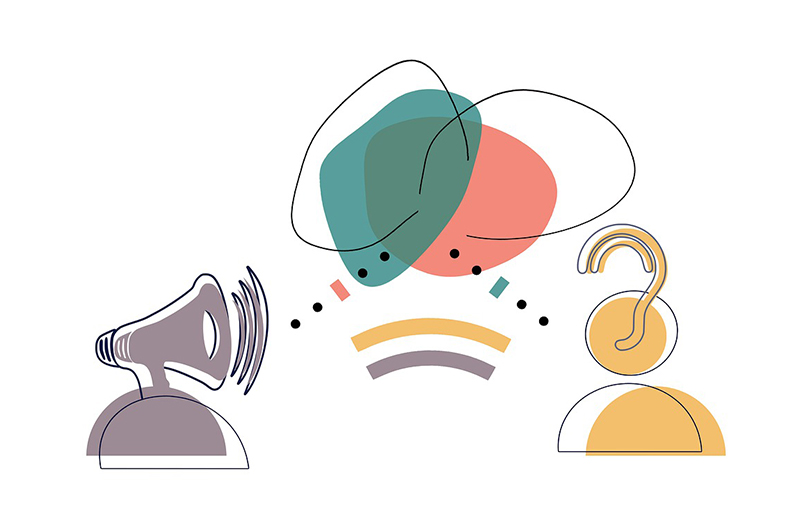 Sharing opinions with friends and families is one of the best things consumers enjoy doing. They do this through social media platforms. Just make sure to discover what people think about your products and the entire industry.
With social media listening tools, businesses carefully pay attention to those conversations. The popular options that go hand in hand with Instagram include:
SparkToro
Mention
Awario
Agorapulse
Use these tools when you want to discover the trending content and popular influencers in your niche. You should always know that social media influencers tell you a lot about the type of content your target audience is interested in. Besides, you can collaborate with those influencers or replicate their strategy with the insights you unearth from social listening.
6.  Evaluate Popular Hashtags
It is well known that social media marketing tools have the ability to uncover the hashtags your target audience is using.
That said, hashtags play a crucial role as far as Instagram strategy is concerned. In fact, Instagram posts that use hashtags get 12.6% more engagement.
You can discover new hashtags through:
The Instagram App. Do this by simply opening the mobile app and then typing your industry. The algorithm will automatically pull related hashtags you can use in your content.
Competitor Analysis. Look at your competitors' Instagram captions and record any hashtags they are using.
Google Suggested Terms
Expand your product research outside Instagram by doing a Google search for popular topics in your industry. For example, you can check on the related terms box for "dropshipping courses" or a handful of other hashtags you definitely use on Instagram—such as #freedropshippingcourses and #dropshipping101.
7.  Test the Target Markets
Although you can conduct product research effectively on Instagram with little to no advertising budget, you can speed up the process—and figure out which audiences you should prioritize reaching—with Instagram advertising.
You should also come up with various ad sets that target slightly different audience groups, remembering to exclude one group from the other. After all, you don't want to waste your budget in competing against yourself for advertising placements on the platform.
Let's consider a scenario where you act as a women's clothing retailer, trying to figure out which audience you should target on Instagram. Therefore, you will end up creating advertising campaigns that target the following groups of people:
Ad set #1: People aged 20 to 40 interested in women's clothing in the USA.
Ad set #2: People aged 20 to 40 interested in women's clothing in the UK.
Ad set #3: People aged 20 to 40 interested in women's clothing in other European countries.
A week later, you check in on the results of the campaign. The first thing you find out is that the content promoted to the US audience has the highest engagement rate. In this case, you can focus on the ad set to boost your chances of getting the best return on your investment and the highest number of followers. You can conclude that US consumers play an important role in your targeting strategy.
Conclusion
From our in-depth discussion above, it is clear that Audience Insights are the foundation of any successful social media marketing campaign, which can also guide your product research. Use the above painstakingly analyzed tips to uncover your target Audiences' demographics, interests, and Content preferences. It is undoubtedly the most appropriate way to build a community of loyal followers that will definitely purchase the products and services you promote through the app.