Shopify is an e-commerce platform that allows you to sell products in person, on Facebook, or on anywhere online. It is backed by powerful tools that help you drive sales, find customers and manage your day-to-day business.

Hosting over one and a half million online stores operating in 175 countries, generating annual transactions worth $60 billion—Shopify has emerged as one of the most e-commerce marketplaces in the world. With the range of support services store owners enjoy, the Shopify platform is attractive to many online entrepreneurs. There is a vast number of successful Shopify stores on the platform, many of which earns tens of millions of dollars. Some even hit more than a hundred million in annual revenues. I will take you through some of the factors behind a successful Shopify store.
1. Well-designed website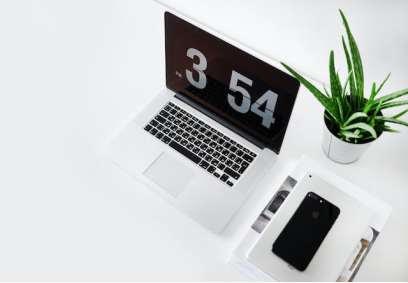 The road to success on Shopify starts with a great online shop design. Your site is the first contact customers have with your product offerings and as the saying goes, "First impressions matter." A good website design should provide shoppers with easy navigation. Your e-commerce store should be organized and eye-catching, with a compelling theme. The design should be in line with your store's branding. The products should clearly displayed and free from obstructions by your site's elements.
2. Mobile-friendly site
Mobile devices like phones and tablets are becoming more ubiquitous in e-commerce. It makes more than half of all online transactions and it is growing annually. The best stores optimize their sites for mobile use. They also offer mobile apps, enabling them to maximize their target audience's reach. A Shopify store that fails to optimize its site for mobile users, could miss out on as much as 66% of its potential sales.
3. Great products
A well-performing Shopify store sells products in a niche area that they are familiar with. You need to be knowledgeable about your offerings, which will become evident on your site. Your product should aim to fulfill a mission statement and a theme, a goal bigger than just selling. This aspect helps heighten the customer user experience, turn shoppers into repeat customers and ensure a high conversion rate.
4. Beautiful images
One common factor of virtually all top online stores is the lovely photographs that feature on their home page. They are visually attractive and present the products in an eye-catching manner that sells. The stimulating image will move you to the rest of their offerings. Besides, since the shoppers can not touch or feel the products, a Shopify store has to be visually appealing. You have to spend time planning the presentation of the product along with a unifying theme.
5. Clever product description


Source: Bon Appetit Magazine
Shopify's leading stores use memorable product descriptions. Rather than sales rhetoric, they describe their products in ways that appeal to their target audience and address their pain points. The product description on your homepage should fire up your customers' imaginations.
6. Customer Engagement
The average business sells to customers, but the most successful businesses, build a community. Engaging with customers is like building a fan base. The leading stores on Shopify have succeeded at this, enjoying a high rate of repeat customers.
7. Social Proof and customer reviews
Many people like to buy their products and services from a company that is proven to have satisfied customers. This reason is why many peruse the customer reviews of the product online before making a purchase decision.
List of 10 Great Shopify Stores with their analysis
Now that we have learned about what makes a quality online store, I will take you to the next step of identifying and analyzing the list of 10 best online Shopify stores that you need to know.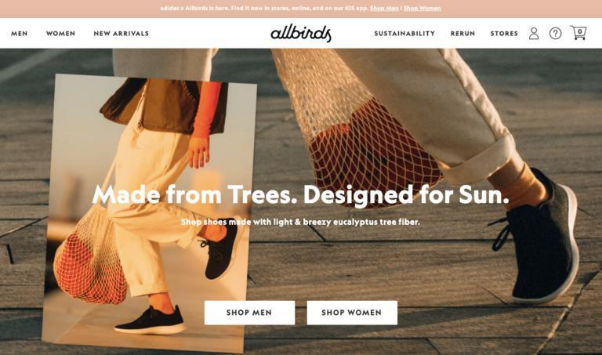 Location: United States
Estimated Revenue: $272 million
Allbirds prides itself on selling the most comfortable shoes in the world made with sustainable materials. The proof of the brand's ethical status is included on the home page (Our sustainable practices.) If you visit the product pages, you will also see messages about the environmental impact of every item.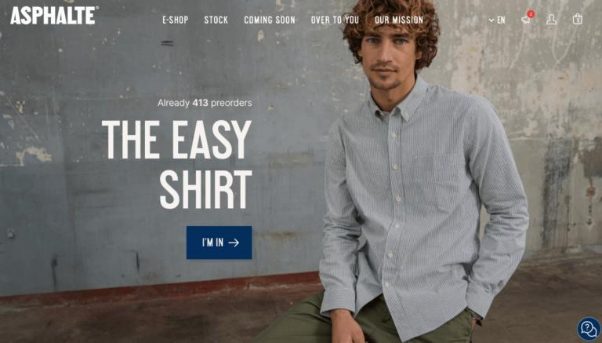 Location: France
Estimated Revenue: $3 million
An interesting thing about Asphalte is its unique business model. Before the first stitch is sewn, the brand spends weeks asking customers and website visitors what they want to wear. The feedback is then used to manufacture clothes and release them through order campaigns—that means no waste. It also has an elegant design. It has amazing product photography as well.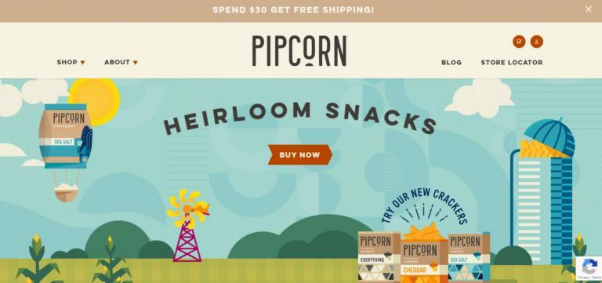 Pipcorn Heirloom Snacks has one of the most eye-catching Website designs outside there. It has beautiful discreet animations that give the visitors ability to interact with the products on the homepage. Also important to note is that when it comes to tabs, the store opts for simplicity by including four, two for the products and brand and story and another two for the blog and store locator. It also has brilliant email marketing which equips you with their bonus point. Besides, they deserve a gold medal for creativity, innovation, and user-friendliness. They sure know how to make great impressions and boost their sales.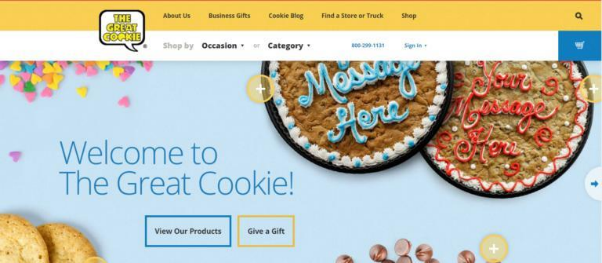 The Great Cookie carries a successful story and it is dedicated to selling cookies and cakes. Goodies in different designs and flavors are displayed all over the page and frankly, this design made me drool as it is attractive and playful, making it the perfect fit for the products. Also important about it is that timing is a core part of this website's business. That's why they have created a dedicated tab where they suggest cookies for each specific occasion.
This is one of the most well-known cosmetic companies that use Shopify today. Jenner's website effectively conveys her glamorized brand, showcasing her beauty products against a bubble gum pink backdrop.
Here are key Takeaways:
It mentions the key values of a brand such as vegan, paraben-free, etc., on her homepage itself.
The site is bright and colorful.
It has a popup to register for newsletters. This alerts its clients on new launches and upcoming lines.
Purchase urgency is available on the sticker head.
Bestseller goods and lipstick kits are displayed first on the website with "top sellers" just as shown below.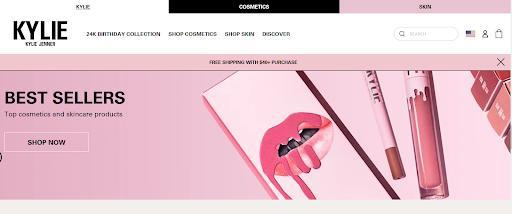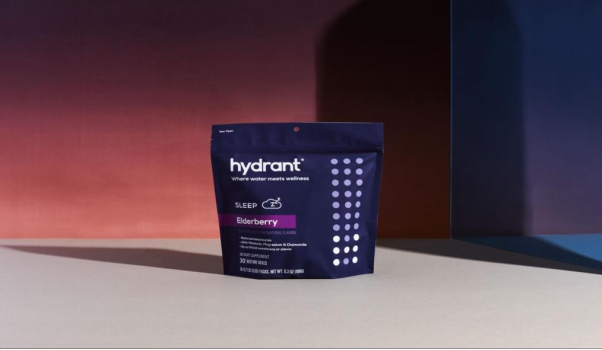 This is a Shopify store that addresses the issues of modern-day dehydration. Hydrant provides electrolyte mixture in handy packages to assist people on the move to stay dehydrated. To sweeten their deal, they provide a significant discount to the clients who complete quizzes that they ask pertaining to their products on their website.

This is an online-only wine producer and retailer. Rather than having intermediaries to their business strategy, Empathy Wines blends all of its wines directly, delivering benefits to its wine-loving customers. They offer their patrons an experience beyond their wine subscriptions with club empathy, which is a private club for wine enthusiasts. The website popups also request age confirmation, an indication that they are an age-restricted company.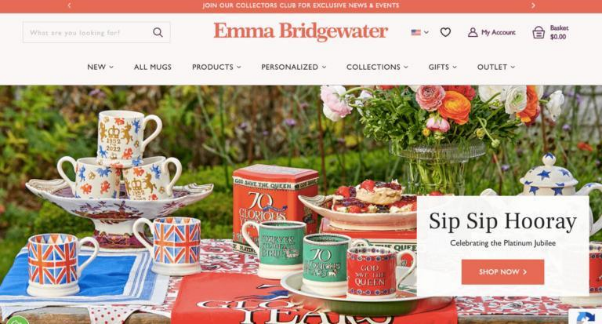 Location: United Kingdom
Estimated revenue: $30+million
This popular Shopify store looks like a colorful online DIY magazine. Despite being founded in 1984, this pottery brand gives new meaning to everyday kitchen China with a blend of modern and classic designs. Emma Bridge Water is now a popular destination for shoppers looking for unique gifts and inspiration. Plenty of colorful product images, personalized items, and an Instagram feed with customer content, make browsing this Shopify site, a joyful ride.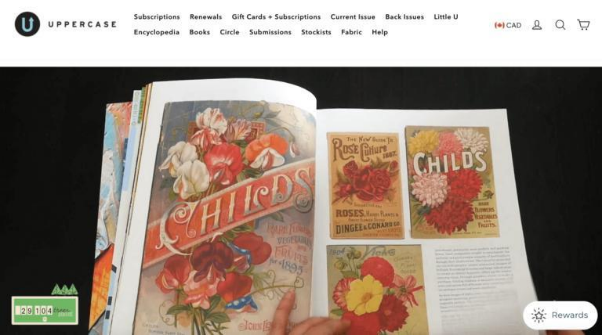 Location: Canada
Estimated revenue: $ 2 million.
Uppercase Magazine is one of the top Shopify stores in the published niche. One thing to notice is that the homepage opens with a video taking us through the latest magazine issue. That is a brilliant idea to engage visitors straight away.
Location: United States(California)
Estimated revenue: $68+ million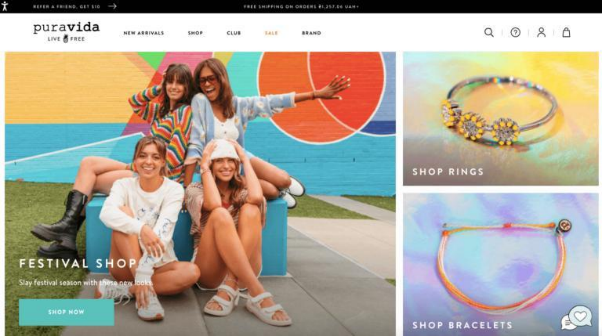 This is one of the most successful jewelry stores on Shopify. Starting in 2010 with Griffin and Paul, Pura Vida is now a huge success, selling millions of handcrafted items each year. According to Shopify, the company is growing by 50% year-over-year. The brand's Bracelets Monthly Club is a great example of how Shopify brands increase customer lifetime value.
Conclusion
It can be tricky to find stores that use Shopify, and even harder to discover the most successful ones. Nonetheless, my brief elaboration in this article if you utilize it well, will give you a lot of inspiration and ideas about how to design your own Shopify online store or even connect with the successful ones.