Dropshipping takes patience, grit, and tenacity to get it right. Unlike what you've been told or what you know, nearly 90% of people who had started dropshipping, have failed. Not only do you need proper research on what you want to sell, but you also need to know how to sell it, where to sell it and whom to sell it to. You need to know what best works for the product, online or offline marketing.
There's a whole lot that goes into dropshipping products, this is the reason why we curated the most successful dropshipping sites online. This way, you learn from the pros and know exactly what they are doing that you can replicate in your business to scale and excel in dropshipping.
Inspire Uplift is an online dropshipping store that specializes in the sale of a plethora of goods across categories such as toys and games, pet supplies, clothing and shoes, art and collectibles, crafts and DIY, tech and electronics, beauty and wellness, tech and electronics, clothing and shoes. Inspire Uplift offers reliable service to its customers all over the world while also eliciting a feeling of joy, and establishing a connection with its customers during and after the shopping process.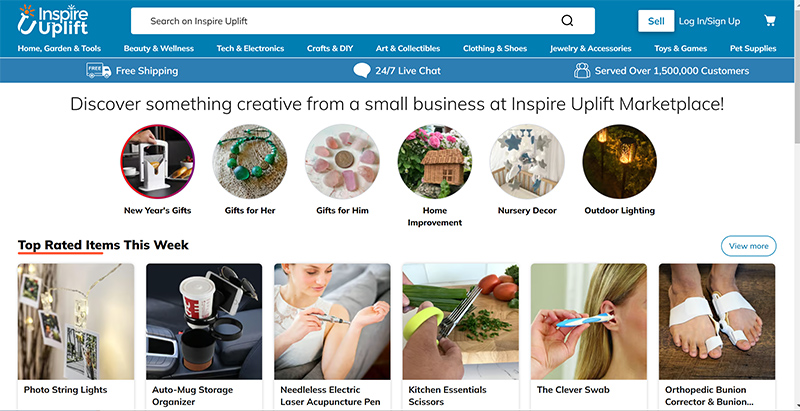 With 3.7 million Pinterest followers and over two million customers, it is evident that over the years the team at Inspire uplift has provided good products and top-notch services for their customers which has made them repeat buyers and gotten them referrals over the years.
Inspire Uplift uses social media and its content type to drive cold traffic to its site to purchase. So, get this, they use fun and engaging posts that subtly refer to their products to persuade readers to see the need to purchase their products.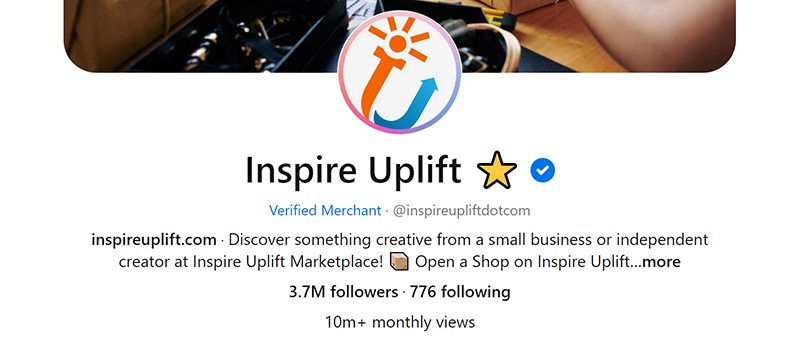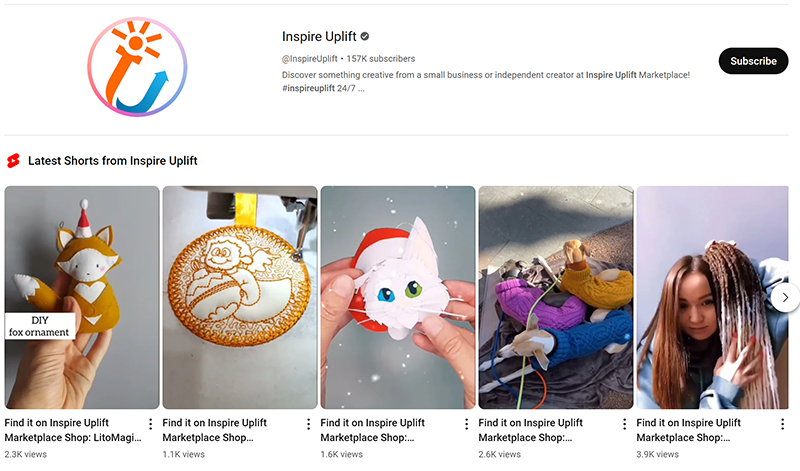 Blog Posts – This is where the magic of SEO comes into play. The team at Inspire Uplift does proper research using SEO to ascertain what people most likely to buy their products are searching for online and use them to purchase.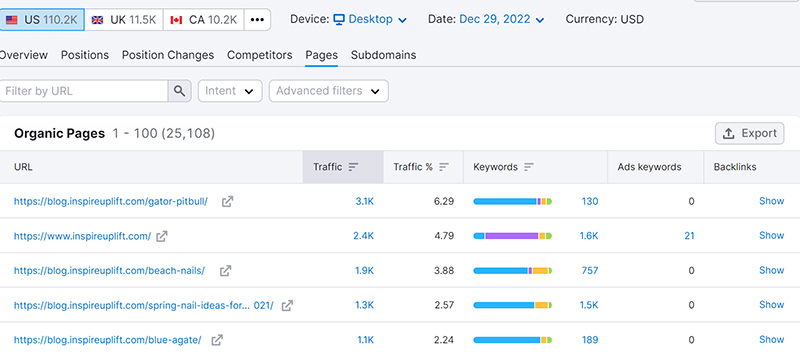 So it's evident that the strategy Inspire Uplift employs is the use of Social Media and Blog posts. This works for their niche and over time they have perfected this method for lead generation.
Best Choice Products, also known as BCP, is an online marketplace that deals in the sales of family-friendly products. These products run across categories such as toys and hobbies, home and outdoor lifestyle, seasonal decor, lawn and garden, and outdoor living. The platform prides itself on selling what the customers need at every point in time.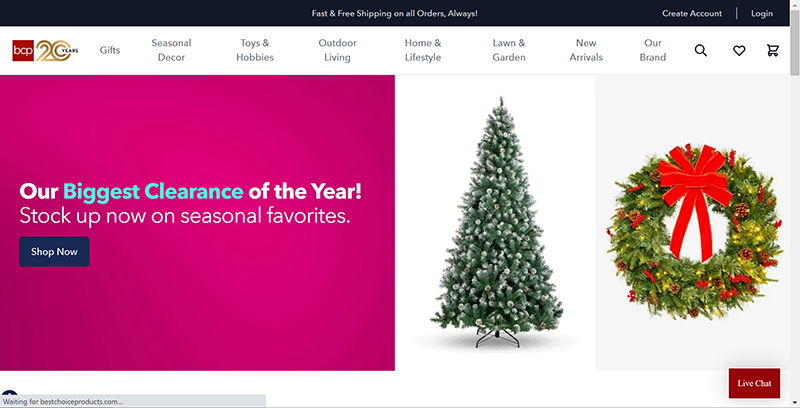 Seasonal Products– Best choice products pay more attention to seasonal products. So if you are looking for hot and trendy products at any time of the year, Best Choice products have got it covered. This technique is a unique selling strategy that helps them make sales all year round with products that are in high demand at that time of the year,g. Christmas Trees and Matching Pajamas would most likely sell during Christmas.
Product Reviews– Best Choice Products also pick hints from their customers' product reviews to get an inkling into what they prefer. They rather sell what their customers are gushing about. This strategy has helped them over the years garner top-selling products in different niches.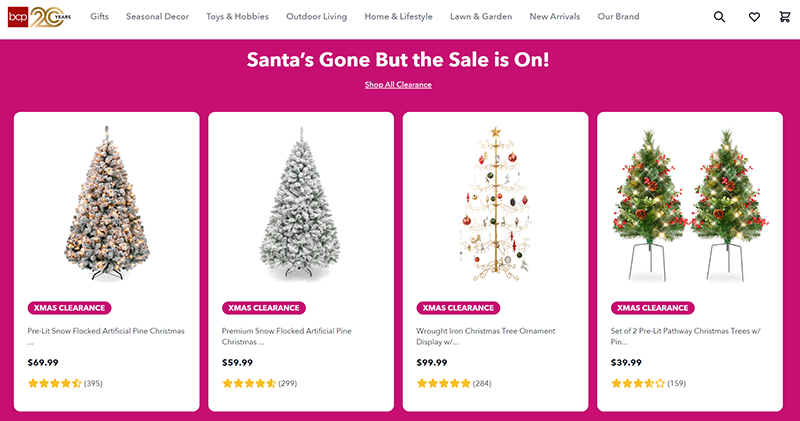 Warmly Decor is a home decor online marketplace that deals in the sales of furniture, bathroom, and lighting items. This dropshipping store provides high-quality, exotic, exquisite, and luxurious home decor items at affordable prices to give your home that desired look.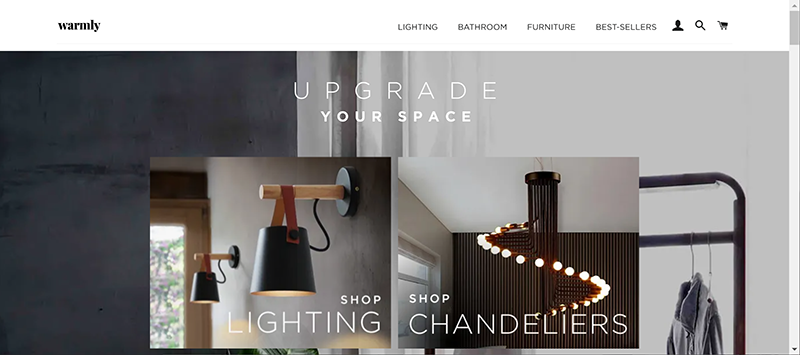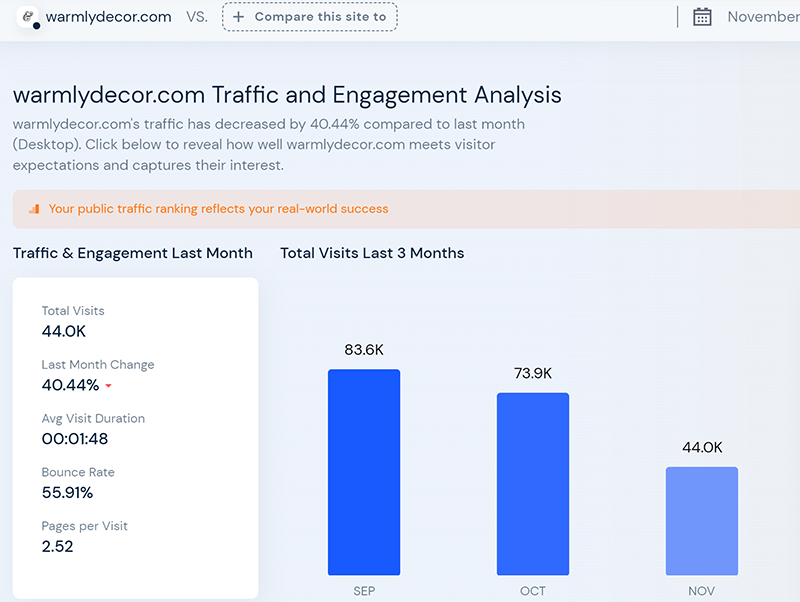 Niche– Warmly décor niched down to sales of home décor and didn't just delve into selling anything and everything. Their strategy here is to become a force in the home decoration space and this they have achieved as can be seen in their recorded sales and reviews from customers.
Pinterest: They also employed the use of Pinterest to drive traffic with over eighty-eight thousand followers. This strategy is tailored to suit them as they have displayed lots of pictures and home décor samples to their followers and wider audience.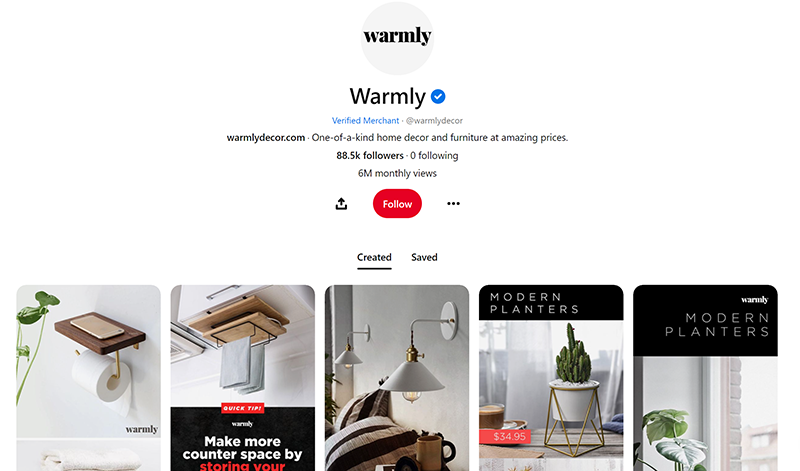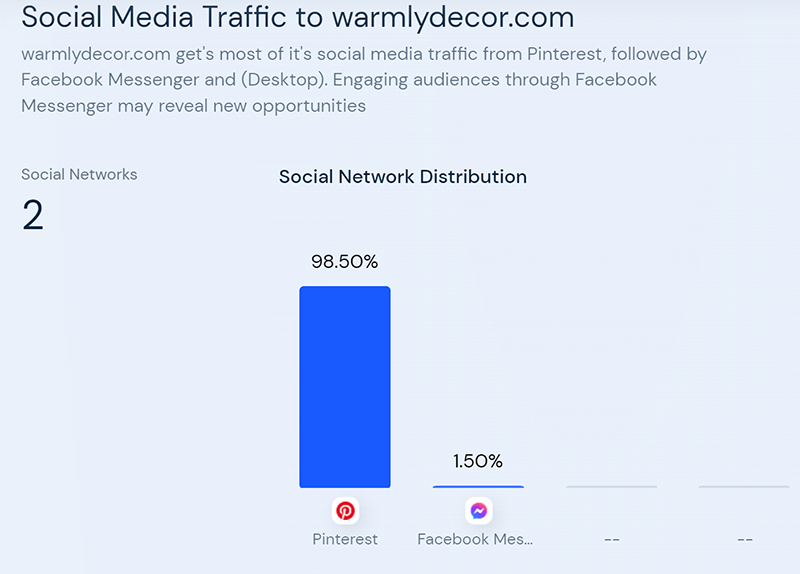 Check out its Pinterest account and scan through the amazing offers and high-quality products. 
Fresh Juice Blender is one of the most successful dropshipping stores on Shopify. This store deals in the sale of kitchen appliances – Blenders to be specific. This site totally niched it down to just one product (Though they have different variants of that product).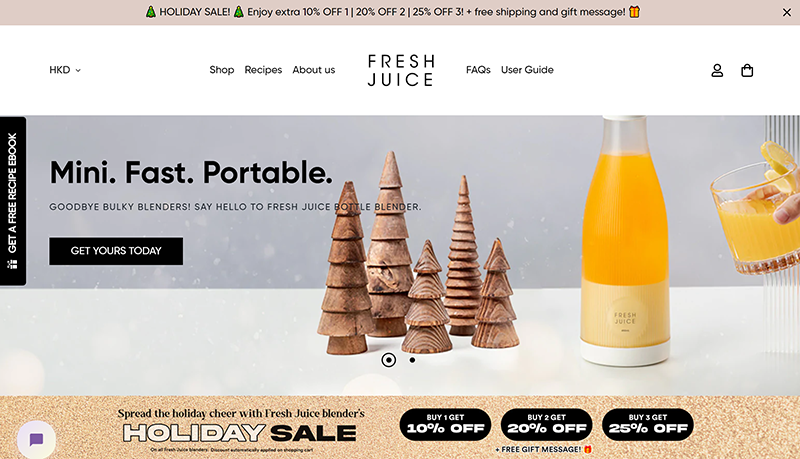 Homepage Design: This site employs is the use of a very colorful home page and ease of navigation through the site. The site in total was built in an enticing colorful manner.
SEO: Also note the SEO-rich texts and pictures that adorn the homepage. This site was definitely built to rank on search engines, attract customers and keep them. The homepage has beautiful pictures, videos, and designs that succinctly describes the different types of blender they have in their arsenal and it would be strange for a visitor to leave the site without making a purchase.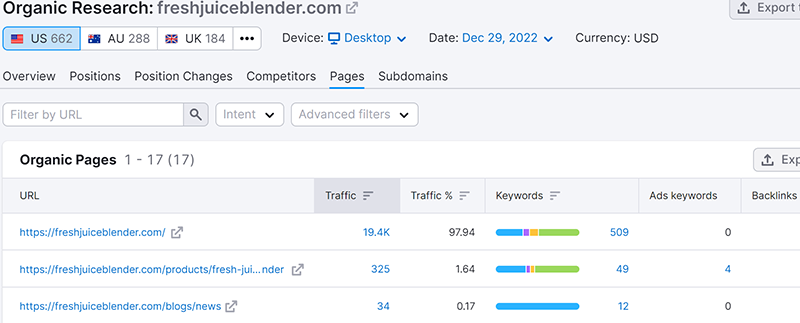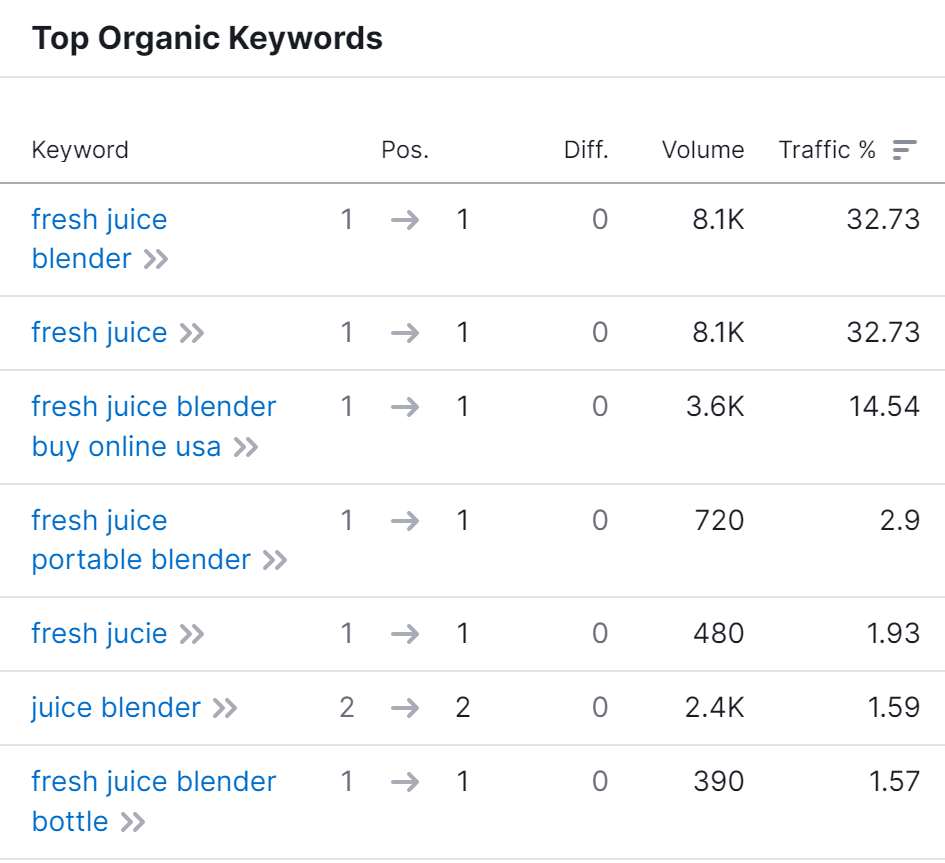 Sage and Sill is one of the top Shopify dropshipping stores that specialize in greenery and home decor. Sage and Sill employs a combination of pricing, website design, and pages to make their sales on point.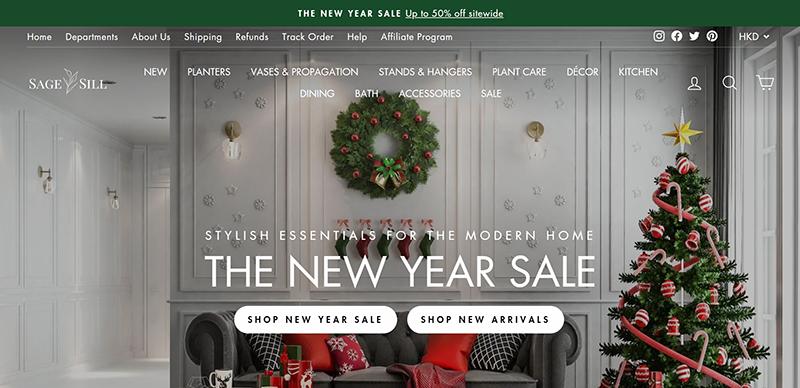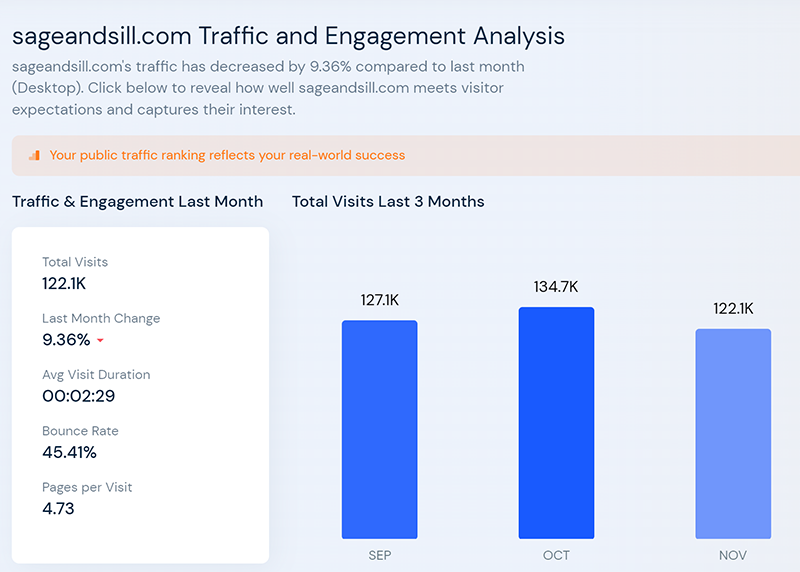 High-Quality Photos and Theme: A look at the site of Sage and Sill and I bet you would be pulling out your card to make a purchase. They really got it right with the beautiful and high-quality photos used to accentuate their products and increase their appeal. This is in no little way that has worked for the dropshipping
Prices: Sage and Sill opted for high-end products, and in the same guise marked them up to enable them to make high margins. So even the in event that they don't sell so much in quantity the markup would help a great deal.
Bought Together/You may also like sections: These section serves as an upsell techniqueto increase the average order price.
Meowingtons is one of the most successful dropshipping pet stores USA that deals in the sale of cat-themed products and also helps cats in need.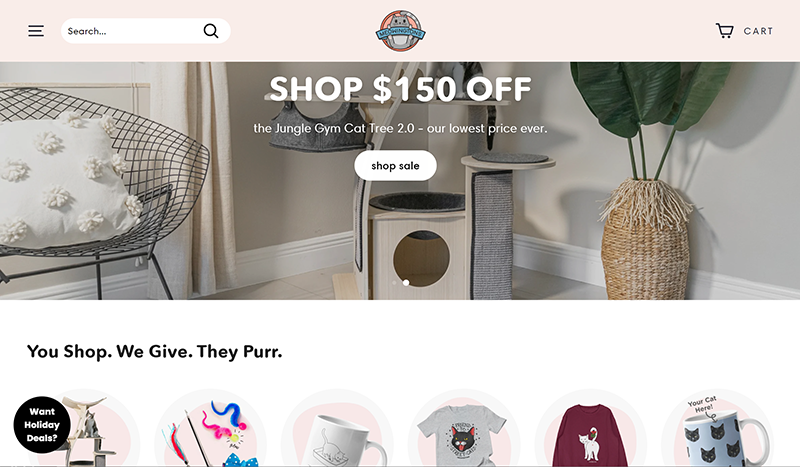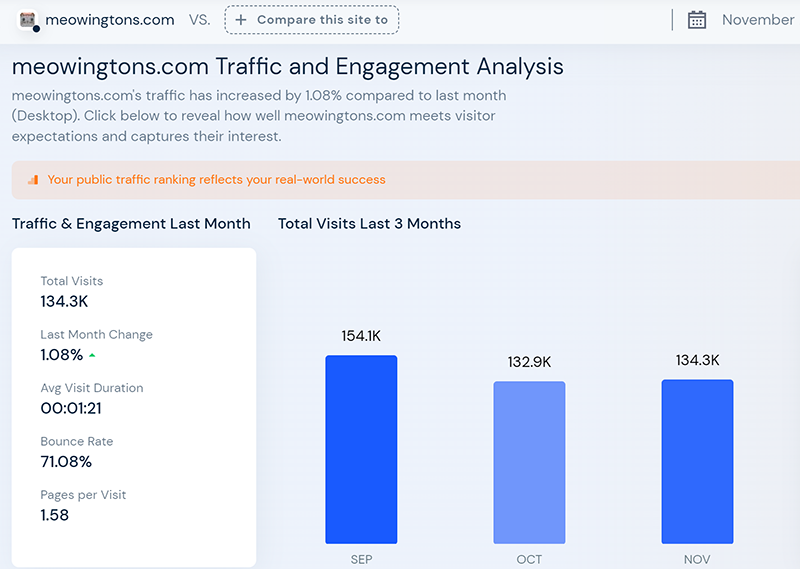 The site provides a lot in the cat accessories department and over the years they have grown sales and customer base through:
Blog Posts:The site uses blog posts that would be helpful and informative to cat owners and lovers to subtly push their products into the shopping carts of online browsers.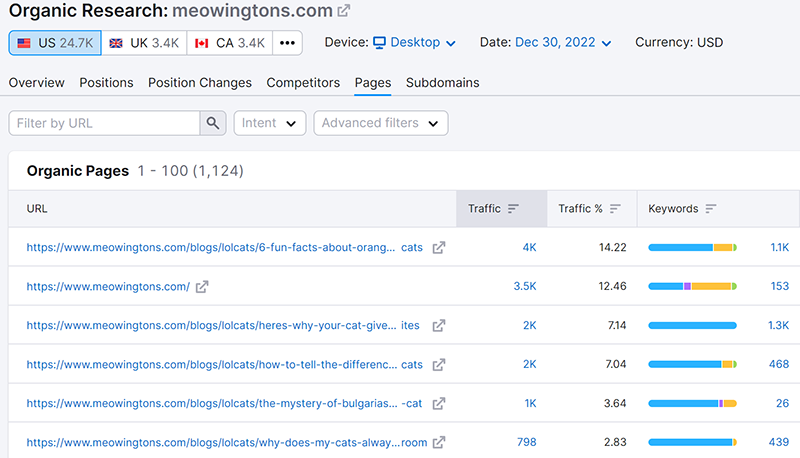 Cat-Themed: Their site was built to appeal to cat lovers with a theme with lovely cats. They even have created cat comics. 
This dog-themed dropshipping site has shown its worth and proved itself to be amongst the most successful Shopify dropshipping sites out there.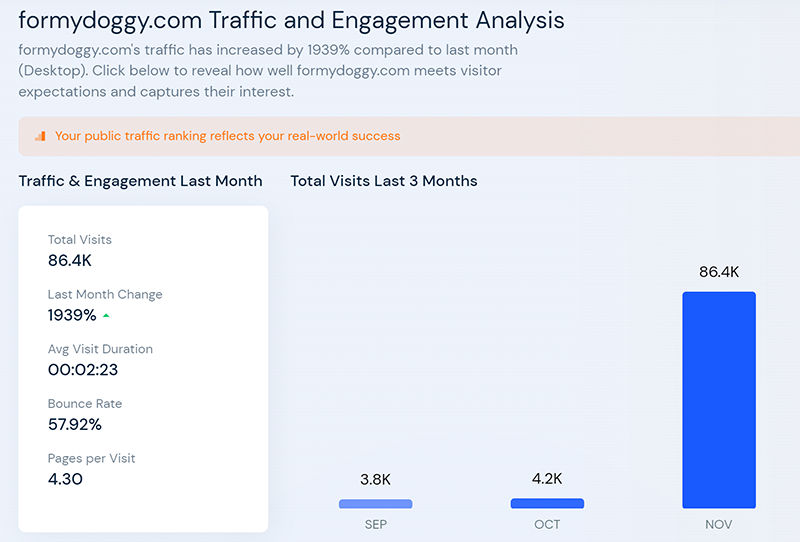 The site is doing well in its sales and customer acquisition as can be evidenced by their daily site metrics and revenue and this is why:
Warranty: For my doggy offers a lifetime warranty that enables buyers to return their product if found defective at any time. This is a unique selling strategy that has kept them ahead of the curve putting their buyers' minds at ease.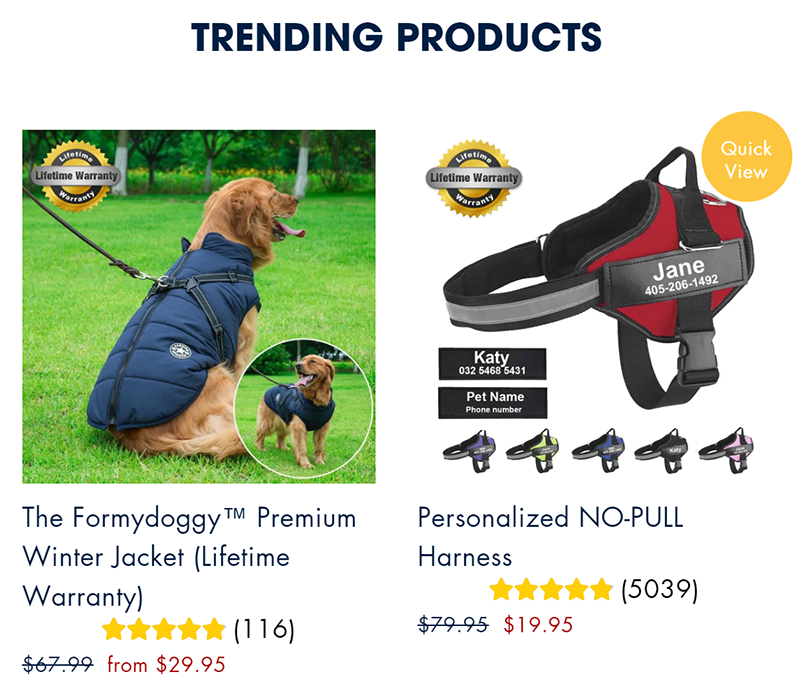 Product Reviews: Who can better persuade new buyers to buy than old buyers? This is a technique that For My Doggy has employed to make sure they stay ahead.
Freebies: Freebies that come with just shipping costs. Not only does this give them page views and visits but also sends subliminal messages, convincing customers to make purchases.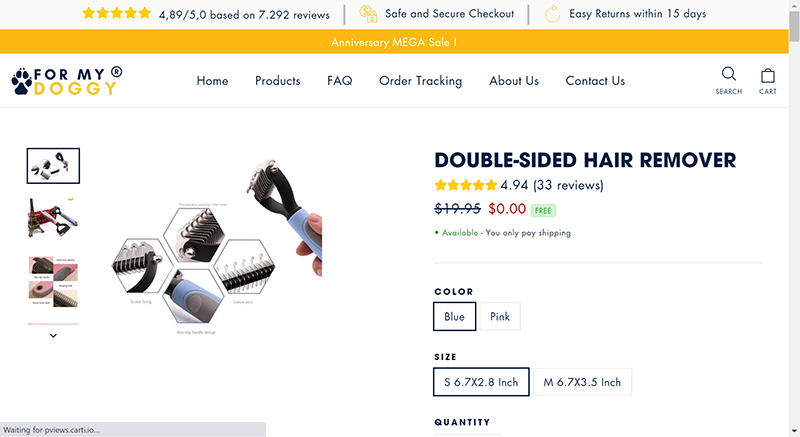 My Doggy's strategies are unique and tailored to solicit sales from dog lovers.
Mr. Fluffy Friend is another specialized online dropshipping store that focuses on selling fluffy beds for animals as well as other items for pets. These items include adjustable dog bowls stronger teeth toys, water feeding bottles, grooming brushes, anti-anxiety furniture covers, rechargeable dog collars, lint brushes, and other dog toys.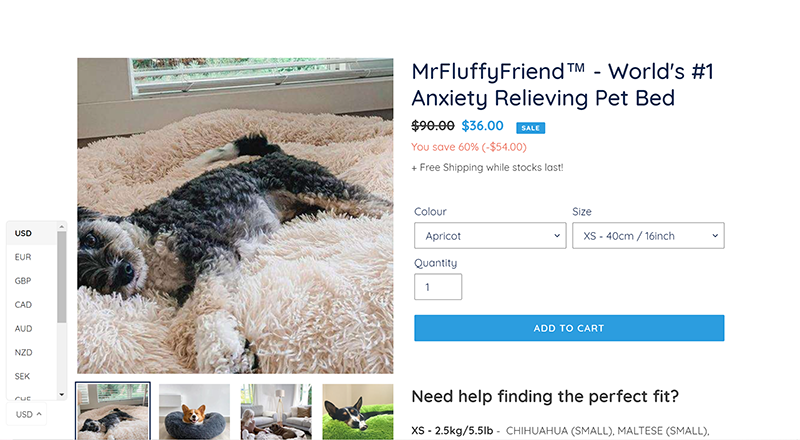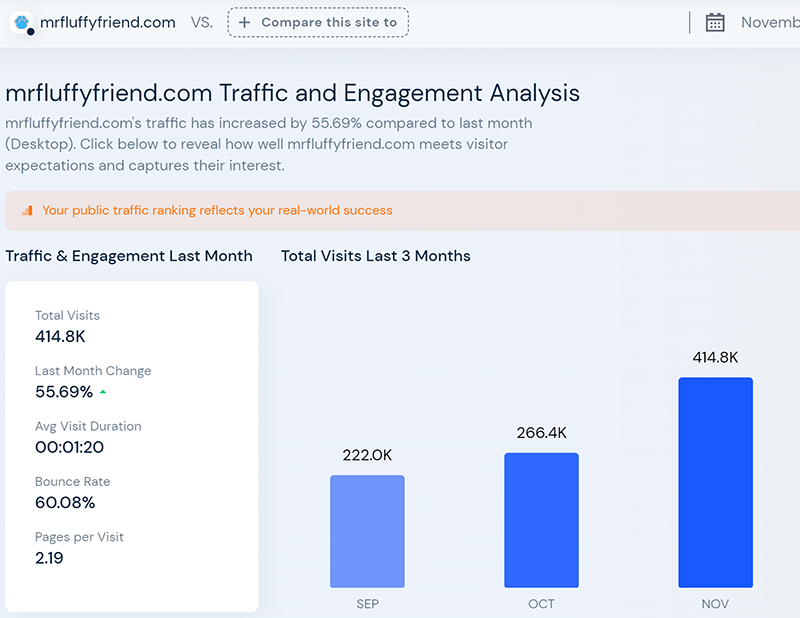 This site took a different turn in pushing its products to its customers:
Convenient currency conversion: Because they sell pet products They incorporate a currency converter into their website, which is better than operating multiple sites.
Advertised using Google ads: By using SEMrush, we've found that they spent a lot on Google ads and successfully attained a large amount of paid traffic between April 2021 to Jan 2022.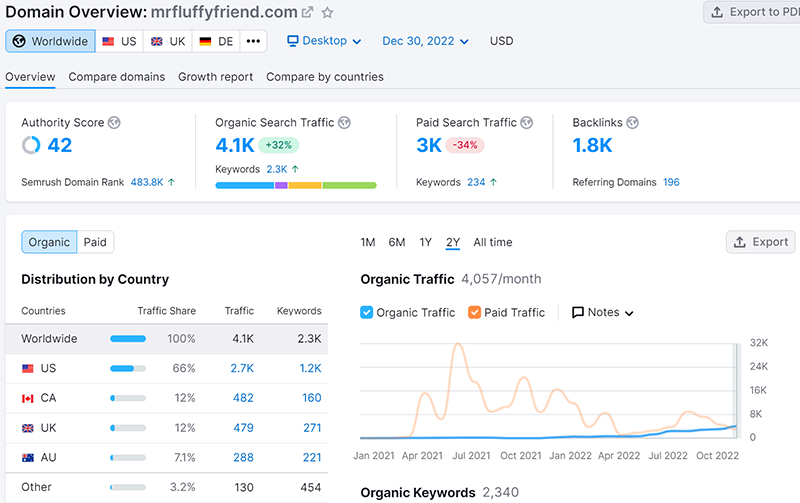 ILoveMyPet is another Shopify dropshipping store that specializes in the sale of dog-related gifts. This website has held its own in the dropshipping niche and has employed various methods to stay relevant and perform tremendously well in the pet accessories section.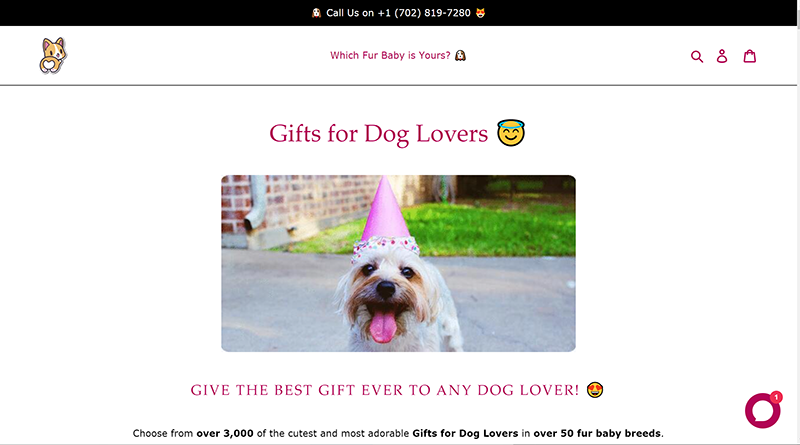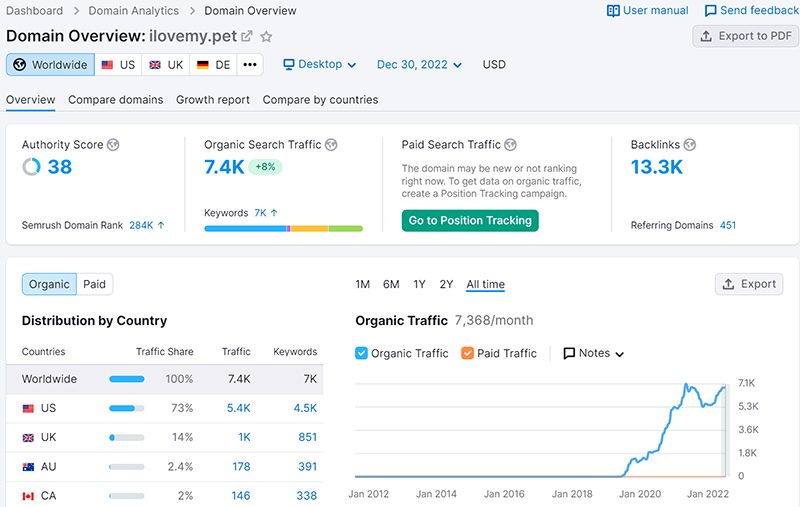 It has various gifts for dog lovers and thrives in its collection typically curated for various dog breeds. ILoveMyPet stands out with two major things:
Categories: Its Category Pages range from Australian shepherds, Basset Hound, golden retrievers, etc. There are a lot of dog breed gift items to pick from.

Reviews: They have great reviews further down the page showing that their customers really love their products.

Notebook Therapy is one of the top dropshipping stores that specialize in the sale of stationery, covering journals, notebooks, pens, stamps, stickers, pencil cases, lined and blank pages, desk accessories, and planners. You can also purchase backpacks, tote bags, washi tape, and other accessories from the Japanese dropshipping store.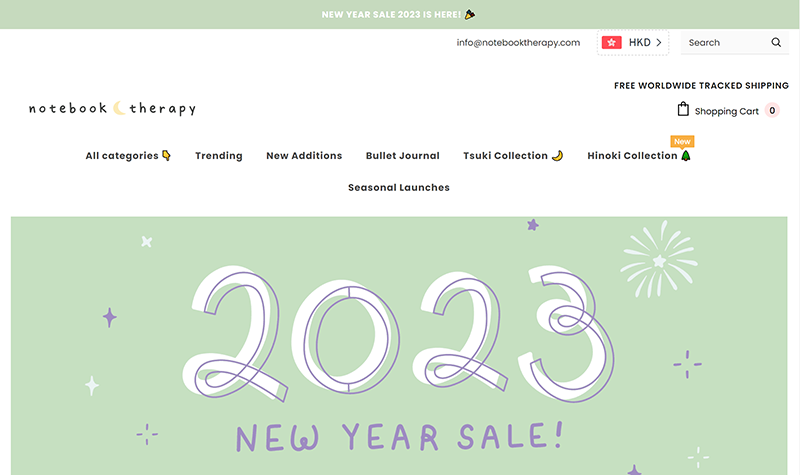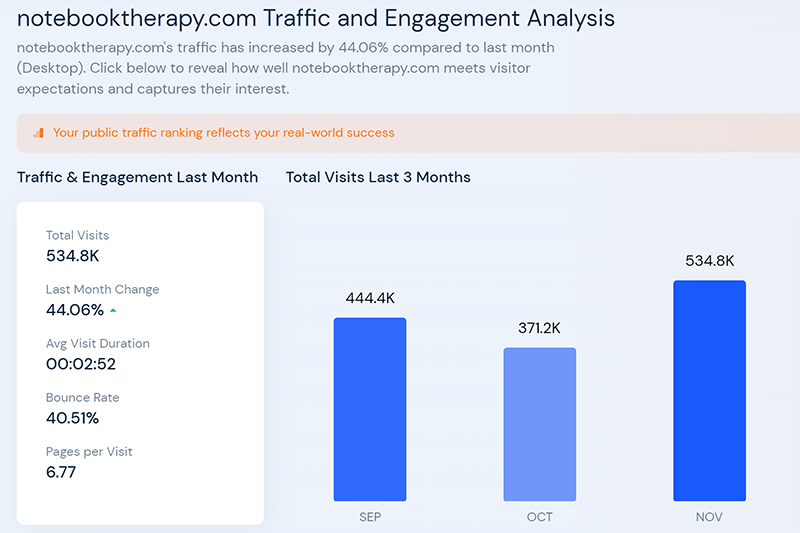 The website offers free shipping on orders over $40 to buyers worldwide with a 30-day return policy.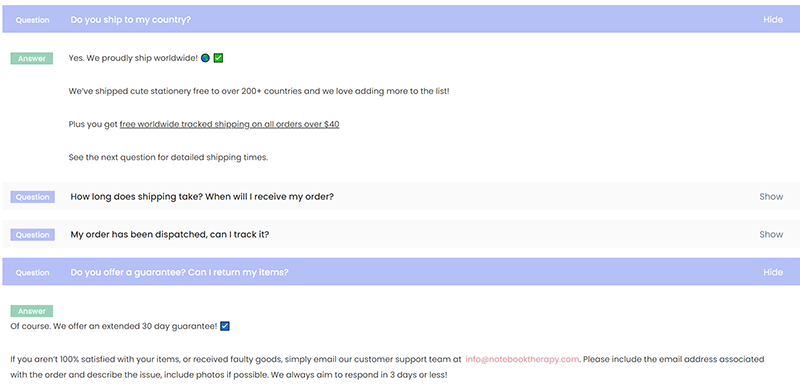 What has made them stand out is their:
Refreshing Design: The entire website uses light colors, cartoons, and illustrations, creating a cozy and soothing experience.
Focus on SEO: Notebook Therapy has quite a few high-traffic blog posts. For example, this one talks about "50 easy cute things to draw" and their bullet journal collection is quite popular.
Social Media: Their very active Social Media presence has also helped drive traffic to their page.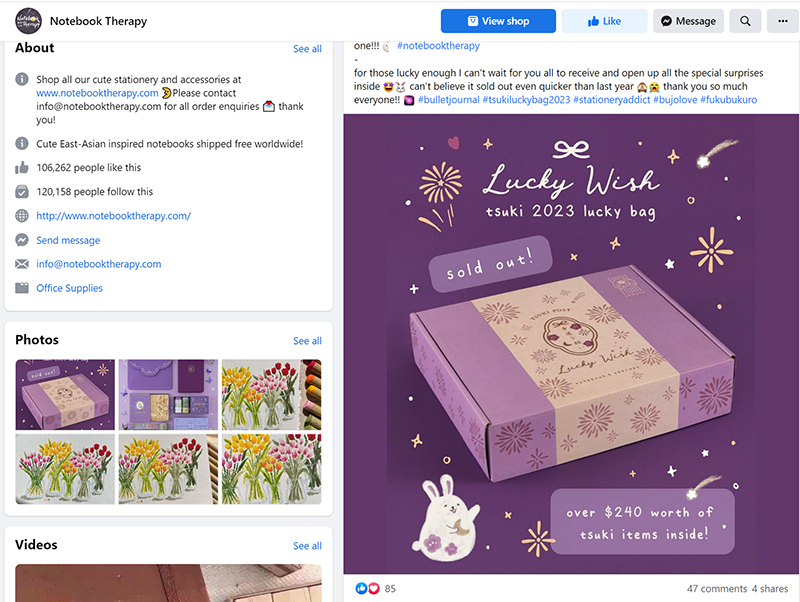 Burga is one of the top dropshipping sites that deal in iPhone and Macbook cases. Burga deals in the sales of fashion accessories for mobile devices such as charging cables, phone cases, custom phone cases, screen protectors, earbuds cases, MacBook cases, gift cards, iPad cases, and ring holders.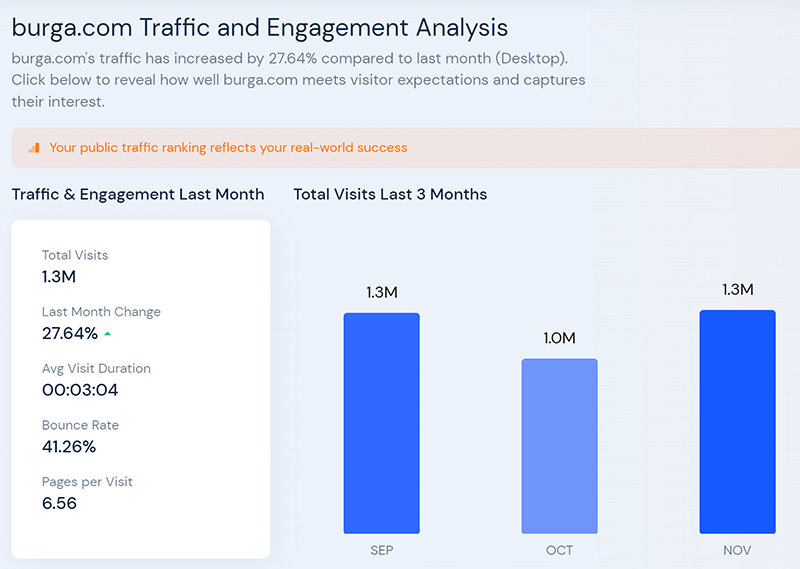 But what has made them stand out so much?
Well-Structured Product Descriptions: The product descriptions on their site for their products are well-structured and easy for customers to review in other to make a perfect choice as to what would suit their device.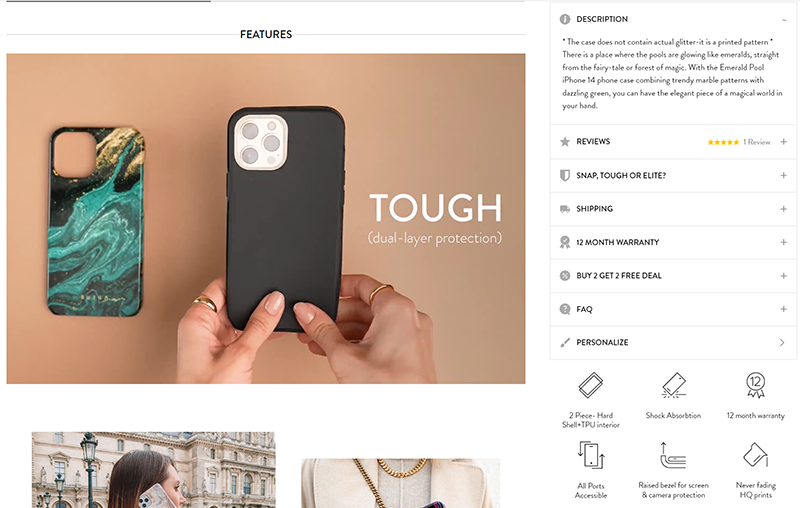 Reviews on Trustpilot: A lot of the customers of Burga have posted good reviews on Trustpilot and this has lent more credence to the quality and usefulness of their products.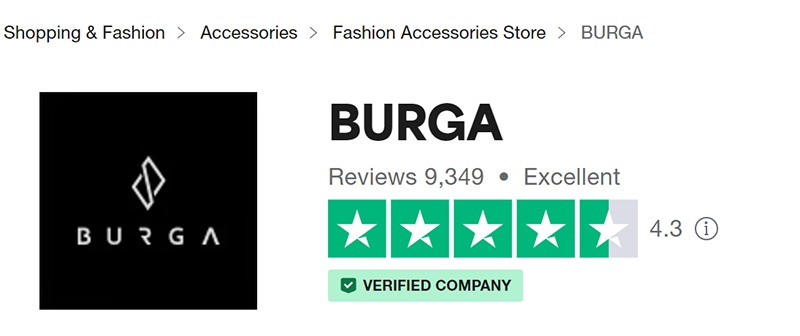 VIP Lounge: Their VIP offering gives their customers various perks that entice other people to subscribe and make purchases.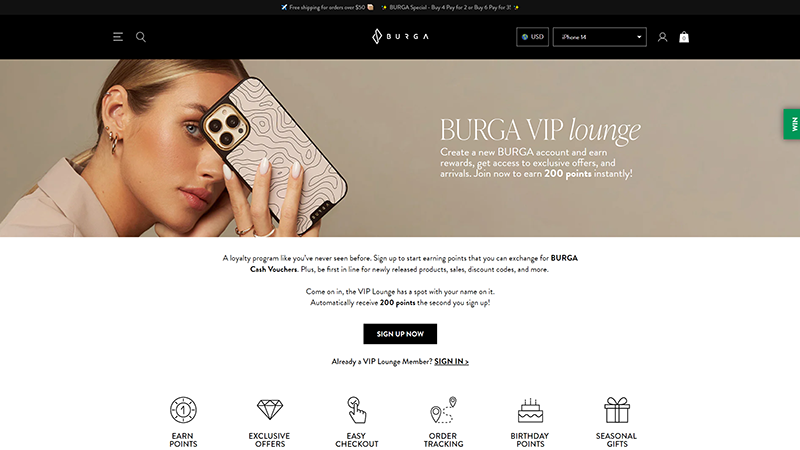 Bicycle Booth just as the name implies is a top dropshipping company that deals in the sales of cycling gear such as aero fit jerseys, club fit jerseys, thermal long sleeves, underwear, bottoms, shop kits as well as other accessories like cycling glasses, fun cycling socks, bicycle water bottles, bag, and mugs.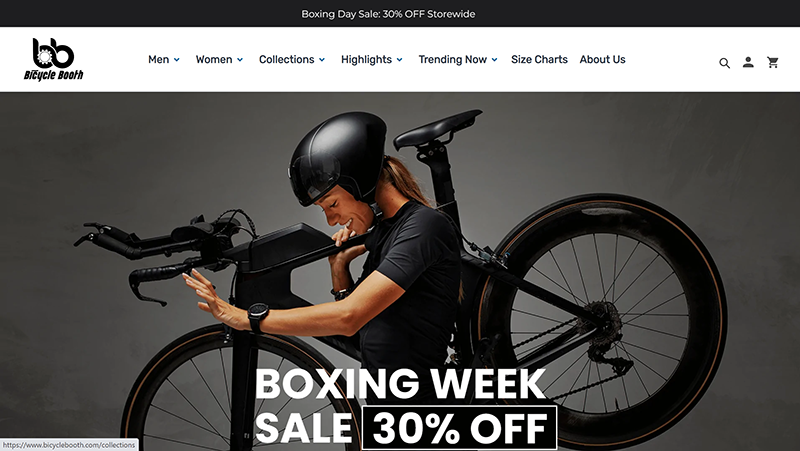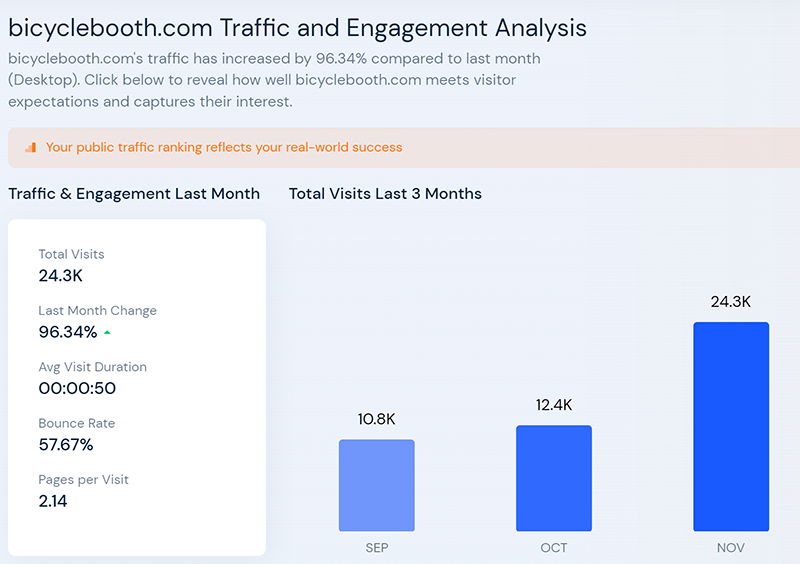 We can learn from Bicycle Booth how they have kept their customers glued to their site:
Social Media: They have about 29.5K followers on Instagram and 35.6k followers on Facebook and have used this media to drive traffic and sales to their site.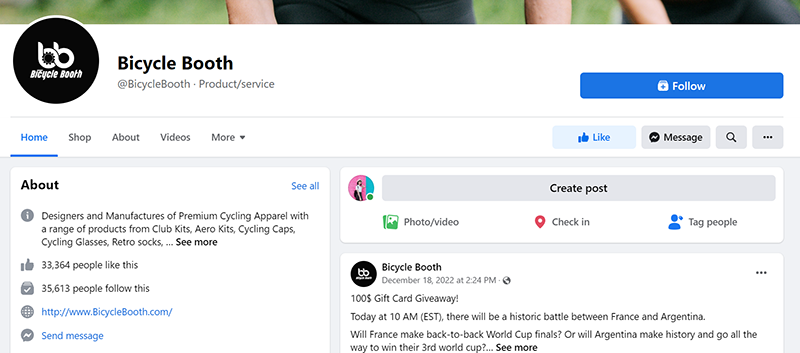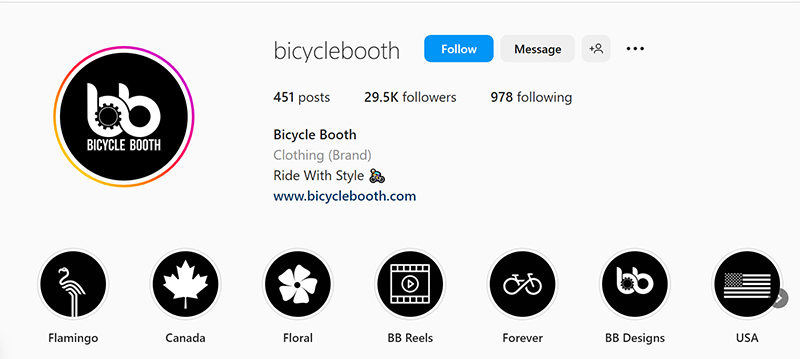 Customer Reviews: Not only do they have good reviews on their site but also over 200 5-star ratings and reviews on Trustpilot.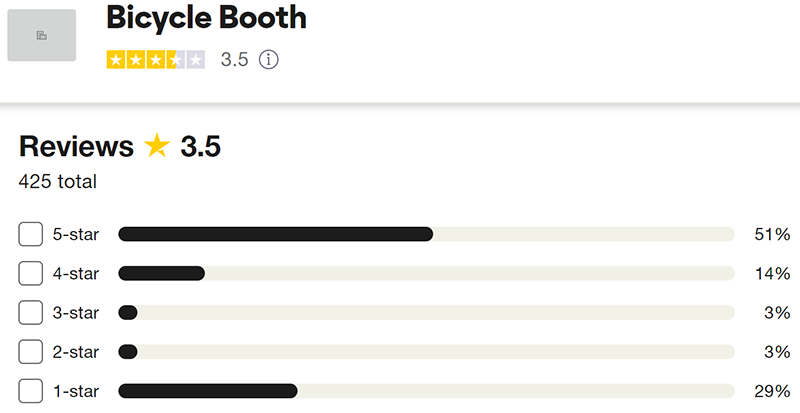 Miracle Sofa is one of the top dropshipping Shopify stores that provides a unique way to transform your sofa, couch, and cushion. This dropshipping marketplace has a plethora of sofa covers for different sizes, shapes, and types of chairs. The covers are available in different designs and are very easy to use.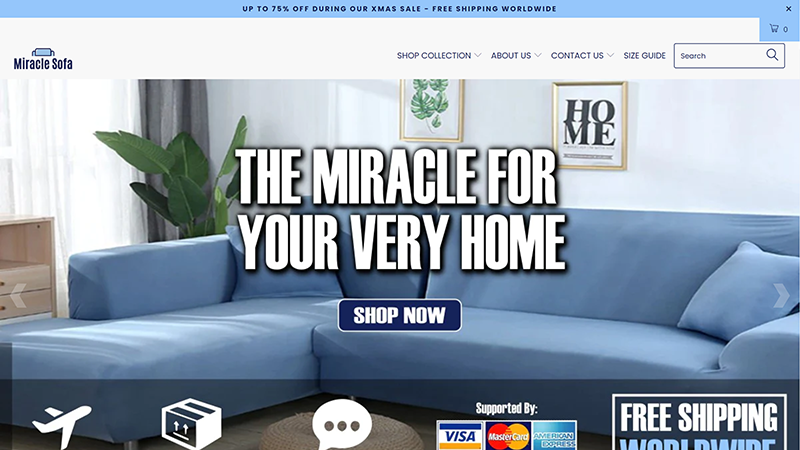 They have made a name for themselves in their niche and have kept their customers coming with:
Raffle Draws enable their customers to win free gifts and vouchers to purchase at a discount.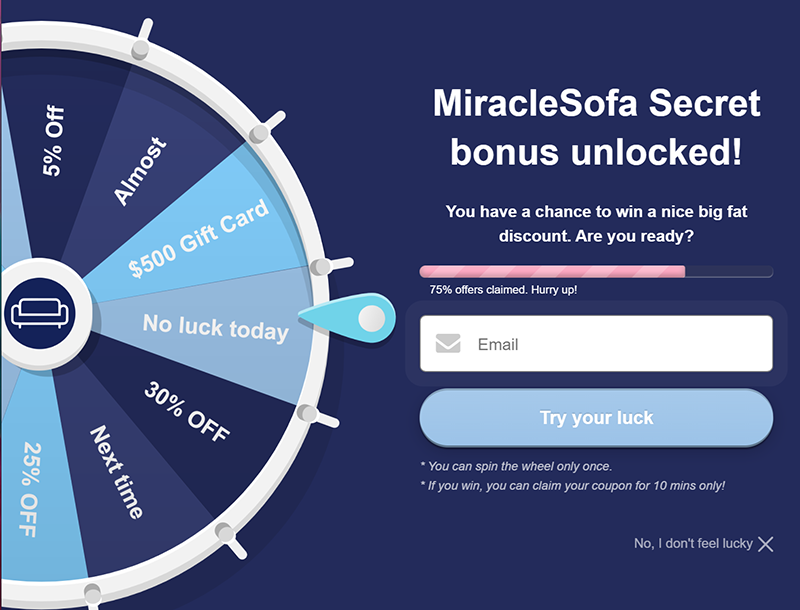 Lifestyle Photos that make the soft covers more desirable. A lot of times, visuals are what would most probably sell your goods.
Interactive GIFs clearly indicates how to set up the soft covers, which is helpful.
Pillow Slides deals in the sale of high-quality footwear that provides your feet with all the comfort you need.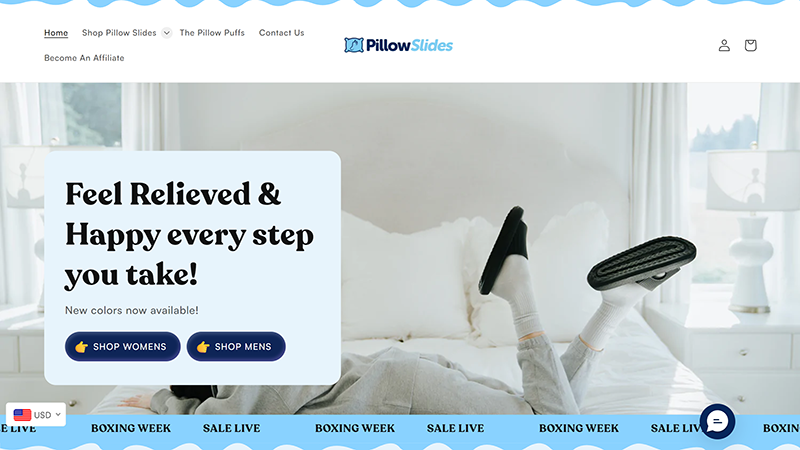 This is a million-dollar footwear dropshipping company that has over 250,000 customers with sales in excess of $10,000,000. Here is a video to help you learn more about the business.
You might ask, "How have they done this?"
Video Reviews: Pillow slides obtain and post video reviews of customers that have used their products, this way people trust their products more and are willing to buy.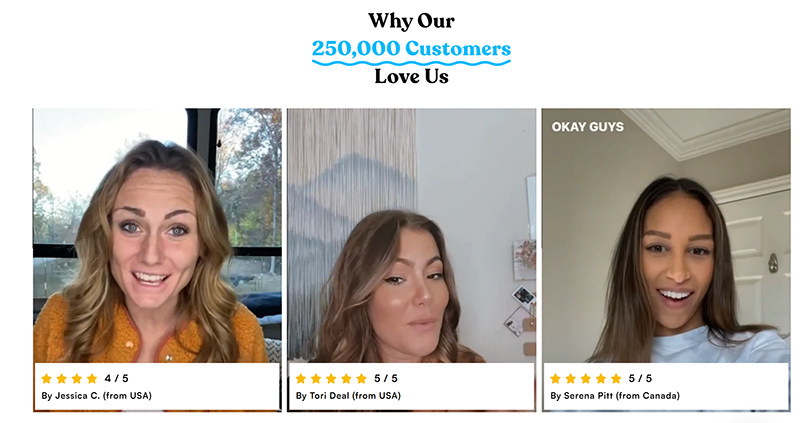 Affiliate Program: Their affiliate help drives traffic to their site for a commission. This helps increase sales.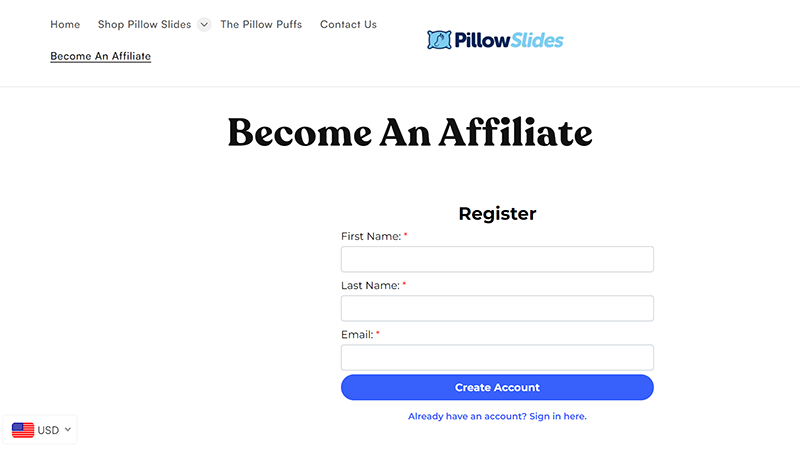 Pop-up: They use an exit-intent popup to offer a 10% discount and create a sense of urgency. An example is shown in the screenshot below.
Neck Recliner is an e-commerce store that deals in the sale of pain relief products for the neck. The platform, a health-based dropshipping store specializes in the sale of cervical and thoracic stretchers to incite a feeling of relaxation and comfort to the upper back, shoulder, and neck. The products sold by Neck Recliner directly address customer issues and sell for themselves.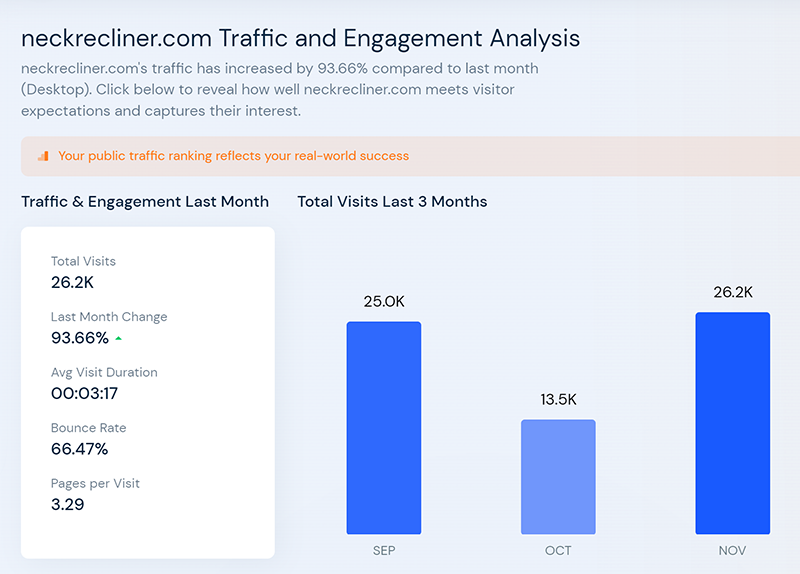 Some other factors that have made this store stand out in the dropshipping niche are:
Facebook Ads: The store relies on its Facebook ads to drive sales and scale. This Facebook ad has been active since Oct. 2022.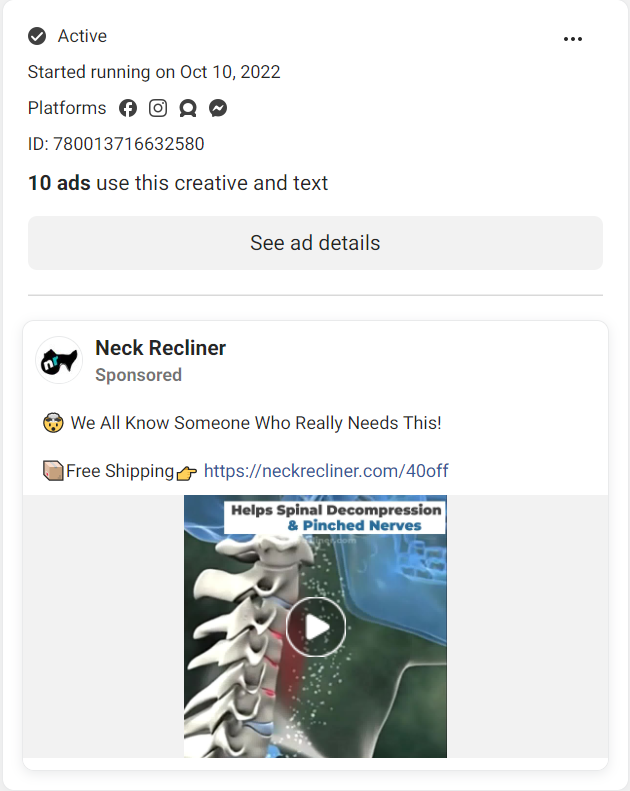 Strong Call-To-Action: Their CTA buttons prompt you to make purchases quickly with discounts.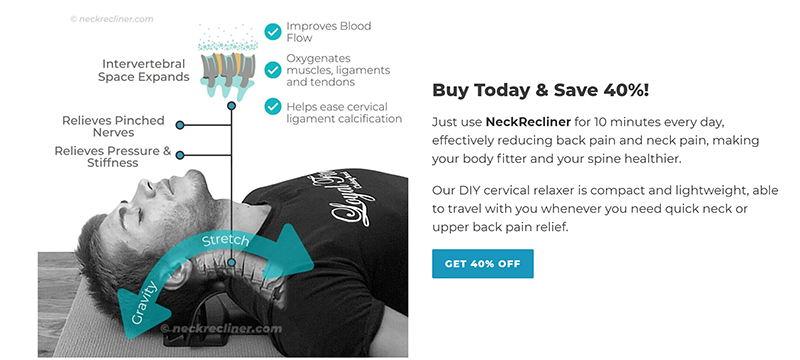 Testimonials: This builds trust and helps keep the prospective minds at rest to make purchases.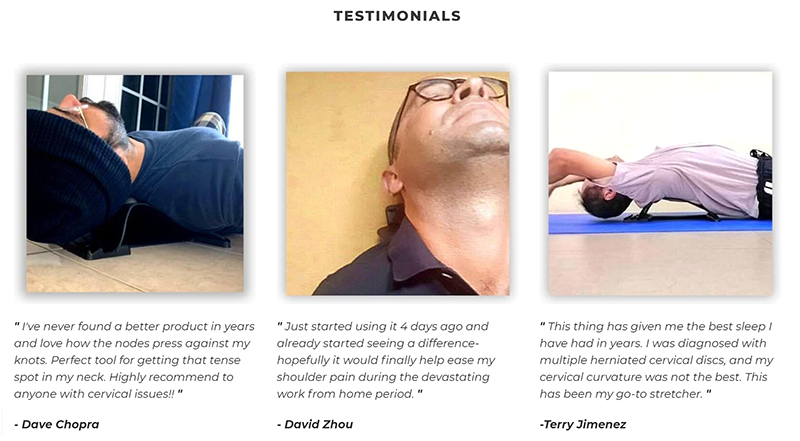 This is one of the best dropshipping stores that engage in general e-commerce. On Shop with Palo, you can purchase products such as phone gadgets, make-up, clothing and accessories, footwear, phone gadgets, kitchen utensils and appliances, home decor, blankets, seasonal decor, and so much more.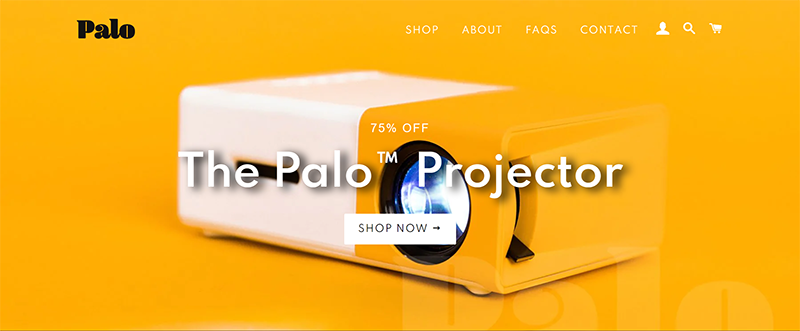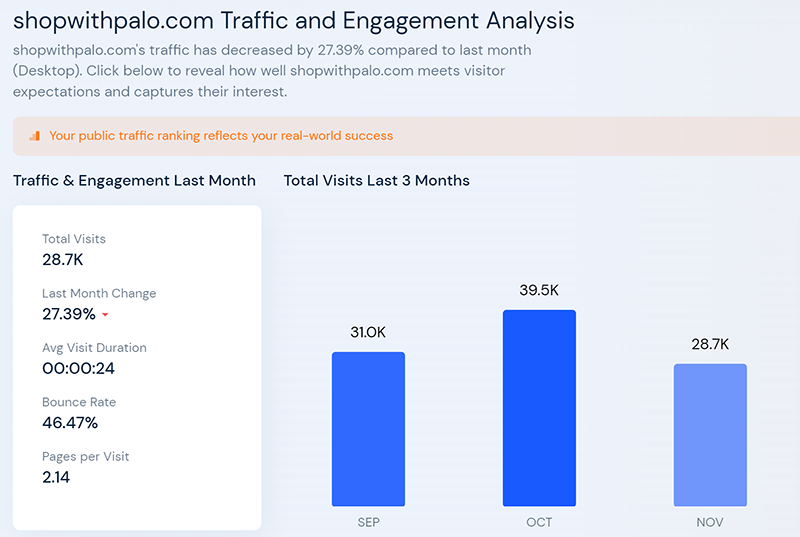 The platform has a fresh and clean theme that helps you easily locate products available for sale. To promote sales they have:
Use their Pinterest account with over 10K followers to push their products out to customers and re-direct them to the site to make purchases. According to SimilarWeb, Pinterest is their primary source of social media traffic.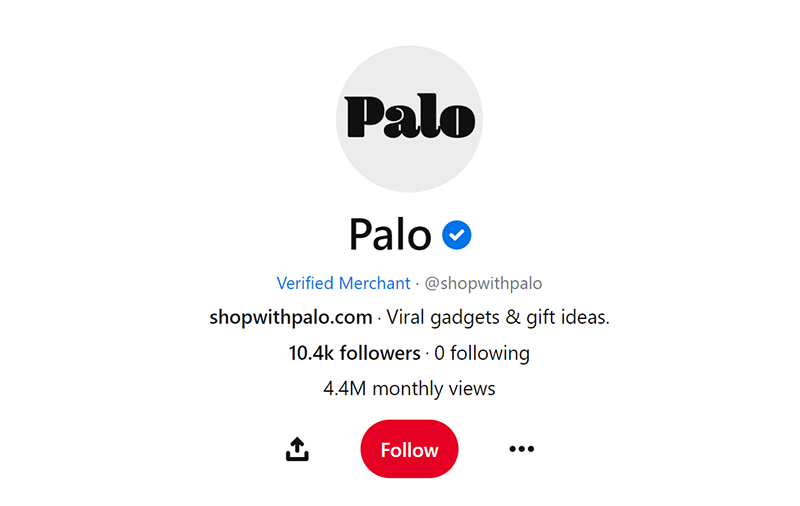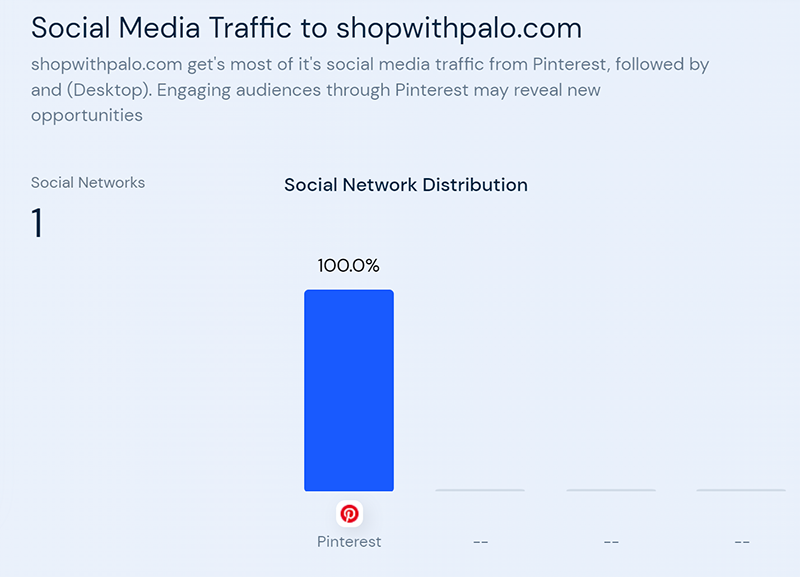 They have a great automatic currency converter that gives you prices of what you want to buy in your own currency without having to do it manually. This delights their customers.
Their offer for a full refund helps keep their customers' mind at rest based on the quality of the products.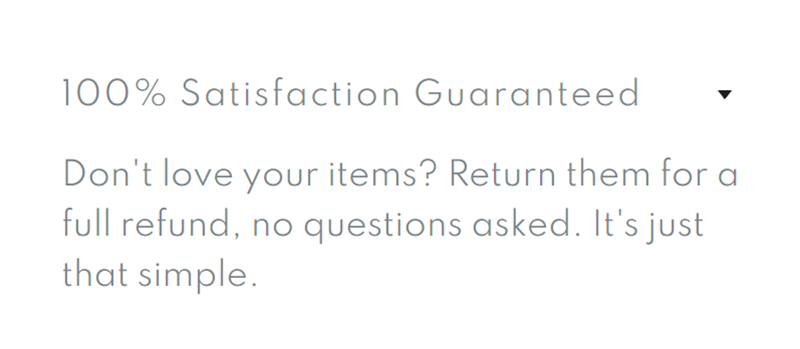 Their customer reviews keep sales rolling in as customers would most likely want to buy from shops that have good reviews.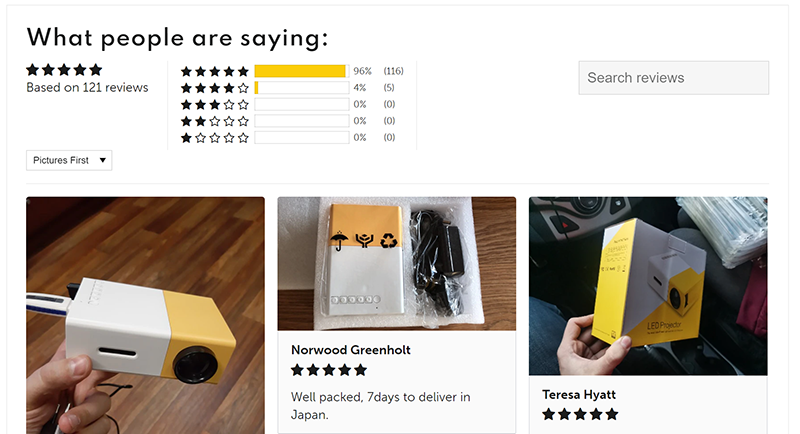 How do I Buy This is a dropshipping store that deals in hot and trending products across different categories like home decor, kitchen and household, smart home tech, lamps, tools, gadgets, accessories, games, survival tools, garden patio, camping items, and so much more. The site is characterized by a Hero video on its homepage that is both unique and inviting giving the site a dynamic outlook.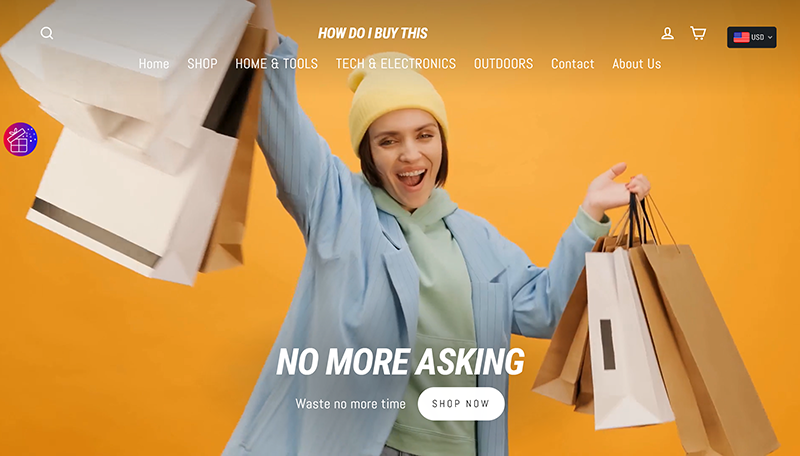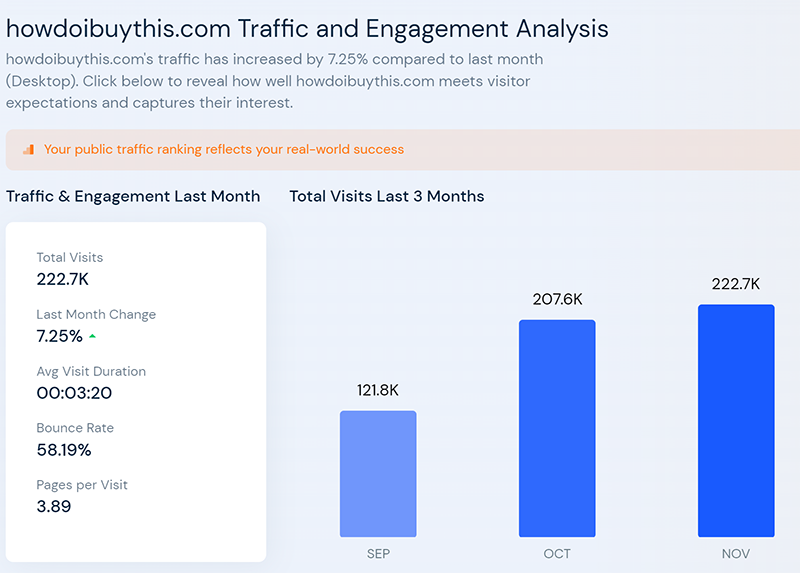 Other features that seem to have increased the popularity of the site and its sales are:
Its Frequently bought together feature urges users to buy adjoining stuff with what they are thinking of buying.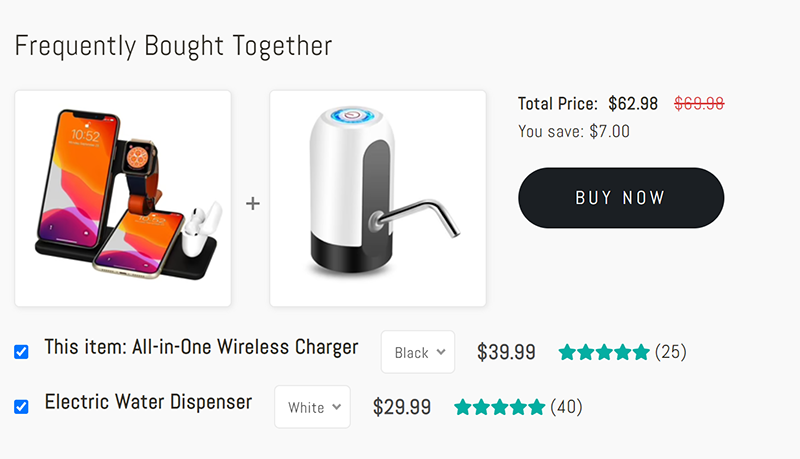 They have a lucky draw feature that gives discounts to the customer when they spin a virtual wheel. This kind of gamification both adds fun and urges to buy on their site.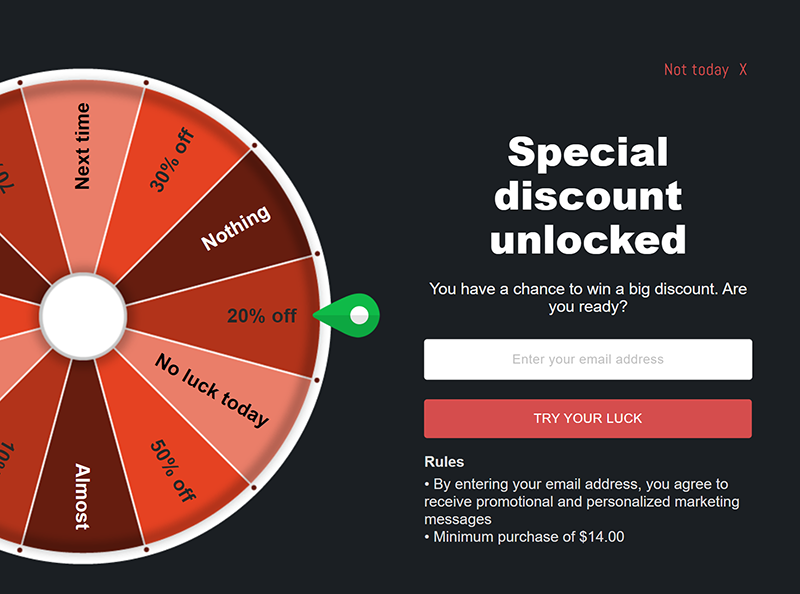 Their customer reviews have in no small way helped boost their appeal to prospective customers.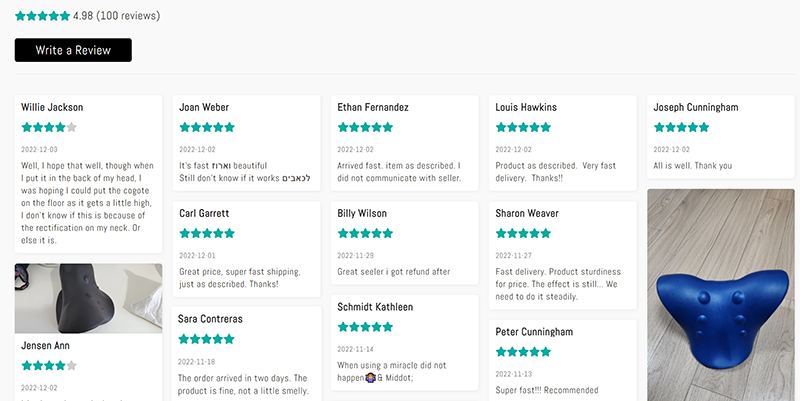 Be Activewear is one of the best Shopify stores dropshipping that deals in apparel and clothing for women men, and kids. The platform offers the sale of gym wear, hoodies, jumpers, tracksuit sets, compression sportswear, accessories, plus size activewear, swimwear, underwear, maternity activewear, lounge wears, leggings, etc.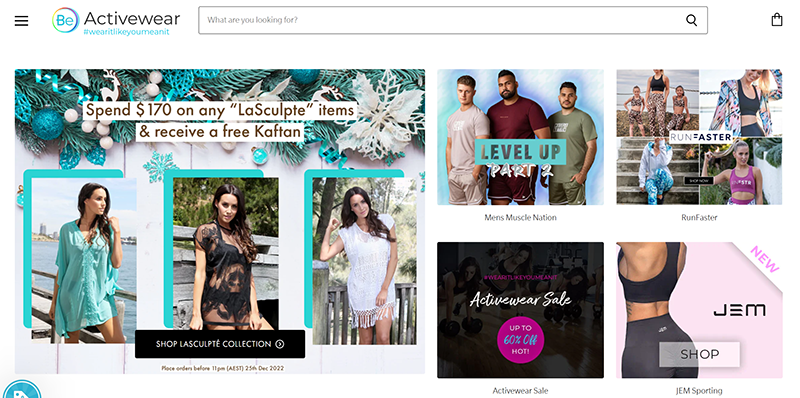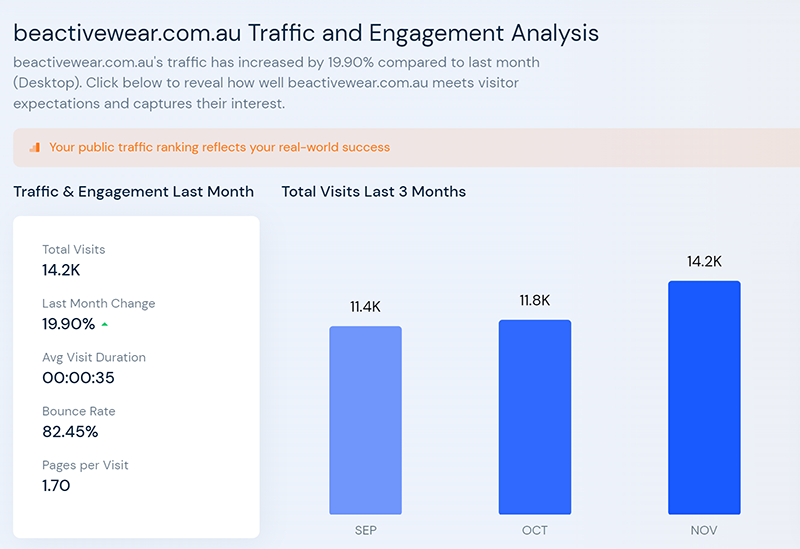 You can also purchase gym supplements, protein water and custard, whey protein, waist trainers, towels, gym mats, water bottles, and other related products. They have over 60+ activewear and gym wear brands all in one place for their customers to purchase.  
We can also learn some sales and marketing strategies that have helped them thrive such as:
Social Media Presence: Their social media presence helps them push sales. They showcase their products on their social media and redirect their buyers to the site to make sales.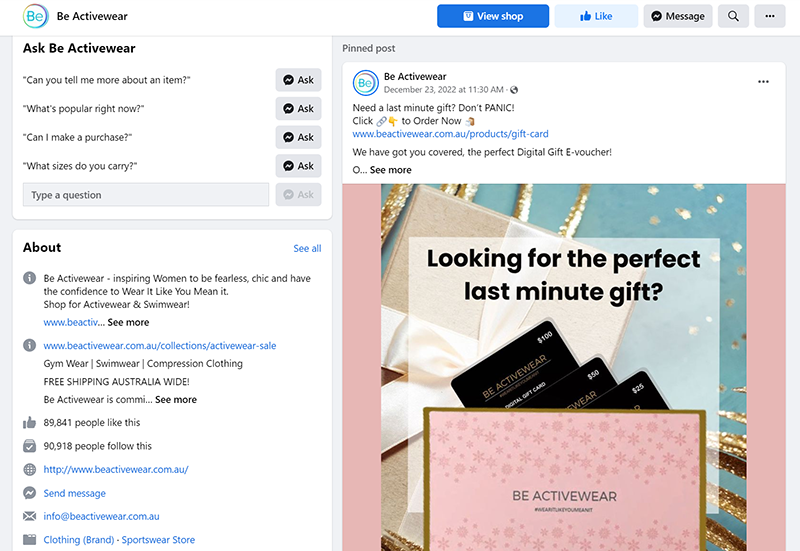 Diversified Products: They have a wide range of products that would make it difficult for a customer not to find what they would want.
This has helped them rake in sales and rank as one of the top dropshipping stores.
ColourPop is a cosmetic dropshipping store that deals in a variety of high-quality makeup for unisex use. Choosing a specific niche in the dropshipping industry helps to build a brand that is easily remembered whenever the need arises, especially if you sell high-quality products. Dropshipping high-quality makeup products is a very competitive yet profitable line of business as makeup vendors can be found easily.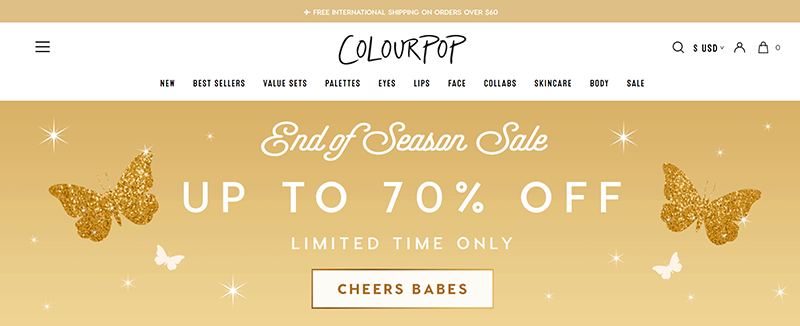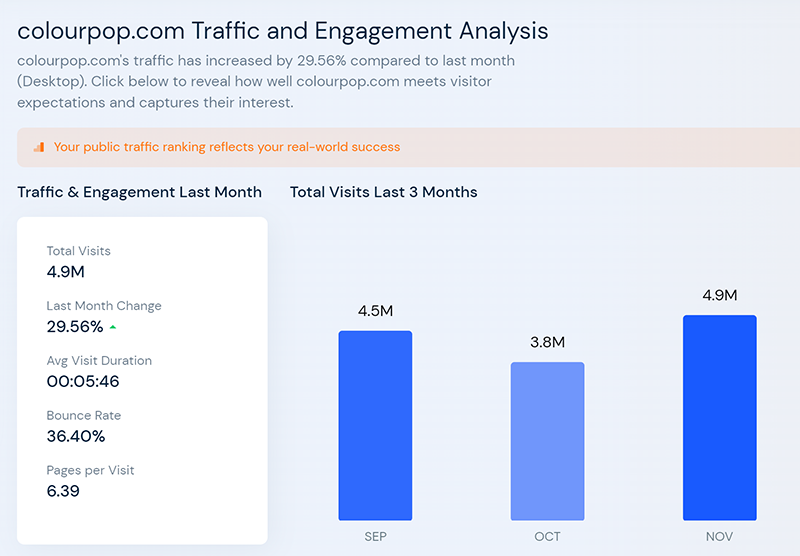 However, you just stand out by providing: 
Beautiful website design: ColourPop is characterized by an impressively glamorous design, with warm colors widely applied to enhance brand awareness and improve customer experience.
With their use of influencer marketing (Having about 4,000 social media influencers sample and promote ColourPop's products) they have pushed out their products to people and created a desire for them by prospective buyers.
The use of social media marketing (Facebook ads and Instagram ads) has helped drive sales to their site. With huge followership on Facebook (2.23M followers) and Instagram (10M followers), ColourPop is a very popular brand.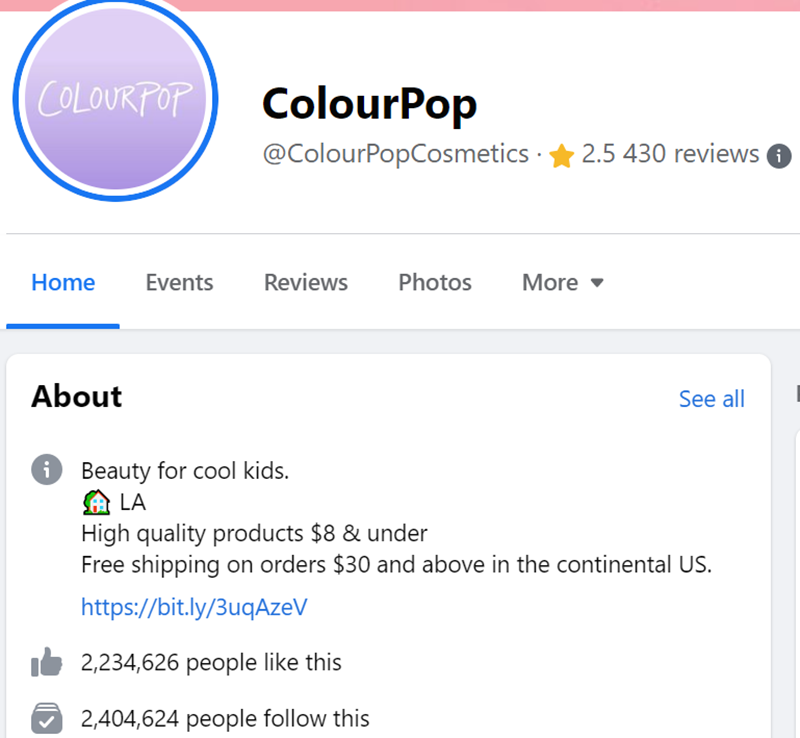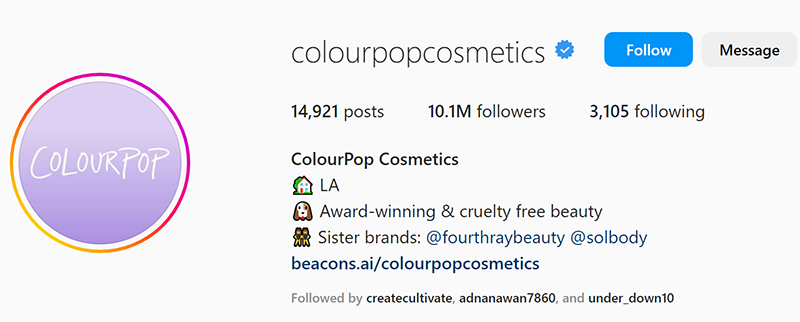 Epic Loot Shop is one of the top dropshipping websites that deal in different kinds of accessories such as rings, bracelets, watches, hoodies, hair accessories, keychains, and necklaces for males and females. The platform also dropships Nordic-themed accessories such as Nordic rune drinking mug, Jormungandr rotating pendant, Valknut ring, stainless steel bracelets, world serpent Jormungandr incense burner, waterfall Yggdrasil color changing LED spray, jewelry storage, and other similar items.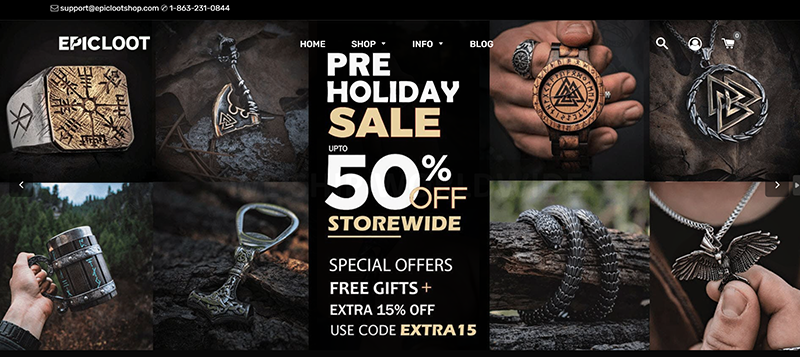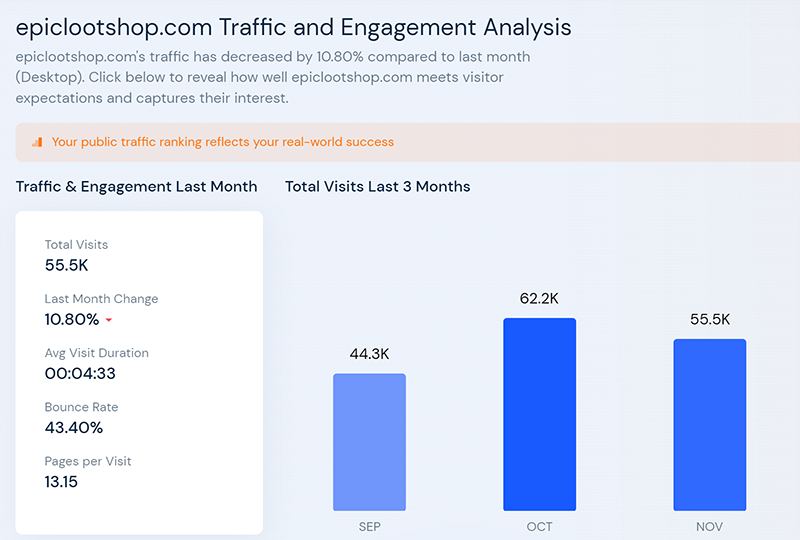 This online dropshipping store has made a name for itself In the accessories categories with the number of sales and customers it has. And they have achieved this by:
Promotions: They run promos to draw attention to their products and offer discounts which in turn earn them sales.
Lucky Draws: These draws offer free gifts and discount coupons to customers whilst gathering a mailing list to send sales pitches to.
Product Style and Videos: Their unique Nordic product types and videos showcasing the products have helped differentiate and elaborate their products rather well to their prospective customers.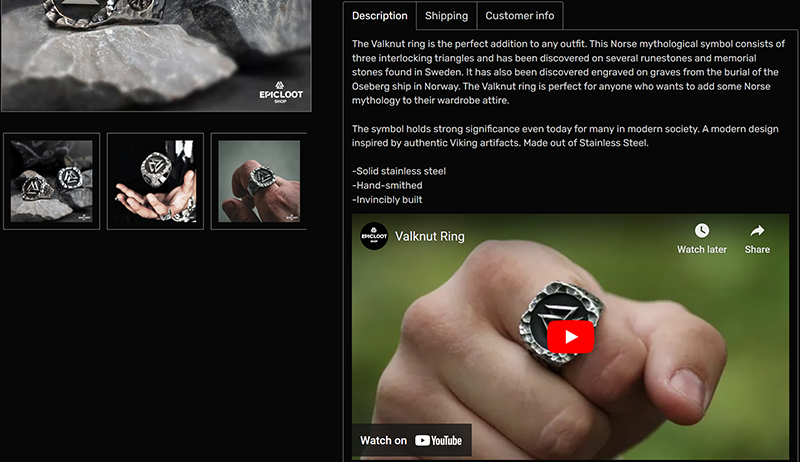 Oddity Mall is one of the top 10  dropshipping stores. This e-commerce store deals in the sales of odd gadgets, unique gifts, and other gift items. They sell general products ranging from Christmas gifts, Halloween stuff, and geeky stuff to other genres such as gadgets, kid stuff, apparel, pet stuff, and food and drinks. They mostly drive traffic and sell their products using affiliate links.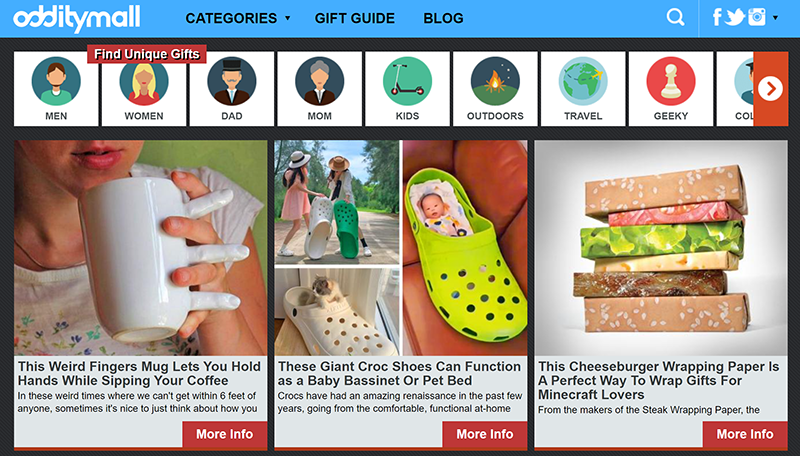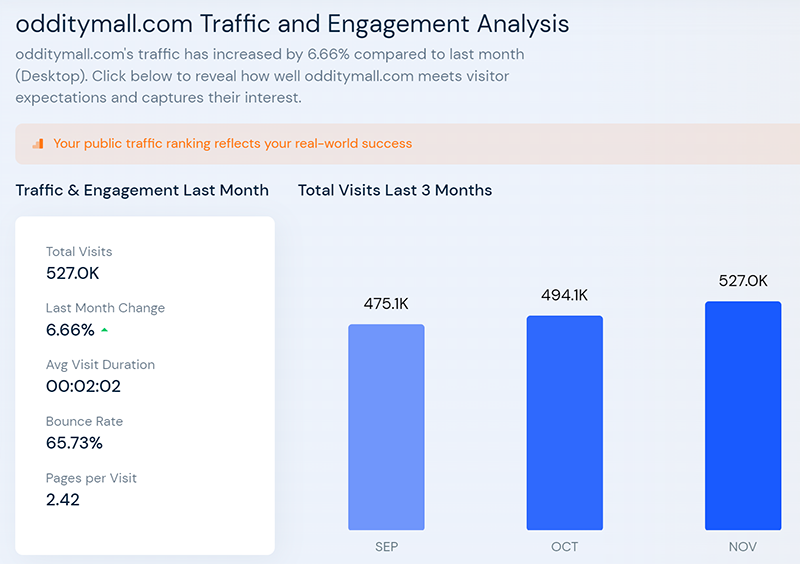 And Oddity Mall has been featured on Salesource as one of the top 10 dropshipping sites of all time and this is how they have achieved this:
Content Marketing: So they have a blog they use in pushing out their products to customers. Creating blog posts about the products and then creating links back to the purchase page.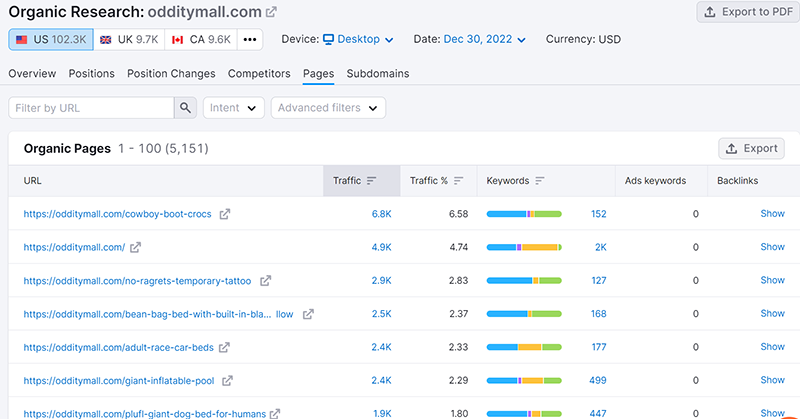 Product Choice: They have very odd products that won't be easily gotten at other stores, hence making them different from the generic.
Social Media Marketing: They have over 2.8 million Facebook followers, and the engagement of each post is quite high. They take advantage of their social media especially Facebook to advertise their products and gain traction on their site.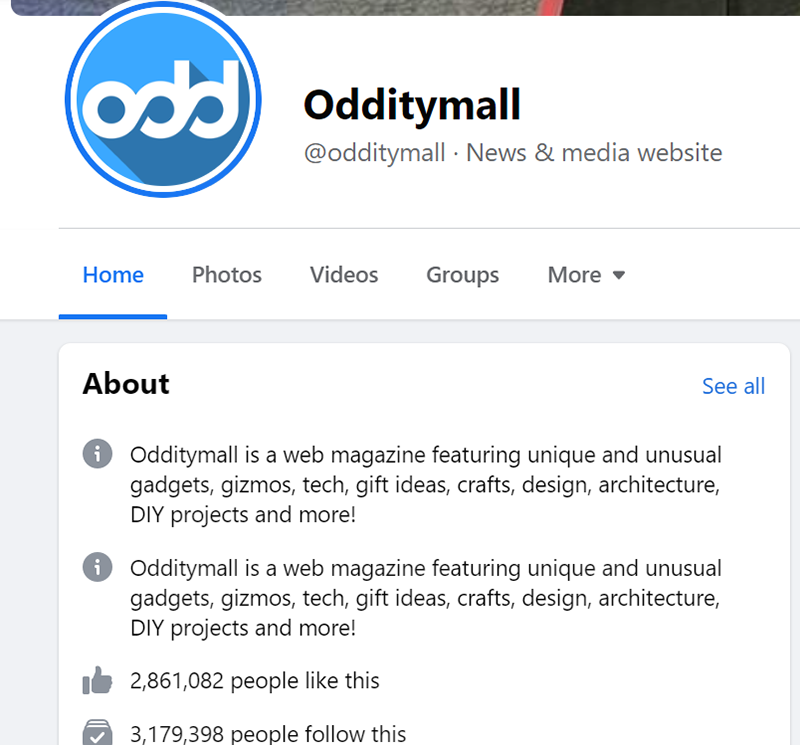 Nimalist is one of Shopify's top dropshipping stores dealing in the sales of accessories, gear, and other clothing items. Nimalist started the dropshipping business by using DSers. Nimalist categorizes their products on sale into broader categories to help buyers make purchases conveniently.
They have gone about their product sales and propagation in a very different way.
Low Prices: Their Prices have in no little way been responsible for their store's success. They have increased their sale by first offering their products for very reduced prices before moving them up, that way they have attracted buyers.
Review Page: Their review page has also ridden on their price to highlight that even if their prices are low, they still have quality.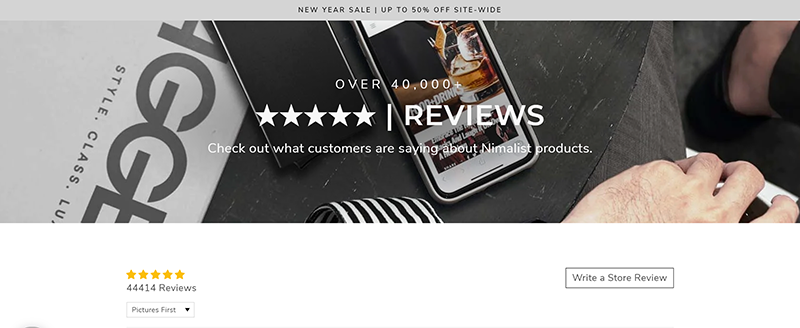 Lifetime Guarantee: This has also helped build trust, keep their existing customers, and bring in new customers.

Modelones is a Shopify dropshipping store that deals with a target niche which is the sale of nail products. Modelones stands out in this niche with many things that we would be discussing here and which have helped them gain customers and make sales.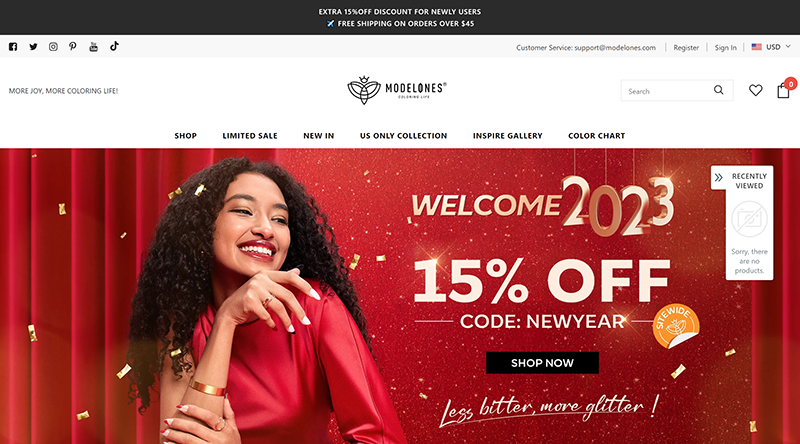 Social Media Marketing: They are active on social media, with over 430,000 Facebook followers and 48.7K Instagram followers. Their social following is a large audience for product promotion.
SEO: This was their first port of call, as they laced their product description with SEO keywords, including gel polish, gel nails, and so on.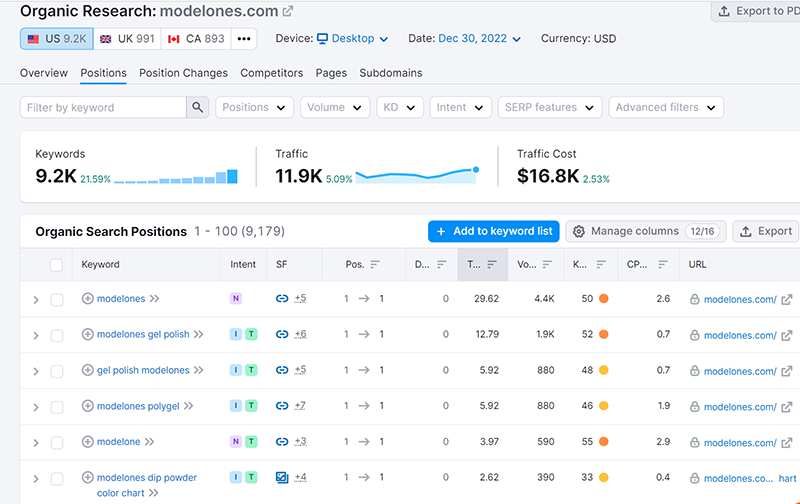 Free Shipping: They offer free shipping for orders more than $45. Now, this tip would not only make them have more sales but also increase the average order value.

Affiliates and Brand Ambassadors: They have utilized ambassadors and affiliate marketers, to further deepen their market and raise their stakes.
Kawaiies is an online dropshipping store that deals in the sales of items such as toys, home and pet accessories, stationery, apparel, plush toys, food, and drinks as well as other accessories. Kawaiies has an attractive and organized layout.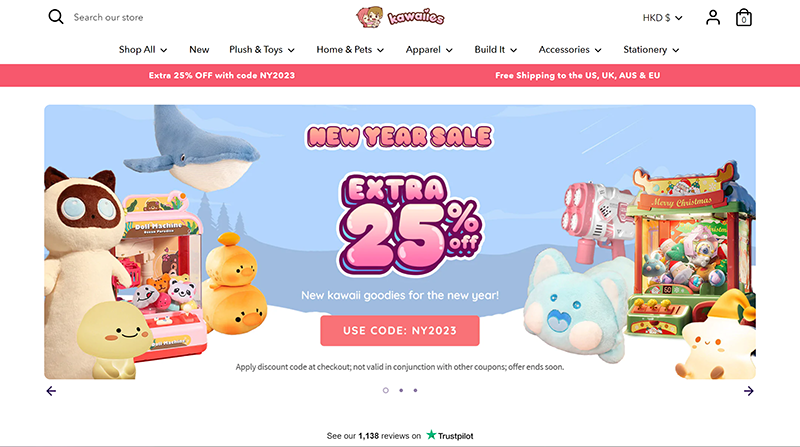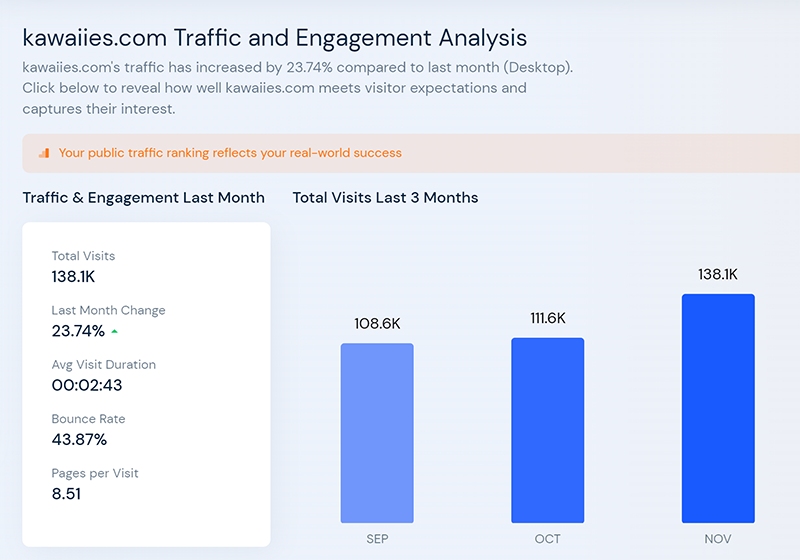 We can learn from Kawaiies that they have increased their sales by:
Organizing Giveaways of their products has helped them attract freebies lovers which have eventually turned into paying clients.

Focus on Organic Traffic: Just like some other dropshipping sites, they have packed their site with SEO keywords including "plushies" and "cute plushies" that have driven cold traffic to their site for sales.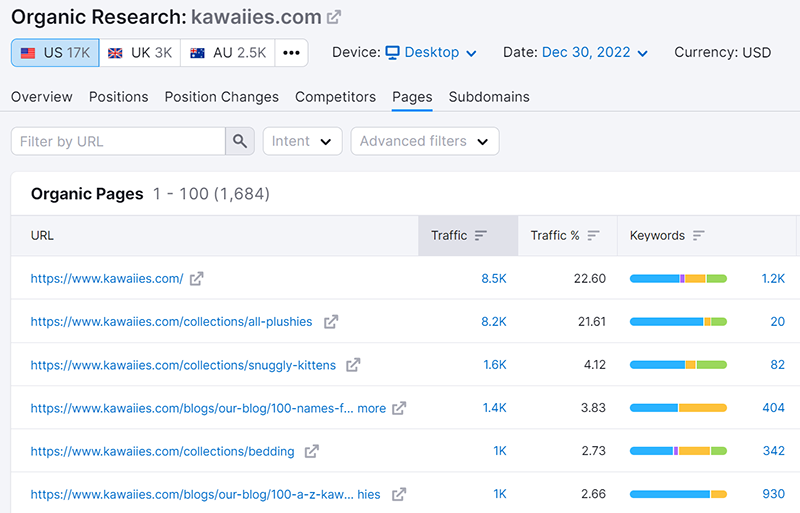 This site took a different turn with the freebies and giveaways and this has helped them scale.
Kirakira World is a Shopify dropshipping store specializing in the sales and distribution of Kawaii products, clothing, shoes, bags, accessories, and home and life products. They dropship their products from AliExpress and Dropshipman, and have them delivered to the doorstep of their buyers in record time.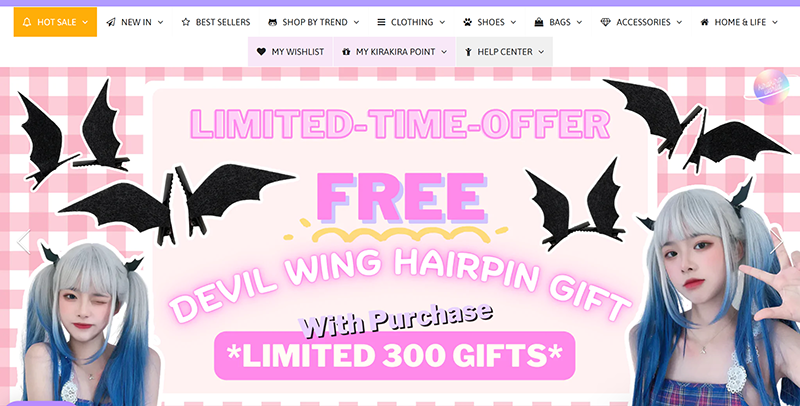 They started in around March 2022 and quickly grew and gained traction in a short time and this is how:
Unique Product Offering: They have specialized in some products that aren't very popular like girly and gothic clothes and accessories. This has differentiated them from the generic women's clothing sellers out there.
Popup & Rewards: Kirakira World offers visitors with a 10% off discount and encourages joining the rewards program. In these ways, they have drawn valuable buyers and increase repeat purchases.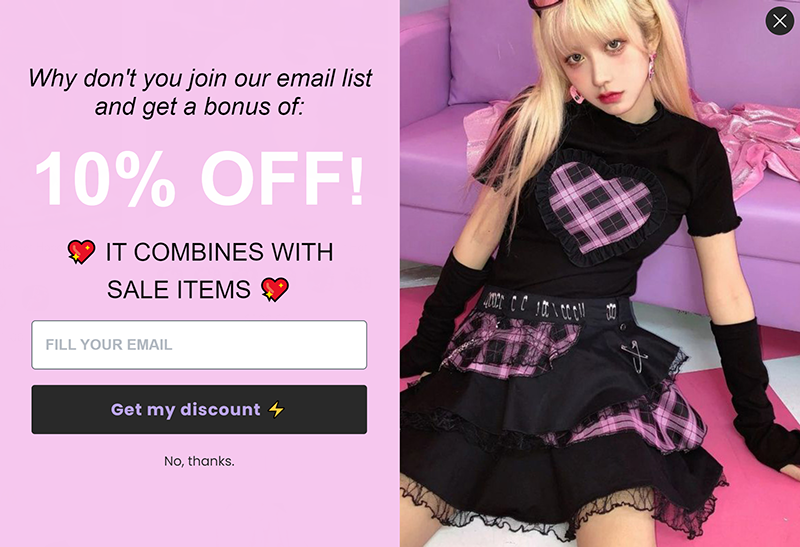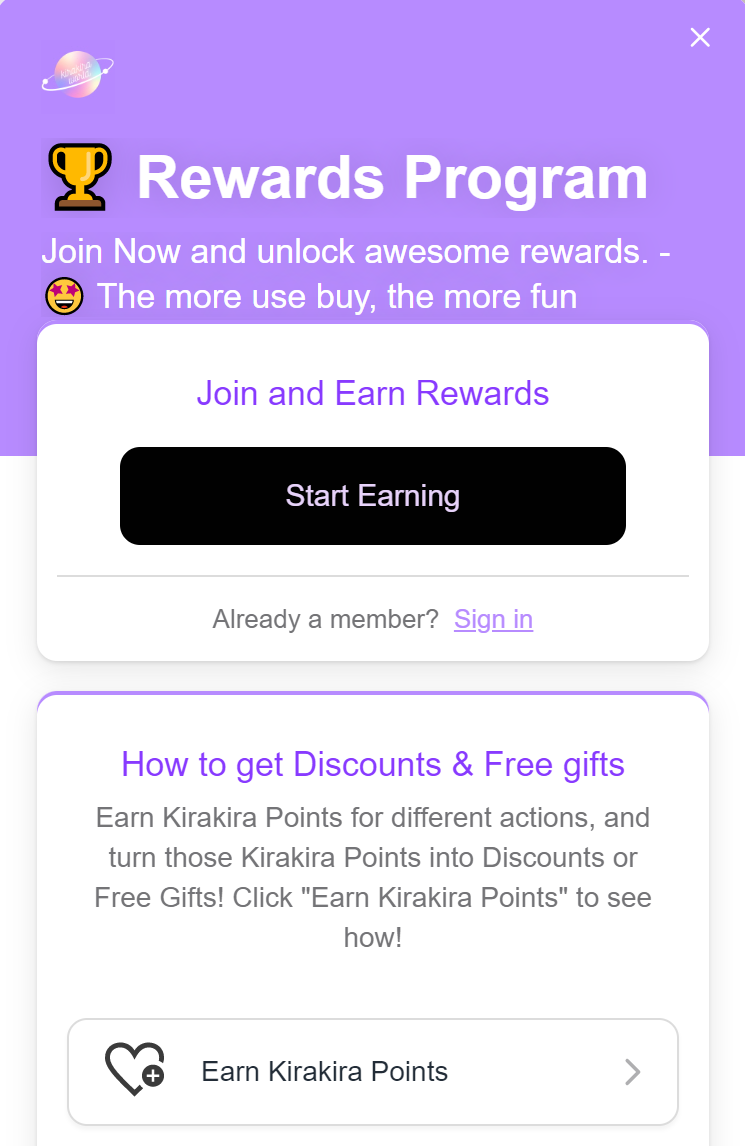 Social Media: They have used social media marketing to grow their customer base.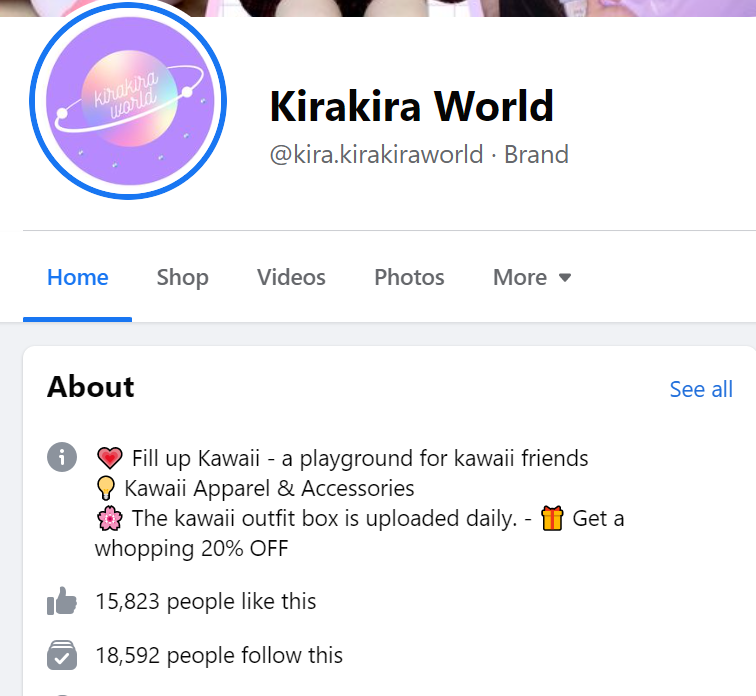 7 Characteristics of Successful Shopify Dropshipping Stores 
We have seen that most of these very successful dropshipping sites have been characterized by specific marketing and customer acquisition tips and we have summarized them below for easy identification and application to your Shopify store.
1. Unique Selling Point
To be a successful drop shipper, your product or products must solve a need. Adopt a unique product or a product that makes your company stand out amidst the competition. This would make your customers or other potential buyers choose to purchase from your store rather than from other online stores.
2. Use of SEO and Marketing
After deciding on the niche of your dropshipping business, you must spend time building marketing strategies and developing SEO. The use of a power page and relevant SEO keywords is important when seeking to drive traffic to your Shopify dropshipping store. Develop SEO for your site to enable potential buyers to locate your store easily. To do this effectively, check out tips from marketing sources, SEO resources, and e-commerce marketing resources. 
3. Easy Returns and Free Shipping 
Offering free shipping and easy returns is one way to attract customers to buy products from your dropshipping store. Easy returns enhance your credibility while free shipping makes customers feel they are getting a bonus. 
4. Themed Layout
The design of your e-commerce website says a lot about the authenticity of the website and can leave a good impression on the potential buyer. Adopt the use of a well-designed landing page to push the customers into action. Remember to ensure that your niche corresponds with the design of your website.
5. Customer Reviews
One of the most convincing ways to attract more customers is to display reviews from other customers. Customers tend to avoid purchasing goods from stores without reviews and this can affect the sales and growth of a business. Encourage your customers to leave reviews and attend to any complaints if any. 
6. Social Media
Ensure that your social media accounts are up and active. You can drive sales with your social media channels by making regular and relevant posts and encouraging the engagement of your followers on your posts.
7. Pricing/Currency Conversion
Some stores have reduced their prices to the barest minimum to make sure they make sales and also used a currency converter so that their products are shown in the buyers' currency. This way, buyers actually know beforehand how much they're going to pay.
Conclusion
Dropshippers need the right inspiration to build their online stores and drive sales. From the list of Shopify dropshipping stores, you can access the individuality and creativity you need to build a successful dropshipping business. Pick out the one you feel would work for your site or better still, try out a number of the tips here and then opt for the one that works. More importantly, apply the tips on building a successful dropshipping business to set your business on the right track.