Shopify + Oberlo + AliExpress is the first step for most newbie dropshipping merchants to start their business. It is a very mature dropshipping model. Many businesses profit from it. And Oberlo has professional courses that can help novice businesses quickly develop their business empire.
Oberlo vs Dropshipman
Oberlo is excellent, and their tutorials can help Dropshipper grow quickly. But if you want the following features, using Oberlo becomes difficult.
1. Bulk orders
When your computer spends a lot of time loading pages. The only thing you can do is wait. You can't even use this computer to view other excellent products. 
Yes, it is a good way to place an order with the Chrome extension. At least it can automate all processes. 
Solution by Dropshipman:
Chrome extension is not necessary, we create orders directly on AliExpress through the API. Dropshipman's orders are created based on AliExpress stores, so orders from the same AliExpress store will not be split. In addition, we have done a lot of address matching work to ensure that your ordering process is smooth.
We pay more attention to your app experience. And Aliexpress Dropshipping center implemented a grading system for dropshippers, the grading system will grade your performance by how many sales you made overtime.
We are also planning features that will make your product more competitive. ????
2. Create a bundle
Bundling sales is one of the tools to increase sales. Japanese magazines like to give away some small items to increase sales. This is also the enduring industry rule for their magazines. Sometimes we don't even know whether customers are buying for gifts or magazines. This is also one of the attractive sales of bundling.
As a paid function, Oberlo Mapping, the only thing it can do is modify the supplier. You can neither create bundles nor use different suppliers for different countries.
Solution by Dropshipman:
In Advanced product editing - Mapping, we introduced the mapping function in detail. The main functions include: changing suppliers, creating bundles, and setting different suppliers in different countries. Including setting this product to use different shipping methods for different countries. We have done some explorations in the Mapping function, combined with the functions of Shopify.
How to migrate?
If you want to migrate your products to Dropshipman, please follow the steps below:
Step 1 Install our Chrome extension.
Our chrome extension can help you quickly import products from AliExpress, and can also synchronize your AliExpress product information from Oberlo to our database.
Step 2 Please go to product page of Oberlo.
If the page generates the following bar, it means synchronization is ready.
Sync all products - Synchronize all products and corresponding AliExpress products.
Sync to Dropshipman - Only sync this page.
Step 3 Please go to AliExpress Dropshipping Master > My products > Shopify products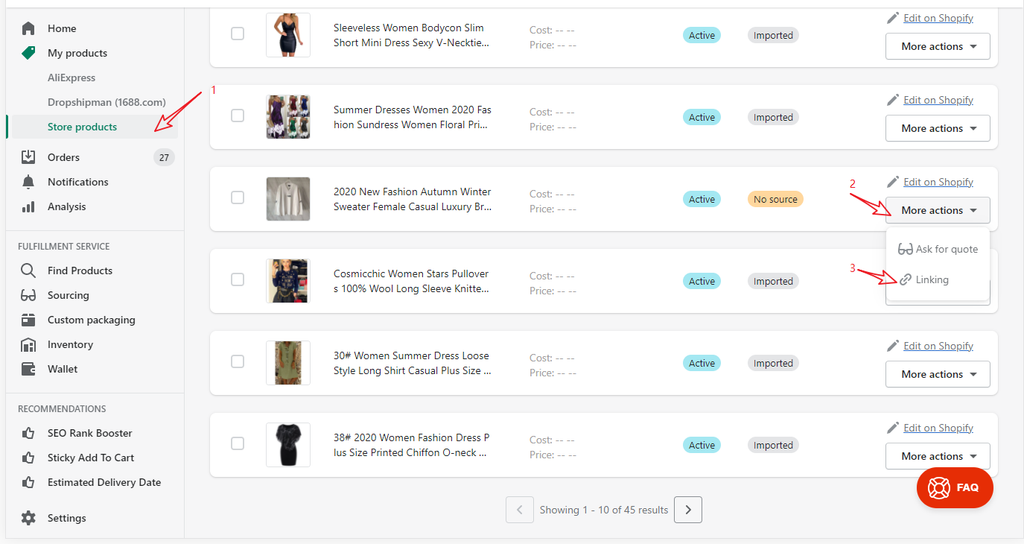 After clicking on linking, Dropshipman will automatically match your variant with that of AliExpress. You can also manually modify the corresponding variant. Finally click save.
 Now orders for this product can be processed by Dropshipman.