Rising apparel consumption presents us with an opportunity to establish a profitable dropshipping business. People love to shop online and value originality and ingenuity when it comes to apparel. Dropshippers and online retailers can grow a dedicated clientele by recognizing the needs of these specific purchasers and meeting them successfully. If we look at the statistics, we come to know that the worldwide apparel market is expected to generate almost $2 trillion in sales by 2027, up from an estimated $1.5 trillion in 2021. The United States and China, which together account for a disproportionate share of global apparel sales, generate more income than any other country.
At this stage, various online business enthusiasts want to start a dropshipping business as it is easier to sell clothes without inventory and by building a dropshipping store that makes sales quickly. Without having to worry about storing, picking, packaging, or transporting clothing items, your operating expenses will go down when you know how to sell clothes online without inventory. 
Time is money, and dropshippers can save both by not keeping stock. Inspired yet? Well, let's learn more about how to dropship clothes and how to make money by running a clothing dropshipping business. 
How to Start Dropshipping Clothes? 
Here are some insider tips and tricks on how to start a clothing dropshipping business and how to sell clothes online without inventory. 
1. Research the clothing market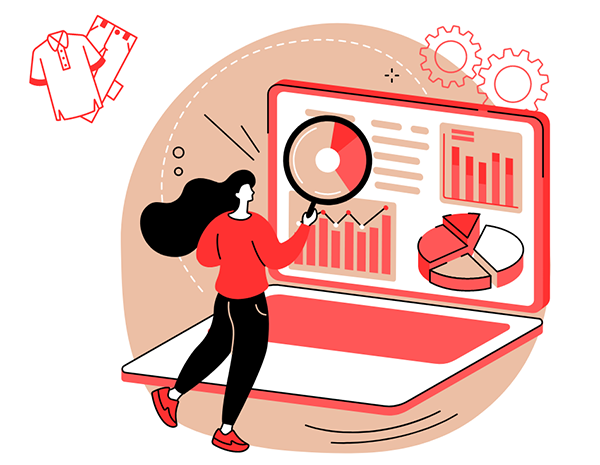 The first step to effective dropshipping is identifying a niche market, researching the clothing market, and focusing on in-demand apparel amid the wide ocean of clothes possibilities (such as traditional male gowns, winter jackets, sporting gear, etc.). There is plenty of opportunity for speciality clothing retailers, but it will take some trial and error to discover the best one for our online business model.
You may do market research or test potential products in multiple marketplaces to find the most profitable ones.
One possibility is to discover what people are currently interested in or choose a style of clothing that few retailers are selling. 
In any case, genuine market research must adhere to the gold standard of real-world market testing. Since you are going to use drop shipping as a business model, there is very little risk, and you can easily test various fashion and clothing products and see which of them sell the most. 
You may get an edge over the competition and maintain high profits by working with a reliable dropshipping clothing provider. In fact, you can easily operate a successful company if they provide a wide selection, can be relied on, and deliver promptly. So a bit of detailed research is also mandatory while looking for trustworthy online clothing suppliers. 
Locate dropshipping suppliers that carry the apparel lines you've settled on for your business. Since you'll be dropshipping, your online apparel provider should have a wide variety of styles, helpful customer support, and steady delivery options.
Since finding a reliable dropshipping partner is essential, you need to carefully choose from reliable companies that are well-established in the industry and provide a wide variety of trendy, in-demand clothing goods.
3. Set up a clothing dropshipping store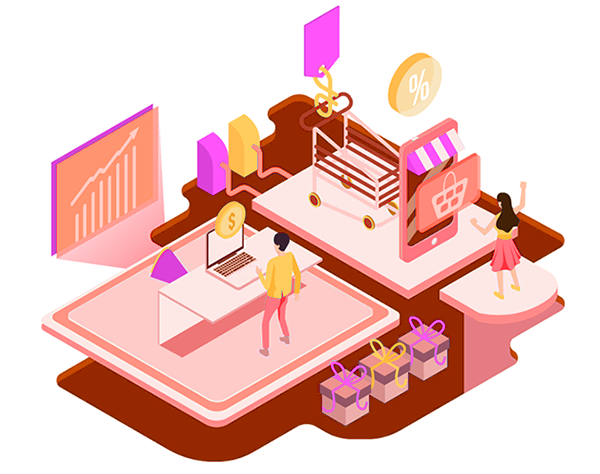 After that, find a place to sell your clothes where your target audience can browse your inventory and make purchases. In other words, you can set up the clothing platform and have to work as an online apparel retailer. 
Nowadays, various online marketplaces are there that allow online dropshippers to sell clothes without spending a dime on advertising. That's because a constant stream of potential customers is likely to wander through a marketplace where your products are for sale.
However, eCommerce platforms that allow for custom branding and design help you stand out from the competition by allowing you to tailor your store's appearance to the tastes of your specific customer base. That's why most of the top clothing brands use Shopify.
4. Add products with dropshipping automation software 
Now that you've decided on a sales channel, you need dropshipping automation software to handle mundane tasks like product listing and order fulfillment on autopilot. You'll be able to reinvest that time savings towards expanding your company thanks to dropshipping automation software.
Yet, with so many options for dropshipping automation software out there, how can you know which one is ideal for clothing? In this respect, research is required. The crux of the situation is that you need an all-in-one dropshipping platform like Dropshipman that not only provides full automation for free but also allows you to expand your clothing dropshipping business easily by pre-stocking and branding.

Once you decide about dropshipping automation software, you need to start adding clothing products and complete the task in a short time. 
5. Promote your products in various ways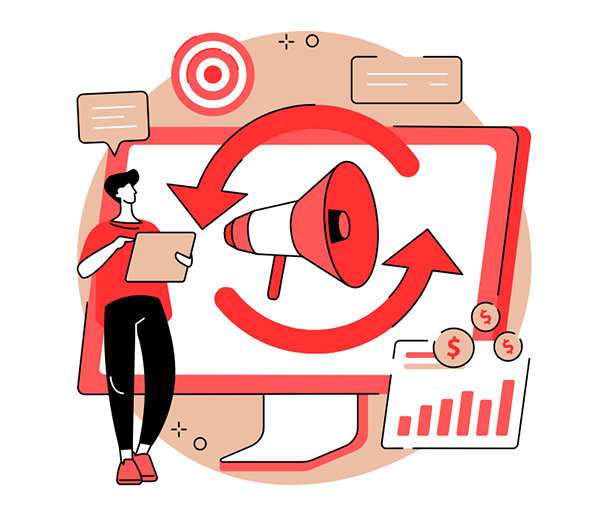 After getting your clothes items listed, you'll need to promote your online shop so that people everywhere may see them. Dropshipping apparel businesses rely heavily on marketing to raise awareness of their items and drive traffic to their online shop.
You may promote your apparel dropshipping business in a variety of methods, some of which cost money and others that don't. The same is true of whatever sales channel you employ.
Although you can promote your dropshipping clothes business on different platforms, Amazon's massive user base is like a built-in, free advertising campaign. 
Shopify and Wix stores, on the other hand, are customized platforms with little to no previous traffic, making it more difficult to generate sales. To make items get into customers' hands, it is imperative that you attract people to your business.
There are platforms dedicated to influencer marketing that may help you locate and work with influencers for this purpose. Product influencers are people with a large number of social media followers who can persuade their followers to buy a product. Some micro-influencers may just need you to send samples to them, and they don't charge for their work.
Facebook advertisements, however, are among the most efficient methods of promoting your dropshipping apparel business built on Shopify, Wix, or other platforms. In order to reach your intended consumers, you may take advantage of the detailed targeting of Facebook ads.
6. Forward orders and process payments 
Advertising your shop ensures a wide reach and, therefore, attracts more people to make purchases of their desired garments. Before you run ads, be prepared to handle the influx of clothes orders from your clientele. Orders may be processed in one of two ways: manually or automatically.
Manual order fulfillment entails visiting a supplier's website for each order and manually entering the necessary information to place the order. On the other hand, automating fulfillment eliminates the need for human labor and replaces it with software. Reputable order fulfillment solutions streamline the whole operation from the client placing an order to the customer getting the purchased piece of apparel. With Dropshipman, you can place orders in bulk and even set up automatic fulfillment so that Dropship Man will fulfill your Shopify orders on your behalf as soon as they come in. Moreover, you can easily keep track of the orders via the order tracking feature and notify customers via automated email.
However, it is vital to remember that not all dropshipping suppliers and marketplaces accept automated ordering. Because of this, there are times when you will need to do manual fulfillment and seek the assistance of a virtual assistant when there is a backlog of orders.
7. Manage customer service 
The best tools for managing customer support operations are available either on or in conjunction with the selling platform you use. Prioritize customer service when you want to know how to dropship clothing successfully online. 
After operations have begun, it's crucial to focus on satisfying customers. It's the job of a dropshipping clothes business to handle customer service issues, including returns, exchanges, and fitting problems. With effective customer service, you can keep consumers informed of the status of their purchases, address customers' problems, and earn a good reputation, which can bring in more customers in the future.
Dropshippers, for instance, may use customer support software to better organize and automate their operations, allowing them to do so from a centralized hub, build a dedicated help center, and preset answers to general questions. Just like questions or concerns from buyers who saw your products on Facebook Marketplace can be sent to the Messenger inbox,
The Shopify platform makes it simple for customers to reach out to you using the listed contact methods or through the Shopify inbox service. 
All of these factors are important to think about if you want to give excellent customer service and quickly resolve your customers' issues. A quick response is highly valued by customers. Moreover, statistical evidence supports this conclusion. In a recent survey, 81% of customer service leaders are investing 36% more in live chat & messaging, while only 67% of B2C companies utilize live chat for customer service; 42% of US-based internet shoppers stated they would shop elsewhere if a company didn't provide live chat.
Monitor your clothing dropshipping business closely at all times so that you are aware of what aspects of the setup are successful and which ones are not. In addition, be sure to keep an eye on the goods, marketing, customer service, sales, and other aspects of the business.
12 Ways to Scale Your Clothing Dropshipping Business
1. Improve website designs 
Customer trust depends on your website design. If your website is sloppy, outdated, or contains spelling issues, customers may not buy from you. To build a trustworthy store, you need patience, not money. 
Let's have a look at some examples of apparel stores that have unique website designs and great interfaces. 
Fashion Nova displays a countdown timer on the top of every page and collects customer preferences and emails by offering a 10% off discount with popups and a sticky button on the right. It also allows customers to shop for similar products easily by showcasing different styles on the product page.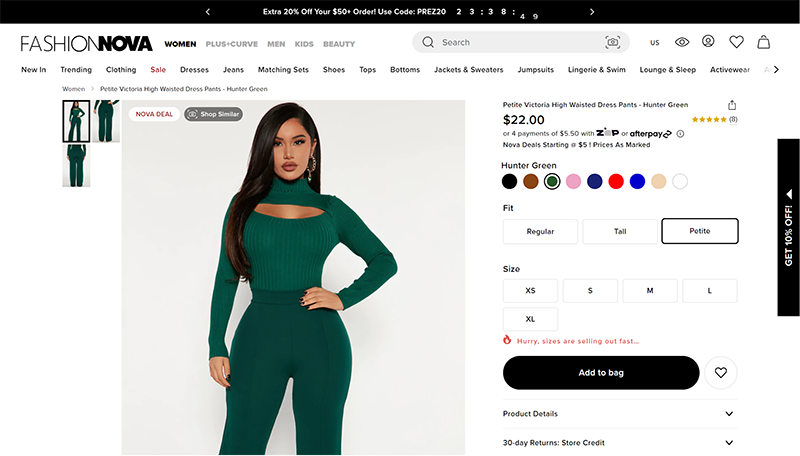 Phix Clothing's layout is distinctive. On the product page, Phix stands apart from other online brands. Ultra-large product photos accentuate outstanding. At the bottom is the section "You May Like," which serves the purpose of upselling.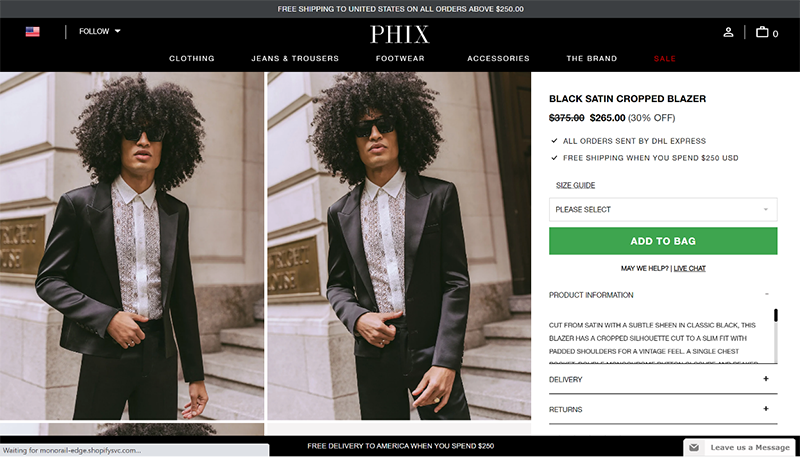 Ksubi's FAQs page is distinct. This is an FAQ page that lets customers easily find replies. Placing orders, returns & exchanges, overseas orders, and general questions are among the sections of their FAQ. A drop-down appears when a customer clicks the area. This helps clean up.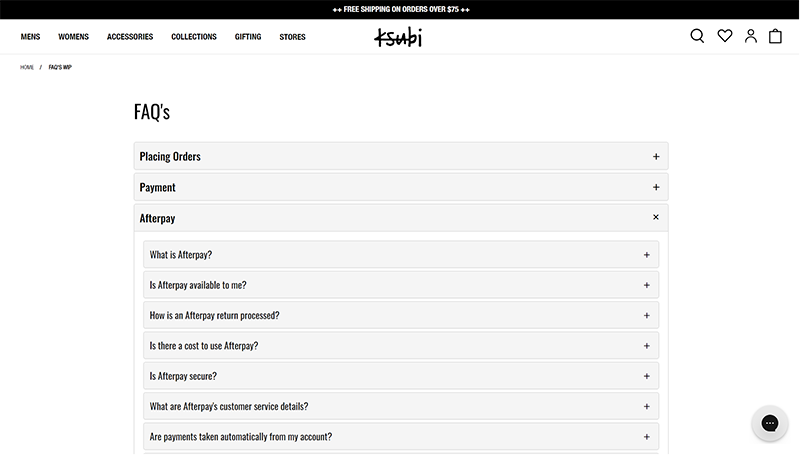 You can take ideas for a better website design from the above examples of successful clothing stores. Here are the 20 most successful Shopify clothing stores for you to learn from.
Tips for designing your dropshipping store
Implement new design ideas with customers in mind. Design should be basic. Keep your layout simple. Does your website resemble an e-commerce site? It's fantastic to push limits to stand out, but it can make your customer's life harder. Your product page should flow as buyers expect. 
Make your photos professional. Don't just use low-resolution photos. Purchase samples of the clothes that you want to sell and hire models to produce better photos. Record short videos when the models are posing and incorporate them into your product pages. 
Make your store mobile-friendly. Apart from resizing huge photos and upgrading servers to improve page speed, you should make sure all elements can display properly on mobile devices as the number of mobile shoppers continues to rise.
Your store should display your contact details. Many dropshippers don't provide contact information, making it hard for customers to get in touch when they need to. Actually, displaying contact details can build trust and contribute to better sales. 
Website Design Tools for dropshippers
ParcelPanel is an excellent order tracking app used by tens of thousands of Shopify store owners. Without contacting assistance, customers may track the whereabouts of their orders, which can significantly reduce the pressure on customer service.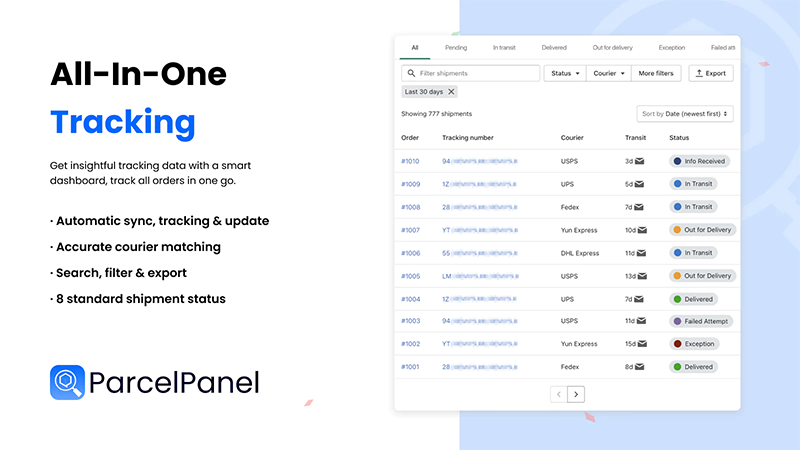 Shopify themes can spice up the design of your dropshipping store. You may easily find Shopify themes you want by category, catalog size and features. You can explore collections such as minimalist styles and large catalogs. Instead of using a free theme, you should use a paid one with advanced features to feature time-limited offers and promos and make navigation, product discovery, and checkout easy for customers. 
Fonts, images, templates, and more are available at Creative Market. Whether you need to change your logo or social media branding, you'll find the materials you need to optimize your Shopify store.
Use all the above-mentioned tips, tools and ideas to get a better website design for your clothing store. Improving website designs is like laying a solid foundation for a smooth customer journey and the growth of your dropshipping business. 
2. Ensure accurate sizing 
You don't want to see a snowball effect of wrong sizing when scaling your clothing dropshipping business, do you? The provision of measurements is an indispensable feature of your clothing store. You are required to provide accurate measurements for each of your garment sizes when selling clothing products. This will ensure that the products are promising and will have an adequate fit. 
If you run a Shopify store, consider using a size chart app with an auto recommendation feature to improve user experience. This can help your customers to determine whether or not to invest in a specific article of clothing and reduce return rates.
Be certain that your size tables include an explanation of each and every point of measurement (POM).
3. Add more product lines 
One of the most efficient ways to scale your clothing dropshipping business is by adding more product lines to meet diverse needs and close more sales. For example, if you've been dropshipping T-shirts before, consider adding jeans, blouses, skirts and dresses. New product lines attract new customers.
What's more, keep existing customers interested by continually releasing novel articles on clothes and accessories. The introduction of brand-new garments aroused the desire to be among the "first" to possess them. 
4. Partner with more clothing suppliers 
Establishing strong relationships with a variety of trustworthy suppliers is crucial to the growth and sustainability of your apparel dropshipping business. 
Despite the great difficulty in finding reliable vendors and suppliers, to scale your clothing dropshipping business, it's essential that you form partnerships with more reliable clothes suppliers. You should choose dropshipping suppliers by looking at the quality of the fabric, shipping timeframes, aesthetics, and accessibility, all of which are crucial to customer experience.
As the global garment market grows, you should get started and prioritize working with multiple suppliers so that you will never run out of stock.
Some popular and well-reputed clothing dropshipping suppliers are AliExpress, Dropshipman, Trendsi, Modalyst, Syncee, Printful, and BrandsDistribution. 
5. Lower costs with bulk purchases 
The term "volume discount pricing" refers to the practice of offering price reductions for purchases made in larger quantities. When some of your clothing products generate consistent sales, you can actually reduce product costs and improve your profit with wholesale purchases. Some clothing dropshipping suppliers like Dropshipman allow you to do so, and they provide free inventory storage. This can ensure stable inventory and fast shipping. 
6. Spy on your key competitors
It is not enough to just be aware of the needs of the customers. You should also keep an eye on your main competitors.
You need to pay attention to their social media games as well as their items, pricing, and categories. No, this is not about simply imitating what they are doing. If you want your online clothing store to succeed, you need to find a way to differentiate yourself and be one of a kind in your industry. The one and only way to guarantee that you are doing this is to be familiar with the landscape of the industry.
Another method you should use to gather insights about your primary rivals is to investigate the sources of traffic they receive. You may accomplish this by monitoring their eCommerce backlinks and setting up notifications to let you know what keywords they are ranking for so that you can compete with them.
7. Build your brand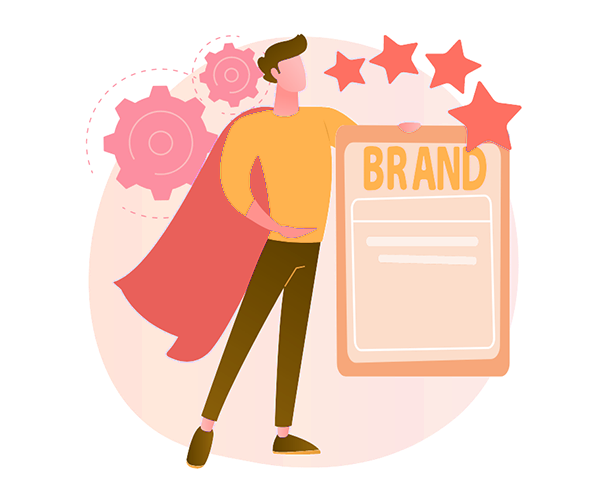 The household names in fashion didn't get there by slapping together random labels. These companies definitely bear memorable names and adhere to brand values. Take this advice on establishing a name for your business as a means of scaling your own drop-shipping business.
Building a successful brand from the ground up is a daunting but achievable task. Bear in mind that even the most recognizable names in the industry had humble beginnings.
8. Scale up your marketing 
Not all dropshippers do it, but promoting your business is essential if you want to attract more customers.
Need help promoting your dropshipping business?
These are four common and helpful choices to consider:
Go for influencer marketing: Forming strategic alliances with influential people in your niche is essential to the expansion of your dropshipping business. Particularly influential on consumers' purchasing decisions are micro-influencers. An influencer marketing platform can greatly shorten the time it takes to implement an influencer marketing strategy.
Do content marketing: Dropshippers can't succeed without being engaged in content marketing, which relies on search engine optimization and high-quality content. This is because your customers mainly use Google and social media to find you. For this reason, you should go to work on content creation as soon as possible to avoid over-dependence on ads. Contents, including blogs, videos, TikTok videos, podcasts, and more, can generate free traffic to your online shop.
Pay-per-click (PPC) advertising: It can bankrupt you quickly if you're not careful, but it can also provide an instant boost to online sales if implemented properly. Use Lookalike Audiences and retargeting advertisements to get the most out of your marketing dollars.
Affiliate marketing: 16% of all online revenue is generated via affiliates. Encourage repeat business from your devoted customer base by paying them a commission on any sales they generate as an affiliate.
Expanding your marketing efforts will help your organization expand more rapidly. Gradually grow your marketing efforts while testing to see what works best.
9. Boost trust with reviews & social proof   
Whenever people purchase from your website, ask them to leave a view on the product pages, social media platforms and trustworthy websites like Trustpilot. It will help new people know the quality of your fashion and clothing services. 
A great review collection will not only vouch for your clothing product's superiority but will also provide invaluable additional insight, such as the following:
what makes it so great
why the reviewer found it worth the money
Much of that focuses on the product, but reviews can also provide details about:
purchasing on your site
receiving their order
your customer service
Visitors to your online store will be more likely to make a purchase if they are assured that every facet of their shopping experience has been tried and tested by others. 
Some other tips include: 
Be Transparent.
Ask for feedback.
Establish a Customer Loyalty Program.
Maintain a level of accessibility to your prospective customers.
Always put the needs of your customers first.
10. Set a good return & refund policy 
When a customer visits your online clothing store, they anticipate seeing a Return and Refund Policy that explains the rules of your apparel business. Uncertainty about a store's return and refund policies discourages customers from making purchases there.
Customers will feel more comfortable doing business with you if your return policy is clear. It is an important aspect because sometimes buying fashion and clothing products online can create confusion regarding size, color or something that may not be delivered to the customers as expected. 
Customers who have trouble locating your store's Return and Refund Policy may begin to distrust you and decide to shop elsewhere out of concern that they will have a difficult time exchanging or refunding an item if they need to.
Therefore, you may offer a 30-day money-back guarantee and free returns and display the information on the product page to encourage purchases. You can also let customers decide whether or not to purchase shipping insurance to mitigate the risks of lost/damaged packages.
11. Build a robust membership scheme
One of the most considerable benefits of using a membership model is the fact that it establishes a lasting relationship with valuable customers. Your clothing dropshipping business will be significantly more profitable if you have a membership scheme.
The "lifetime value of a customer" is longer and more predictable when using a membership scheme, and it provides a brand, business, or individual with more opportunities to produce value for important customers. As a result, every dropshipper ought to concentrate on developing a robot membership scheme in order to retain customers and turn them into loyal clients.
12. Turn your customers into a community 
Build a community around your business. Your interaction with your customer base may tell you a lot about what they like and don't like about your items, what new things they'd be interested in, and what kind of service you should offer to keep them coming back. 
Dropshipping Clothes FAQ
1. How to dropship clothes from AliExpress? 
If you are a drop shipper and you want to dropship apparel from AliExpress, you will need to add the products that you would like to sell from AliExpress to your store, set a price for those products, and apply a markup to that price. After you have received an order, you need to pay for the product. Your buyer will receive their order from the AliExpress seller who fulfilled it. It's recommended to use a dropshipping automation tool with features such as one-click import products, price & inventory updates, and so on to make dropshipping clothes from AliExpress easier.
2. What clothing dropshipping niches can you choose? 
To choose a clothing dropshipping niche, you should ask yourself the following questions:
What is the highest in-demand clothing niche? 
How do I find and identify highly-interested customers? 
Who is buying my products? 
In what ways can I help people?
In order to connect with the most engaged consumers, it is best to target an extremely specific niche. For example, the women's clothing market is divided up into numerous sub-markets and micro-niches, according to the product types, for example, fitness apparel, wedding, formal clothes, casual clothes, customized clothes, and so on.
3. How to dropship custom clothing? 
Investing only a small amount of money will allow you to arrange for personalized and customized packaging for dropshipping products. This will result in significant profits, and you will be able to begin establishing your brand and scaling the market once you've accomplished this. You can customize the clothing products according to the requirements of the customers if you have deep knowledge and experience in this field. You can also choose to partner with print-on-demand dropshipping suppliers.
Consider including a "Thank You Card" as an additional option if you want to elevate the whole experience you provide for your customers to the next level.
4. How to dropship designer clothing? 
You won't have any trouble at all using a designer dropshipping service provider if you choose designer clothing products. Just search designer clothing dropshipping, and you're sure to find Griffati, BrandsGateway and Brandsdistribution. They can save you the trouble of contacting numerous designer brands one by one.
You need to check out the sales channels that they support if you want to automate dropshipping designer clothing. 
Conclusion
The clothing industry is particularly conducive to dropshipping because demand is always high. That's why we have tried our best to guide you on how to start dropshipping clothing and scale your clothing dropshipping business. 
You can have a fantastic opportunity to succeed in the fashion sector if you can identify a specific niche and form partnerships with trustworthy clothing dropshipping suppliers. And with the help of automation, you should be able to easily take your apparel dropshipping business to new heights.
There are a ton of benefits to dropshipping apparel, so why wait?
NOW is the time to start providing your customers with their preferred clothing.