How does dropshipping work?
With the aid of the order fulfillment technique known as dropshipping, e-commerce businesses delegate the sourcing, warehousing, and delivery of the products to a third party, typically a supplier, and ship the products to the customer.
The following steps summarize the dropshipping business model:
Customer orders online
Seller receives order
The seller must send a request for fulfillment
Place the order on or via Dropshipman
The order shipped to the customer
The customer received the order
What is Dropshipman?
Dropshipman is a Shopify dropshipping app that helps to source any product type suitable for your store that comes with trustful suppliers and low product cost.
Also, Dropshipman is more than just a dropshipping tool; it also includes features for tracking and syncing AliExpress product pricing and inventories. All of the automatic functions come in helpful for saving time when it comes to manually editing and updating each product. Aside from sourcing, we also provide shipping, labeling, packing, and quality inspection. Furthermore, it has many advanced features that will enable you to unlock your store's needs.
How to set up a store?
Connect Dropshipman to a Shopify store
Explore what the product decides to sell
Change store currency
Set up Dropshipman
Create collections
Add products
Disable request fulfillment
Test order
How do source and fulfillment work in DSM?
You can get products from Chinese online marketplaces with the help of Dropshipman. Based on the Aliexpress link, photos, spending limit, and keywords you provide, we'll search for a product. Additionally, we'll weed out every dubious vendor on the market so you can choose the best one for your product. If you select Dropshipman Source and Fulfillment, your delivery times will be 7–15 days. The logistics companies we've worked with have extremely reliable logistical channels. The average delivery time for goods to the United States is 5 to 15 days. We need 3-5 days for processing, and it takes 6–10 days for international logistics to get to the United States.
What is the difference between AliExpress and Dropshipman?
You can send us a sourcing request after importing products from AliExpress, and we'll find the exact item and price to meet your target. Shipping schedules and prices vary between Dropshipman and AliExpress. Aliexpress, in contrast to Dropshipman, charges by piece.
How to authorize or reauthorize an AliExpress account?
You can follow the steps below on how to authorize AliExpress:
Go to Settings > Profile > AliExpress Account > Authorize/Reauthorize
How to search for best-selling products?
You may sort results for products while searching by orders. By doing so, we can identify the more in-demand products instantaneously. Finding the products you desire is simple with thorough filtering. We provide a variety of product options too.

How to import products?
There are two ways to add Aliexpress products to DropShipMan:
1. Add products by Chrome Extension
Before using our extension, get back to DSM's old version to add the products.
You may refer to these steps on how you can import them to your store (Sample Steps):

Step 1:
Click "Add Product" to add the item to your Dropshipman account.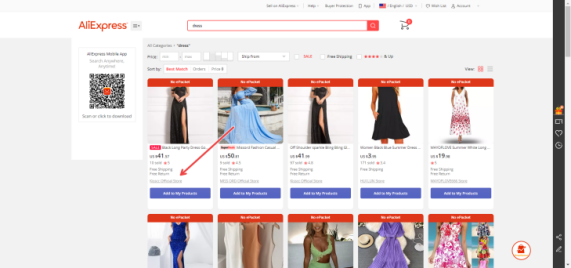 Step 2:
Go to your Dropshipman Account to see the product >> My Products >> AliExpress >> Not Imported >> and click "Import Product" to import to your Shopify Store.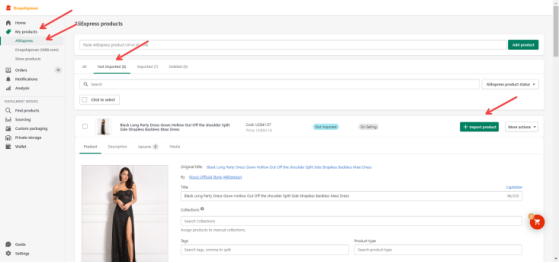 Step 3:
Go to "Imported" to see the product.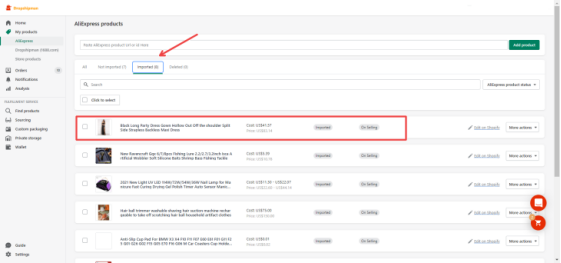 Congratulations! The product is now imported to your Shopify Store.
2. Copy / Paste the AliExpress Product URL or Product ID
If the link does not work, you only need to add the product ID found in the AliExpress Product URL.
Product URL:


Product ID:


What is the DSM shipping time frame?
Your delivery days will be 7-15 days if you choose Dropshipman Source and Fulfillment. Our delivery options include DHL, which takes only 3-5 days. Packet methods, such as Yunexpress, take 7-15 days, and our delivery time data shows an average of 10 days. Shipping times may vary depending on the destination country, and you can expedite shipping by preparing products in our global warehouses.
What is the difference between product cost and product price?
The "product cost" is the original amount of the product, whereas the product price is the amount you charge your customer. The cost of a product also influences its price. Another interaction between price and cost, the profit is calculated by deducting expenses from the pricing for specific goods or the entire business.
What are the accepted payment methods?
The payment method for all orders from Dropshipman must pay using PayPal or DP wallet (charged via PayPal or Stripe). While orders from AliExpress must be made directly in AliExpress, which accepts Visa debit/credit cards, MasterCard credit cards, and Maestro and American Express debit cards.
How to promote the store?
Advertising your product or brand is a must for every business that wants to succeed. Furthermore, it increases sales and brand recognition for your business. Although advertising might be pricey, there are some cost-effective alternatives to promoting your goods, such as using social media. You may use Google Ads, Facebook Ads, Instagram Ads, and Pinterest Promoted Pins to promote your products online. Moreover, using third-party apps; and integrated marketing programs, you can make some online advertising with Shopify. The Marketing tab in Shopify allows you to build marketing activities like Facebook ads and automation, such as Google Smart Shopping campaigns.
How to delete the DSM order?
You can select the order you wish to remove > More Actions > and Archive the order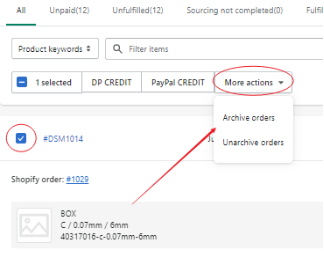 Once done, please go to the "Archived" tab and select the order > More Actions > Delete Orders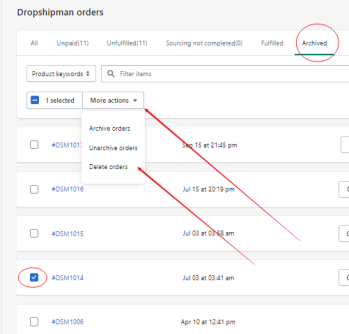 How can I get the tracking number of my orders and would my customers be notified?
Once we fulfill the orders, we'll update the tracking number to the platform as below, and they will sync to your Shopify store:

Your customers will be notified if you set up this, which will trigger the automatic email you set up from your store: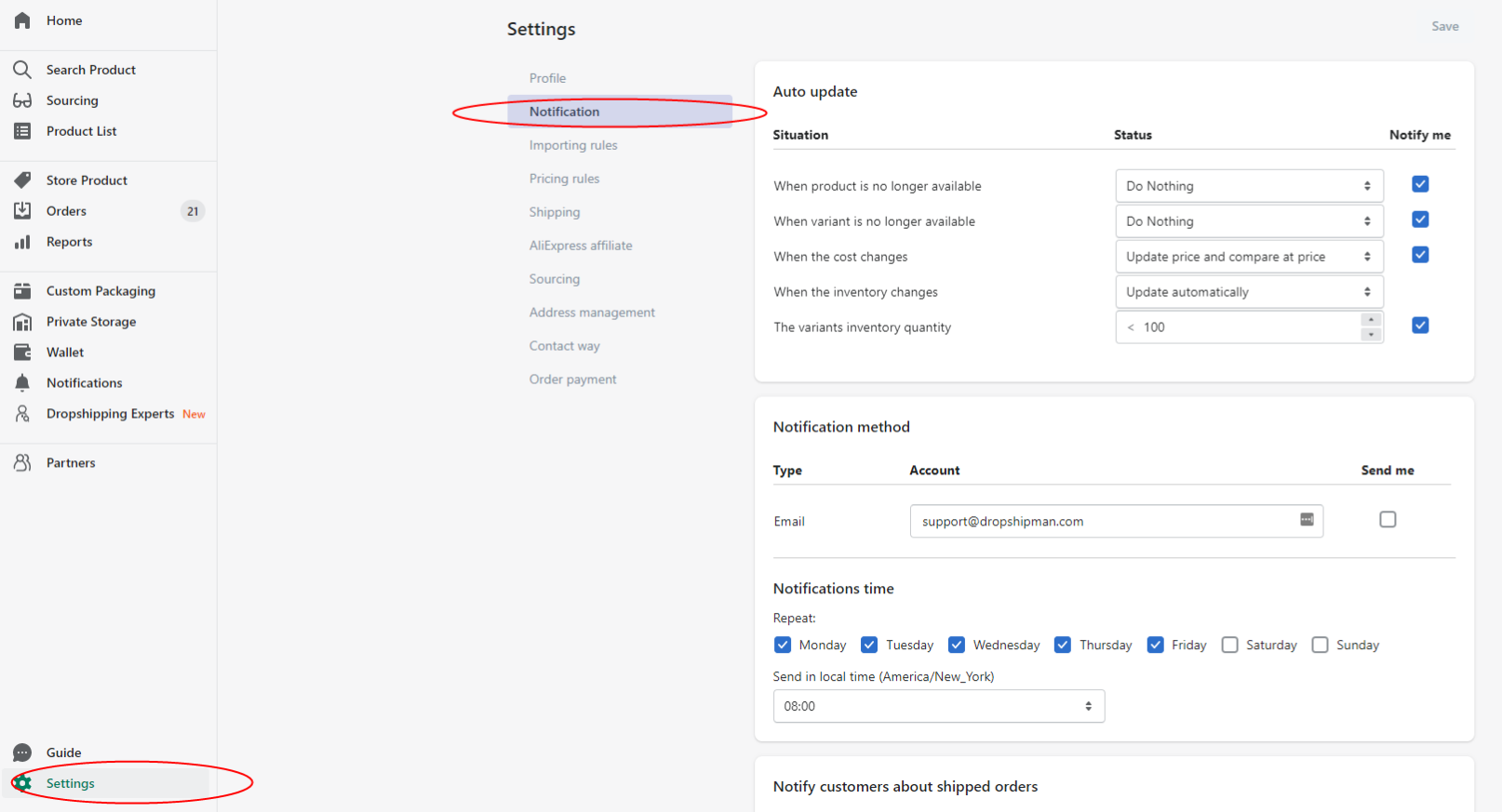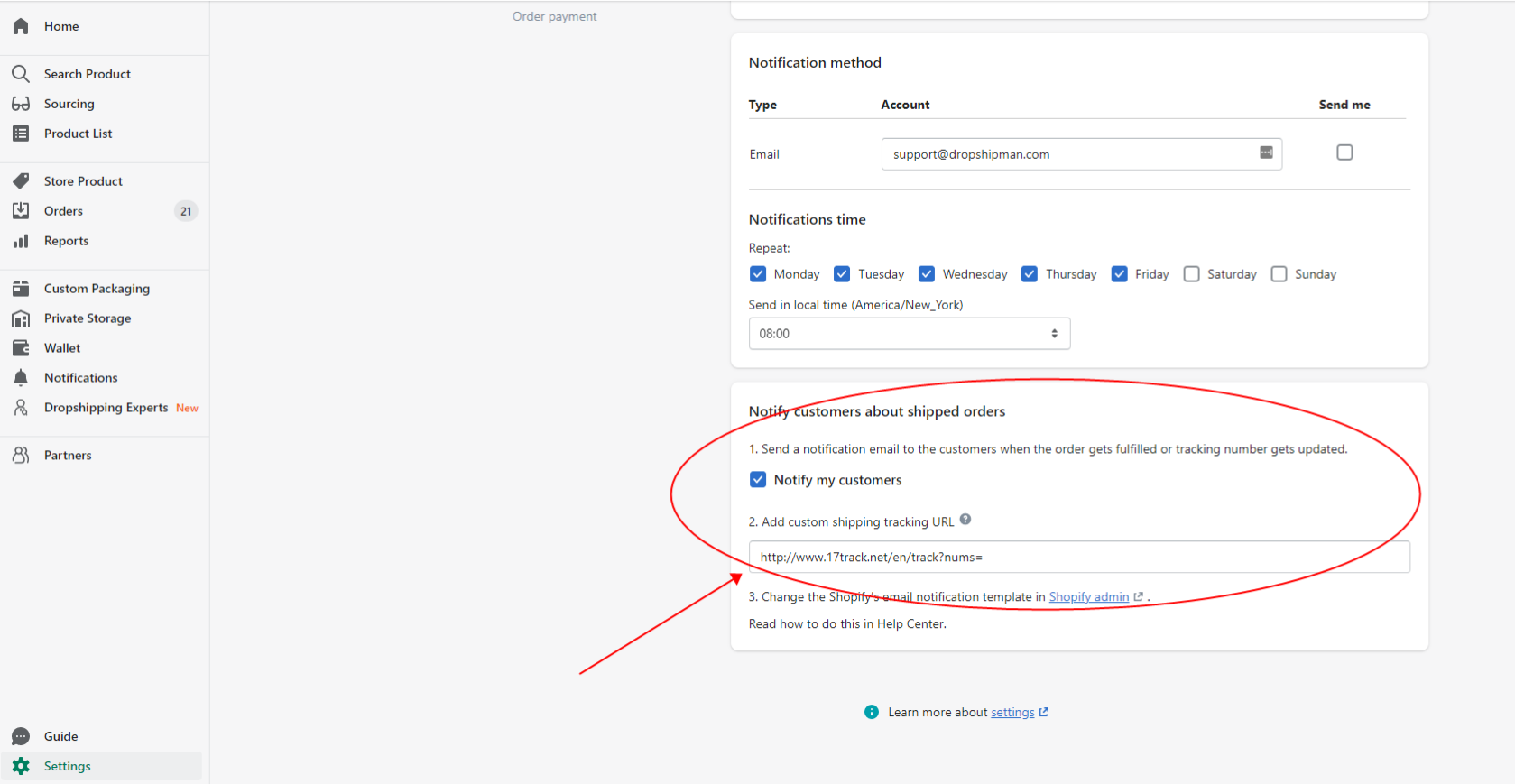 More questiones
Feel free to reach out our live chat support for more help. You can also send emails with your thoughts and suggestions to the following email address, [email protected]. 
Detailed tutorial blog articles:
1. DSM - AliExpress Dropshipping setup checklist
3. How to start a dropshipping business on Shopify?
6. Linking products with Dropshipman
7. Add AliExpress products to Dropshipman by Chrome extension
8. How to configure AliExpress product updates
9. How to set up importing rules
10. How to set up notifications
12. How to set shipping method
13. How to use Dropshipman's sourcing feature
14. How does the customized packaging works?